When it comes to working from home having reliable a standing desk is an absolute must.
And now with the advent of so many new technologies we're using to do our work it's a fair question to ask about reliability for these tools.
Electric standing desks have become a staple in modern home offices, and with so much hype it's important to get a clear picture on their reliability.
Electric standing desks are reliable and durable and getting better all the time. The growth in engineering, desk design, materials and features available all have made the electric standing desk a must-have staple in any modern office. It doesn't matter if you're a tall person who needs to extend the desk to its maximum height, or you're average height – electric standing desks can make your work life better on a number of levels.
It doesn't matter what type of standing desk you choose or what a standing desk is made from – in most instances, standing desks are made from hearty, solid materials and will provide reliable performance for years to come.
But what about hand-cranked desks and how do they compare?
What are the advantages of using a standing desk of one kind over another?
This post covers all you need to know about the reliability of electric standing desks and what you need to know about getting the most out of one in your office.
By the way – before we get too far into it here, if you want to get more great ideas for your gaming room or home office and want to connect with other home office hackers to make your space the best join my free private Facebook group, Home Office Hacks here.
Are electric standing desks reliable?

One might think that because of the electric motor that electric standing desks use to raise or lower one's chair, an electric standing desk's reliability would be questionable.
But without a doubt, modern electric standing desks are capable and sturdy machines powerful enough to easily lift or lower your work surface with all its heavy equipment multiple times per day without issue.
Not only are the reliable in terms of operation – meaning that will continuously do what you want them to do, when you want them to do it with ease – they're reliable in terms of construction and materials used to build them too.
The environment we work in has transformed forever.
The way we DO work has changed along with it.
Electric standing desks are great for people who spend long hours working at a desk.
They allow you to stand while working, which helps prevent back pain and other health issues.
Because so much work can be done from a home office on a computer these days, what previously may have been "nice to have" options for a home office are now a necessity.
So you need reliable equipment to do your work.
And not only does it need to be reliable, but it needs to be durable too.
Especially when it features an electric motor so it can be raised or lowered so it's as comfortable as possible while you're doing your work.
There is a wealth of reliable, durable electric standing desks available on the market today that not only can get the job done easily, but look fantastic too.
What is an Electric Adjustable-Height Standing Desk?
An electric adjustable-height standing desk is a desk powered by an automatic lift system which allows users to adjust the height of their work surface from a standard desk height to a height that will accommodate use while the user is standing fully upright.
The height adjustment is done via an electric motor quickly and quietly moves the desk up or down.
Depending on the model of adjustable desk, users can set preset heights which quickly moves the desk height from one position to another based on the users' preferences. You can also use simple up and down controls to set the perfect height for when sitting or standing.
How Do Electric Standing Desks Compare to Manually Adjustable Standing Desks?
Manual adjustability allows users to manually control the height of their work surface by using a hand crank.
Why would you choose a hand crank standing desk as opposed to an electric one?
A hand-cranked manually adjustable desk is a far simpler device than an electric model.
Hand-crank standing desks are more affordable than their electric counterparts, easier to fix in the even something breaks, don't require any electricity for operation and can even be a good way to get in a little exercise.
Conversely, electric standing desks are easy to use, can lift your work surface easier than a manual hand crank standing desk, are available in a greater variety of configurations and shapes and adjust easily and automatically.
However, in the even that something breaks on an electric standing desk, they can be difficult to fix and solutions can be expensive. As with any electronic device there's always potential for failure on a component level which can be frustrating.
On the other hand, hand-crank desks require physical effort to raise and lower the surface which some people may find off-putting, and they can be less appealing from a visual design perspective.
Regardless of which option you choose, the point is that being able to alternatively sit or stand while working.
They're both highly reliable, sturdy, and well-engineered pieces of office equipment that should be part of any modern home office (or traditional office!).
How Much Does An Electric Stand Up Desk Cost?
An average price range for an electric standing desk starts between $500-$1000 depending on brand, model and configuration.
There is a wide range of features available to on modern electric desks, so figuring out what you need is crucial.
Factors that will affect the cost of your electric standing desk will be things like the features you want, like:
What desk surface material do you want to use?
Do you want to use butcher block, walnut laminate, or real wood?
Do you want a monitor stand on top of the desk?
Do you want programmable height presets?
Do you need a tray to store cords and a power strip?
Do you need a place to plug in a desk lamp on your desk?
What about the ability to set favorite heights?
Do you want a standard sized desk or a larger size desk?
Do you need a special configuration like an l-shaped desk?
How Does A Electric Adjustable-height Standing Desk Help Me?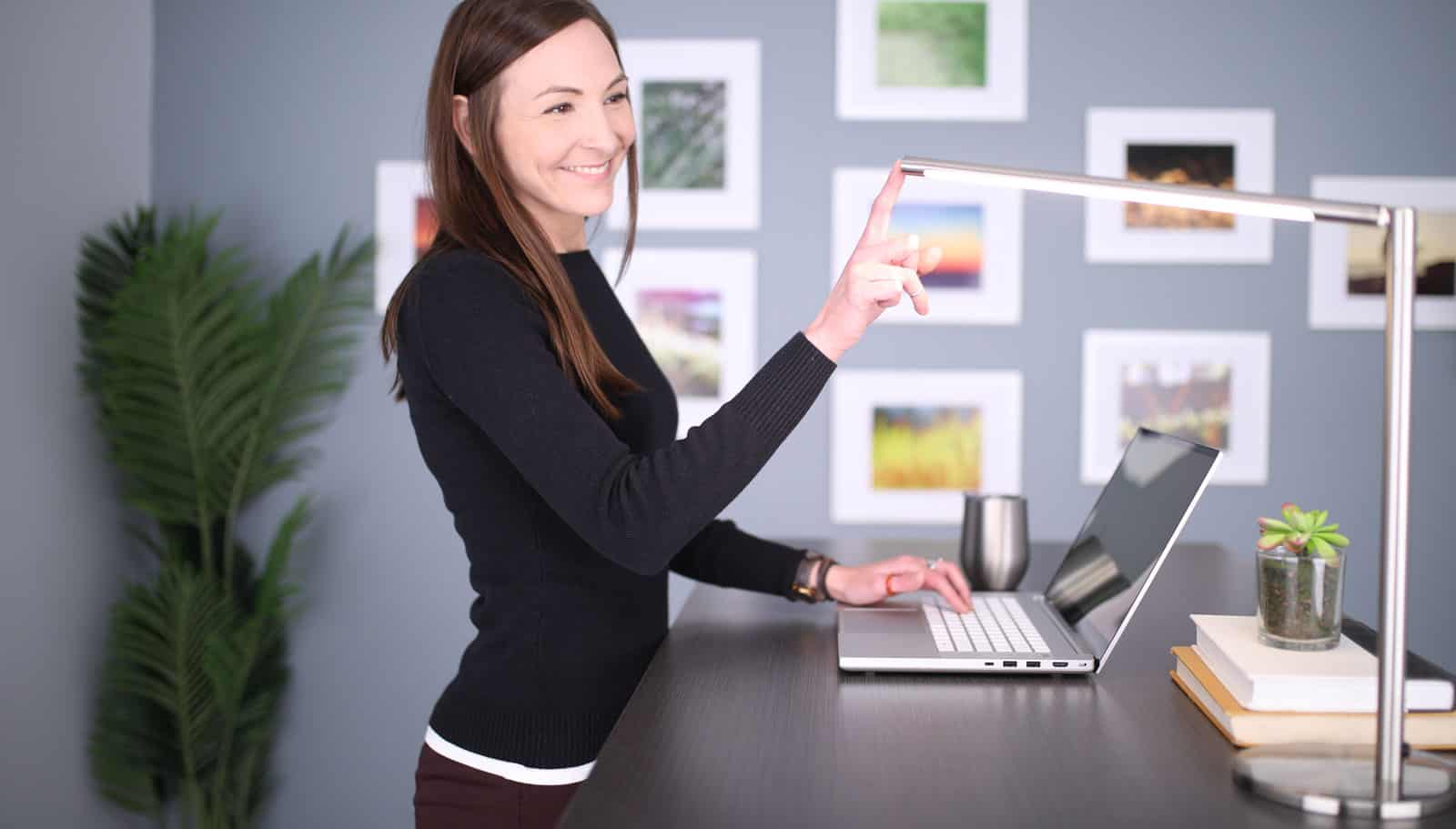 Adjusting your desk height regularly throughout the day has many positive effects on your body. When you're seated all day, your muscles become tight and sore.
When you're standing while working, your posture suffers because your spine isn't in its natural curve which becomes uncomfortable.
In addition, when you're standing while working your heart rate increases due to increased blood flow to your legs, which is far more natural.
What Are Trusted Brands Who Make Electric Standing Desks?
So you're convinced by now that having an electric standing desk is essential.
But what desk makers specialize in making electric standing desks? Here's a short list of options I put together with some of the more well-known brands in the electric standing desk space.
Does An Electric Standing Desk Use A Lot Of Electricity?
The effect on your power bill from using an electric standing desk will be minimal and really should not be any different than plugging in any other device, like a fan, or something of that sort.
In addition, if you have a smart meter installed at your house, then chances are good that you won't even notice anything extra going into your electricity account.
How Long Do Electric Standing Desks Last?
A quality electric standing desk can last you for a decade or more.
Of course that all depends on how often you use the automatic lift system; there are only so many cycles in any electric motor.
Generally you should expect to get 5+ years out of a standing desk, with some designed to last for upwards of 30 years!
If you go through Amazon reviews, you'll find lots of people complaining about broken motors within months of buying their electric standing desk.
However, many others have had great experiences with their electric standing desk and say that they work just fine after years of use.
In order to get the best estimate for how long the electric standing desk you're looking at will last, look first at its warranty.
Uplift standing desks are covered by a 15 year warranty as do Jarvis desks, while Ikea has a 10 year warranty and some Vari desks have a 5 year warranty.
As is the case in many instances, when it comes to an electric standing desk, you get what you pay for.
Quality workmanship and materials aren't cheap, and since we're talking about something that you are literally going to be working with every day of your work life, the enhanced stability and overall quality you get is worth the money.
How Long Does It Take To Set Up An Electric Standing Desk?
The assembly process for a sit-stand desk is pretty straightforward.
You simply connect the base plate to the frame, attach the legs to the baseplate, then add any accessories you've ordered like a monitor arm or keyboard tray.
The simple assembly steps for putting together your desk takes anywhere between 20 minutes and 1 hour depending upon the model you choose and the tools required are usually minimal.
Are Standing Desks Overrated?
Standing desks are definitely not overrated if for no other reason than they're incredibly convenient and help you make your home office more comfortable and it can make it easier to get things done and be productive.
The biggest advantage of using an electric standing desk is that it allows you to adjust your position throughout the course of the day without needing to physically move yourself around.
This means less strain on your back and neck which helps prevent injury and pain.
The scientific evidence is real and valid.
And in my own personal experience with my own electric standing desk, I've found that the ability to change positions makes a huge difference in my level of comfort and productivity throughout the day.
Are Motorized Standing Desks Worth It?
Yes – electric standing desks are totally worth it for the reasons we've been discussing thus far.
The first thing we want to do when considering whether or not to invest in a electric standing desk is ask ourselves what we're looking for out of a standing desk – what features we want, what materials and what kind of electric motor we need.
There are some cheap, low-ticket desks, but these entry models are probably the kinds of things you want to stay away from, because it's likely that they'll not be reliable or durable for any length of time.
Can I Use A Desk Converter To Get The Same Result?
Desk converters are a clever way to save money by using an existing traditional desk and combining it with a desktop converter.
These desktop converters are typically made from metal and fit on top of your existing desk.
However, these desk converters can be a little rough on the eyes from a design aesthetic perspective. Yet they can provide the standing functionality you're looking for.
Next Steps
Want to join others who are creating the most amazing home offices and get more tips, tricks and hacks on how to make your home office the best it can be?
Join my brand new free private Facebook group,Home Office Hacks to connect with other home office hackers to make your space the best!