No matter what you do for a living, productivity is key. There are so many things we encounter on a daily basis while we work that can inhibit productivity. So, what can we do to improve efficiency? It starts with configuring the best home office setup for productivity.
The best home office setup for productivity includes ergonomic office equipment, dedicated space for proper organization, natural lighting when possible, and a daily plan of action. Additionally, building smart home office habits has a strong impact on productivity levels.
Whether you're setting up a new home office or looking to raise your energy levels while you work in your current office space, a few key changes can make all the difference. Read on for effective home office ideas to streamline your output.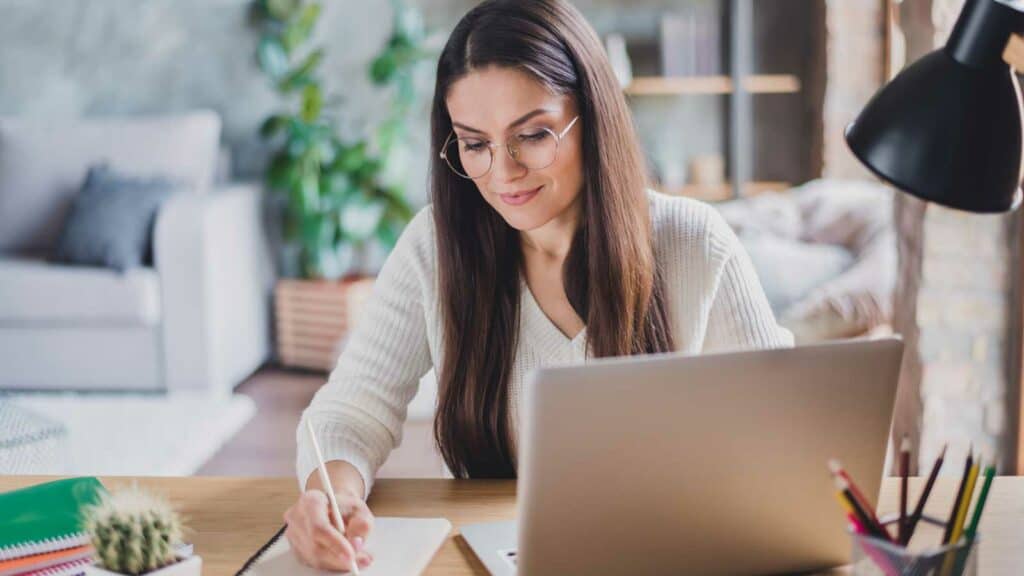 Productivity Comes from A Comfortable Workspace, Organization and Good Workflow
Organization is one of those concepts everyone knows they should be doing but rarely get around to actually implementing.
The problem is that it's not as simple as just throwing everything into piles and hoping it will magically sort itself out later.
You need an organized system where every item gets its own place and stays there until you decide otherwise.
This means having a designated area for each type of document and keeping them separate from other types of documents. If you have multiple projects going at once, keep track of which ones are active by using different colored folders.
A good workflow also helps ensure that important items don't fall through the cracks.
For example, if you use email frequently, set aside time during the day specifically for responding to emails. Also, consider creating a task list for yourself before starting any project. That way, you won't forget anything important along the way.
Being comfortable and as stress free as possible is also essential so ergonomics are key when setting up your workspace.
If you spend most of your days sitting down, then chances are you've got some pretty bad posture issues. To avoid this, try getting up and moving around more often throughout the day. Standing desks are great because they allow you to move without feeling like you're breaking something. However, standing isn't always practical, especially if you're working long hours. In these cases, sit-stand tables are perfect.
Set a schedule: If you don't have a schedule in mind, you're more likely to get distracted, frustrated, or both. Instead of burning out from working all day to accomplish important tasks, make a plan in advance. As the saying goes: work smarter, not harder!
Take frequent breaks: When working on a computer, you have to take breaks. Sitting at a desk staring at a screen and typing on a keyboard for hours at a time does a number on our eyes and wrists. Take breaks to rest your eyes, relax your wrists, and let yourself breathe.
Have Every Necessary Tool Within Reach
Set up your office with everything you use daily well within reach. You can't be very productive if you are constantly stopping to look for stuff. Put items back where they go to save you time next time you need them.
When setting your office up, think about how you will use different spaces. Keep the stuff you consistently use close by. Don't put a bunch of items in a row that you're sure to knock over. Make your office space work for you.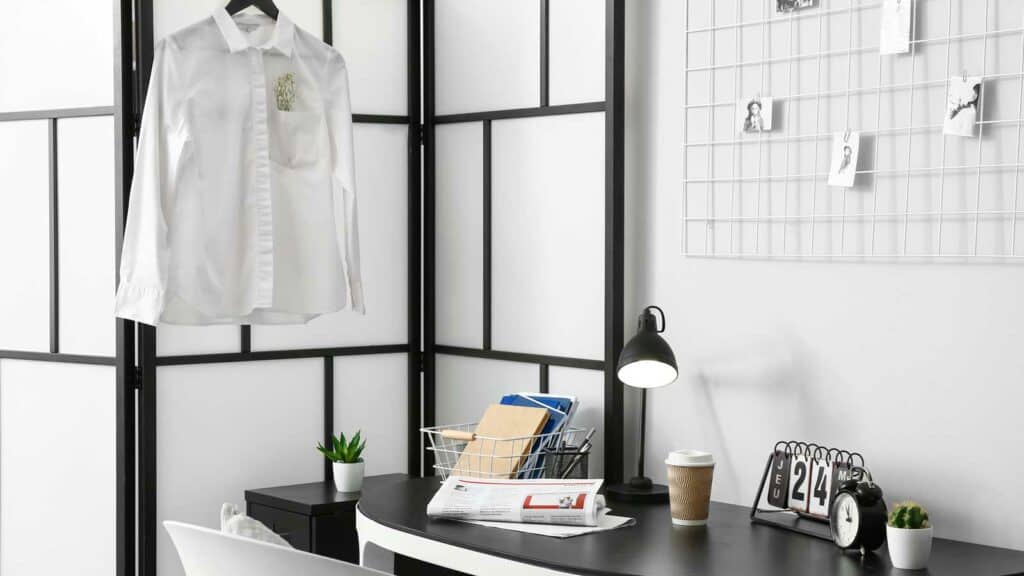 Separate Your Home Office from Your Living Space
The perfect home office setups are far removed from the hustle and bustle of the rest of the home. If you have a family or roommates, make it clear that you do not want to be distracted. Your home office area should have all of the following qualities:
Quiet
Uncluttered
Uninterrupted
Unless you have a very large home with spare rooms, you're more than likely going to encounter the real world at some point while you work. However, do the best you can to give yourself a dedicated space in which to work.
Use Ergonomic Office Equipment
When you think of ergonomic office equipment, you probably think of an ergonomic office chair before you think of anything else. A comfortable, well-designed office chair is extremely important, of course, but there are other pieces of office equipment that can be ergonomic as well.

Keep Home Office Clean and Decluttered
A clean and decluttered home office is critical for productivity. Mess and clutter create chaos and stress, which are antithetical to productivity.
The best way to stay on top of cleaning your home office is to throw away or shred items as soon as you can. Don't hold on to things unless they have a purpose. Additionally, clean your office weekly.

Must-Have List Home Office Essentials for Maximum Productivity
When setting up an office with productivity in mind, there are certain vital tools and accommodations you'll need. Make a list of everything you know you'll need for your specific job. Below are the must-have office essentials for a constructive workspace.
Ideal Lighting
Obviously, you need lighting to see. But not all lighting is created equally. Natural lighting from a window or two is the best form of lighting you can use for a home office. Natural light boosts mood and productivity. However, you will also need other forms of lighting for when you work at night or during dreary weather.
Home Office Desk and Chair
Choose a desk that you like since you're going to spend a lot of time looking at it. Your desk should be comfortable, durable, and it should fit nicely in your allotted space.
Invest in an ergonomic office chair. Your back and hips will thank you. Ergonomic office chairs are designed to provide lumbar support. They're totally customizable, so you can find the best seating position for your body.
Complete Computer Setup
You need your computer, of course! Many people work from both desktop and laptop computers. Desktop computers live on the desk, while laptops are great for travel.
Consider using a large external monitor or a dual-monitor setup if your desk has the room. It will increase your efficiency and productivity astronomically because you won't have to switch back and forth between a million tabs.
As mentioned above, consider an ergonomic keyboard and mouse if you often find yourself with sore, tired hands and wrists. You want to fend off carpal tunnel if you can!
Office Appliances
Make room for your printer if you need one. While you might not use a printer every day, the chances are that you'll need to get one eventually. Keep your printer in a place where you can reach it easily but where it doesn't take up too much precious real estate.
Grab some high-quality video conferencing tools, as well. Your computer might have a camera and mic already, but if not, make sure you buy something so you can participate in video calls with ease.

Desktop Organization
Plenty of Office Storage
Use plenty of storage. Whether it's bookshelves, floating shelves, filing cabinets, or unique DIY storage ideas, your office storage is paramount to ensuring everything has a place.
You'll need to keep extra office equipment on hand in case you run out unexpectantly. These small items can clutter up your office if you don't have the proper storage for them.
Internet Equipment
Don't skimp on your modem and WiFi router. Your living is made online, so you need to invest in the best equipment for the job. A stable internet connection and fast speeds will keep you from losing productivity and pulling out your hair during work hours.
How to Operate with Productivity in Mind
Now that you have an idea of how to set up your home office for productivity, you should take note of some of the important concepts to implement in your home office. These principles and behaviors will help you ensure productivity throughout your workdays.
Use Productive Colors
In your home office, you pretty much get to use whatever colors you want. When choosing paint colors for the walls, consider color psychology and how certain colors can increase (or decrease) productivity.
Neutrals like warm grays, off-whites, and tans are safe bets. Avoid colors that are too stark, like pure white. If you want more color in your home office, blues, greens, teals, yellows, and oranges all have productivity-boosting elements. Just make sure you aren't choosing a color that's too bold or harsh.
Maximize Space by Going Vertical
If you have a small office space or if your particular job requires lots of storage, your office can quickly get overrun with cluttered surfaces and full boxes. Don't let your floor space become too crowded and claustrophobic.
Don't overlook the wall! Utilizing your wall space can keep you organized and prevent the overwhelming feeling that your filing cabinets are closing in on you. Add floating shelves, overhead cabinets, or other clever storage methods above your desk.
Move Around
Exercise is important for health overall. In an office environment, short exercise breaks can help refocus your mind and get you energized to complete your daily tasks. The afternoon slump is real. If you get up and move, you can overcome some of that post-lunch sleepiness.
Consider stretching, using light weights, or simply going for a short walk. You can choose to use a standing desk in your office to combat the health issues that can come along with being seated for hours on end.
Include Personal Touches
If you have extra space on your walls or shelves, add personal touches that make your home office as comfortable as possible. Unlike in a corporate shared office setting, your home office is yours to design and decorate however you want. When you feel a connection to the room where you work, you can get things done effectively.
Decorate with art. A sterile workplace is not ideal for productivity. Art can empower you and increase feelings of creativity and inspiration. Environments with art are considered more enriching.
Set up personal photos. You probably have photos spread throughout your home, but your home office should be a separate domain. Include photos that you enjoy looking at throughout your workday.
Hang mirrors. Mirrors are multifunctional. You can use them to see yourself, of course, but they can also create the illusion of more space in a small room. Moreover, they can make a space feel brighter and more engaging.
If you prefer a more minimal space, you can still take advantage of these personal touches. Monochrome photos, soft textiles, and aesthetically pleasing clocks can all work to boost productivity in your home office.

Decrease Stress Levels
When working at home, or anywhere for that matter, stress is inevitable. No job on earth is completely stress-free. However, too much stress can significantly impact your productivity levels.
When creating your home office setup, it's important to integrate elements that will relieve stress. You know what eases your stress better than anyone, but a few go-to mood boosters include:
Live indoor plants
Productive music
Aromatherapy
Plants improve air quality in a space, so having house plants around can make your office feel fresher and more lively. Additionally, having a plant or two makes a room more pleasant and can even lower your blood pressure. If you don't have a green thumb, you can find easy-to-care-for house plants that work perfectly in a home office.
Music has been linked with productivity. Music can reduce stress and decrease feelings of anxiety. It's common for workers in all kinds of environments to listen to music while they complete tasks. Depending on how you operate, you might prefer instrumental music without distracting words. If you want to implement music into your work routine, invest in high-quality speakers.
Practicing home office aromatherapy can also aid productivity. Essential oils like peppermint oil, lemon oil, and rosemary oil can energize you and keep you focused, while lavender oil can calm your anxious mind. Add a small ultrasonic essential oil diffuser to your desk and choose oils that smell good and benefit your workflow.
Next Steps
Want to join others who are creating the most amazing home offices and get more tips, tricks and hacks on how to make your home office the best it can be?
Join my brand new free private Facebook group, Home Office Hacks to connect with other home office hackers to make your space the best!