Not a "people" person and would rather have less interaction with others? Not a fan of water cooler gossip and office politics?
The good news is that working from home is now more popular than it's ever been and businesses large and small have embraced remote working as the new normal.
You can actually earn your living while working from home, and these work-from-home jobs are perfect for introverts who don't want to be bothered with small talk or dealing with office politics.
I'm not going to lie: I love working from home. It gives me the flexibility to do my job when it works best for me — whether that means in the morning before everyone else gets up or at night after everyone else has gone to bed.
Going into a workspace can create stressful scenarios and uncomfortable interactions and take away time from our loved ones.
Whether you're attracted to the flexibility of working according to your own personal schedule, the comfort of being in your own home, or the lack of human interaction, working from home and being an introvert in 2022 is more than welcome.
Great opportunity is everywhere if you know where to look.
This article will detail the best jobs for introverts, scaling from beginners to experts – whether you've got a bachelor's degree and have a skillset that's in high demand, or you're just getting started but don't have a lot of experience and you're looking for the best online jobs that are legitimate.
Real quick, before we get too far into it here, if you want to connect with other remote workers or would love to make your home office space the best join my free private Facebook group, Home Office Hacks here.
What jobs fit an introvert?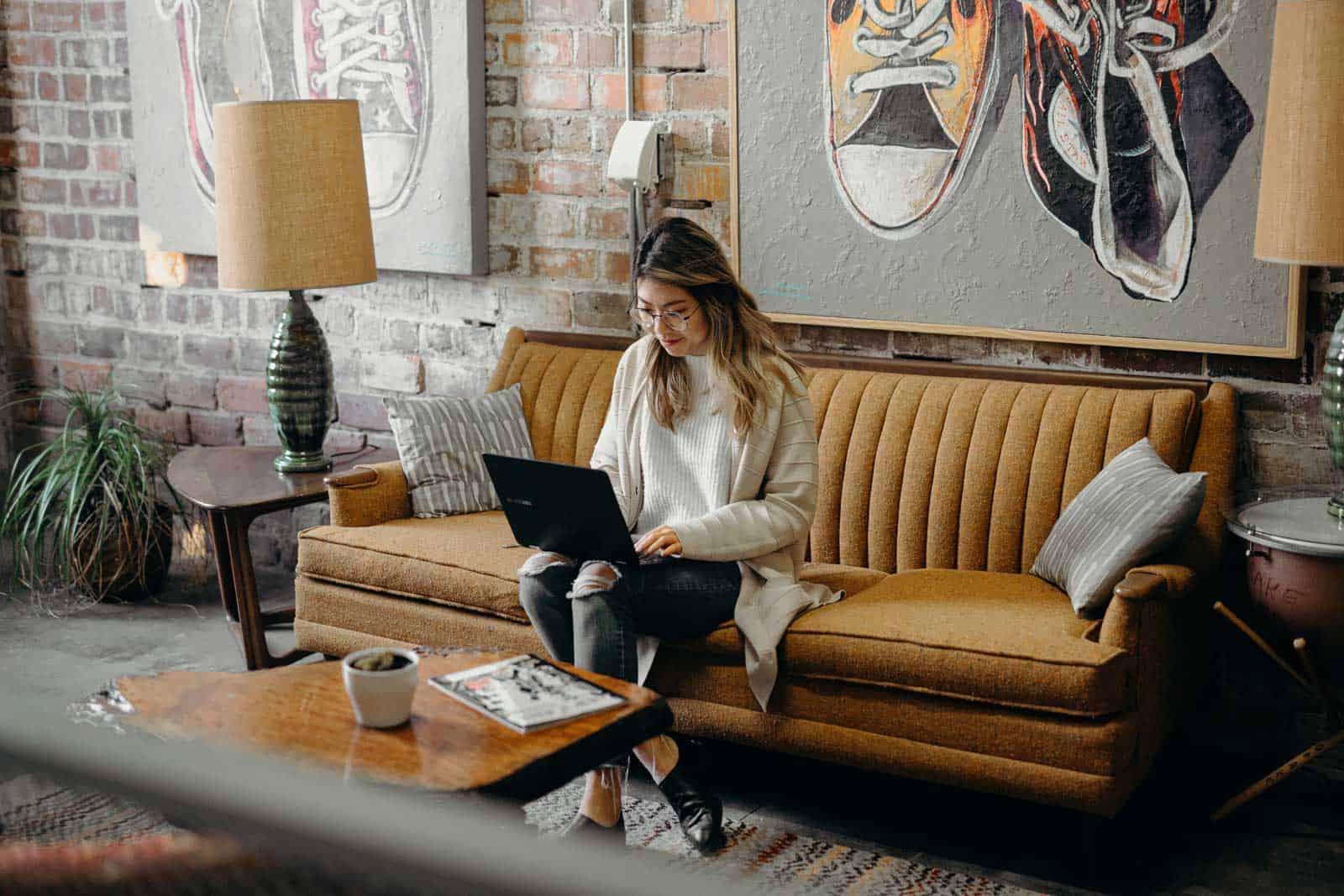 How do find the perfect job so you begin a career online, and what jobs fit you as an introvert? Psychiatrist Carl Jung is the doctor responsible for categorizing introversion and extroversion in the early 1900s. As time has passed, we've created more specifics for each type of introvert.
A great way to get started is to identify what makes us introverts, and what category of introverts we will fall into. There are four categories, social introvert, thinking introvert, anxious introvert, and restrained introvert, each one with a slightly different need.(1)
Social Introvert – An introvert who doesn't mind social interactions, but prefers to be alone or with a small group of people.
Thinking Introvert – The type of introvert who prefers to process things cognitively without contrasting with others, staying in the "mental safe space"
Anxious Introvert – The typical introvert everyone thinks of. The one who is anxious or weary of social interactions and becomes uncomfortable around others.
Restrained Introvert – A grounded individual who has a hard time trusting strangers. Will remain closed and to themselves until the introvert gets to know the person/group.
If you're an introvert, do you feel like you fit into any of these categories?
Understanding your own personality and what kind of introvert you are will help you figure out what kind of remote work would be the best fit for you.
Which career are best for introverts?
If you're searching to start your remote job career or move forward into a new position, the type of work that you are looking for will depend on your work history, education, hands-on experience, and your learning ability.
Some of us are just getting our feet wet, while others have PHDs with ten years of experience in the online industry. Let's find out which career is best for you.
If you're just starting out in your career
As a beginner in the industry chances are you're struggling to find someone to give you an opportunity. Most companies require a list of accolades followed by 10 years of experience. But, there are jobs that are adamantly looking for fresh faces. This list is the best work-from-home jobs for introverts who are just starting out.
Freelance writer
A freelance writer is an individual who writes for websites directly or as a ghostwriter. They're fast thinkers, with the ability to forge thoughts and summarize material quickly. The best freelance writer has the skill to write in multiple different voices to engage many different audiences.
Becoming a freelance writer is quite simple. You don't need a bachelor's degree or associate's. Instead, editors and hiring managers will be directly looking at your portfolio of articles, essays, and blog posts to determine if you're the right fit for the job.
This is a great online job for anyone from beginner to expert. The demand for consistently well-written pieces is only growing daily, as the Internet expands. The best way to find a freelance job Is by visiting hiring websites such as Upwork, Problogger, Linkedin, and Indeed.
Freelance writers are usually paid per word. The pay range can vary from .01 – .12 cents per word written.
Social media manager
As a social media manager, you'll need to be knowledgeable of platforms such as Instagram, Tik Tok, Facebook, Youtube, and all other social interaction applications/websites. You'll be tasked to create engagement for customers or potential future customers. The more visits/views that you're able to create, will be how you're reviewed.
Most born in the 1990s and 2000s grew up having their own social media accounts and have the knowledge of how these platforms work virtually engrained into their DNA so this is the perfect job where you don't have to have a degree to be successful.
Having a large following that has recurring foot traffic to your page is a great tool for your portfolio, which creates business opportunities for you.
Business owners from the previous generation (from the 1980s and backward) don't have the time, patience or skill to maintain their online platforms. Ultimately this problem then brings the necessities for a social media manager.
Expect to earn between $20,000 – $50,000 annually.
Professional Photographer
Photography is another opportunity that doesn't require a bachelor's or associate's degree. But, just because it isn't a necessity, doesn't mean it wouldn't help your chances to get a job. The term photographer is a general category. Specifically, the best opportunity is in stock photo sales or private sales.
Stock photo platforms such as Shutterstock and IStockPhoto are always looking for other photographers to submit their own work onto the sites. These sites take your uploaded photos and sell them to a larger audience like other online workers.
Advertising is huge for stock photos, and if your website needs pictures of a lion roaring, chances are the site owner isn't flying to Africa to take those photos. Instead, they'll buy rights for a photo, which will then be split between you and the stock photo site.
As well, a photographer has the opportunity to create their own online store, and submit to online galleries, and gallery competitions globally.
Becoming a photographer is simple, all you need is a camera, the photographer's eye, and the passion to drive you in the right direction.
On stock photo sites you can expect to make between .05-.25 cents per image per month. The more photos you can create the more money you'll make.
Freelance translator
Are you fluent in a second language? The ability to speak more than one language opens up a job opportunity that only some fit into. A translator is a multilingual person who translates material such as Youtube videos, movies, articles, and much more. A freelance translator doesn't work directly for one single proprietor but instead works through a hiring platform/agency, such as Upwork, Indeed, and LinkedIn.
As a freelance translator, you don't need an associate's or bachelor's degree. Instead, you'll need to prove your ability in that specific language. This will usually happen in a form of showing your portfolio, or even a paid/free test piece to prove your skill.
Similar to a freelance writer, you'll be paid per word, by the hour, or by the piece. Making the pay scale hard to pinpoint. Expect to make anywhere from $20-$50 an hour depending on what you're translating. (8)
Virtual assistant
A virtual assistant has its own levels of beginner to expert positions, but for the beginner list, we chose to include this job title because there is always someone looking for assistance. Your job will vary depending on the company you're working with. Generally speaking, you can expect to be working with high-demand clients, you are looking for someone to assist with their daily tasks. By answering emails, taking phone calls, organizing miscellaneous items, or whatever the task at hand is, you'll be expected to be able to complete it timely and diligently.
Most virtual assistant jobs don't require a bachelor's or associate's degree, instead, they usually train within.
With this job, you should expect to have a set schedule from home, which removes the flexibility of a work-from-home job, but you're still working from your place of choice.
Annual salary is averaged between $30,000-$60,000. (7)
Transcriptionist
One of the most overlooked jobs in the world is a transcriptionist. Being a transcriber can be tedious, but it is still an opportunity to make money. This position requires lots of focus and dedication, for you will be listening and writing what you hear down for the text.
You'll excel at the job if you're a great speaker and well-versed in English. You'll need to be diligent and patient. This position does not require an associate's or bachelor's degree. You'll be trained within and observed through quarterly reviews. If you perform well you can expect a bonus or pay increase.
You should expect an average hourly pay of $10-$30. (4)
Proofreader/Editor
If you're impeccable with your grammar, and you're always correcting your friend's texts, then a proofreader or editor job could be for you. As a proofreader, you'll be tasked to check articles, essays, or mailing lists for grammatical mistakes. As well as the flow of the wording. You'll need to be a professional in the English language with the ability to spot a grammatical error in a split second.
The prerequisites are slim. You'll simply need education in English as your first language, or be extremely proficient in the English language. Although beware, if your first language isn't English through common differences in slang and the language around the world it'll be hard to get an editor position.
You should expect to be paid per piece. Depending on the length, and difficulty of the piece will be how you get an exact payment. Roughly you'll earn $10-$100 per piece. (6)
Digital Marketer
This is one of the best online jobs available today and can be quite lucrative. Even better, it doesn't take an advanced degree to get started. The most basic definition is that digital marketers create campaigns and content that is designed to attract potential clients to a website. They also use social media platforms like Facebook, Twitter, Instagram, etc., to promote websites. The digital marketing industry is booming right now, so there are plenty of opportunities out there.
There are many different ways to become a digital marketer. Some companies hire them directly while others may offer training programs.
As a digital marketer, you'll need to know how to write copy, design graphics, build landing pages and sales funnels, and much more.  Digital marketing is a very competitive space though, and while you can get started with it pretty easily, to be successful, it requires a lot of very hard, very consistent work.
Digital marketers can earn anywhere from an extra couple hundred dollars a month working it as a side hustle, to 6 figures.
Affiliate Marketer
Are you looking for a great side hustle idea? Then becoming an affiliate marketer may be the perfect fit for you.
An affiliate marketer works by promoting products of other companies for which they earn an affiliate sales commission. These products can range from physical items such as electronics and credit cards to services such as vacation planning and web hosting.
One of the good things about affiliate marketing is that it can be done by big established businesses (the New York Times earns a substantial income from its affiliate promotions) and people just getting started with an online business. Promoting these products can be as simple as adding affiliate links in the content on a website, or creating elaborate "irresistible offers".
Affiliate marketing is a great way to make money online because it allows you to sell something that you already own. It's basically just another form of advertising where instead of paying someone else to advertise your product, you do it yourself.
Similar to digital marketing the potential for a job like this can be from just a couple hundred extra dollars a month to thousands – it just depends on the amount of work you're willing to put in.
Established in your career
When you're already a professional looking to merge your life from in the office to digital nomadic life, the opportunities for jobs grow as do the competition. You'll need to target a career that your work experience can relate to. If you have a master's degree in marine biology, don't expect a job as a graphic designer for Apple.
As an expert, you're an individual who claims professionalism in one or more categories. For example, a marketing specialist may have professional experience as a graphic designer and advertisement.
If you're already a veteran in the workforce, then you know what you'll need to excel. A well-written resume, a selection of references, and some prior work history should get the ball rolling.
This list is comprised of jobs we feel fall under the expert skill level.
Virtual book keeper
As a virtual bookkeeper, you'll be tasked with many in-office tasks. Such as payroll, expense reports, and financial records. You'll need to be good at crunching numbers, and staying focused.
Pre-employment history coinciding with accounting, assistant, secretary, and banking would be a huge advantage for you to prove entry-level experience. This job requires a lot of diligence, and focus. If you have trouble keeping focused, or you easily get distracted this won't be the job for you. As well, being good at mathematics is a plus.
Although it isn't a requirement for the job, having a bachelor's or associate's degree will put you one step closer to this position. There are some online courses available to prepare you and make you a better virtual bookkeeper.
You can expect to make roughly $40,000 annually. (3)
Video editor
As a video editor, you'll be tasked with creating content, editing content, and help make a vision come to life. This is another job where a degree isn't required, but helpful. The prerequisites for this job are professional-level knowledge of editing software, a creative mind, and years behind a camera. You can't be a doctor today and tomorrow be Drake's first choice music video editor, it just won't happen.
Professional-level experience with Adobe Premiere Pro, Shotcut, or Filmora, are all great advantages to landing a job as a video editor.
Though most of the video editing is done behind the computer, some jobs require you to go out and shoot the video. Keep this in mind if you're an anxious introvert.
An average salary is hard to pinpoint because the pay scale is so large. Expect to earn anywhere from $30,000 annually all the way up to $200,000 and even more. (3)
Graphic designer
As a graphic designer, you'll be great with customer service, offering only your best work at all times. This is one of the best remote jobs on the market today, and for good reason. You'll be tasked with many different companies, projects, and opportunities. Whether you want to dive into the advertising world or become a marketing specialist, social media guru, or logo designer, the opportunity is endless.
Becoming a graphic designer is no easy task. You'll need to obtain a degree in graphic design, followed by having a list of clients with positive reviews. You'll be working alone in most job settings so the ability to perform is necessary. The stronger your portfolio the higher your pay and client base.
This job title opens up a massive opportunity in the work field. You should expect to earn anywhere from $45,000 up to $120,000.You have to the opportunity to work freelance on the side creating a secondary source of income as well. (3)
Data scientist
As a data scientist or data analyst, you'll be inputting data into an internal platform of the company you're working for. Categorizing and organizing will be a specialty of yours. This position doesn't require a degree but in-field experience will increase your chances of securing this job. You'll need to learn fairly advanced programming skills, some statistical knowledge, and strong communication skills.
Although a degree isn't required, having a bachelor's degree in Computer Science with amplify your opportunities, while bringing your resume higher in the pile.
You should expect to earn upwards of $65,000 annually. (3) 
Software developer
Becoming a software developer has become substantially easier over the past decade or two. The longer the internet is out, the easier online jobs will become. With software engineering and design, they offer "boot camps" that can be completed in less than 4 months, which will give you the opportunity to secure the job you want. The second option is to get a bachelor's degree in software engineering which will place you higher than the "boot campers".
Besides the degree or certification, you'll need a few sets of skills. To start off you'll need to be persistent and have strong determination because you'll be determining coding problems. Coding in itself is difficult. Next a math background for understanding programming and again coding. As well you'll need complex problem-solving skills.
As a software developer, you'll make the highest salary on this list, averaging around $100,000 – $140,000. Though with an increased salary increases competition and desire for the position. Be sure to ace your degree and find a way to stand out from your competition. (9)
What is the easiest job to do remotely?
Out of the 14 jobs we just went over, most you can attain without a degree.
One of the easiest jobs to obtain on this list would be a transcriptionist. You're in your own space, working at your own pace. You're tasked with listening to meetings, youtube videos, songs, etc, and transcribing them in text. This job is the most ideal for an introvert.
As well, being a free lance writer is just as easy. You're in charge of everything you do. From the jobs, you apply to, the time frame to get the job done, and the pay. You'll be bidding against other writers and if your portfolio and price beat the next person the job is yours.
This position doesn't require a degree, simply a sharp mind, proficiency in English, and a creative thinker. Anyone with a high school education can perform well in the writing industry.
Which career is best for introverts?
Throughout this article, we've tackled 12 different job titles, as well, the pros and cons of digital nomadic life. We also defined the four categories of introverts, and how our personalities may fall into which one.
Truthfully we can't pick what job is best for an introvert, since, as we know all introverts aren't the same. If your passion is photography, then the answer is photography. Whereas, if your passion is writing, then being a writer is it.
First, grasp what your skills, passions, and hobbies are. Then, take into account where your live experience falls, and choose a position that fits you.
If you're looking to make the most money while sitting from home, becoming a software developer is the one for you, but if you want peace of mind and to collect a check, freelance writing is truly a simple and rewarding job.
Is working from home good for introverts?
Theoretically, yes, working from home is good for introverts. As an introvert, you have the ability to excel when you're alone. (4) The basic distractions such as interruptions from co-workers, air conditioners buzzing in the office, or being stressed on your morning commute are eliminated. Therefore, giving you the ability to perform your best.
You'll be encapsulated around some pros and cons that go along with working from home, but, if the pros outweigh the cons for you then it can be good.
Working from home pros for introverts
Mental Health – Working from home gives you the ability to focus on yourself. You get the perks of creating your own routine from sun up to sun down. Waking up on your own time, taking breaks when you need, and working when you feel the best are small ways to benefit your mental health. (5)
Physical Health – Working from home gives you the opportunity to spend more time on what you eat, versus going to fast food chains for convenience. As well, you're not wasting time with your daily commute, giving you more time for activities like the gym. (4)
Family – Working from home creates the simple pleasure of spending time with your loved ones.
Time – Time is the only commodity in the world that we will never have the chance to regain. It's the stem of mental health, physical health, and family. The more free time you have, the more time you get to focus on what's important to you. (10)
Although the remote job lifestyle can be accommodating to many different people, if you can't overcome the cons then it may not be a great option for you.
Working from home cons for introverts
Isolation – Introverts thrive over the word "isolation", but sometimes being alone for too long can affect you, be sure to ponder this, because you'll have less human interaction.
Locating a Workspace – Technology creates an office atmosphere anywhere you go, but you're also forced to sit in front of a laptop for an extended amount of time. As well, the need for a quiet and comfortable workplace arises. To some, this task can be a deal breaker, do your due diligence on where you'll be working before committing.
Final thoughts
No matter your situation work from home jobs are available to every introvert out there. Be a professional, and continue to learn with the times. An employer wants someone who will benefit the team, not someone they have to train from the beginning.
The introverted and digital nomadic lifestyle is booming every day. After Covid, the industry is expanding, and opportunities are arising. Keep an eye out on sites like Upwork, Indeed, and Linkedin, to see if you can find job titles that match your qualifications.
Next Steps
Want to connect with other remote workers, contractors, freelancers and people who work from home who are creating the most amazing home offices? Want to get more tips, tricks and hacks on how to make your home office setup the best it can be?
Join my brand new free private Facebook group, Home Office Hacks to connect with other home office hackers to make your space the best!
Reference Links