If you work from home already or are building a new home office from the ground up, you need a great work from home setup because working from a coffee shop every day just isn't a practical long term solution. For remote workers, a great home office setup is the foundation of your daily operations.
A great home office setup is essential for your productivity and your mental health, and you know you need a desk, a comfy chair, your laptop, and few other things.
But there are several questions that still need to be answered:
What if you have limited space?
Or maybe you're setting up at the kitchen table?
Do you need a wireless bluetooth mechanical keyboard and mouse for your laptop?
What about having a great light source for making your video conference calls look great?
What are the best things you need to have – regardless of your budget – to make your home office the best?
Over the past year and more, with more and more people than ever now working from home, creating a productive work environment at home is more important than ever.
In this post I'm letting you in on all my tried and true must-have essentials to get the most out of your home office setup so you can be comfortable, productive and happy working from home.
By the way – before we get too far along here, if you want looking for a good idea for your home office and connect with other home office hackers to make your space the best join my free private Facebook group, Home Office Hacks here.
Everything You Need to Work From Home
Not everyone who works from home is going to have the same home office essentials. One person's work-from-home essentials might not even register with another person who does a different kind of work.
So what the essentials?
For starters, a general and broad list of things EVERYONE will need includes:
A fast, powerful computer
Beyond those four things, your particular job and your work from home (WFH) space come into play.
For example, if you have a very large room to dedicate to your home office space, you can get away with a larger desk, larger monitor, and more accessories than someone with a smaller space.
That's why it's important to make yourself a list of your home office accessories and office must-haves that are specific to the type of work you do.
Work From Home Office Essentials
The best way to create your work from home setup should include a dedicated home office desk in its own dedicated space, complete with a comfortable chair and all of your necessary home office accessories.
This is stuff like your laptop, a great WiFi connection, good lighting, plenty of power and accessory outlets, your printer, and a large screen external monitor just to name a few. Consider the type of work you will be doing and the space real estate you have available and complete your work from home set up with your needs in mind.
When you work from home, you use your home office setup on a daily basis. That's why your home office should include all of the essentials you need to complete your tasks in a timely and efficient manner.
Luckily for you, I made a list of common home office essentials for you. This list includes common work-from-home accessories as well as large items that you will find indispensable in your home office for you to use on a daily basis.
You may not have thought about some of these things, but you'll be glad that you have a place to reference these items once it comes time to build your WFH space.
A Fast, Powerful Computer
You need a computer. That's non-negotiable in today's world.
But just know that fact doesn't mean that you don't just get to check "computer" off the list and be done with it, though.
There are plenty of computers to choose from. Do you want a PC or a Mac? A desktop or a laptop (or both?)
You should really have both a desktop and a laptop. Your desktop computer can live on your desk while your laptop is the mobile computer that can travel with you. As far as Windows versus Mac goes, that comes down to personal preference.
If your computing needs are not as robust – meaning you spend most of the time doing internet research, creating an managing office docs and spreadsheets, and you're not doing any kind of image or photo editing, then using a laptop with a docking station can do the trick.
But what you get in convenience with a laptop you sometimes pay for in terms of performance.
That means that as great as laptops are, whether it's a Windows machine or a Macbook Pro, they don't always have the horsepower of the larger desktop machines which come in handy when you do need to work on more resource intensive apps like Photoshop or Microsoft Access.
And with virtually everything being stored in the Cloud these days, you can access your documents whether you're working one machine or another.
Here's a tip when buying a new computer:
Get one with the fastest, fastest processor, and as much RAM as your budget will allow.
These are two elements that make a huge difference in how fast your computer performs and will help extend the life of your computer over the years as newer, better faster computer models are released.
Processor speeds range between 1GHz and 3.2 GHz. Anything faster than 3.4 GHz is considered "high performance."
As far as RAM goes, I don't even look at anything that doesn't have at least 16gb of RAM these days. Trust me – when it comes to performance, you want as much RAM as you can afford.
My personal preference is Apple. Some people love Apple, some people hate them. To each their own – their stuff works really well for me.
I'm a web developer, so my situation could be a little different than yours, but whatever it is that you get for your work from home setup, you need your computer to be fast and powerful.
Here's the deal:
Bargain, cheap computers are inexpensive for a reason: they're basic.
They don't have much in the way of processing power or RAM and in many instances, storage is lacking too, and you will quickly outgrow them if you're using a cheap model for your work at home.
Here's why I chose what I chose for my computers to work from at home.
My Macbook Pro is portable, which is great. I can take it with me and work anywhere.
My iMac is the newest computer I have and it packs a lot of punch in terms of processing power and RAM because when I ordered it, I virtually max'd out those two things. This computer is where I do my serious work at my desk in my own home office.
My Mac Pro is a little older, but is expandable and it's been upgraded several times to increase hard drive space and RAM and it is an absolute power house of a machine.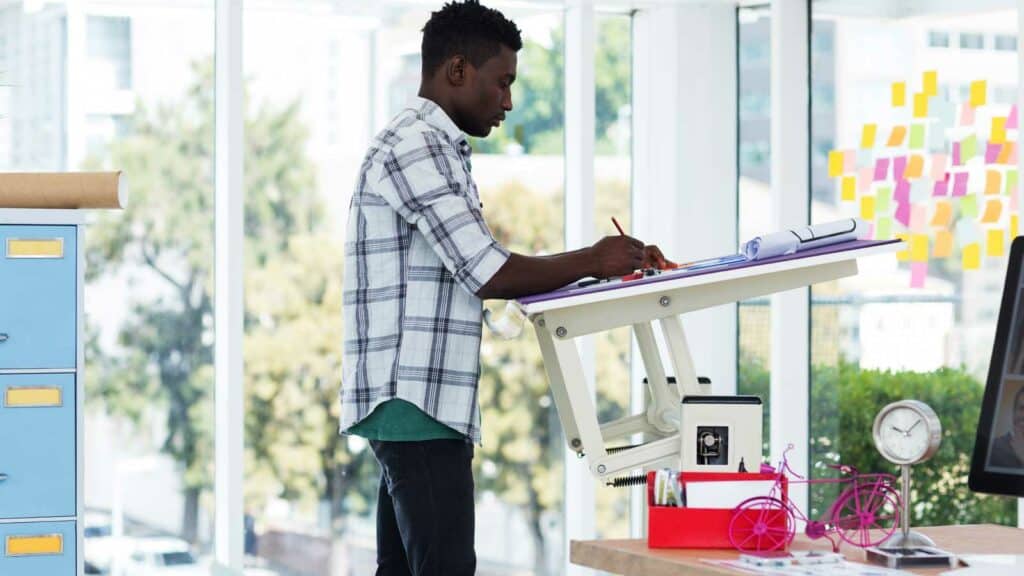 A Good, Functional Desk
A desk is never just a desk.
There are so many desk options on the market today that suit different needs.
An adjustable standing desk can be adjusted to reach your proper height. A built-in desk is literally built into the wall and doesn't move. A floating desk is mounted to the wall and can be folded out of the way.
Do you do creative work where you need to spread out?
A drafting desk or drawing board may be the right fit for you. This one is adjustable, with multiple work surfaces so you can place your computer monitor or other stuff you need within reach on your desktop.
Looking for something maybe a little unconventional and unique?
Then a workbench may be the way to go. This one is rugged, heavy duty, adjustable, and outfitted with a power strip for you to plug all your stuff in – how cool is that?!?
Either one of these desk types are a great fit for jobs like architects, designers, and tradesmen.
My personal preference is an adjustable height desk and I've been using one for years (that actually looks a lot like the one above). The best part about an adjustable height desk is that I can stand or sit alternately. Sitting for too long causes too many problems and being able to stand is so much better for you!
Using a lap desk is a great way to get work done if you want to sit on the couch, or on the floor and move around during their work day.
I got one as a gift a while back and I don't know how I ever lived without it. I can be finishing up stuff from my day while sitting out in the living room with my family. Win!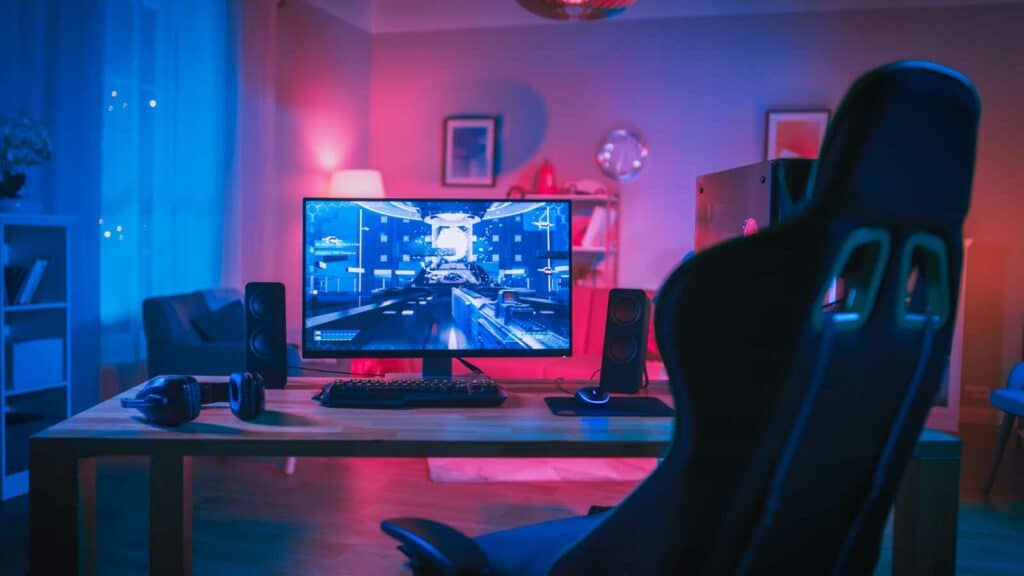 A Comfortable Chair
Desk chairs are as important as desks themselves, but they often get overlooked. Your desk chair gets as much if not more use than your desk or computer gets, so it should be extremely comfortable and supportive.
You can invest in the tried-and-true Herman Miller Aeron Chair, or you can choose another ergonomic but less expensive desk chair that will offer you lumbar support and comfort during your long hours in the office. Whatever you do, make sure your chair has an adjustable height and proper support.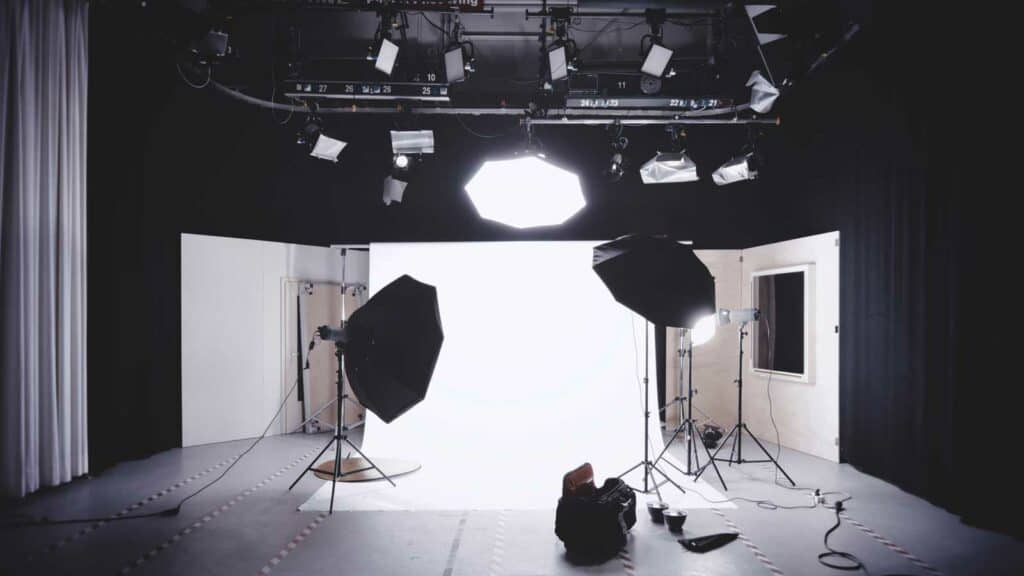 Great Lighting
When it comes to home office lighting, your average desk lamp probably isn't always going to cut it. Those of us who stare at a computer screen all day know how damaging poor lighting can be to our eyes.
That's why setting up a WFH office with good lighting is essential.
The right combination of lighting can really improve productivity and overall well being.
Consider all the different types of lighting you can put in your home office:
Desk lamps – These come in various sizes and shapes, including some that have bulbs designed specifically for working at night. They also usually include features such as dimmers and motion sensors.
Task lights – Task lights are perfect for illuminating small areas of your workspace. You might want task light over your keyboard or next to your printer.
Florescent tubes – Florescent tubes are inexpensive and easy to install.They can be harsh for some people on their eyes, but the technology has come a long way, so these could potentially be a viable option for lighting your home office.
Floor lamps – Floor lamps provide ambient light throughout your entire space. Some floor lamps even feature built-in fans to help circulate air.
LEDs – LEDs are becoming increasingly popular because they last longer than traditional incandescent bulbs. Plus, they consume far less energy. LED panel lights are typically used when filming videos, but they can also be useful for general illumination purposes. There are so many options here, this is a fantastic option.
Overhead lights – Overhead lights give off soft, warm light that doesn't cause eye strain. This type of lighting is ideal for reading, writing, and other tasks where you spend time looking down at your screen.
Consider using LED strips instead of individual fixtures. The cost savings alone makes them worth it.
Video lighting – If you're doing any kind of video conferencing – and who isn't these days? – one thing to consider is getting the right light setup for video. Tungsten halogen lights produce bright white light, which is helpful for videography. However, they aren't very efficient, meaning they require lots of power and you'll likely need multiple units to get your setup right.
Additionally, consider using blue-light filters on your computer screens. If you wear glasses, you can also get blue-light filters on those, too. It helps!
External Monitors
When you work at your desk on your desktop computer, the external monitor you choose is important.
A good monitor will provide lots of screen real estate so you have the space to do the things you need to do.
You can connect an external monitor to your laptop to give yourself even more screen space. If you don't already own a second display device, now would be a great time to buy one.
It may seem like a luxury item, but having two monitors means you won't feel cramped while working, and as one who's used multiple monitors for years now, I can't tell you how much freedom you will feel with all the extra space!
In addition to giving you extra room to spread out, dual monitors allow you to view content side-by-side which is something I often do too. being able to compare stuff side by side is a luxury you don't get from a small, single-monitor setup, unless you're using a single, widescreen monitor.
Widescreen & ultra-widescreen monitors – These monitors give you lots of horizontal space to spread  out your browser windows, apps, and documents.
Curved monitors – Curved monitors offer a unique viewing experience with no distortion.
Portable displays – Portable displays allow you to take your extend your screen real estate for your laptop anywhere without having to worry about carrying around an extra display.
Smaller monitors – Smaller monitors are easier to move around and set up. That said, smaller monitors generally mean lower resolution. So, you might sacrifice some quality by choosing a small monitor over a large one.
If you have the space, my recommendation is to use a large external monitor or multiple external monitors. You never understand how much you can boost your productivity by adding a second screen. It will make working far less frustrating because you won't have to constantly switch between open tabs.
Video Conferencing Accessories
In today's WFH era, video calls are a common occurrence. Virtual meetings and video conferences with clients are the norm. So, you need to be prepared for your next video chat with the best video conferencing accessories.
Headphones: Apple Airpods Pro, Bose QuietComfort Wireless Noise-Canceling Headphones

Active noise cancellation for immersive sound
Transparency mode for hearing and connecting with the world around you

Three levels of world-class noise cancellation for better listening experience in any environment
Alexa-enabled for voice access to music, information, and more
Keep in mind that conference calls require special lighting if you don't want to look dark and broody or totally washed out. Additionally, any of the headphones and webcams include microphones, so you should be able to buy one piece of equipment that performs multiple functions.
Storage
Your home office setup is always going to need storage. There are several ways you can go about home office storage.
You can use bookshelves or filing cabinets to store paper materials.
You can add floating shelves to the wall to store office supplies and add decor to your home office.
You can use rolling carts, clear bins, or storage ottomans to store things out of sight.
Get creative with storage because there are all kinds of ways to boost your home office storage capacity.
Pinterest user Tory Stender takes IKEA cube shelving and creates a great storage solution complete with baskets, books, and binders:
Cube storage is excellent for offices because it's so versatile and can be customized to suit your particular needs. Plus, the ability to leave the cubes open or close them with cubbies means they can look as clean and decluttered as you want.
Cord Management
As you set up your WFH space, cord management is key. Power cords can quickly get out of control without proper cord management.
Use a wireless keyboard and a wireless mouse if you want to avoid those cords, but you will still have to plug in your monitor and your desktop's power cable, not to mention any charging cords you might need.
Setup a docking station for charging your phone and tablet.
Rachel Joy of Joyful Derivatives created this DIY charging station that hides cords and actually looks really good:
Your phone and tablet are always close at hand but you don't have to worry about your cords getting tangled up.
Additionally, you will need a power strip/surge protector for your other cords.
You don't want your computer to fry during the first lightning storm that rolls through. Buy some cord clips,
cord ties, and a cord tray to keep your power cords organized and out of sight underneath your desk.
Desktop Accessories
Now for the super fun stuff. These are items you might not immediately think about when you're making your list of essentials, but they will absolutely come in handy during your long hours in front of the computer.
Internet
You have to have good internet in order to do your work and complete your tasks effectively. So, that means you need a good internet package from your ISP.
You also need a great modem and router that provides strong connectivity and fast upload and download speeds.
If you plan on using Zoom, Skype, or Google Hangouts for video conferencing, make sure you have enough bandwidth available.
Don't settle for sketchy internet if you work from home. Your internet connection is your livelihood.
If you notice that your home office area doesn't get a very good WiFi internet connection, consider investing in a WiFi extender until you can upgrade your internet package.
If wireless just doesn't cut it for your home office, then using a wired connection may be necessary, and that's not a bad thing.
Wired connections are actually faster than wireless and are far less prone to performance issues.
Work From Home Setups For Small Spaces
If you have a tiny apartment, your WFH setup is going to be different than if you have a massive room just for your office. Still, setting up your work from home space in a small space doesn't have to be difficult. You just need to narrow down your essentials and get smart about placement.
When choosing a desk, go for one that doesn't take up a ton of space like the Zytty Floating Wall Desk.
This desk mounts to the wall and folds down when not in use. it barely takes up any room at all.
Get a laptop stand like the Soundance Aluminum Laptop Stand.
You can take it with you anywhere. It will fit easily on your desk, even if it's small, but you can also move it to your coffee table if you need to go mobile.
Use clip-on desk accessories like the BOHON Desk Lamp.
It's super malleable and, since it clips onto the side of your desk, it doesn't take up precious space.
For storage, use multifunctional furniture like the COSYLAND Ottoman Bench.
Not only is it a functional piece of furniture that you can sit on, but it doubles as a storage compartment for paperwork, office supplies, or whatever else you need to store.
Minimalist Work From Home Setups
If you want a minimalist WFH space, go for items that feature clean, sleek lines. You'll want to avoid bright colors and stick with silvers and whites wherever possible.
Minimalist home offices feature lots of straight lines and angles and no clutter. That means you will have to hide your cords entirely. Brighten up the space with lights and be sure to include live plants.
A simple whiteboard is a great way to capture ideas without taking over too much space.
The best place to put this board would be right next to your monitor so you can write notes while working.
Keep your workspace neat by using a file cabinet instead of piles of papers everywhere.
Your files should always be stored away neatly in their own designated spot. This keeps everything tidy and easy to find.
Make sure you have plenty of outlets available near your desk.
If you share your WFH space with another person, you'll need a WFH setup that lends itself to coworking. Fortunately, that's not so hard to do.
It's even easier if you have space to spare.
Pinterest user Modsy cleverly styles an entire wall for storage and uses two desks back-to-back:
Jessica Welling creates an extra-long desk against a wall, creating enough room for two to work:
Here's even more IKEA magic:
Top Shelf DIY uses IKEA shelves for storage and simple tables for desks in this smart, space-saving setup.
Ergonomic Work From Home Setups
You should always get an ergonomic office chair if you can.
Not everyone can afford the Herman Miller Aeron chair, and that's okay.
There are plenty of ergonomic chair options that aren't affordable that deliver solid quality.
The principles behind an ergonomic chair promote comfort and customizability. They're designed to support your body properly and help prevent injuries.
An adjustable height works great for people who spend long hours at a time sitting down.
Adjustable armrests allow you to position them where they feel most comfortable.
Backless chairs offer better lumbar support than traditional models.
Some chairs come equipped with massage features that provide relief when needed.
When choosing between different types of seats, consider how many adjustments there are.
However, you can go even more ergonomic in your home office space. To set up your work-from-home space to be totally ergonomic, look for ergonomic accessories as well.
Managing Time When You Work From Home
When you work from home, it's easier to let time get away from you. You're often your own boss so you're setting your own schedule and no one is really there to keep you in check. It's important to create a WFH setup that boosts productivity.
Stick with a schedule. Get up and start work at the same time every day.
Stick with your routine. Get dressed as if you were going to work anywhere else.
Set up your WFH space away from distractions. Give yourself a home office even if it's small. Don't share your home office space or you will easily become distracted.
Take meaningful breaks. Take set breaks to scroll social media and go on walks. Otherwise, you will likely end up multi-tasking and getting distracted during your designated work time.
Set realistic goals. Determine what you can get done in a certain amount of time so you can build and plan your daily schedules based on your specific abilities.
Next Steps
Do you need help with your work-from-home setup? Want to join others who are creating the most amazing home offices and get more tips, tricks and hacks on how to make your home office the best it can be?
Join my brand new free private Facebook group, Home Office Hacks to connect with other home office hackers to make your space the best!