Accounting is a profession that many view as being synonymous with "office work." Traditionally accountants work from an office setting.
However, working from home is a growing trend in the accounting world, and it can be an excellent option for those who want to work remotely.
Can accountants really work from home?
Yes, it is possible for accountants to work from home. With the proliferation of digital tools and technologies, many accountants are able to perform their responsibilities provided they have access to the right tools to do the job like a high-quality computer and a stable internet connection.
But are there any tasks that must be done from an office?
And what factors impact the ability of accountants to be successful working from home?
Find out how technology and digital tools have made it possible for many accountants to work remotely and what factors may impact your ability to do the same.
Real quick, before we get too far into it here, if you want to get more great ideas for your home office and want to connect with other home office hackers to make your space the best join my free private Facebook group, Home Office Hacks here.
Work You Can Do As a Remote Accountant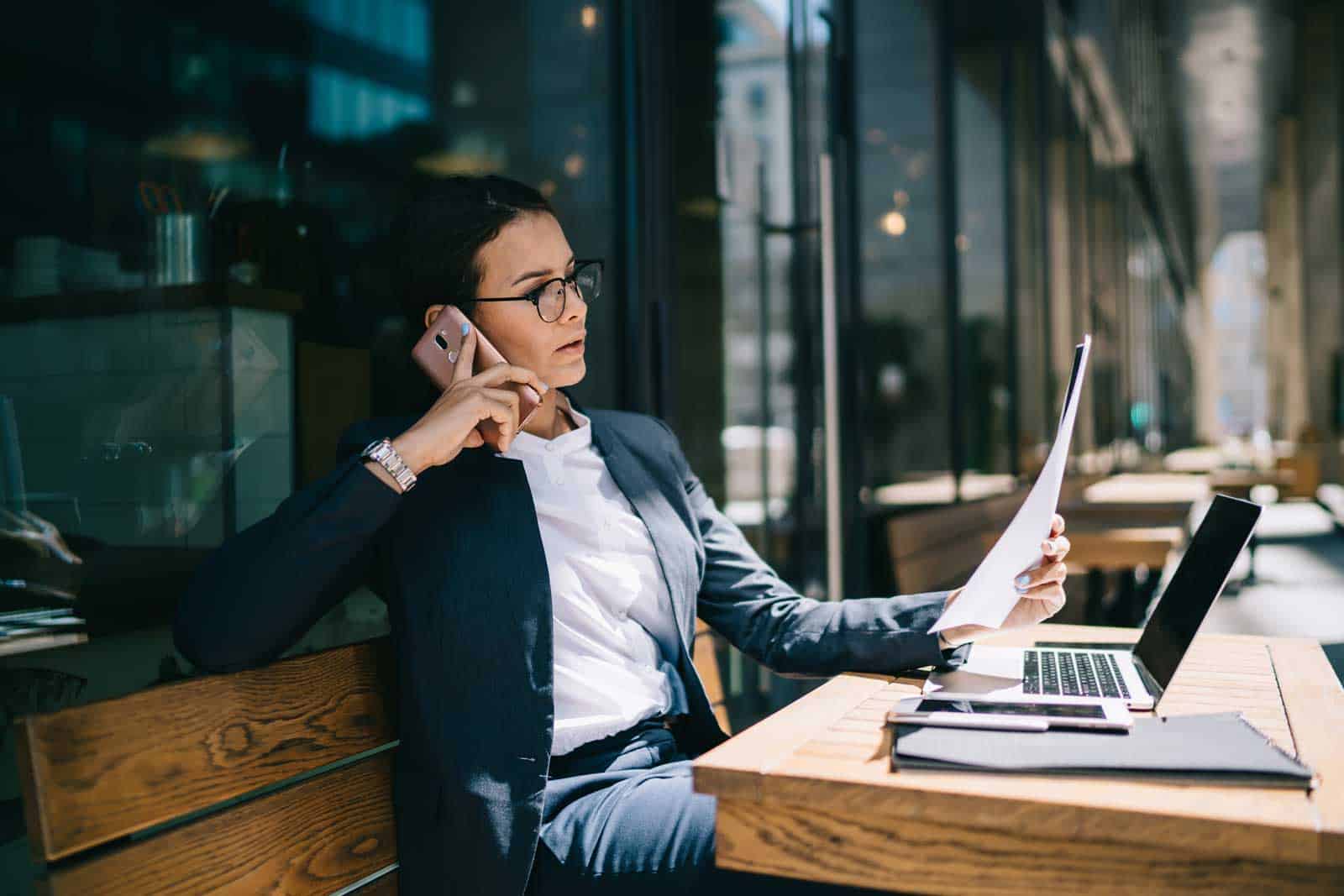 If you look at the statistics from a survey of accounting firms by AccountingToday, 82% of accounting firms are more likely to allow their employees to work from home. That's a high percentage, which means that there are numerous opportunities if you're a certified accountant looking to start working from home.
Regardless of your level of work experience there's a lot of work in the financial services field. Whether you are looking for opportunities at large companies, full-time or part time, or want to start your own business, if you've got the requisite accounting experience, there's work to be had.
Accounting is one of the most popular work-from-home jobs because you can accomplish this task no matter where you are. There is plenty of work accountants can accomplish in a remote work environment.
For example, common work accountants do at home includes contacting clients, keeping financial records, storing information, and adjusting finances.
If your clients need to contact you about an issue as a remote employee, they can do so through a video call, e-mail, or over the phone. Accountants don't need to work in an office to accomplish their tasks properly.
Working from home is a popular alternative for many office workers that have been on the rise in the past few years. Many accountants are taking their work online so they don't have to spend money on gas and can stay in their pajamas.
All of the job functions you can do in an accounting office can be accomplished from a Home Office as well. However, not every accounting company will allow you to work from home. You'll need to check your company policies to determine if working from home is available in your situation.
Prepare Taxes
A popular example of an at-home accounting job could be a tax preparer. This is usually a mutually beneficial position because people filing taxes often don't want to leave home, and neither do you.
Remote tax preparers can contact their clients over the phone or a video call to discuss tax problems. Then, the tax preparer will submit the documents to the necessary area.
There is always a need for tax preparers because, legally, everybody needs to file taxes. So, if you're looking for stable work-from-home positions as an accountant, then becoming a tax preparer might be a great option.
Payroll
You can complete payroll for any company using your computer in your home office. However, when you complete the company payroll, you'll need to ensure that you have a quiet environment.
Every company needs a payroll setup for their employees, and many companies offer this position remotely. This method saves companies money on office space and saves you money on gas mileage.
To complete payroll, you'll need great organizational skills and a spot to focus. If you don't have an area in your home that's quiet enough to focus, you may want to consider finding an in-office payroll job instead as an accountant.
Auditing
When you're a remote auditor, you can use your computer to organize data, audit financial statements, and process information.
In the past few years, most auditors have worked from home to complete job tasks because companies can save money on office space using this method. Many people also prefer working from home, so this situation has proven to be mutually beneficial.
To work remotely as an auditor, you'll need an updated computer system to complete tasks efficiently. You may need several tasks running simultaneously to complete your job functions. Neglecting to update your computer software will make your job duties unnecessarily difficult.
Common Remote Accounting Jobs
There are several types of accountancy careers available, each requiring varying levels of education and training. Some accountants specialize in one area of accounting such as taxation, auditing, or bookkeeping. Others focus on specific industries such as banking, insurance, manufacturing, retail, or healthcare.
Some accountants work for public agencies such as governments, schools, hospitals, and universities. Others work for private firms, either independently or within larger organizations.
Accounting is a profession where many people work remotely. And there are plenty of common remote accounting jobs. Here are just a few examples:
CPA (Certified Public Accountant)
A CPA, or Certified Public Accountant, is a professional designation earned by passing an exam and meeting experience requirements. CPAs are licensed by their state's Board of Accountancy and must meet ongoing continuing education requirements. They provide a wide range of services, including tax preparation, auditing, financial consulting, and bookkeeping.
The CPA designation is recognized as the gold standard in the accounting profession and is highly regarded by employers and clients alike. If you're looking for someone to handle your finances, be sure to ask if they are a CPA. You can be confident that they have the knowledge and experience to get the job done right.
Many CPAs work as independent consultants. While most CPAs work in an office setting, it is possible to work from home. CPA firms often allow their employees to telecommute, and many CPAs who work as independent consultants also have the flexibility to set their own hours and work from home.
CMA (Certified Management Accountant)
A certified management accountant, or CMA, is a professional designation earned by completing a specific education program and passing an exam.
A certified management accountant is a professional who works with clients to manage their finances. Certified management accountants work with clients to develop budgeting and investment plans, track progress towards financial goals, and provide advice on financial matters.
Management accounting work, just like public accounting work, can be done from a home office – many CMAs and CPAs work from home, providing their services to clients online and over the phone. In order to become a certified management accountant, one must pass an exam administered by the Institute of Management Accountants. After passing this exam, certified management accountants must maintain their certification by completing continuing education credits every year.
Certified management accountants play an important role in helping businesses manage their finances and grow their businesses.
Accounting Manager
An accounting manager is a financial professional who oversees the accounting process for a company. They ensure that the company's financial records are accurate and up to date, and that all accounting laws and regulations are followed.
Accounting managers may also be responsible for developing financial reports and preparing tax returns. Many accounting managers work from home, as they can often handle their duties remotely. This allows them to have a flexible schedule and spend more time with their family or on other pursuits outside of work.
Financial Analyst
Financial analysts analyze financial reports to determine whether a company is profitable or unprofitable.
They evaluate trends in sales, profits, and costs.
Analysts also study market conditions to predict future economic growth.
Financial planning can also be a big part of a job like this.
To qualify for analyst positions, you must have completed a bachelor's degree in economics, finance, or business management.
Bookkeeper
A bookkeeper is an accounting professional who is responsible for recording and organizing financial transactions.
Bookkeepers typically work in an office setting, but many bookkeeping jobs can now be done from home.
Bookkeepers usually need at least a high school diploma, although some bookkeeping jobs may require postsecondary education or certification.
Bookkeeping jobs can involve a variety of tasks, such as preparing invoices, tracking inventory, and reconciling bank statements.
Bookkeepers play an important role in keeping businesses financial records organized and accurate.
Auditor
Auditors review financial documents to ensure they comply with legal requirements.
They examine books and records to identify potential problems.
Auditors verify that companies are paying appropriate taxes.
They also investigate fraud and embezzlement cases.
To qualify for an auditor position, you must hold a bachelor's degree in business administration, accounting, or related field.
Controller
Controllers oversee the finances of a company.
Their primary responsibility is to ensure that the company has sufficient funds to meet its obligations.
Controllers are responsible for managing cash flow, budgeting expenses, and monitoring profit margins.
To qualify for controller positions, you must have a master's degree in business administration or finance.
Payroll Clerk
Payroll clerks track employee hours worked and calculate wages owed.
They typically work in offices and are responsible for maintaining accurate records of employee earnings.
Payroll clerks are sometimes referred to as wage earners.
To qualify for a position as a payroll clerk, you must have a high school diploma or GED.
Tax Preparer
Tax preparers prepare federal income tax returns for individuals and businesses.
They use software programs to create individual and corporate tax returns.
Many people choose to file their taxes electronically instead of hiring a tax preparer.
However, tax preparers still play an integral role in preparing tax returns.
To qualify for the job title of tax preparer, you must have graduated from college with a four-year degree in accounting or finance, passed the IRS' Registered Agent Exam, and earned a state license.
Accounts Receivable Specialist
An accounts receivable specialist is a financial professional who is responsible for managing invoices and payments. Accounts receivable specialists usually work in accounting departments and this is a job where they can also work from home.
In order to become an accounts receivable specialist, one must have a strong background in accounting and finance. There are many different accounting software programs like Quickbooks, that an accounts receivable specialist can use, so it is important to be proficient in at least one of them.
Accounts receivable specialists typically work with businesses and organizations, but some may also work with small businesses and sole proprietorships. Accounts receivable specialists usually work regular business hours, but some may work overtime or on weekends if necessary.
Accounts Payable Specialist
An accounts payable specialist is a professional who work with businesses to help them manage their finances.
Their work involves reviewing invoices and ensuring that they are accurate, recording payments, and keeping track of spending.
Accounts payable specialists often work from home, which allows them to have a flexible schedule and work around other commitments.
An accounts payable specialist is responsible for ensuring that a business's bills are paid on time and in full.
In many cases, they will also be responsible for reconciling invoices and maintaining accurate records. While the work of an accounts payable specialist can be demanding, it can also be extremely rewarding. Those who are able to effectively manage their time and meet deadlines often find themselves in high demand, and as a result, enjoy a lucrative career.
There are many other remote accounting jobs, but these are just a few examples. With the technological advances we have today, there is no reason why an accountant cannot work from home. In fact, many companies are now offering their employees the opportunity to telecommute. So if you are an accountant and are looking for a job that allows you to work from home, there are plenty of opportunities out there. Just do a quick search on Indeed or Monster, and you will find dozens of jobs that fit your criteria.
Where can you find work from home accounting jobs?
Accounting jobs are great because they allow you to work from anywhere as long as you have internet access. But where do you even look for these types of jobs?
There are tons of companies looking for accountants who can work remotely. Whether you want to work for an accounting firm, or you prefer to be an on-staff accountant for a company, there are no shortage of of opportunities, especially for those with at least a bachelor's degree. An advanced degree will open even more doors so it's always a good idea for those who are interested in this field of work to get a master's degree or even a PhD.
However, finding legitimate remote job postings can be difficult. In fact, most of the time, you won't even see any remote job listings until after you've already applied.
That's why I created this list of legit online accounting job sources. These positions will help you get started working from home while helping you build your resume.
1. FlexJobs
FlexJobs is a job board that specializes in remote and flexible job postings. The site offers a variety of accounting-related positions, including bookkeepers, controllers, and tax professionals.
Search remote accounting jobs at FlexJobs
2. Upwork
Upwork is a freelancing platform that connects businesses with remote workers. Accounting professionals can create a profile on the site and bid on posted projects.
Search remote accounting jobs at Upwork
3. Indeed
Indeed is a job search engine that aggregates job listings from a variety of sources, including company websites and job boards. Accounting jobs that can be done remotely are typically labeled as such in the job listing.
Search remote accounting jobs at Indeed
4. Glassdoor
Glassdoor is a job search engine that allows users to search for jobs by keyword and location. Accounting jobs that can be done remotely will typically include the keyword "remote" in the listing.
Search remote accounting jobs at Glassdoor
5. LinkedIn
LinkedIn is a social networking site for professionals. Many companies post job openings on their LinkedIn pages, including positions that can be done remotely.
Search remote accounting jobs at LinkedIn
6. Craigslist
Craigslist is an online classifieds website with sections devoted to jobs in specific cities. Remote accounting jobs are sometimes posted in the "Jobs" section of Craigslist websites.
Search remote accounting jobs at CraigsList
7. CareerBuilder
CareerBuilder is a job search engine that offers both remote and traditional job postings. Users can search for accounting jobs by keyword and location.
Search remote accounting jobs at CareerBuilder
8. Monster
Monster is a job search engine that offers both remote and traditional job postings. Users can search for accounting jobs by keyword and location.
Search remote accounting jobs at Monster
9. Dice
Dice is a job search engine that specializes in technology-related positions but also includes some accounting jobs. Jobs that can be done remotely will typically include the keyword "remote" in the listing.
Search remote accounting jobs at Dice
10. VirtualVocations
VirtualVocations is a job search engine that specializes in telecommuting and virtual positions.
Search remote accounting jobs at VirtualVocations
11. WeWorkRemotely
WeWorkRemotely is a job board that specializes in remote positions and freelance gigs around the world.
Search remote accounting jobs at We Work Remotely
Benefits of Working From Home as an Accountant
Once you've passed the CPA exam and have become an official public accountant, there are so many benefits to be had, especially as you embark on a career working from home.
You'll still enjoy all of the same perks that come along with having a regular office job, like health insurance, paid vacation days, retirement plans, and other employee benefits.
Working from home as an accountant can increase your productivity because you all have the trouble of communicating with your coworkers. Sometimes, people have a hard time focusing at work when surrounded by other people.
Some benefits you'll experience when you work from home as an accountant are comfort, convenience, and lack of disturbing stimuli. Many people have reported more work satisfaction when they started working from home due to these benefits.
Many accountants began working remotely during the COVID-19 pandemic and still remain at home instead of in an office. This crisis revealed to many companies and employees the benefits of keeping accounting work in a Home Office instead of creating an office at work.
You can even start your own firm if you don't want to go the traditional route.
Challenges of Working Remotely as an Accountant
Unfortunately, remote work isn't always as luxurious as you may expect. Initially, the idea of working alone and staying in your pajamas all day could seem like a dream come true. However, this lifestyle is not ideal for everybody.
Some challenges you need to consider before you accept a remote accounting job are that you may get lonely, you need to purchase get equipment, and it could destroy your work-life balance.
There's a common saying that goes, "leave work at work," which many office workers live by. However, when you work from home, it can be difficult to separate your work and personal life. Remote accountants need to find ways to separate their work stress so that it doesn't impact their overall lifestyle.
Can You Freelance Your Accounting Work?
One of the most popular ways people like to work from home is by freelancing their work. When you become a freelancer, you can work on your own time.
There is plenty of freelance accounting work available for people interested in gigs instead of standard employment.
However, if you decide that you prefer to freelance your work as a remote accountant, then you need to remember that your taxes will work differently than an employee's. Instead of a W2 form, you'll receive a 1099 form the file during tax season in the United States.
You also might have a hard time finding work as a freelance accountant when you're new to the industry. Creating your own work schedule appeals to many people, which is why freelancing is competitive.
Tips For Working Remote Accounting Jobs
Being an accountant is a great career choice if you're looking to work from home. However, being an accountant requires self-discipline, so it's important to know how to manage your time effectively before taking on this career.
Below are some tips for working a remote accounting job:
Find a balance between family life and work life

Set up your accounting tasks in advance

Set realistic goals for yourself

Make sure you have a dedicated workspace for your home office
Make sure you have a great internet connection
Create routines to help you take the first steps of your day on the right path
Still curious? Click here to learn more about exactly what you need to buy, do, and download to be successful when you're working from home.
Final Thoughts
With today's technology, accountants can join the league of remote workers. Accountants no longer have to spend their days sitting in a cramped little office; they can work from anywhere their internet connection will allow.
An accountant's job scope is quite broad and the specific duties they're responsible for depend on qualifications and level of experience.
Some examples of tasks that accountants can do from home include preparing and reviewing financial statements, managing accounts payable and receivable, performing payroll functions, preparing and filing tax returns, and providing financial advice to clients.
Next steps
Want to connect with other remote workers, contractors, freelancers, gamers and people who work from home who are creating the most amazing home offices? Want to get more tips, tricks and hacks on how to make your home office setup the best it can be?
Join my brand new free private Facebook group, Home Office Hacks to connect with other home office hackers to make your space the best!