Looking for more flexibility and control over your work environment? Looking for better work-life balance? Would you love to work from home with flexible hours?
You've seen the ever-growing popularity of working from home so now you're naturally curious:
Can mechanical engineers work from home? Absolutely. Many mechanical engineers work from home—some as freelancers and contractors, others as more traditional engineers who are part of engineering firms.
If you are a mechanical engineer, or a soon-to-be graduate with your degree in the field looking to explore career possibilities, this post is specially tailored for you.
Real quick, before we get too far into it here, if you want to get more great ideas for your home office and want to connect with other home office hackers to make your space the best, join my free private Facebook group, Home Office Hacks here.
Can mechanical engineers work from home?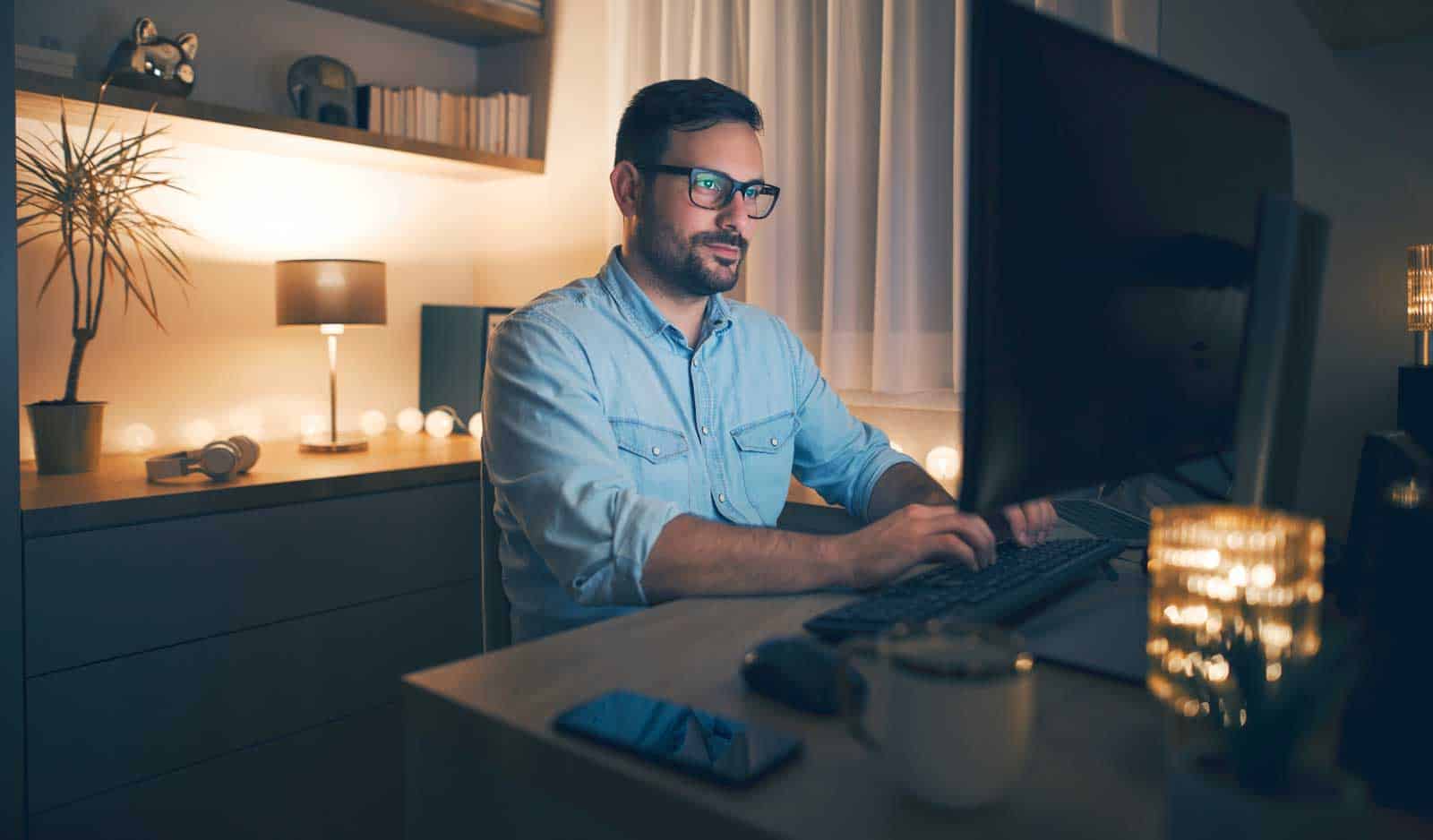 Many mechanical engineers work from home as independent contractors who provide services such as engineering design, product development, manufacturing, quality assurance, and testing. They also work at home as part of an engineering firm that's embraced the 21st-century concept of remote or hybrid work.
In most instances, mechanical engineers work at companies that design equipment used in manufacturing processes. They analyze problems and develop solutions using engineering principles to create new products and improve existing ones.
Mechanical engineers may also work on projects that involve designing machinery or systems that perform specific functions. For example, they might help build machines that manufacture parts or assemble components together.
In today's world of technology, mechanical engineering is one of the diverse branches of engineering which can be done from home.
The point is that working remotely isn't just possible; it's becoming increasingly common. So if you're interested in being a mechanical engineer who works from home, consider whether remote work would suit your lifestyle better than traditional employment.
Can You Work Remotely as a Mechanical Engineer?
Working from home is an enjoyable way for mechanical engineers to set their schedules and find worldwide companies. You can also work remotely as a freelance mechanical engineer if you're not interested in working for a company.
Mechanical engineering is one of the many jobs you can perform from home using your computer. As long as you have the qualifications, you can work remotely as a mechanical engineer.
Mechanical engineers work from home in the automotive, manufacturing, power plant, and railroad industries. If you're interested in job security, you can find remote work as a mechanical engineer through a government agency. Remote jobs as mechanical engineers are plentiful because this skill set is desired in multiple industries.
In recent years, more and more employers are allowing their workers to do jobs remotely because many remote workers report increased job satisfaction. The COVID-19 pandemic forced many people to work from home, and some workplaces kept this remote job available for mechanical engineers.
How Do You Become a Work From Home Mechanical Engineer?
After you have graduated with your degree in mechanical engineering,  it's only a matter of finding a position that allows for remote work or finding a firm that embraces a hybrid work model.
It may seem impossible to find those kinds of opportunities, but I've got you covered!
There are many options for remote job sites if you would rather put in the work yourself instead of relying on creative staffing services. No matter what type of remote job you are looking for, there are some truly helpful sites that will allow you to find the perfect job for yourself. Let's look at a few options for finding your own remote job:
Still curious? Click here to learn more about the best staffing agencies for remote jobs.
How Do You Become a Remote Mechanical Engineer?
There are several types of mechanical engineers, all of which require extensive experience and in-depth engineering knowledge. Some specialize in manufacturing, others in aerospace, and still others in robotics and even healthcare.
Regardless of specialization, mechanical engineers need a bachelor's degree in mechanical engineering at the very least to even be considered for job openings. This degree includes math, physics, chemistry, materials science, computer science, and electrical engineering among others.
After earning a bachelor's degree, mechanical engineers must pass a series of exams to get their licenses. Licensure varies depending on state requirements but typically requires passing a written exam, a practical test, and a final oral examination.
Once licensed, mechanical engineers usually work in teams. Teams often include project managers, designers, technicians, machinists, and inspectors.
Some mechanical engineers work full time, while others work part time or freelance. The type of work available depends on the company and industry.
The bottom line: there are plenty of opportunities for online work in mechanical engineering.
Also, if you want to work remotely as a mechanical engineer, you need a good home office setup that's conducive to productivity.
The importance of being prepared as you engage in your career as a mechanical engineer cannot be overstated. You will need to make sure you have all the right tools and resources to work from home.
Where Can I Find Work From Home Mechanical Engineers Jobs?
One of the best ways to find work as a remote mechanical engineer, besides the job boards I already mentioned, is to follow the social media accounts of popular mechanical engineering companies. This will ensure that you are notified when they have open positions or when they're looking for freelance or remote engineers. If a company is hiring a remote mechanical engineer, they will list the fact that the job is remote in the job posting.
You can even set up a job alert to receive notifications whenever new job postings come up matching your search criteria.
If you don't mind cold calling, there are also many companies that hire freelancers directly through their websites.
So, unless you can find the word "remote" in the job posting, it's safe to assume that the posting is for an in-person job. If you're not looking for a traditional job with an engineering firm, then you can use freelance websites to find work as a mechanical engineer.
Freelancing is a great option for mechanical engineers who desire a flexible schedule. However, remember that your taxes as a freelance mechanical engineer will work differently than if you received a job through a company.
Challenges You'll Face as a Remote Mechanical Engineer
Remote mechanical engineers must be tech-savvy and have the technology to do their work from home. This means you'll need to understand how to use different systems without someone showing you in person.
Mechanical engineering technology has transformed over the years. That means you will need to be up to speed on what's needed for you to do your job, whether it's for engineering calculations, working on a design for manufacturing experience, or any other variety of engineering tasks.
In order to succeed as a remote mechanical engineer, you'll need to learn about these technologies and master them.
Also, when working remotely, excellent communication skills are an absolute must, regardless of what field you're working in.
You'll also need to learn how to manage your time in your home environment. Some people have trouble focusing when they work from home. If you're the type of person who needs to socialize or frequently needs hands-on help, working from home might not be the right option for you.
One challenge that can be unique to an engineering career at home is completing your design reviews virtually. Most firms that often work with remote staff will have extensive knowledge and experience on how to conduct these reviews properly. This just means that you may have to make regular trips to the office to meet with your team leader to go over your work.
Want to learn more? Click here to learn more about how to be focused and productive when working at home.
Benefits of Working From Home as a Mechanical Engineer
Many people enjoy working from home because they can stay in their pajamas and be as comfortable as possible while they complete their job. People who work from home don't have to worry about spending gas money to get to work or making small talk with coworkers once they arrive at work.
One of the best parts of working remotely as a mechanical engineer is staying comfortable throughout your workday.
As more people have worked remotely, companies are noticing a sharp increase in job satisfaction. Working from home is a great option for people who feel anxious in social situations or would like to stay comfortable. It is also a great option for people who would like to be available throughout the day for their children or other family members.
Some people even report feeling more productive when they work from home as mechanical engineers because they don't have to worry about environmental stressors.
Learn more about the benefits of working from home here.
Next Steps
Want to connect with other remote workers, contractors, freelancers, and people who work from home and are creating the most amazing home offices? Want to get more tips, tricks, and hacks on how to make your home office setup the best it can be?
Join my brand new free private Facebook group, Home Office Hacks to connect with other home office hackers to make your space the best!