Looking for a solution to connect your ultrawide monitor to your laptop?
If your laptop computer can support HDMI 1.4 or later, then it shouldn't have any problem handling a large 49-inch ultrawide monitor.
Super widescreen monitors typically require a resolution of at least 3,440 by 1,440. Since the most basic HDMI 1.4 can support 4K at 30Hz, it should handle wide monitors fine.
Real quick: before we get too far along here, if you want to get more great ideas for your gaming room or home office and connect with other home office hackers to make your space the best join my free private Facebook group, Home Office Hacks here.
How Do I Use My Ultrawide Monitor with My Laptop?
You should be able to plug in your ultrawide monitor via HDMI cable into the back of your laptop, provided that you have a video card that can support ultrawide resolutions.
As long as your GPU (graphics processing unit) can display 1440p you should be fine.
How Do I Know If My GPU Can Display 1440p?
The wider the monitor, the higher the resolution. The higher the resolution, the more pixels contained onscreen. Depending on your graphics card, certain processes and games can get challenging.
If your laptop supports any of the GeForce 7xx series video cards you will be able to run at 1440p. You can see that the three GPUs below support 4K, though they have very different bandwidth memories
| | | | |
| --- | --- | --- | --- |
| Graphics Card | Maximum Resolution | Recommended Gaming Resolution | Memory Bandwidth |
| GTX 750 | 4K | Up to 1600×900 | 80 Gbps |
| GTX 760 | 4K | Up to 1600×900 | 192.2 Gbps |
| GTX 770 | 4K | Up to 1600×900 | 224.3 Gbps |
That said, you may also need some additional VRAM. Video RAM stores image data to ensure your graphics are displayed with the highest possible quality. Be sure to get the right size for your laptop.
If you want to play games, and you are on a budget, anything from a 950 to 970 should be good to power the screen.
You will need to make sure that you have the correct drivers installed on your laptop before connecting the two devices together. If you don't know where to look for these drivers, check with the manufacturer of your laptop.
How Do I Change My Resolution to 3440×1440?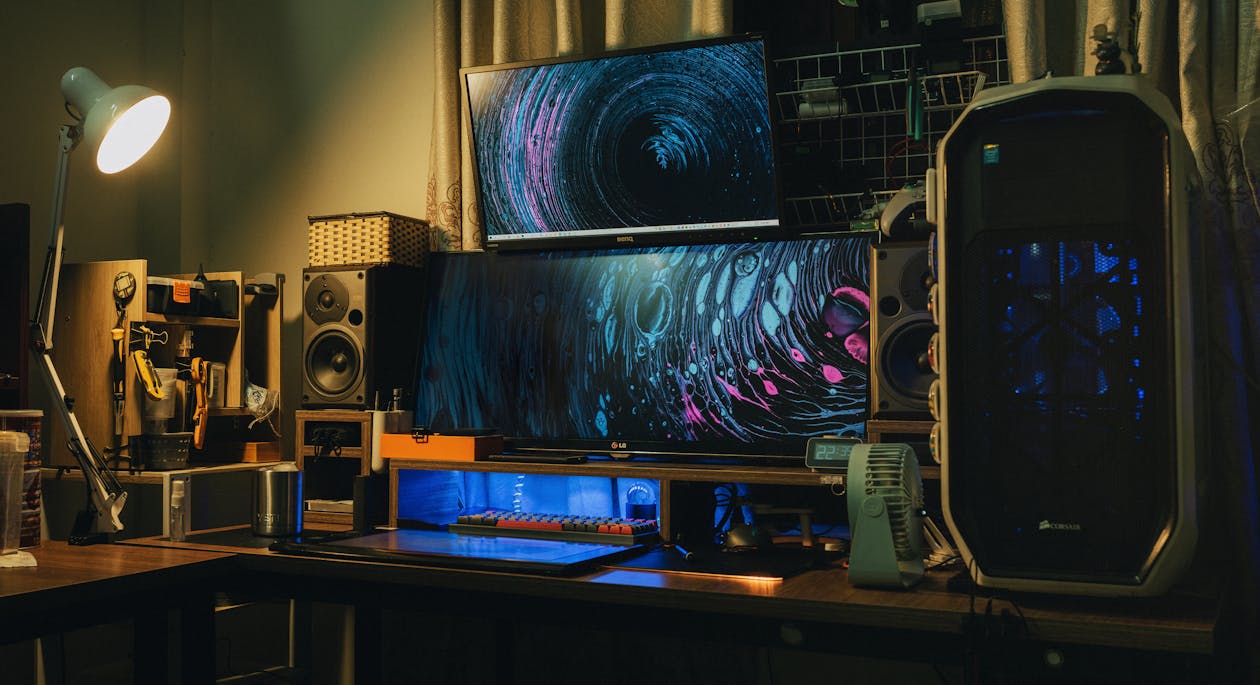 Sometimes when you're plugging in external monitors, you have to manually change the resolution on your computer. The native resolution on your laptop won't be the 3440×1440 your ultrawide secondary monitor requires.
To change your resolution on Windows 10, follow these steps:
Right-click on the desktop and find "Display Settings."
Find "Advanced display settings" at the bottom of the screen that opens.
Choose the 3440×1440 resolution from the available drop-down menu.
If you are using a Mac, follow these steps to change your resolution:
Click "System Preferences."
Choose "Displays."
The native resolution will likely be set to "Default for display." Change this to "Scaled" and select the 3440×1440 resolution option.
Changing your resolution to accommodate an ultrawide display is easy.
Different HDMI Versions
Your HDMI cable will affect the resolution your monitor can achieve. Below is a table outlining all HDMI categories and their resolutions, including the first HDMI cables made available.
| | | | |
| --- | --- | --- | --- |
| HDMI Type | Supported Maximum Resolution | Bandwidth Capacity | Use and Features |
| Category 1: Standard | 1080i or 720p | Up to 5 Gbps | HDTV broadcasts |
| Category 2: High Speed | 1080p or 4K at 30Hz | Up to 10 Gbps | 3D and Deep Color support |
| Category 3: Premium High Speed (4K) | 4K at 60Hz | 18 Gbps | UltraHD and expanded color range |
| Category 3: Ultra High Speed (8K) | 8K at 60Hz or 4K at 120Hz | 48 Gbps | Supports HDR and is less susceptible to electromagnetic interference |
Keep in mind, though, that in 2021, HDMI terminology has gotten much simpler. You will be hard-pressed to find HDMI cables that don't support 4K resolution. All the below HDMI cables are backward compatible with every previous generation of HDMI port.
[amazon table="4119″]

Currently, there isn't much 8K content on the market yet. However, the HDMI 2.1 cables aren't that much more expensive than the 2.0, so it makes sense to buy them if you're in need of HDMI cables since they are backward compatible.
Pros of Ultrawide Monitor
There are so many advantages to using an ultrawide monitor. If you have a setup with multiple monitors, you'll find that an ultrawide monitor can give you an even more immersive experience.
Large Screen Space
The larger the screen size, the more space available for viewing content. This is especially important when watching movies or playing games.
If you are looking for a new laptop, consider buying one with a high-resolution display. A 3440×1440 resolution has been shown to be the ideal resolution for gaming.
Better Viewing Angle
Curved ultrawides offer better viewing angles than traditional 16:9 displays. The wide viewing angle and curve make them perfect for creating an immersive gaming experience.
They also expand your screen landscape to be able to use different regions of your ultrawide monitor for different purposes.
This is especially helpful if you assign different tasks to different places on your monitor setup.
For instance, I keep all my communication apps open on the far-left side of my monitor and keep all my active area work on the right.
They Look Amazing
Having one huge command center monitor that spans virtually the entire width of your desk, curved in on the edges to make sure you can see every square inch, and having enough room for all your apps is amazing.
No Bezels
If you're used to using dual monitors for your setup, you know that the bezels of your monitors can be somewhat distracting to your visual flow. Monitor bezels split your visual experience right down the middle.
When you have an ultrawide monitor you don't have that issue.
Cons of an Ultrawide Monitor
Why would I buy an ultrawide monitor instead of a normal monitor?
Because they're big! They take up lots of desk space and are usually heavier than standard monitors. However, they're worth every penny because they give you so much extra real estate.
They're great for watching movies and TV shows. You'll enjoy having all that extra space to spread out and relax.
Ultrawide Monitors Are Expensive
Most people think that ultrawide monitors are really expensive but it's actually cheaper than getting multiple regular monitors.
Depending on the size you're looking for you could spend $1,000 or more on a big ultrawide monitor.
Width Doesn't Always Mean More Space
Sizes can be easily misunderstood. Just because you decide to go with an ultrawide monitor, it doesn't necessarily mean that you're adding a bunch of additional screen real estate.
Make sure you pay attention to the square inches (or square centimeters) on your new ultrawide and see how they compare to regular 16:9 monitors.
Ultrawide Flat Monitor vs. Ultrawide Curved Monitor
Ultrawide monitors create more screen space for multitasking. So, how do you choose between a curved monitor and a flat one?
Experts agree that curved monitors are the way to go if you have to choose between flat and curved.
The ultrawide aspect means that you'll have to turn your head from side to side when using your monitor. Curved monitors are the answer to this inconvenience.
Curved monitors create a more immersive visual experience while relieving the neck strain that comes with constant turning back and forth. The curve brings pixels on each side closer to the eye so you can move your eyes instead of your head.
Ultra wide ultra slim curved monitor 21: 9 immerses the attention of a larger audience with a 35 inch screen that accurately resembles the contours of the human eye.
100Hz refresh rate with 100Hz refresh rate, images transition rapidly and smoothly while still outpacing the standard and reducing screen tearing.
Sceptre 35-Inch Curved Ultrawide Monitor: 21:9, QHD, 3440×1440, Frameless, HDMI and DisplayPort, up to 100Hz
34″ Class (34″ Viewable) AOC Gaming G2 series monitor with 2560×1080 UltraWide Full HD Resolution VA Panel
UltraWide super-curved 1500R monitor wraps around your vision to put you at the center of the action
AOC CQ34G2 34-Inch Super Curved Ultrawide Gaming Monitor: Full HD, 2560×1080, Frameless, HDMI and DisplayPort, 75Hz
Super ultra-wide business desktop monitor offers a spacious, panoramic 49-Inch screen and a 32: 9 aspect ratio allowing you to choose between one huge desktop space, side-by-side, or picture-in-picture desktops from up to 2 computers, all on an adjustable stand with height, swivel, and tilt features – combine to enhance productivity and a streamline Your workstation
Viewing Angle is 178° (H) / 178° (V); Aspect Ratio is 32:9
Samsung CJ890 Series 49-Inch Ultrawide Computer Monitor: 32:9, QHD, 3840×1080, Ultra Curved, HDMI and DisplayPort, 144Hz
Do All PCs Support Ultrawide Monitors?
So, this question has two very important distinctions.
All PCs will support ultrawide monitors with the right cables and the right video card, yes. However, if you don't have the right video card the image sent through the cables to the ultrawide monitor will stretch to meet the aspect ratio.
However, whether or not it's going to look how it's supposed to is another question entirely.
Certain media doesn't support widescreen viewing. Older games, movies, etc. won't rise to the ultrawide occasion. Since gaming is the primary use for an immersive ultrawide monitor, you better make sure your game supports it before you upgrade.
Additionally, if your GPU and VRAM can't keep up with the demand of the high resolution and display, you'll sacrifice visuals and experience lag.
It's best to decide what you're going to use your ultrawide monitor for and then ensure your PC has all the necessary hardware to get the most out of it.
Related Question: What are ultrawide monitors?
Ultrawide monitors are monitors that use a 21:9 aspect ratio. They are much wider than they are tall and present more screen space.
A standard monitor aspect ratio is 16:9. An ultrawide monitor offers a similar viewing experience to a movie theater screen. However, the best ultrawide monitors are curved.
Next Steps
Want to join others who are creating the most amazing home offices and get more tips, tricks and hacks on how to make your home office the best it can be?
Join my brand new free private Facebook group, Home Office Hacks to connect with other home office hackers to make your space the best!