Step into Chris Gillespie's world, where his home office isn't just a space – it's an immersive experience. Carefully and thoughtfully designed to cater to both his productivity needs and gaming hobbies, this space showcases his creative capability for creating an environment that's both practical and exciting. Each component, from the high-tech PC to the ambient lighting, plays a role in crafting this dual-purpose haven.
A Quick Look into Chris' Home Office and Gaming Setup
Chris rightfully takes a lot of pride in his home office setup which he describes like an artisan unveiling their masterwork: "My home office consists of 16′ of walnut butcher block top in an L pattern sitting on four kitchen base cabinets with the toe kicks removed to lower the height."
This large, sturdy surface provides ample space for both work and play, with this pragmatic and highly stylish approach to design. The walnut top adds warmth and natural texture, while the adapted cabinets suggest a resourceful and personalized approach to furniture.
The L-shape desk not only maximizes the room's footprint but also hints at a space that's as much about entertainment, marked by the presence of LEGO Space Shuttle and Star Wars memorabilia, as it is about productivity.
Maximizing Space: Chris' Strategic Design
Chris Gillespie's setup stretches across a spacious 16×48 area, which is meticulously utilized to accommodate his comprehensive home office and gaming setup. The size allows for the expansive L-shaped walnut butcher block desk and various gaming and work-related stations.
The DIY Challenge: Tailoring a Personalized Workspace
The greatest challenge Chris faced was the hands-on effort of crafting his space from the ground up. He mentions, "Just making everything from scratch or modifying to work in my space," a task that involved personalizing furniture and tech to fit the specific dimensions and his functional needs, mirroring the care and attention to detail seen in the images of his setup.
Sophistication Meets High-Octane Gaming
Chris's goal was simple yet precise. He wanted a setup that maintained a grown-up feel with a twist: "Mainly I focused on having a clean space to work and play from that felt adult when the lights were on but would come alive as soon as I wanted to start gaming." From the carefully selected walnut butcher block desk to the geometric precision of the wall patterns, his space really delivers that grown-up feel by day.
But when the lights go down and it's time for play, it's the transformation at night that's really striking. The calm of cool, purple lighting gives way to an electrifying gaming atmosphere where every detail, from the Star Wars and Space Shuttle memorabilia to the strategically placed LEDs, creates an immersive experience. It's here, amidst the glow of ambient lights and tech gear, that Chris's space really shows its dual personality – a serene haven that easily converts into a gamer's paradise.
Inside Chris's Tech Haven: A Detailed Look at His Gaming Rig and Tools
Chris's desk is a powerhouse, centered around a robust PC build: a Z690 motherboard paired with a 13th gen I5 13600K CPU and a Gigabyte RTX4070 ti GPU, all kept cool by an NZXT Kraken Z63. It's housed in an NZXT H510 elite case, complemented by 64GB of Corsair Vengeance RAM.
His choice in peripherals is just as impressive, with a Nix Day Off 60 keyboard featuring GMK Polybius keycaps and Bsun switches, and sound delivered through Edifier MR2 monitors and a Corsair HS80 headset.
The gaming ambiance is crafted through Govee lighting, creating an immersive experience that synchronizes with his Alienware OLED monitor. His setup is organized with an Ikea SKÅDIS pegboard, and the space also serves his creative side with a TV/laptop area, a soldering station, and a 3D printer for his projects. This setup isn't just about gaming; it's a versatile station where functionality meets a high-octane passion for tech and hobbies alike.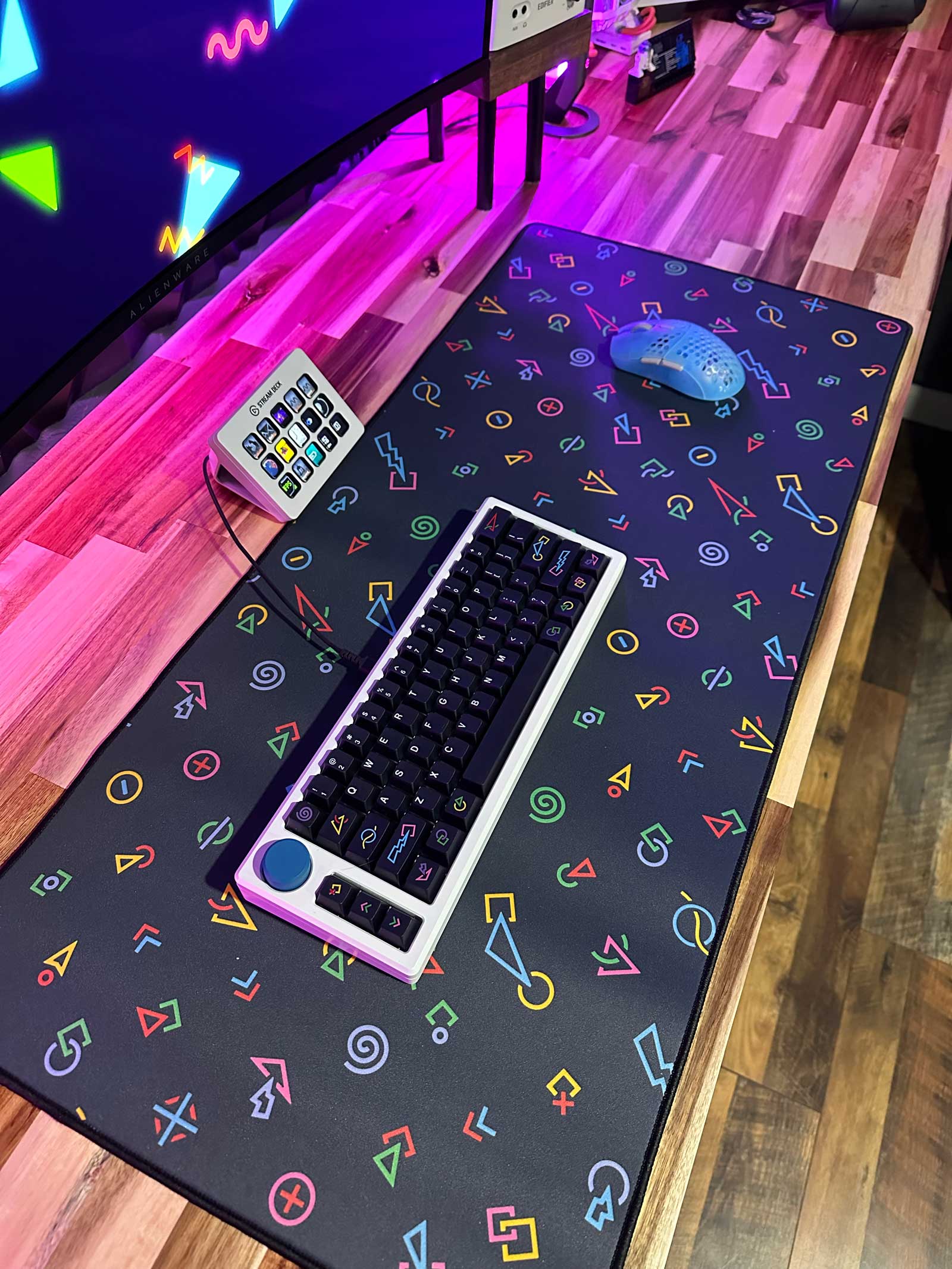 Chris's Go-To Gadget: The Versatile Streamdeck
Chris's favorite tool in his home office is the Streamdeck. He finds it extremely useful, saying, "Streamdeck certainly comes in handy for many tasks whether it's productivity or just for fun while gaming."
This tool is a standout in his setup for its flexibility, enhancing his ability to switch between work-related tasks and gaming effortlessly. With a setup that blends work and play, the Streamdeck proves to be an invaluable asset, streamlining his interactions and making both aspects of his home office more enjoyable and efficient.
Chris's Key to a Personalized Space: Imagination and Planning
When I asked about any tips he might have about setting up a home office, Chris emphasizes the importance of creativity and vision-casting: "No real tips or tricks to share other than using your imagination, also pre planning with a simple sketch or render." He credits these approaches with helping him visualize and decide among different layouts for his space.
This just goes to show that there is a ton of value in envisioning the end result and thoughtfully considering your options. That way you ensure the final setup not only meets functional needs but also reflects your personal style and preferences perfectly.
Chris's Complete Setup and the Comfort Upgrade
Chris is thoroughly satisfied with his home office and gaming setup, stating, "There isn't really anything I feel missing in my space." His setup is a tailored space that meets all his gaming and life needs.
He especially loves the ambiance shift when gaming, describing a dramatic change as the room lights up, signaling it's time to play. To make his gaming experience even better, Chris recently added 'wicked cushions' to his headset, a small but significant upgrade focusing on comfort for those extended gaming sessions.