Imagine a world where your office is more than just a desk – it's your sanctuary. That's the reality for Kacper Gluszczenko, a photographer who's created an amazing work station in his home. Making the most of cramped quarters his home office setup is nothing short of inspiring. I talked with Kacper to dig into the details of his elegantly simple home office, so if you find yourself in a similar situation without a lot of space, you too can create an amazing setup.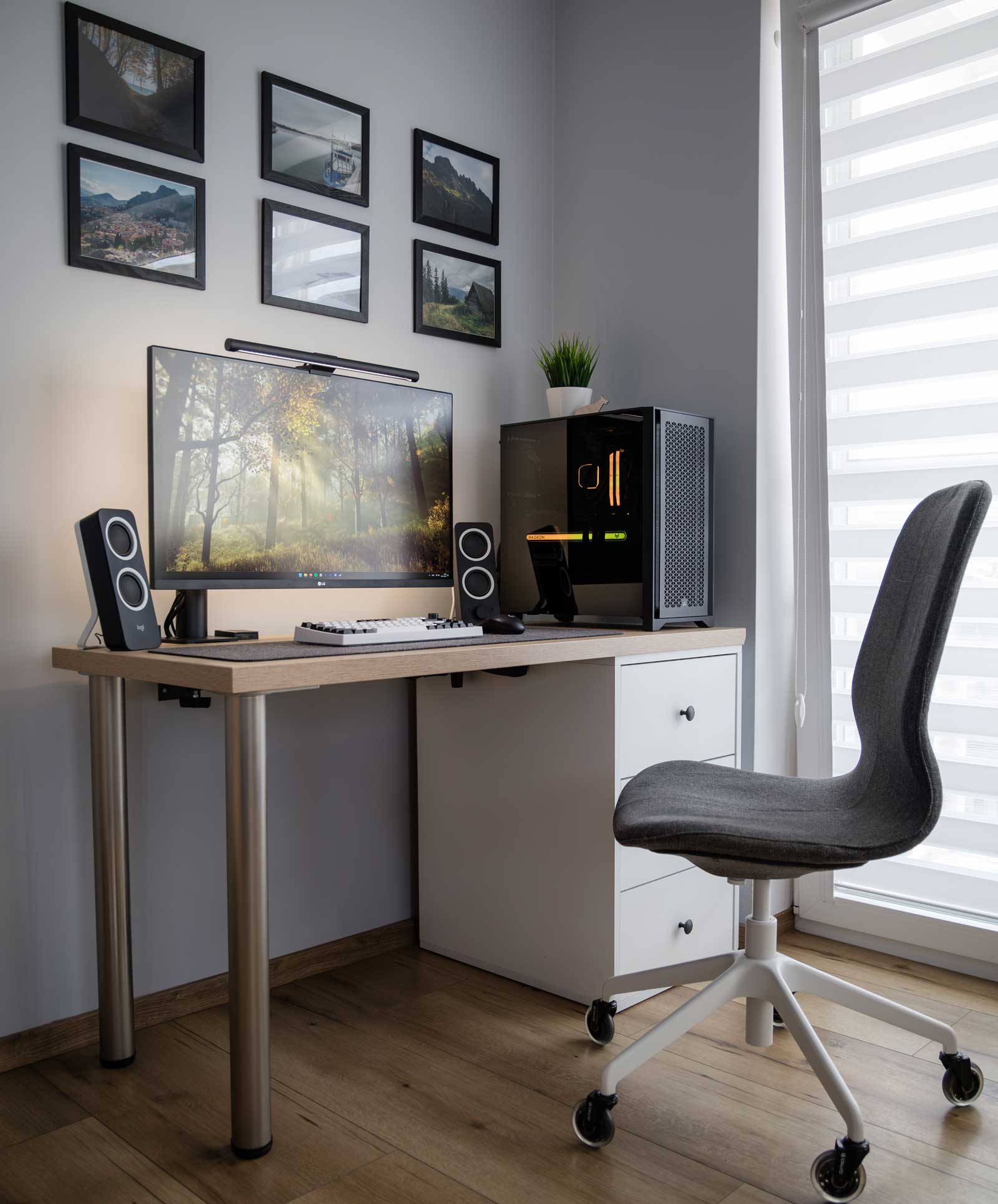 Space Optimization in a Shared Living Room
Not all of us have the luxury of a separate room where we can set up our work space, some of us have to get creative and resourceful and that's exactly what Kacper has done.
Nestled in a cozy corner of his living room, Kacper's home office is a masterclass in space optimization. "It's not much of an 'office' per se," Kacper admits, "but I'm super happy I have my own happy place at our place." Living in a flat, the challenge of creating a personal workspace without compromising on living space was essential.
Navigating Space Constraints: Kacper's Home Office Challenge
Kacper faced a common problem when setting up his home office: space limitations. "Space. Some sacrifices had to be made in order to fit everything nicely in, basically, the only logical place I had," he explained. This challenge led to a smaller desk and the need to consider his wife's comfort while working or enjoying other activities like gaming and music. Kacper's solution? Embracing the utility of headphones, a simple yet effective way to respect shared living spaces which underscores the compromises and creative solutions needed when configuring a workspace in a shared environment.
Simplicity and Elegance: The Driving Force Behind Kacper's Setup
In crafting his setup, Kacper took a different approach that sets his space apart from a lot of other setups. He explained his vision, saying, "I don't like flashy RGB and over the top setups so I was aiming in, more or less, elegant and minimal look." This straightforward approach to his setup resulted in a space that emphasizes functionality and looking good without going overboard.
Kacper filled us in on the details about his desk setup, emphasizing both functionality and personalization. He pointed out that his, "Desk has been custom made by local carpenter few years back. It's not the best quality piece of furniture but it gets the job done so I'm happy with it. Powering the whole thing is my custom build PC which I have recently put together. It's more than powerful enough for my needs and I absolutely love it. Monitor I use is LG UltraFine Display Ergo 32UN880-B, which is great for content creation due to high color accuracy and its nice, 32" display. On top of it I've mounted a Xiaomi Light bar and I have also stuck cheap LED strip behind the monitor for nice ambient lighting to ease eye strain, especially after dark. Under the monitor you can find UGreen memory card reader and a remote from the screen light. My audio gear is simple and very entry level. I have a pair of Logitech Z200 speakers and HyperX Cloud Alpha headset for occasional gaming and listening to music. My keyboard is an Epomaker TH80 with Olivia clones and I paired it with Logitech G305 mouse. Both lays nicely on Minimal Desk Setups, felt deskmat. My chair is from IKEA, Langfjall is the model name. Despite it looks it's one of the most comfortable chairs I have ever used. On the wall above the monitor I've hung few of my favorite photos I've taken during the years and that's basically it.
Centerpiece of Productivity: Kacper's Custom-Built PC
When asked about his favorite element in his home office, Kacper didn't hesitate: "My PC, I think. I've spent a lot of time researching parts to fit my needs and to not break the bank so I couldn't be happier with the final result."
Kacper's Practical Advice for Home Office Setup
Kacper offers straightforward advice for setting up a home office: "Don't go overboard. Prioritize function over form, especially in the beginning. Start with choosing the right gear for the job and do not worry about the aesthetics. It will come with time as long as you will be happy with the space you're using. If you go the other way around, you may land with absolutely gorgeous items which are crap when it comes to doing their job. The choice is yours."
Balancing Office and Home: The Impact of Kacper's Home Setup on Work and Well-being
Kacper reflected on the impact of his home office setup, saying, "I still prefer going to the office for my 9-5 but having space I like at home certainly helps on those days when I have to stay in. Plus it's definitely helping with staying productive for my creative work." pointing out how his home office setup complements his work life, providing a conducive space for both his professional office work and personal creative projects.
The Perks of Home-Based Work: Kacper's Perspective
When asked about the best part of working from home, Kacper Gluszczenko highlighted a key advantage: "You don't have to commute so you have more time before and after work. But I still prefer going out and separating work and home from each other. Matter of preference I guess." Kacper also emphasizes his preference for a clear distinction between work and home life, which is so important when it comes to remote work.
Focus and Distractions: Kacper's Home Office Challenges
Kacper shared an all-too-common challenge of working from home: "There are so many things to do, other than working. It's harder for me to stay focused when there are no people and my dog is running around like crazy."
Quick Facts About Kacper & His Setup:
Q: What was the most recent thing you bought for your setup?
A: PC, I've built it mid October this year.
Q: What's one item you wish you had in your home office?
A: Maybe a standing desk or better speakers or maybe nice custom keyboard? It's hard to choose one thing 🙂
Q: What is your preferred beverage while working in your home office?
A: Water or tea
Q: How can we connect with you on social media?
A: Kacper on Instagram: https://www.instagram.com/k.gluszczenko/ https://www.instagram.com/4nogi4lapy/