Do desks have latex? You certainly don't want to buy a fantastic office desk only to find out that it was constructed with rubberwood or compounds containing latex in them, right?
Typically, desks do not have latex considering most of them are made of natural wood like oak, walnut, cherry, and maple or even MDF (medium density fiberboard). However, desks made of rubberwood have latex in them and may trigger latex allergies. Desks also have feet, edge guards, and grommets made of natural rubber that can have latex in them. Some desks come with latex paint on them, but it has no natural rubber latex protein in it and hence should not cause allergic reactions.
So it's not too common for desks to contain latex.
But what about pre-built desks? Do they lave latex?
Is rubberwood commonly used in desks?
Do pre-built desks have latex?
Is latex paint also harmful?
How to check if your desk has latex in it?
Just a quick head's up: if you want to get more great ideas for your home office and connect with other home office hackers to make your space the best join my free private Facebook group, Home Office Hacks here.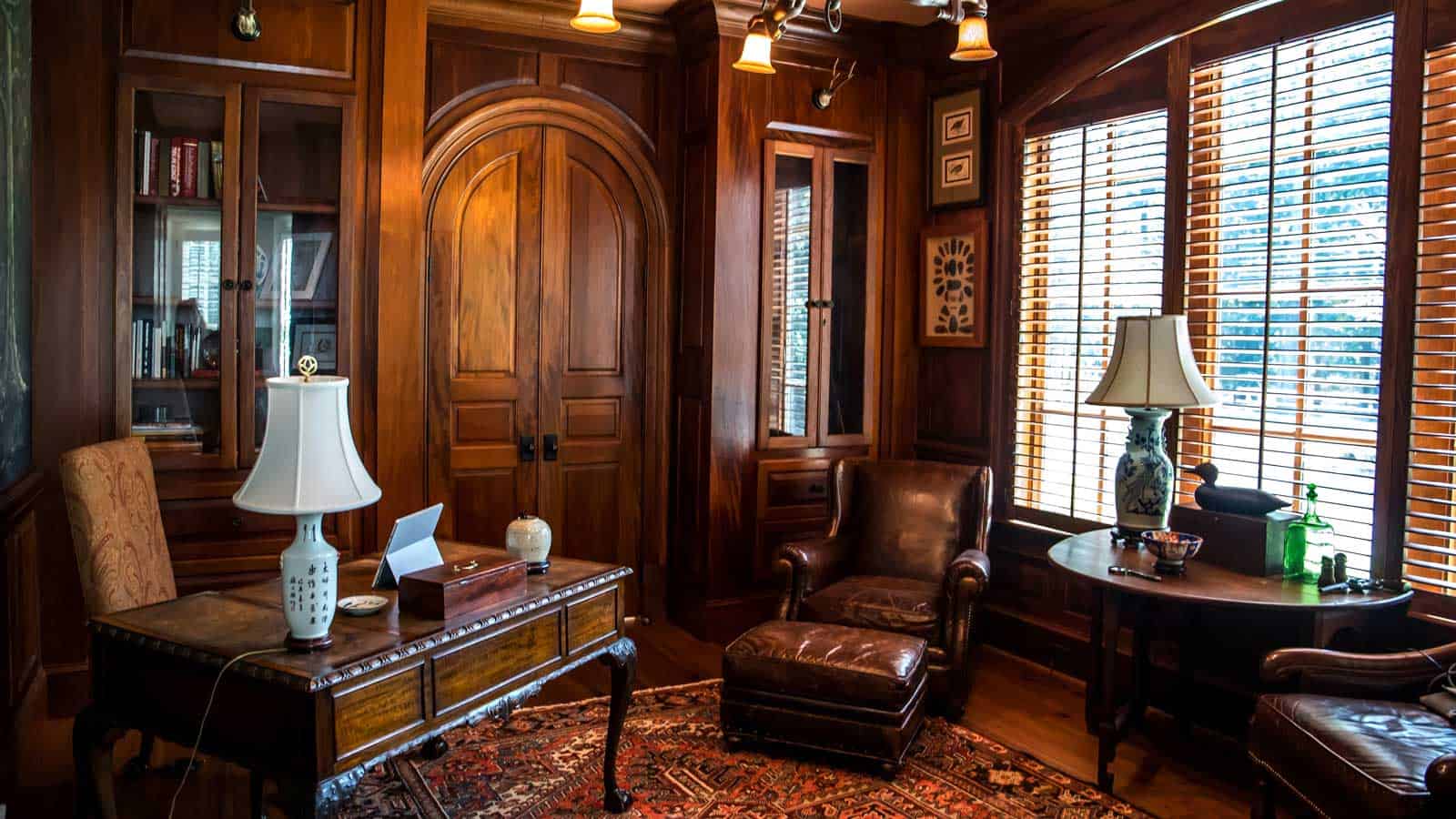 Do Custom Desks Have Latex?
One of the best parts about custom desks is that they are made according to your instructions.
You decide what material to use, the dimensions, and what the desk should look like.
Just keep in mind, if the custom desk is made from rubberwood, it will have traces of latex in it.
Rubberwood is known by many names including, plantation hardwood, parawood, and Hevea. In 2002, the Malaysian Ministry of Primary Industries marketed it under the name "Malaysian Oak." If you come across any of these, know that it contains latex.
Honestly, most people don't even have rubberwood on their lists. They prefer maple, birch, mahogany, or oak for most of their needs.
Most custom desks do not have latex in them and can be used without any worries of an allergic reaction.
However, if you buy a used custom-built desk, ask the seller what type of wood has been used. Some custom desks may have accessories like feet, edge guards, and grommets made of natural rubber that have latex in them.
Make sure you know all the manufacturing details of the custom desk before closing the deal.
Do Pre-built Desks Have Latex?
Pre-built desks, for the most part, are made of wood and steel. Most of them use cheery wood, elm, maple, cedar, and rosewood for desktops and even for the legs. The industrial-style desks have steel legs.
Only a few, like the Livinia Canberra 47.2" Dining Table are made of rubberwood and have latex in them.
Beautiful midcentury modern style rectangular dining table with visible natural wood grain.
100% authentic solid Malaysian Oak. Perfect for anyone who loves and appreciates genuine wooden products. Great choice as a kitchen table, breakfast or coffee table, or a natural wooden writing desk for your study or office.
Why?
Every rubberwood tree produces latex for almost 30 years, and only at the end is it harvested and used as raw material in wood furniture.
Some desktops have natural rubber latex surfaces. It isn't hard to miss.
If you have a latex allergy,  stay away from it – don't buy it.
Make sure you read the product description carefully before making the purchase.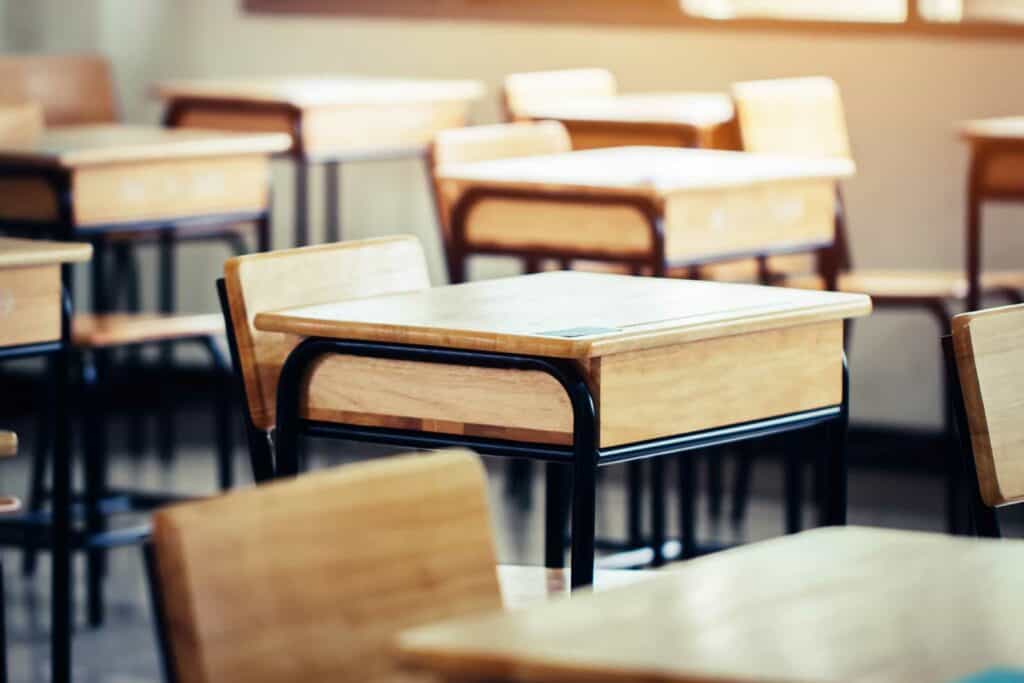 Do Classroom Desks Have Latex?
Classroom desks are generally made from solid plastic or particleboard covered with a laminate or melamine finish. The laminate (wood) surface is mostly made of oak or pine.
So, do classroom desks have latex? No, they don't.
Do "classrooms" have latex? Yes!
Many classroom supplies have latex, such as erasers, rubber bands, adhesive tape, rubber cement, art supplies, and paint. Science lab equipment and gymnasium equipment, such as gloves, diaphragms, rubber mats, balls, and racquet handles, also have latex in them.
If you are a school administrator, make sure all school personnel is educated about latex‐containing products in school settings. Use of alternative products is recommended for anyone who has a history of latex allergy and for those who are at risk of developing latex allergy.
Apart from creating a safe and non-latex environment, there should be a robust emergency protocol to recognize and treat an allergic reaction.
If you are a parent, make sure the school has some sort of latex contingency plan. Know the latex allergy symptoms and take no time to contact a doctor if you observe some.
Do Desks Have Latex Paint On Them?
Some desks are painted with water-based latex paint.
Can it cause an allergic reaction? Surprisingly, it's unlikely.
The "latex" in most "latex paints" refer to synthetic latex.
Only natural rubber latex is harmful and causes various health implications. Latex paints do not contain natural latex protein but rather synthetic latex.
People with latex allergies are at no increased risk of an allergic reaction due to exposure to latex paint.
Many people actually prefer using latex paint as it's easier to apply latex paint to a surface, and it dries a lot faster. It is non-flammable, easier to touch up, cheaper — what's not to love?
Many pre-built desks come with a coating of latex paint on them. So, no need to be too worried when it says, "This desk has latex paint on it."
On the downside, latex paint does pose other risks to people and the environment. It has various chemicals that can cause contact dermatitis and can release potentially toxic fumes leading to headaches, nausea, vomiting and respiratory problems.
If you are applying latex paint yourself, use a mask and googles and do it in a well-ventilated area.
Does Your Desk Have Latex?
Checking if your personal desk has latex in it can be a bit tricky.
Especially when you have no record of the product specification or whatsoever.
The first step should be to go through the product page and see if it's made of rubberwood or has accessories containing natural rubber latex. If there is no sufficient information there, contact the manufacturer for answers.
If you can't find the product page or the manufacturer, you can get professional help from a carpenter or a wood expert.
If all the options mentioned above are not available, the only way to check if your desk has latex is to track the symptoms. Yes, it seems a bit harsh, but that's the only way.
Do you know how doctors diagnose a latex allergy?
They place a small amount of latex below the surface of the skin on your forearm or back using a tiny needle. If you're allergic to latex, you develop a raised bump.
Here are some symptoms that might help you spot latex allergy:
Weeping or cracking skin
Hives
Skin Rash
Itchy hands
Runny or stuffy nose
Swollen and red skin, lips, or tongue
dizziness
Source: Healthline
Note: You can only conclude that your desk has latex in it if you are completely sure that everything else is latex-free and you haven't gotten in contact with any other latex source. Latex proteins can sometimes become airborne, and you may unknowingly breathe them in and develop more severe reactions.
Why You Need To Know If Your Desk Has Latex
Latex, a natural rubber made from the milky sap of the Brazilian rubber tree Hevea brasiliensis (rubber tree), is a nuisance form many people.
But why?
Because there's this thing called latex allergy, which can trigger a severe reaction to products containing the natural compounds found in latex. Latex allergies cause a range of reactions from itchy skin and hives to even a potentially life-threatening condition called anaphylaxis.
In simple words, your immune system launches an attack against natural rubber latex when you inhale latex particles or come into physical contact with latex.
If it's so harmful and lethal, there should be an easy cure, right? Unfortunately, there is no cure for latex allergy, and the only way out is to just avoid it.
It's a lot more common to find latex in medical devices such as gloves, dental dams, contraceptive products, running shoes, certain school & office supplies, and a whole lot of other products too.
Less than 1% of people in the United States have a latex allergy. Anyone can develop a latex allergy, so if you notice rashes, skin irritation, hives, or a runny nose, it's time for you to go latex-free.
Latex allergy should not be taken lightly. And considering we spend most of our time with the desk, it's important to check if it's latex-free.
What if your child goes to a school and has a latex allergy?  Do classroom desks have latex?
If your desk has latex in it, what should be the next step? Can you just go with the flow and continue to use it?
Delcie Farmer, a registered nurse, had severe allergic reactions to airborne latex particles, which ended up limiting her ability to work in certain parts of the hospital and sometimes required her to work from home.
This is how much a latex allergy affects your life.
What To Do If Your Desk Has Latex?
If you are not allergic to latex, then there shouldn't be any problem and you can continue to enjoy your desk.
But if you have a latex allergy, get rid of the desk, stay far away and get rid of it as soon as possible. You never know when the allergic reaction goes from something as little as a skin rash to a life-threatening reaction like anaphylaxis.
There are plenty of desks available in the market that have absolutely no latex in them.
Can You Develop Latex Allergy Through The Desk?
Repeated exposure to latex products can cause you to develop a latex allergy.
Typically, desks don't have latex in them, but even if they do, it's usually a small quantity. The chances of developing latex allergy through the desk are small but cannot be discarded entirely.
According to MayoClinic, the following people are at greater risk of developing a latex allergy:
People who undergo multiple surgeries or medical procedures (like children who have spina bifida)
Health care workers who wear latex gloves almost daily.
Rubber industry workers or tire factories.
People with a personal or family history of allergies
Childcare providers, food service workers, or housekeepers
The bottom line is:
Repeated exposure to latex products can lead to latex allergy. You can reduce the risk of latex allergy by using non-latex gloves, wearing a medical ID bracelet detailing any allergies, and informing doctors/healthcare providers about any latex allergies.
Can You Remove Latex From A Desk?
Yes: If only the feet, edge guards, and grommets are made of natural rubber latex.
No: If the whole desk is made of rubberwood. You will have to replace it.
How To Make Your Home Office Latex-free?
It's simple.
Get rid of everything that has latex in it.
That doesn't mean throwing half of your stuff without replacing them. Most everything these days has a latex-free alternative available.
And remember, natural rubber latex is harmful, not synthetic latex.
You can also put up a sign saying "No latex" or "This office is latex-free" to let others know about your allergy. This can also be comforting for other people having latex allergies.
Instead of rubberwood, you can use oak and maple. They're sturdy and look fantastic too.
Best Alternatives To Latex Desks
A desk made of rubberwood or one having a hard rubber top can trigger a severe allergic reaction. If you are looking for a latex-free desk for your home office setup, here are a few suggestions:
Particleboard
MERGER OF THREE EPOCHS: Modern, industrial age, a bygone era—when you place your state-of-the-art laptop on this desk with an industrial design frame and a rustic brown finish, 5 exciting designs merge together
WIDE WORKING AREA – This L shaped computer desk with 62.2″*43.3″*28.7″ dimension, which provides a wide working area of our working desk that 2 or 3 monitors and screens have enough space for place. Books, papers, plants, and almost all of home office items could find their place in this modern computer desk.
L SHAPE & SPACE SAVING – This L-shaped style desk makes advantage of every corner in your house with fitting a corner perfectly, maximize the usage of limited space, and meet multi-purpose scenarios. Also, that 28.7″ Height from floor to desktop can provide comfortable legroom and other storage space for home office working items.
Functional Computer Desk with Shelves. Equipped with 3 Tier Storage Shelves, can efficiently store various items
Modern Simple Style computer desk has an industrial charm appearance, will be a beautiful décor for your home
Other Office Supplies That Have Latex
Latex might not be prevalent in furniture, but it does have a presence in other office supplies. Here's a list of latex products you should avoid in your office setup:
Rubber bands
Erasers
Pacifiers
Glue
Masking tape
Self-adhesive stamps
Scissor handles
Bungee cords
Rubber tubing
Door seals
Can A Latex Allergy Be Treated?
This is advice that should come from your doctor. We're not qualified to give medical advice, nor do we seek to give medical advice. We're doctors, or immunologists here at Home Office Hacks, we're only communicating to you the results of our research on the topic.
Our research has shown that a latex allergy can't be "cured" in the traditional sense of the word.
The best thing to do if you suspect you have a latex allergy is to avoid anything that you suspect contains latex and speak with your doctor immediately so you can put together a game plan for how to manage it going forward.
Simply put, the best solution is to avoid products that contain latex.
When going for a medical procedure, tell your providers about the allergy. Ask them to use latex-free gloves and equipment.
If you work in a commercial office setup, let your manager and coworkers know about the allergy. You can submit a request to work with latex-free office supplies and request a different desk immediately if your desk is made of rubberwood or Malaysian oak.
Next Steps
Want to join others who are creating the most amazing home offices and get more tips, tricks and hacks on how to make your home office the best it can be?
Join my brand new free private Facebook group, Home Office Hacks to connect with other home office hackers to make your space the best!