With so many of us working from home, it's not uncommon to see couples and family members sharing home offices these days. It's important to design a shared home office space with plenty of space for each person. Creating a home office with a double office desk home office design can do wonders for your productivity and general sanity and everyone can get stuff done!
A shared home office can feature two separate desks or one desk that is designed for two people. A two-person office desk features plenty of surface space and plenty of legroom for each person. Any shared office must have plenty of space for each person to work. 
Living and working together can get old quickly if your office is in a cramped, compact space unsuitable for sharing. Fortunately, there are ways you can ensure your double desk home office is comfortable for two, even if you don't have many feet of floor space you have to work with.
Real quick before we get too far into this: if you want to get more great ideas for your home office and connect with other home office hackers to make your space the best join my free private Facebook group, Home Office Hacks here.
Double Workstations for Shared Home Offices
There are all kinds of office designs with two-person desks or two-person workspaces. Office ideas for two must have the following items:
Desk space for both people
Chairs for both people
Room to move for both people
Computers for both people
Storage space for both people
How you go about implementing those items into the space is up to you and your office partner.
Whether these workspaces are built-in to the wall, convertible desks, homemade desks, collapsible tabletops, or shared basic desks built for two, the key is having adequate space and storage for each person.
A great example of a shared home office for two is Lisa Linh's Ikea desk hack shown here:
With long countertops and sturdy cabinets, a beautiful double desk is easy to create. Additionally, the perks of DIYing your own desk out of separate pieces is that you have total control over the aesthetic and you can create a double desk that you and your partner both love.
Another IKEA example by Forever Amber can be seen below:
L-Shaped Double Desks
Maybe you don't want to sit right next to the person with whom you share your home office. L-shaped desks are perfect if you have enough feet of floor space to spare. With L-shaped shared desks, both parties should have enough room to get move around in their chairs.
A large L-shaped office desk set up against a corner can fit two people who might want to work back-to-back, rather than side-by-side. If the two sides of the L are long enough, swivel chairs can roll in and out of the desk space with ease.
A different take on the L-shaped desk is what's called a T-shaped desk. A t-shaped desk looks like two L-shaped desks placed next to one another, but really, it's its own shape entirely.
A T-shaped desk is like one long desktop with a protruding perpendicular tabletop in the middle. It acts as a shared horizontal workspace for both people in the office. It can also act as extra space for storage, such as for a basket of office supplies, or as a display space.
T-shaped desks are easy to DIY. You can simply add a separate table to the middle of your long desktops, such as a console table or a dining table, or you can build a perpendicular tabletop into your shared desk design.
Design options for this are endless. You can get creative with storage cabinets and office furniture, depending on how you and your counterpart want to utilize the center tabletop.
Finally, U-shaped desks are similar to both L-shaped and T-shaped desks. U-shaped desks are like two corner desks that meet. They tend to take up quite a bit of space, but they offer room for two people to move around without one another's office furniture getting in the way.
For a U-shaped desk to work, you'll need to have a whole lot of room to spare. U-shaped desks basically require a dedicated room, like a guest bedroom, especially when they are going to be used for multiple people. A one-person U-shaped desk can be small and compact, but a two-person U-shaped desk requires length and width to contend with the unusual traffic that comes along with multiple chairs rolling around.
Since the scale these two-person desks require is quite large, you will likely find yourself DIYing such an expansive workspace, rather than buying the perfect U-shaped desk for two.
Two-Person Desk Options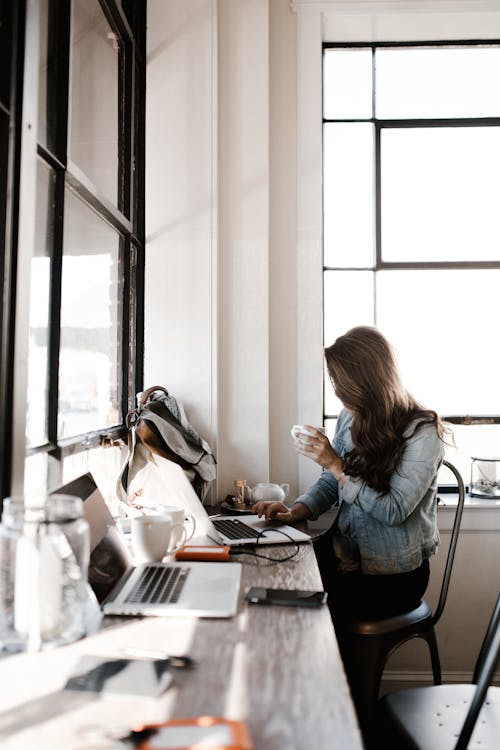 If DIY isn't your thing, or if you need a dual workstation desk sooner rather than later, you're in luck. Just because there are millions of creative people on Pinterest doesn't mean you have to pull out your table saw and get to building your very own desk from scratch.
You'll find an easy-to-assemble, multipurpose desk option without much trouble. Popular options are those by Tribesigns:
Many double desk options, like the Bestier L-Shaped Desk, are convertible so you have a say in how your desk looks, even if you don't build it yourself.
Two Separate Desks in One Home Office
Now that I've covered multiple variations of desks that feature double workstations, I want to go over other options for two people who want to work in the same home office. It's also simple to create a home office for two by using two separate desks in the same office space.
If you have many feet of floor space to use as your home office, such as an entire dedicated home office room, your double workstation desk options are pretty much endless. You can have dual spaces, both outfitted with beautiful desks and plenty of storage space.
Some couples choose to have their chairs back-to-back, while others choose to have their desks pushed together with their monitors back-to-back. Both of these options are conducive to solitude and privacy, provided that each person uses a desktop computer rather than a laptop.
Notice how Pinterest user Jolimanoli's double workstation desk is actually two desks pushed together. Each side has its own IKEA Alex cabinet for storage and you can see more storage shelves in the background.
Additionally, both desks have access to a large window for natural light. Natural light is crucial for a pleasant home office space, regardless of how many people plan to use it.
When you go with the two-desks-in-one-room option, you can choose whatever desks you want! If you prefer symmetry, you and your officemate can get the same desk, of course. But, if you don't mind a bit of mixing and matching, you can even go with different desks.
Whether your desks are pushed up against one another, spaced far apart, or even floating on the wall, using two separate desks often gives you more leeway when it comes to saving space in your office environment.
Storage Solutions for Two-Person Home Offices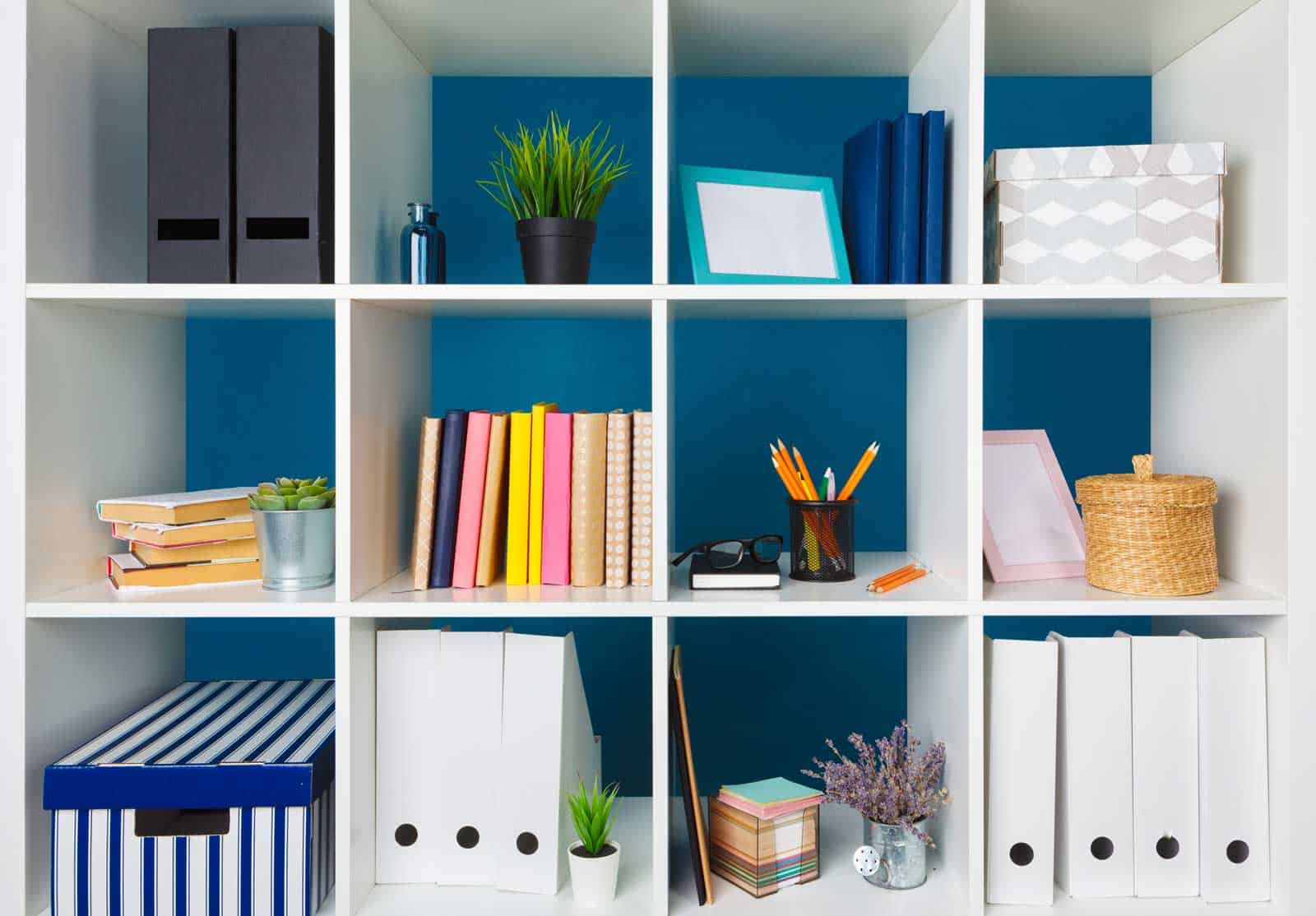 If you choose a desk with drawers, you might think you have enough storage. But, you're probably going to realize that your home office for two lacks organization if you don't have other storage solutions you can both use. That's especially true if you opt for desks that don't even include shelves.
So, consider adding plenty of shelving into your shared home office. Standalone bookshelves, floating shelves, filing cabinets, or a modular cubby space suitable for your storage needs can all do the trick.
If you don't have a ton of room to spare, don't be hesitant to go vertical with shared storage rather than taking up a bunch of feet of floor space and creating a cramped, claustrophobic home office that might make you and your partner both a bit miserable.
Hombazaar Modern Industrial Bookshelf: Placing an open bookshelf in between your two desks can give you both easy access to the items on the shelves.

Give a touch of modernism to your contemporary space with the addition of our industrial bookshelf. The wood grain panel and black metal frame creates a striking visual contrast, showing a minimalist style. Geometric carved decorations are simple and elegant, making your living room full of art.
This bookshelf with storage shelves can provide enough space to meet your daily storage needs. The 5-tier open shelves make full use of the space for you to display books, CDs, collectibles, family portraits, toys, crafts,books. Both decoration and storage functions make your room elegant, concise, and organized.

GWH Industrial Pipe Shelving: Wall-mounted shelving keeps floor space free.

Iron&wood
𝐏𝐫𝐨𝐝𝐮𝐜𝐞𝐝 𝐨𝐟 𝟏𝟎𝟎% 𝐏𝐈𝐍𝐄 𝐒𝐎𝐋𝐈𝐃 𝐖𝐎𝐎𝐃: The Industrial Pipe Shelvings are entirely made of natural wood. We never use MDF, PB, or composite wood. 𝟏𝟎𝟎% 𝐇𝐢𝐠𝐡-𝐐𝐮𝐚𝐥𝐢𝐭𝐲 𝐆𝐚𝐥𝐯𝐚𝐧𝐢𝐳𝐞𝐝 𝐒𝐭𝐞𝐞𝐥 – Increases the pipe's durability, scratch resistance, and rust and oxidation resistance. It can be used both indoors and outdoors.

INVIE Lateral File Cabinet: You might be able to share a filing cabinet, or you can get two and place them side by side or throughout the room.

Attention: This product is shipped in 2 boxes. Deep and spacious 3 drawers on full-extension ball-bearing slides with side-to-side hang rails. The hanger rod can be moved and adjusted, thus this filing cabinet can accommodate Legal size ,Letter size, A4 folders flexibly
White office drawer is made of metal construction for long lasting durability. The office lateral cabinet top bears up to 330lbs And every drawer weight capacity is around 110lbs. 28.1"L x 17.7"W surface can hold your printer, files, documents, decorations. The locking cabinet provides plenty of storage space for home office supplies
However you decide to design your home office for two, use each inch of space wisely. Be sure that each person using the home office has enough space to work comfortably without feeling cramped or crowded.
Next Steps
Want to join others who are creating the most amazing home offices and get more tips, tricks and hacks on how to make your home office the best it can be?
Join my brand new free private Facebook group, Home Office Hacks to connect with other home office hackers to make your space the best!