If you work in an office, you are no stranger to the stresses that come along with the environment. An essential oil diffuser for office use can reduce stress and boost feelings of relaxation. Working at home relieves some occupational pressures since you get to create your own space free of other people's drama and interference. However, home offices have their own stressors.
Home office aromatherapy can have a positive impact on your productivity and overall mood while you work. A simple essential oil diffuser on your desk can relieve tension, anxiety and create a more balanced, positive home office environment.
Everyone has off days — even those of us who work at home and can't blame it on another department's bad vibes. An impending storm can create bad lighting in the office, or a bad night's sleep might cause that expensive office chair to feel less comfortable. Certain essential oil blends are designed to promote mental focus, relieve tension, and create an overall more satisfactory work experience.
Benefits of Aromatherapy
Aromatherapy is not a new concept. In fact, aromatherapy has been used for millennia, both medicinally and as a way to improve overall wellbeing. Substances used to create aromatherapy oils include plants and herbs. These organic materials have helpful topical properties, as well. The psychological effects are unmistakable.
Common benefits of aromatherapy include:
Stress reduction and management
Lessened anxiety
Sense of calm and serenity
Better sleep
Improved focus
Pain management and relief
Antimicrobial properties
Regular digestion
Aromatherapy isn't just crunchy, woo-woo wishful thinking, either. The brain and nervous system are highly complex. When we smell aromas, certain areas of our brains get signaled. Emotions are triggered, and pain receptors are affected. Topically, certain essential oils have anti-inflammatory properties.
Incense
Incense is a form of aromatherapy where bits of plants, woods, spices, and herbs are burned to create an aromatic smoke. The most well-known and widely available form of incense is incense sticks that are available in many different scents.
Burning natural incense can help ground you in the moment. This is especially useful for those in creative fields or those who meditate.
Synthetic ingredients and added fragrances, however, can have the opposite effect. It is important to only burn incense with essential oils and natural ingredients. Burning synthetic materials can cause headaches and disrupt the endocrine system.
Essential Oils
Diffusing essential oils is a popular way to experience aromatherapy at home or on the go. Diffusers of all sizes and shapes are available for your aromatherapy needs. You can even buy a portable diffuser that fits in the cup holder of your car.
Designed for place in car cup slot. This portable car diffuser would take your holistic lifestyle to a new level: Charging your smart phones, Plugging your car video recorder or Vehicle Navigator in car charger socket at the same time in the environment that fills with your favorite fragrance.
It will remove dryness, helps dry skin, sinuses and coughs, also will release a smooth fragrant mist and pleasant scent in your car by dropping several drops of your favorite essential oil.
Using a diffuser to release essential oils is preferred for some because it avoids the smokiness of incense burning.
Today, many folks want to move away from consuming prescription and over-the-counter medication in large quantities. Essential oils can work as an alternative for stress relief and pain management.
Keep in mind, though, that the FDA doesn't regulate essential oils. Therefore, not all essential oils on the market are going to be made with the same purity, strength, or standards. It is important to use high-quality essential oils that are pure and manufactured by reputable companies.
Additionally, some essential oils can be very irritating to the skin if used undiluted. Most oils should be diluted with carrier oils (neutral oils like coconut) before being placed directly on the skin.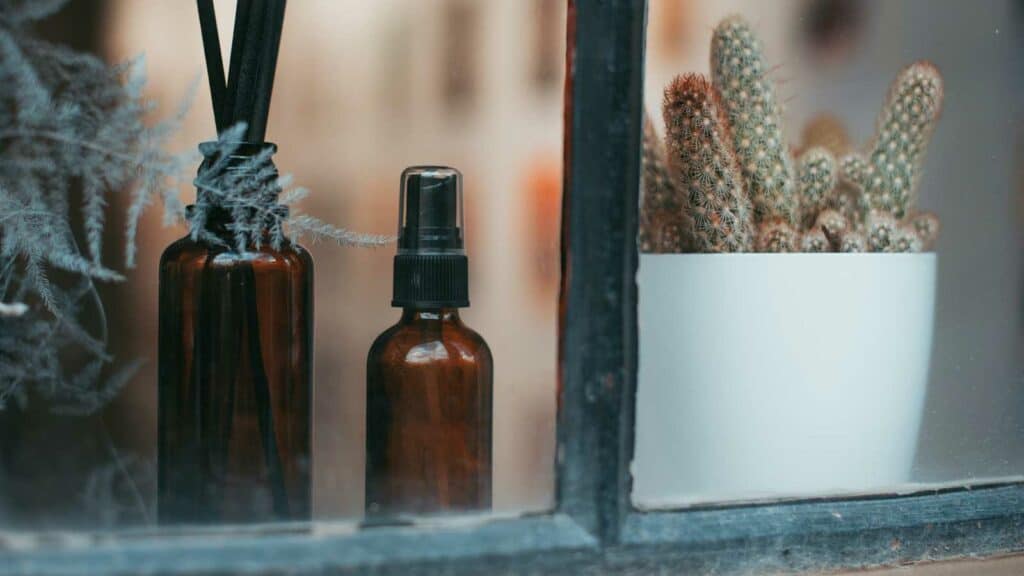 Why Use Essential Oils in Your Home Office?
Adding aromatherapy to your home office is a simple and effective way to make work more pleasant and improve your office environment. It's also a quick way to make a stale room smell better.
There are few elements of life that are as consistently stressful as work. Those of us who work from home might be lucky enough to avoid inner-office bickering and in-person meetings, but we aren't exempt from deadlines, conference calls, and emergencies. Essential oils can provide some positivity.
Consider the plethora of emotions and feelings you experience during one day of work at home.
| | |
| --- | --- |
| Feeling or Mood | Potential Cause |
| Fatigue / Sleepiness | Poor sleep, long night working |
| Anxious / Stressed | Impending deadline, unpleasant phone call |
| Frustrated / Angry | Difficult client, computer problems |
| Uncomfortable / Pained | Worn out office chair, injury, poor sleep |
| Unmotivated / Fuzzy | Mid-day slump, distractions |
Specific essential oils can improve your sleep quality, energize you, soothe stress, calm tension, relieve pain, and promote focus. If you can realistically dream up an unpleasant disposition, there is probably an essential oil designed to alleviate it.
Additionally, your home office is the best place to implement something new. Practicing self-care at home is much easier than in a shared office environment.
Plenty of modern offices are finding suitable ways to adopt aromatherapy in the workplace. Still, not every person is going to react to every scent in the same way. Allergies, olfactory preferences, and sensitive noses can make finding the perfect blend difficult. In your personal home office, you don't have to juggle multiple needs and opinions. Your personal aromatherapy need only work for you.
How to Use an Aromatherapy Diffuser
Don't be intimidated by the many essential oil diffusers on the market today. There are all kinds, and it can be tricky to sift through them, but operating an essential oil diffuser is not difficult.
First, determine which type of essential oil diffuser you want for your home office desk. Popular diffuser types include:
Ultrasonic diffusers
Ceramic or porcelain (non-electric) diffusers
Reed diffusers
Nebulizer diffusers
Candle diffusers
It's pretty easy to eliminate some of these for home office use right off the bat. Candle diffusers heat essential oil, which can change their properties. While you will still get the nice smell, you might lose out on their therapeutic benefits. Nebulizer diffusers are effective but expensive and high-maintenance. You want something simple for your home office.
That leaves you to choose from ultrasonic diffusers, ceramic or porcelain diffusers, and reed diffusers.
DESIGN: A white porcelain succulent planted in a beige vase to fit any decor style. Includes 3 pieces: Porcelain botanical with rope, Vessel lid, Vessel.
BATTERY-FREE DIFFUSER: Diffuser does not need power or batteries. It wicks oil up into the porcelain piece and diffuses fragrance into the room.
LOVSPA Fragrances Santal is a warm and woodsy Sandalwood blend of Spiced Woods. Our Sandalwood has an earthy, creamy, woody aroma; a warm and musky scent with a hint of sweetness. Fresh Orange sweetens this rich blend of spiced woods as Golden Amber creates the perfect sweet base. Top Notes: Orange, Middle Notes: Woods, Spice, Bottom Notes: Sandalwood & Moss
Thoughtful Gift Idea for women and men, Mom & Dad, Grandma & Grandpa – a gift everyone can enjoy. Great Housewarming Gift Idea for New Home owners or House Warming Gift Registry. Give an impressive gift to your co-workers, boss, employees or office staff.
While ceramic and reed diffusers work well, they can only offer so much in the way of dispersement. They do not include fans or misting properties that spread scents around. Additionally, glass, ceramic, and porcelain are certainly more likely to fall off your desk and break.
Ultrasonic diffusers are easily the most popular for aromatherapy use. They come in so many different shapes, sizes, and styles that you can find one that matches your home office style. You might not think diffuser aesthetic is a critical factor, but you want it to elevate your home office overall.
REMOTE CONTROL – You could be easily change the light color and mist when the oil diffuser is away from your bed.The remote's max reading range is 65ft..
MESMERIZING AND RELAXING – The aromatherapy diffuser helps to enhance mood by offering a restful and purified space, as well as to maintain physical health.
Ultrasonic Diffuser & Humidifier:VIVITEST is a factory with more than 15 years in the development,design,production and research of aromatherapy diffusers,Water molecules are decomposed into 0.1-5 micron diameter nano scale cold fog,By high frequency electronic oscillation generated by ultrasonic vibration equipmentallowing the aroma to float in the air,Produce a lot of active oxygen anion.
Hand Crafted ceramic cover,Air dry naturally,The Ceramic diffuser was sprayed with a layer of coarse sand,Easy to clean,Solid and durable and save space.
Unique Design & Durable Material: Arvidsson 500ml essential oil diffuser is made of 100% iron metal shell and PP material water tank, BPA free, which has more unique & attractive handmade vintage metal shell style to decorate your home, not only a diffuser.
4 Adjustable Mist Timer : 500ml Essential oil diffuser has a large water capacity, which can run last for 10-15 hours, you also can set the different timer to run: Continous Mist, one hour, three hours and six hours; The diffuser will turn off automatically when runs up to the mist timer setting, you do not need to worry it burn out.
Fill the diffuser water tank to its marked fill line. If you have the option, use distilled or filtered water instead of tap water to avoid mineral buildup.
Add drops of your intended oil based on your mood and your needs. You can blend multiple oils or stick to your favorite. The amount of oil you should add depends on how big your diffuser's water tank is.
Most ultrasonic essential oil diffusers have several settings, including timers, automatic shut-offs, color-changing
LED lights
, Bluetooth connectivity, and mist strengths. Play with your settings to see what works best for you in your home office.
Which Essential Oils Are Best for You?
Below is a list of popular essential oils and their common uses. However, please note that this is not meant to be taken as medical advice. Again: nothing you find in my home office blog should be considered medical advice.
Lavender: Lavender is a favorite among essential oil users. It is known for its calming properties and is often used for anxiety relief. Scientific studies have shown that breathing in the scent of lavender may decrease blood pressure and reduce stress.
Peppermint: Another popular oil is peppermint, which smells great and can boost focus. Peppermint oil can also relieve nausea and ease headache pain.
Tea Tree: Tea tree oil has an invigorating scent that is thought to contain antimicrobial properties. It is often used to aid in treating bacterial infections and fungal infections.
 Eucalyptus: It's not just for koala bears! Eucalyptus oil has a light, pleasant scent that not only smells nice but can eliminate the unpleasant smells caused by mold and mildew. It is also associated with cough relief and decongestion.
Bergamot: A favorite masculine candle scent, bergamot oil is soothing and often used in massage therapy. Along with its relaxing properties, it is thought to reduce pain and inflammation.
Which Essential Oils to Use in Your Home Office
What do you do for a living? Unless your answer is, "take naps and play with kittens all day," you can probably use some stress relief and mood-boosting. Take a look at the following essential oils to add to your aromatherapy collection.
Essential Oils to Energize You
| | | |
| --- | --- | --- |
| Peppermint oil | Prevents fatigue | Evidence |
| Lemon oil | Provides energizing mood boost | Evidence |
| Rosemary oil | Stimulates nervous system | Evidence |
Essential Oils to Relax You
| | | |
| --- | --- | --- |
| Lavender oil | Calms anxiety and improves sleep | Evidence |
| Clary sage oil | Eases tension | Evidence |
| Chamomile oil | Promotes relaxation | Evidence |
| Frankincense oil | Reduces anxiety | Evidence |
| Vetiver oil | Calms nervous system to reduce stress | Evidence |
Essential Oils to Promote Health
| | | |
| --- | --- | --- |
| Rose oil | Antioxidant properties can clear skin | Evidence |
| Basil oil | Antiviral properties can treat cold and flu | Evidence |
| Oregano oil | Antibacterial properties can treat infections | Evidence |
| Ginger oil | Relieves nausea | Evidence |
| Rosemary oil | Improves circulation | Evidence |
Aromatherapy is safe and effective when done properly. It is easy to become overwhelmed in your home office, just as it is elsewhere. Take advantage of this tried-and-true method of self-care.
Remember to always handle essential oils with care. Research companies and brands before purchasing oils for therapeutic use. Don't ingest essential oils that aren't meant to be ingested. Take good care of your essential oil diffusers and perform routine cleaning and maintenance. Never use aromatherapy as a replacement for emergent medical care.
Next Steps
Want to join others who are creating the most amazing home offices and get more tips, tricks and hacks on how to make your home office the best it can be?
Join my brand new free private Facebook group, Home Office Hacks to connect with other home office hackers to make your space the best!