Are you a guy looking for inspiration so you can design your home office?
Are you looking to create an inviting space that will inspire creativity and productivity as you work from home?
If you're like me, then I'm sure you have some ideas about what you want your home office to look like. But how do you make it happen?
If you're looking for ideas to make your home office design awesome, then read on. In this post I'll share my all my top tips, tricks, tools and resources for designing a home office space that will help you create a masculine, comfortable environment where you can get your best work done in a space you're proud to call your own.
It doesn't matter how great your job is, if you hate going to work everyday – whether that's the kitchen table or the living room sofa. You need a proper home office setup up just the way you like it.
That's why in this article I'm covering everything from furniture selection to lighting design. We will also cover the most important aspects of creating a comfortable and productive home office environment and will help you choose the perfect design elements for your office, including furniture, lighting, accessories, and even artwork.
By the way – before we get too far along here, if you want to get more great ideas for your home office and connect with other home office hackers to make your space the best join my free private Facebook group, Home Office Hacks here.
How to create a masculine home office
COVID pushed the majority of us to work from home. And even now that the worst of the pandemic is behind us, the new normal is that people prefer to work from home.
Even before COVID, there has been a mass movement of people away from traditional offices and toward working remotely.
So, what are the best masculine design elements you need so you can start brainstorming ideas for your home office workspace?
If you want the best masculine home office one option you might want to explore is for it to have man cave vibes that include dramatic black accents, sports, music, or pop culture memorabilia, amazing leather furniture, with cool lamps, and wood furnishings, with a collection of your favorite gadgets and even prints of your favorite artwork. 
Having a dedicated home office helps minimize distraction, maximizes productivity, and brings out the work beast in you.
And when you design it to fit your style and personality in a manly way, you will be able to enjoy it all the more.
What is a masculine home office?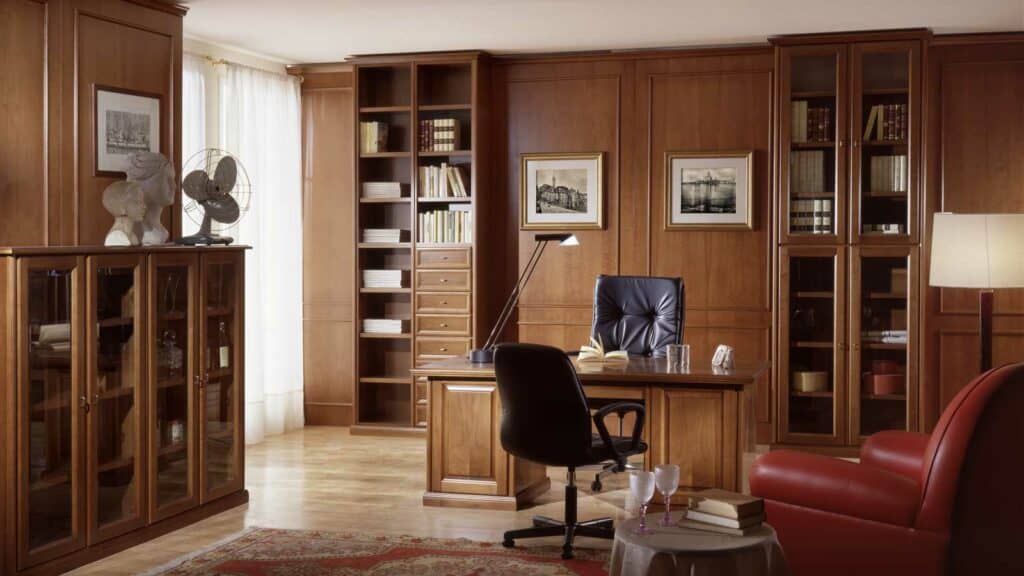 A masculine home office space is a real man's dream workspace—a warm and aesthetically pleasing home office with the smell of exotic leather, premium furniture and manly aromas.
Maybe it's a humidor on the desk or in your built-in bookcases.
Or a pipe with fragrant tobacco aromas.
This could be the place where you keep your gun safe, and it probably will have a humidor for your collection of fine cigars on your desk, if that's your thing.
It has a wet bar where you keep your collection of fine single-malt scotch, along with your best whiskey and bourbon.
Whatever your particular home office space preferences are, it's more than just a table and a place to hold your coffee mug and and laptop.
You can't expect yourself to be working at the kitchen table, expecting to produce at 100% capacity while gulping down nachos in your PJs, right?
It's a place where, as a man, you can be a man, and crank out awesome work.
What is the "right" home office for you?
It should go without saying, but I'm going to say it anyway, that your ideal home office space is one that's built around your particular tastes and preferences.
For some that means it's an ultra-minimalist space with only the most bare of bare necessities.
For others it's old school teak wood, built-in book cases, wood textures, and leather.
Still others would prefer their home office look like Cooperstown, or a movie producer's office.
It is where you go to become a professional, someone who is only focused on working, delivering value and earning money.
It's a space where you are free from all the distractions, clutter, and everything that is a hindrance to your goals.
What do you need in a gamer's home office?
First off, before we even get into this, a gamer's office doesn't have to just be for dudes. There are amazing women out there who are gamers too, so let's just make sure we clear that up.
Now that being said, for dudes, since this post is for dudes, if you want to set up an office space for when you're gaming, here are some things you'll definitely need:
Space for your computer or gaming console
Big screen computer monitors
Keyboard
Mouse
Speakers
Headphones
Game controller
Games
Of course there are many other items which may come in handy depending upon how much time you spend gaming.
For example, if you play online multiplayer games such as Call of Duty, Battlefield 3, FIFA 13 etc., you might find it useful to get a headset.
If you play single player games, you could consider getting a keyboard and mouse instead of using the gamepad provided with consoles.
A big screen computer monitor would allow you to see what you're doing at all times. You'd probably want something bigger than a laptop screen but smaller than a TV display.
Finally, speakers are essential because they let you hear everything clearly without having to put headphones over your ears.
What do you need in a writer's home office?
For you guys that are writers, you understand the importance of having a dedicated space for your creative work.
There are many things that go into creating a successful writing space.
You need good lighting.
Lighting plays a huge role in how well one writes. It affects concentration levels, mood, creativity, motivation and more. Therefore lighting needs to be carefully planned out, and natural light virtually always will win out.
You have to be comfortable.
Comfort is essential for anyone who spends extended periods of time sitting down. A comfortable work environment allows people to concentrate better and stay productive longer. This means choosing seating options such as ergonomic chairs, adjustable height tables and footrests.
You need to be able to spread out. If you're working with resource materials that are large books, or just even a variety of other papers, you need to be able to spread out so you can think.
Storage is another vital part of a successful writers' office. There may come a point where you find yourself needing to store something away temporarily but having nowhere to put it makes this task difficult at best. Having storage solutions available helps prevent these situations occurring.
What do you need in a developer's home office?
For a developer, like myself, it's all about focus and concentration. You need peace and quiet, and you need to be left alone so you can do your thing.
Your office, if you're like me, needs different lighting.
My preference is low lighting from lamps – nothing overhead will work for me.
And it has to be soft and subtle.
You need a super comfortable chair and desk because it's very easy for you to get lost for hours at a time when you're creating.
Good desk lamps and a variable height desk will go a long way to helping you stay focused.
What do you need in a Youtuber's home office studio?
For a YouTuber, your home office is more like a studio.
I've listed out a couple things you'll need for your home office if you are creating content for YouTube.
You need a good camera, of course. It doesn't matter how much money you spend on camera gear, but quality matters more than anything else. If you're looking for something affordable, go for DSLR cameras which offer great image clarity and low noise levels.
You need great lighting. When shooting indoors, natural lighting works better than artificial lights. But when there isn't sufficient sunlight, use LED bulbs instead of fluorescent ones. They provide soft illumination without harsh shadows.
You need the RIGHT microphone. There are two types of microphones available – omnidirectional and directional. Omnidirectional mics pick up sound equally well from all directions whereas directional mics focus only on one direction.
But even more than the technical equipment you need a great "set" on which to shoot your videos.
This means that the background shot for your videos is amazing with cool items on your walls, or bookshelves.
So your decor needs to be pro-level and there is no shortage of places where you can get cool stuff to decorate your space.
What do you need in an executive's home office setup?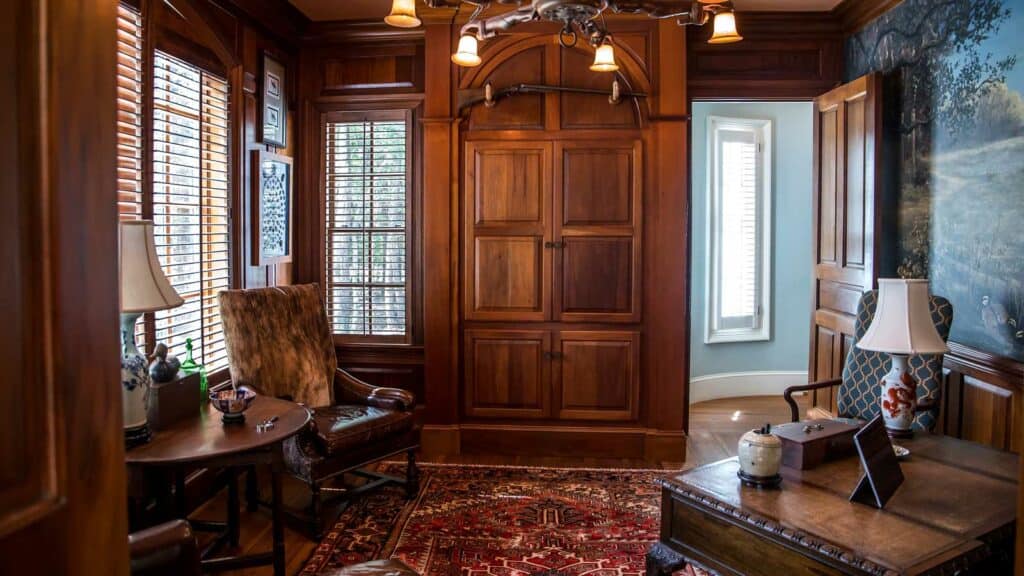 An executive needs a comfortable yet stylish workplace to get things done efficiently.
It has to be spacious so he – in this case (they're not always dudes) – doesn't feel cramped when sitting down. It must provide ample storage options so his files aren't scattered around everywhere. And it must offer him privacy so can work in peace.
The office desk of an executive can be ornate, like those pictured here, or it can be something more sleek and modern.
The most important thing that an executive needs to have in their office is access to all their tools so they can keep things running smoothly.
What does my home office need to have?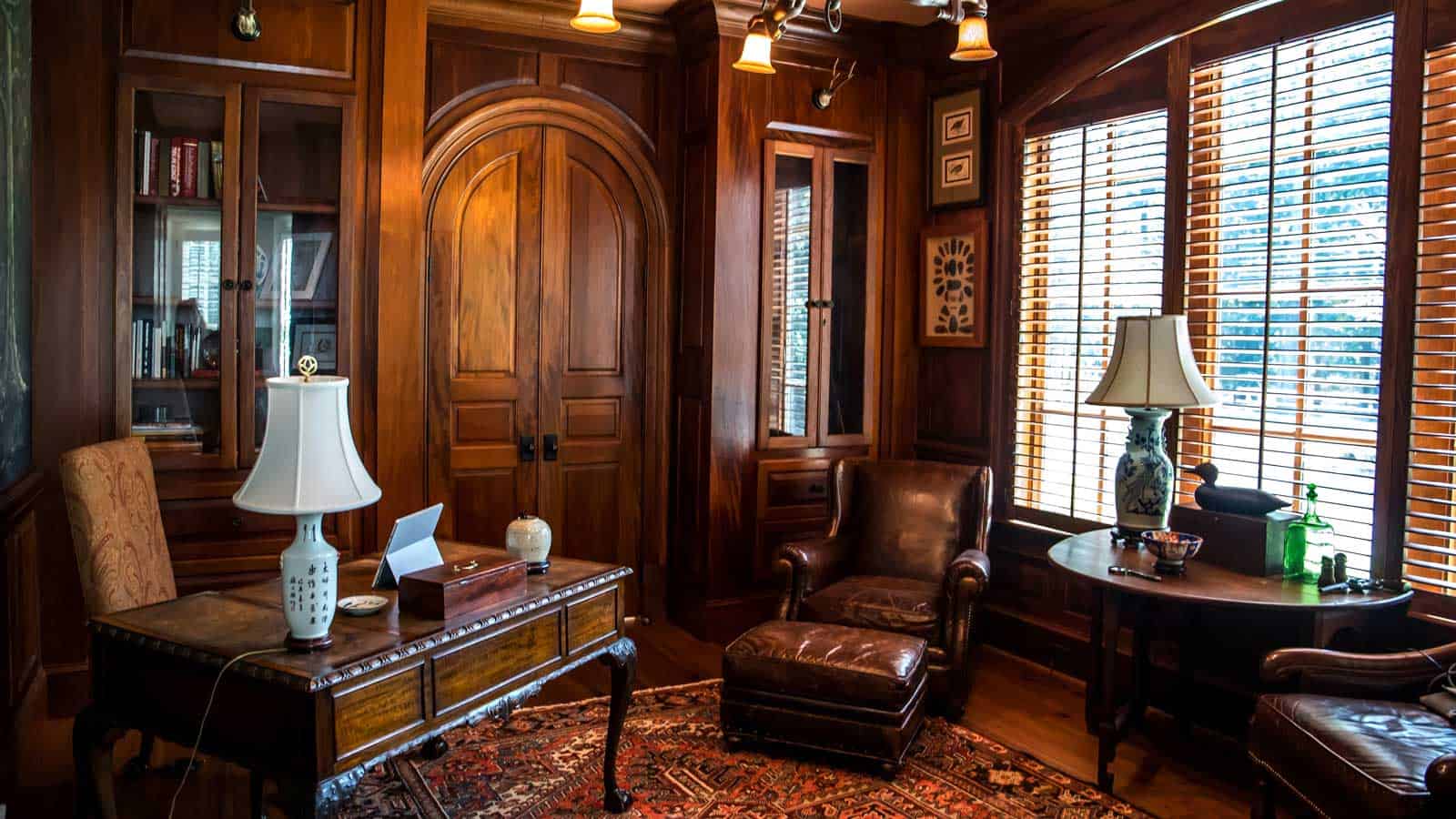 First and foremost your home office needs to have all the productivity gadgets you need to be your best and produce your best work.
This means if you need a printer within arm's reach, you've got it.
If you need a specialized desk lamp, it's there.
If you need a filing cabinet where you keep paperwork, you've got it in place.
Your office obviously needs to have a the right kind of chair for your work space and a good desk.
If you're meeting with clients then you have to designate a space where you'll have your meetings.
That means having space for a table and some chairs that are separate from your desk is needed.
It's a place where you can step from around your desk and have the kinds of meetings and conversations you need to have face-to-face.
You also want to make sure that you're embracing natural light as much as possible.
This isn't an option if your home office is in your basement, but if you have it anywhere else in your home, natural light is energizing and will save you money on your power bill!
How should you decorate a home office for men?
The things you use to decorate your own home office will depend on personal tastes.
For instance, in my home office I've got sports memorabilia from my alma mater, Florida State, in addition to posters and other cool wall decorations.
I've also got hangers on my wall that hold my guitars.
Everyone's tastes will be different, but using stuff like movie posters, antique signs, fantastic prints and art will go a long way to making your home office a space where you truly feel at home.
What is the focal point of a home office?
In a masculine home office, your desk is the ultimate focal point.
You want a manly vibe in your home office? You get a desk that fits your persona that while fulfilling all you need it to do from an aesthetic point of view, also is highly functional enabling you to do your best work.
You can go old school and get custom-built finely crafted wood desk.
Just think of the vibe the warm colors and tones a desk like that will give to your space!
And to make sure you're happy and healthy, you need something that's going to be ergonomic and comfortable.
You can even get an adjustable standing desk that looks amazing and is highly functional!
As the center point of your home office, your desk must be awesome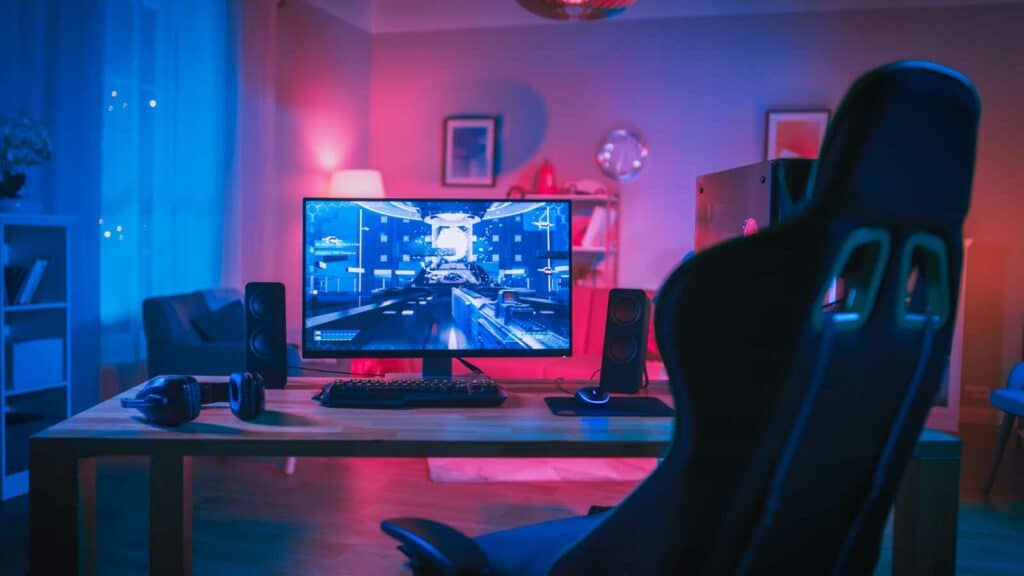 The desk you choose will be the focal point of your home office, both in terms of aesthetics and functionality.
Think of your desk like a miniature world. It has all your necessary work equipment while space for decorative artwork and other accessories too.
Being the centerpiece of your home office, make sure it blends with the surroundings and has enough room for all your gadgets and electronics.
Leave no detail behind
Your home office should be a demonstration of your personal preferences and taste. Everything from your furniture and your artwork, to the books on the shelves and gadgets, should follow the same design pattern as much as possible.
Why is it so important? First, who wouldn't want to have a personalized corner in the home? And second, having a clearly defined domain for work that's free of clutter helps maximize efficiency and reach workplace goals more easily.
Home office ideas for men on a budget
Do you have to be crazy rich for a masculine home office setup? No.
There are plenty of DIY home office ideas for men on a budget. You'll find plenty of stuff lying around in the house that can be useful for setting up your man cave.
Here are some budget masculine home office ideas:
Bold and colorful
You can go for a bold and colorful home office like this one. All you need is a subtle desk and chair and you can accentuate your space with some creative LED lighting.
The whole vibe of this place is fantastic. You have enough space for all your peripherals and a lamp too. You can also go for different background colors, add some decoration items, and place shelves on top of the desk.
You can even add a floor lamp to really spice up the nights.
The blend between the furniture and the background is seamless. It is a perfect combination of pleasing aesthetics and functionality.
You can also add a bold pop of color while keeping the rest of the space neutral.
Parker is a small home office desk made of MDF table top and solid rubberwood legs in an Acacia or light walnut finish with sleek lines front to back, allowing you to position in just the right spot.
This minimalist style desk with round tapered legs gives a modern twist with Scandinavian flair that will demand attention in any room.
Looking for free standing modern lamps for living room or floor lamps for bedrooms this standing lamp suits many decors: This corner lamp features 1 white cone-shaped plastic 11 Inch Wide shade.
The Marys floor lamp is great as a behind couch, book lamp. Enjoy your novel on the sofa or your favorite armchair. Alternately, add a dimmer and get mood lighting. Great floor lamp for living room
An office with a chalkboard wall
One of the best features you can have in your home office is a chalkboard wall.
It's economical, and easy to put into place.
A chalkboard wall gives your home office a very cool feature to use when you're brainstorming, plus they look awesome.
This is something unique and awesome to add to your home office that can even give it that coffee house feel.
If a chalkboard isn't your thing, then you can create an accent wall by adding a painted mural to create a unique look.
Dark walls and a bold rug
Are you that guy who loves dark colors, modern adornments and a rich look in your masculine home office?
Darks walls and a bold rug will be a good match for your personality. The dark walls create a macho vibe in your home office and a bold rug demonstrates a greater sense of pride.
You can add dark-colored lamps, shelves, artwork, and plants to unify the aesthetic.
The best office idea in my opinion!
Contemporary home office
A contemporary minimalist home office offers clutter-free space with simple furnishings and a neutral color palette. A setup like this is heaven for workaholics who prefer minimum visual clutter.
*Follow the links to Amazon to check the latest prices.
What are the best home office décor ideas?
Here are some of the best home office décor ideas:
Leather and wood furnishings
Books on the wall
Boxes of cigars and a stocked bar
Floating shelves with antiques or memorabilia
Desk plants like Devil's Ivy, Aglaonema, Ficus Benjamina, and Bromeliads.
Sports themed walls
Cool desk and floor lamps
framed photos or art
Awesome window dressings
Floor to ceiling built-in bookcases
Strong colors
Black/Brown Leather Chair
Table Lamp
Exotic wooden desk
What are the benefits of a good chair?
Your home office should be a place where business ideas creativity abounds and productivity is at its peak. You got a nice desk, beautiful décor, but what's that last thing that can make or break your entire home office?
The office chair!
Back problems and discomfort during work hours can drastically affect efficiency and your will to work.
A good ergonomic chair ensures comfort, provides excellent support for long working hours and looks good too!
Our Gaming Chair Vs. Office Chair guide will help you choose the best chair for your home office setup.
What furniture should I buy?
Masculine home office is all about sophisticated looks and exceptional comfort.
You just can't compromise on either of them.
Go for distinguished, masculine furniture that matches the aesthetics of your home office setup and is suitable for long working hours.
You don't want a flashy gaming chair in your contemporary minimalized home office, right?
The design should not be funky in any way, as it can just obliterate your whole vibe. Go for a sleek design with dark accents.
What should I look for in a workspace?
The most important factor while setting up a masculine home office is to maintain the coherence between the aesthetics. Each and every element in you man cave should demonstrate your innate sense of style.
Your workspace should also have enough room to perform your daily tasks-cut off from distractions, free of clutter, and comfy.
Having a window with a view is big plus—natural light for Vitamin D and Vitamin P (roductivity).

Next Steps
Want to join others who are creating the most amazing home offices and get more tips, tricks and hacks on how to make your home office the best it can be?
Join my brand new free private Facebook group, Home Office Hacks to connect with other home office hackers to make your space the best!