If you work from home, you know that a well-organized storage system is crucial for your office space. Items can quickly accumulate on and around your office desk, taking up valuable space.
To give your home office enough storage, ensure you have enough shelving, filing systems, bins, totes, and containers. Mount items on the wall and take advantage of multifunctional furniture to save space. 
Regardless of how big or small your home office is, you need proper storage to keep things functioning smoothly. Read on for home office storage solutions and organization ideas.
Storage Ideas For Your Home Office
You might think you have enough storage only to quickly realize you need a lot more space for the office accessories you've accrued. Once you run into storage issues, operating in your office can become tedious. Your productivity can suffer because you spend time looking for items that don't have their own dedicated space.
Luckily, office storage doesn't have to be complicated. You can create a storage system that suits your needs and flows with your work style. There are a few basic principles you should follow when it comes to storage, regardless of the space in which you work:
Don't hoard what you don't need.
Stay clean and tidy.
Make your storage solutions work for you.
Label everything.
File paperwork as soon as possible.
Look at wall space as well as floor space.
Reuse items when you can.
With these simple ideas in the back of your mind, you have the foundation for manageable office storage and organization. You should have no trouble creating an office space with plenty of storage, no matter what mess you're starting out with.
Keep Things Organized
First, everything needs a place. If you go about storing items in your office and you come across something that doesn't fit anywhere, the chances are that it doesn't belong. If you're positive that it does belong in your office, then it needs a designated place. It's as simple as that.
Storage and organization go hand in hand. This is especially true because office supplies can get out of control quickly (looking at you, paper clips).
Get Rid of Clutter
Letting clutter pile up is a quick way to become overwhelmed in your office. Get rid of everything you don't need. Take the time to go through your office items and shred all identifying documents you don't need. Throw away the trash that's been taking up space, blending in with the environment. Once you totally declutter, you will have a much easier time organizing the things that actually matter.
Create a space specifically for mail. Your home office mail is probably different from your household mail. If you own your own business and receive mail that goes directly to your office, store it off your desk to conserve space. Create an easily accessible and visible mail station for incoming and outgoing mail to live.
Get in the habit of putting things where they go when you're done with them. It's a lot easier than reorganizing your entire office every month.
Keep a Minimal Desk Space
The best office storage solutions keep your desktop space as clear as possible. On your desktop, you really only want the necessities that you use constantly.
To conserve space on your desktop, consider using these handy items:
WALI Monitor Stand Riser: A monitor stand lifts your monitor off your desk so you can store things underneath it or simply enjoy the idea of having one less thing on your desk.
YOTUTUN LED Desk Lamp: A desk lamp that clamps to the side of your desk doesn't take up room directly on your desk. Plus, this particular lamp is flexible, so you can move it around and adjust it however you choose.
CABLE GARDEN Cable Management Box: Cords are the bane of all who regularly work or play on a computer. That's why proper cord management is so critical. This set comes with boxes, clips, and ties to keep your cords in check, preventing desktop clutter.
This is not to say that desk decor isn't important. Your home office should be a reflection of you, so if that means that you have a house plant on your desk, that's great. There are several low-maintenance plants to choose from that work well in a home office environment. As long as your office storage is under control, you have more choices when it comes to the decor you actually want to display.
Use Drawer Dividers to Keep Desk Drawers Organized
If you're lucky enough to have a desk with drawers invest in some drawer dividers to keep your drawers organized. Desk drawers provide excellent storage opportunities, but they can get messy quickly. Drawer dividers keep the items in your drawers in check.
There are all kinds of drawer dividers and drawer organizers you can use for this task. You can even go into your kitchen and grab a muffin tin or silicone cupcake liners. If you choose to use either of those, keep in mind that they will only hold small items.
As for drawer dividers, your options are pretty vast.
With any of these options, you should make sure that your desk drawer's dimensions will allow for the organizer to fit. Beyond that, this storage solution is excellent for keeping your desktop clutter-free and your desk drawer contained. You won't have to go digging around for a missing office supply when everything has its own compartment.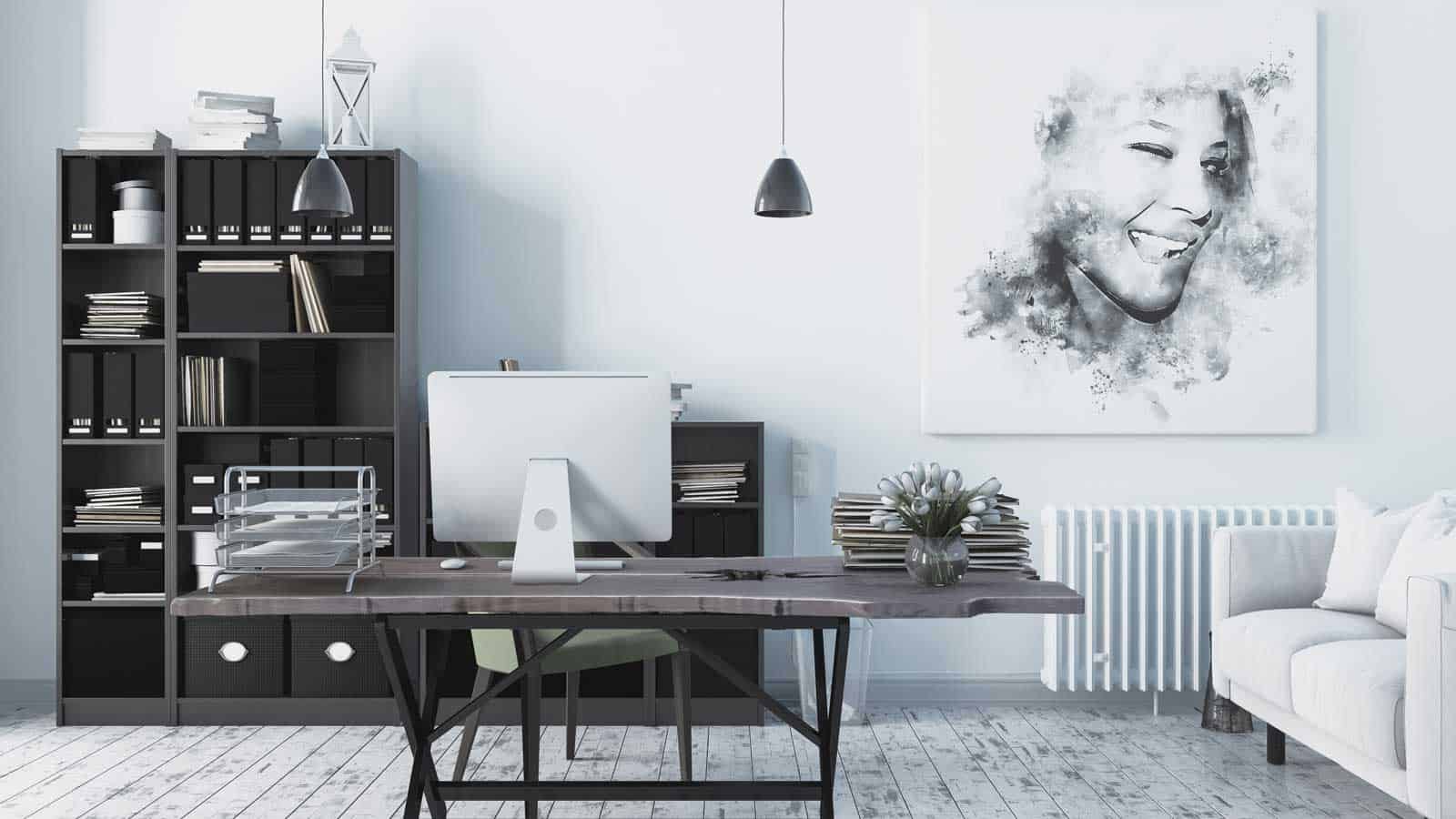 Use Plenty of Shelves for Storage
When you have plenty of secure shelving, you can store all kinds of things in your home office. Open shelving is easy to build right above your desk for quick access, even in a small space. If you are working with limited square footage or an awkwardly shaped office nook, building open shelves right above your computer desk is a great way to keep your necessities within reach.
You can add decor like art pieces and flower vases to your shelves for personality. Just be sure that you keep your open shelving from getting too cluttered. And most importantly, build sturdy shelves on a sturdy wall! You do NOT want your shelves crashing down onto your computer, or worse, onto you!
Shelving can take on all kinds of forms: floor-to-ceiling open shelves, bookshelves of all shapes and sizes, rolling shelves, and DIY shelf-adjacent office storage ideas.
Use Cube Shelves to Maximize Space
Cube shelves are widely available and easy to install. What's more, they come in all types of configurations for your storage needs. You can use cube storage as an open storage concept, utilizing the shelves as they are, or you can purchase bins or totes to insert into each cube to keep items even more organized.
Mount Boxes on the Wall as Shelving Alternative
If you're a crafty person with lots of boxes or crates lying around, consider mounting them to the wall to make your own cube storage.
Plastic crates, for example, can be mounted with their bottoms to the wall, creating an open cube with a closed back, just like some of the cube storage above. It might not look as pretty, but it's cheaper, provided you already have the tools lying around.
Use Craft Storage Tables
Speaking of crafty, consider craft storage tables as an extra means of storage. You can replace your computer desk with a craft or hobby desk and immediately have tons of built-in shelving.
I'm honestly not sure why everyone hasn't thought of this yet. You're going to have a desk in your office, and you're going to need storage, so it's kind of a brilliant solution.
Use a Rolling Utility Cart
Rolling utility carts are great for storage because you can move them around at will. Put things on your utility cart that you don't need all the time. You can also use the drawer dividers mentioned above to keep things organized on each cart shelf.

Maximize Storage Space by Going Vertical
I've already beaten the concept of shelving to death, but if you struggle with floor space, you can mount more than just shelves to the wall. Plenty of home office storage equipment is designed for vertical use, saving you room to maneuver about your home office without tripping and falling.
Use a Peg Board for Storage
With a peg board, you can hang anything. Peg boards are popular in garages because they are perfect for organizing hand tools. Well, office supplies are another kind of handtool.
You can even go out with a huge peg board that takes up most of the wall space if you want. With so many peg board hooks and accessories available, you have complete control over storage and organization.
Additionally, you can add a corkboard or a combination corkboard and whiteboard with thumbtacks for sticky notes, photos, reminders, and decorations.
Mount Your Monitor to the Wall
You can mount your entire workstation to the wall if you really want to save space. This frees up your desk even further, making it that much easier to keep clean.
Just be sure to follow the directions and mount it to an appropriate spot on the wall. You don't want to risk your workstation crashing down before your eyes. If a fully-mounted workstation is too commercial for you, consider just mounting your monitor like a flatscreen TV.

Get Clever with Multifunctional Items
Think outside the box to get the most out of storage solutions. Certain things are marketed to be used a certain way when they actually have a whole host of other uses.
For example, you can throw an over-the-door hanging closet organizer on your office door and stuff it with office supplies. Sure, it might have once been created for shoes, but it's an affordable, easy way to store items you don't immediately need. Additionally, a magnetic knife rack above your computer can hold onto utensils when you're not using them. Just remember to leave the knives in the kitchen.

Keep Paperwork Organized
Out-of-control paper can cause an otherwise organized office to look messy and unkempt. Even if your work is primarily online and in the cloud, paper has a funny way of piling up regardless.
Whether it's printer paper, business cards, junk mail, sticky notes, or your kids' art projects, you need a way to store your paper items before they take over your office.
A good shredder at your side will take care of the documents you can't throw away for whatever reason. For the things you actually need to hold on to, think of storage solutions that will work for you. How does your mind operate? What will you most easily remember? Don't try to force yourself to habits that are difficult for you, but create workflows that make sense to your general operating style.
Use Magazine Files for Paperwork Storage
You're probably familiar with magazine files, even if you don't know their name. Magazine files are excellent tools for filing paperwork and binders in a home office while saving space and avoiding clutter. Most magazine files include blank labels you can write on so you can quickly access documents in the future whenever necessary.
Magazine files come in all kinds of colors and styles, so you will have no problem finding something that fits in with your home office style. Dedicate a section of a bookshelf to these magazine files, and you will have a well-organized, efficient paper filing system.
Use Different Filing Cabinet Systems
When it comes to filing cabinets, we have moved far beyond the traditional hulking metal towers (though you can still get those if you have room for them). For your home office paper filing, you have several options to choose from today.

Home Office Storage for Small Spaces
Do you have a home office in a small home or apartment? Many people work from home in tight living quarters, such as studio apartments with very limited square footage. If you think your space is too small for proper storage solutions, think again. You need an organized atmosphere to get down to business, and with a little ingenuity, no space is too small.
When devising your storage solution, keep your spatial constraints in mind. A space-saving solution for your storage needs will keep you from feeling overwhelmed and claustrophobic.
Use Furniture That Doubles As Storage
If you live in a small space, you're likely no stranger to multifunctional furniture solutions. Invest in pieces of furniture that can double as office equipment and/or office storage.
Virabit Full Loft Bed with Desk: This loft bed not only features a desk underneath, but it has four full-sized shelves for storage. One piece of furniture functions as a bed, a computer desk, and storage.
Allewie Queen Platform Bed Frame: If a loft bed isn't your speed, you can invest in a platform bed frame that doubles as storage. These often feature deep drawers with plenty of space to store office items.
Other, more obvious choices would be to use regular bookshelves as open-shelved file storage. Bookshelves have far more uses beyond just holding books! You can purchase different baskets and bins in all shapes and sizes to place on the shelves for easy access.
If you want to separate your home office from other parts of the room, consider a room divider that doubles as a bookshelf for storage. Not only is it functional, but it is a unique and interesting piece to have in your home.
Maintain Modular Storage Designs
If conventional bookshelves or storage bins don't fit in your space, you can use modular shelves to create storage in awkward, hard-to-fit places.
These cube storage shelves can be pulled apart and put back together in all kinds of ways to create your ideal shelf shape. If you want to mount storage about your desk, you can use these space-saving storage shelves and boxes to create a very well-organized out-of-the-way arrangement.
Additionally, consider using unconventional desks that can be reconfigured to make extra room when you need it. Wall-mounted floating wall desks and adjustable standing desks save space, allowing your space to flow better. With standing desks, you can even add more storage underneath!
Use Built-Ins to Increase Storage Space
When your desk and storage compartments are built into the wall, you can save a great deal of space. If there is an awkward nook in your home that is rarely used, consider adding a slab of wood (or other material) to create a convenient desk space. Without adding an entire desk, you will save a great deal of precious square footage.
You can mount shelving to the wall from floor to ceiling, creating built-in storage space. By using built-ins, you will create plenty of space to store items and maneuver around your office area without sacrificing comfort and ease of movement.
Next Steps
Want to join others who are creating the most amazing home offices and get more tips, tricks and hacks on how to make your home office the best it can be?
Join my brand new free private Facebook group, Home Office Hacks to connect with other home office hackers to make your space the best!