There are several ways to connect two computers to dual monitors so you can switch between two computers in a one-desk setup with one keyboard and one mouse to control both computers.
Modern monitors have multiple input ports, allowing you to connect two devices for a dual monitor setup. You can utilize both the VGA port, HDMI, or DVI input on both monitors for the display. As for the keyboard and mouse, you can use a KVM switch, which allows you to seamlessly use them for both computers.
Although this method might be the simplest way to achieve a dual monitor setup, alternatively, there are more options depending on your display settings and the pieces of hardware you own. Other alternative methods include:
Using a KVM switch if your primary and secondary monitor does not have enough ports to support two computers
Using software solutions and display settings to set up both computers to use a mouse and keyboard seamlessly between the dual monitor setup
Using laptop screens as primary monitor or laptop docking stations
Using a casting device or a remote desktop connection
But before we explain the alternatives, let's dive in deeper into the best solution.
Real quick, before we get too far into it here, if you want to get more great ideas for your gaming room or home office and want to connect with other home office hackers to make your space the best join my free private Facebook group, Home Office Hacks here.
Using Multiple External Monitor Ports and 1 KVM Switch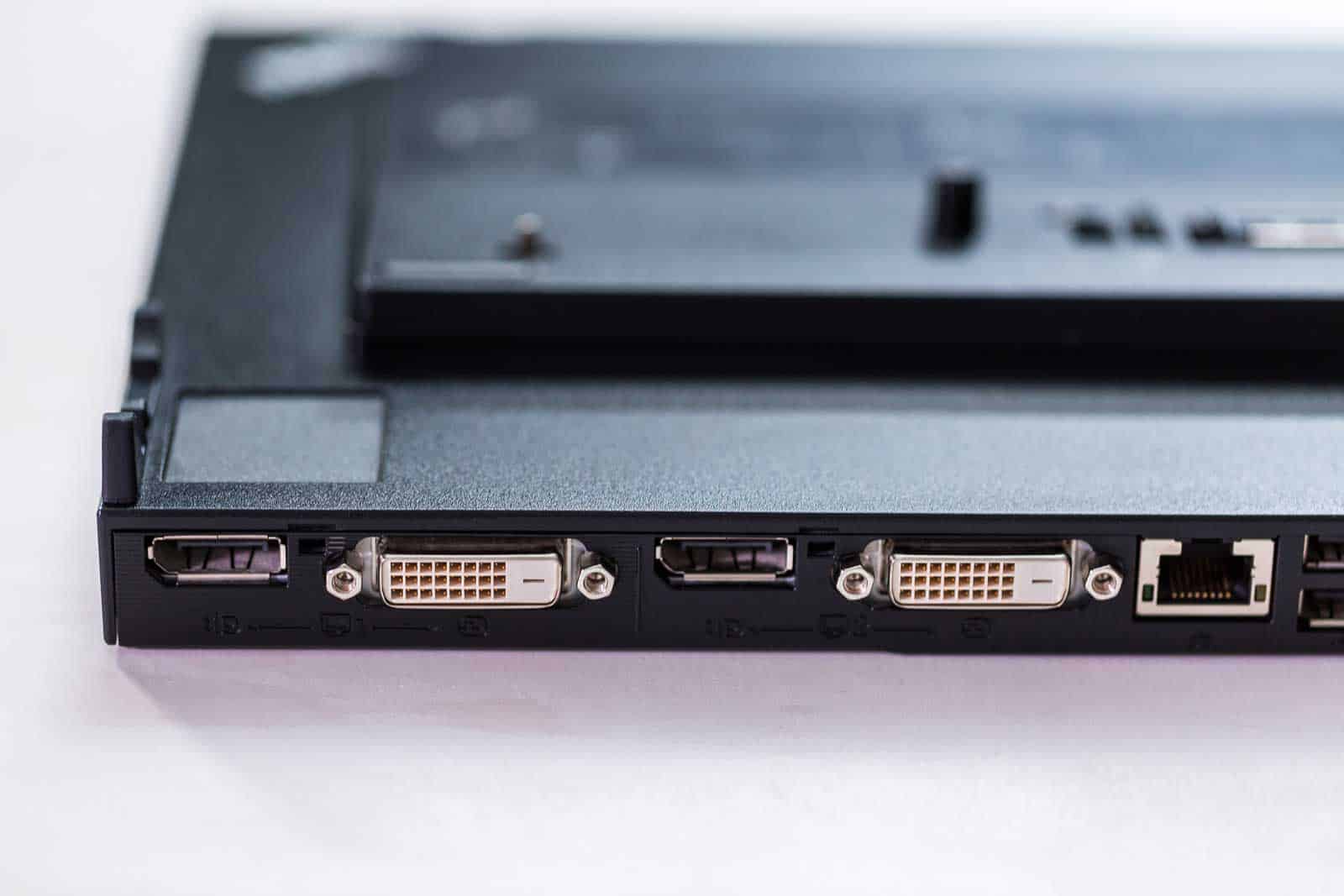 Connecting 2 computers to a dual monitor setup is more complicated than using a single monitor for 2 computers or using one computer with additional screens. However it isn't exactly rocket science and it is way more simpler than you think– as long as you have the materials you need, which are:
Two computers with 2 HDMI ports or 2 VGA ports each, or one of each (1 HDMI and 1 VGA)
Two Monitors with 2 or more inputs for each computer, including HDMI, VGA, or DVI port
Enough cables to connect each monitor to each computer and USB cables for the KVM switch and single keyboard and mouse, including the monitor's power cable
Enough desk space
Updated graphics cards that can handle both monitors
Now that you have everything you need, you can follow these steps to achieve the dual screen setup you want:
Step 1: Connect both computers to dual monitors using the video ports
Whether you are using modern ultrawide monitors or any other monitor, each of them should have at least two display ports (even without the additional features).
Connect computer A to both HDMI or DVI ports on monitor A and B. Then, connect computer B to both VGA display ports on both monitors using each monitor cable.
Your computer display will automatically show up on each monitor once they are connected, but you will need to manually switch the input on each monitor by selecting which input you want to display.
You may want to use each computer's display settings to configure the additional monitors. But before that, you will need to connect the single keyboard and mouse using a KVM switch.
Step 2: Connect keyboard and mouse to both computers using a KVM switch
With the KVM switch, plug in the mouse and keyboard to each of the USB ports. Then connect each output port to both computer A and computer B.
A KVM switch looks like a USB dock. However, they come in different styles with every type of port you are going to need. Some KVM switches even has a video output port, which can also be a solution for using separate screens for two computers. However, because it is splitting the output to two computers using one common port– it might affect screen resolution.
Unlike a USB dock, KVM switches can remain plugged into both computers, allowing you to use one keyboard and mouse for both of them without plugging and unplugging every single time. Aside from a keyboard and mouse, KVM switches have additional options. You can also connect thumb drives, printers, webcams, and headsets, an ethernet cable, and more to both computers.
Step 3: Configure preferred display option in computer settings
With a dual monitor setup, you can choose different settings depending on your preference.
You can either:
Duplicate the displays, which means having the second monitor copy everything that is on your primary monitor
Extended displays, meaning you can have separate monitors with separate monitor settings
You can also block one display, which can either be monitor A or monitor B
Additional options, such as monitor position and more depending on the computer and operating system you are using
For Mac users, you can go into your display settings by clicking the Apple logo on the top left of the primary monitor and go into system preferences, then display settings. You can also do a spotlight search by pressing Command + Space Bar and search for Display Settings.
For Windows users, you can go into the control panel and go to display settings.
Alternative Options for Connecting Two Computers to Two Monitors
Aside from the primary method, here are other options to connect two computers to two monitors.
Use a KVM switch or docking station with display ports
If you have extra money to spend, you can purchase a premium KVM switch with all the ports you need to setup your monitors with two computers.
All you need to do is connect both monitors into their respective ports on the KVM, connect a keyboard and mouse, and connect the two outputs on both computers from the KVM switch.
Use Microsoft Garage software
If you are a Windows user, Microsoft Garage is a software you can use for your keyboard and mouse only, and not the monitors. This is an alternative option if you don't have a KVM switch.
2 laptops
If you have 2 laptops, you can purchase one monitor and have three screens. The two laptops can have one shared extended display, and have their own primary displays. However, this option can get quite complicated, considering both laptops have their own keyboard. Instead, you can do the first method using laptops in place of CPUs.
Using a casting device
A casting device can wirelessly cast your laptop or desktop display to another screen using a network connection. You can simultaneously cast your primary display to a separate monitor– and if you have two computers, you can simply cast which one you are using to the second display. However, you are still going to need a KVM switch to use one single keyboard/mouse setup.
Next Steps
Want to connect with other remote workers, contractors, freelancers, gamers and people who work from home who are creating the most amazing home offices and get more tips, tricks and hacks on how to make your home office or gaming room setup the best it can be?
Join my brand new free private Facebook group, Home Office Hacks to connect with other home office hackers to make your space the best!