How does a mechanical keyboard work? What makes them better than regular keyboards?
The keyboard is arguably the most important input device in a computer. It controls the movement, text entry, and other all kinds of other functions.
But how do mechanical keyboards work?
Mechanical keyboards work by using a switching mechanism that consists of a keycap, the mechanical switch itself, along with a sprint to register keystrokes by creating circuit connections.
If you've never used a mechanical keyboard before, then you might find this article useful. The goal is to  help you understand the benefits and drawbacks of using mechanical keyboards.
All your questions about mechanical keyboards will be answered. We'll cover everything you need to know. And we'll even talk about whether or not using one is right for you.
By the way – before we get too far along here, if you want to get more great ideas for your home office and connect with other home office hackers to make your space the best join my free private Facebook group, Battle Station Setup here.
How Does a Mechanical Keyboard Work?
Mechanical keyboards offer a unique user experience thanks to their tactile feedback and accuracy. While this type of keyboard may look the same as a traditional rubber dome keyboard, the physical switch below each key sets them apart.
The most important thing to note about how mechanical keyboards work is that these switches contain several moving parts that create the overall keypress mechanism.
There are a variety of switches that mechanical keyboard users can choose from. We will go into more detail about different types of switches below.
How a Traditional Keyboard Works
If you use your default laptop keyboard or grab an external keyboard off the shelf, chances are you will end up with a regular keyboard that is not mechanical.
These traditional keyboards are called rubber dome keyboards. The vast majority of keyboard models on the market feature this traditional design. They are cheaper to manufacture and can suit the needs of casual keyboard users.
However, people who work from home or use their keyboards for gaming often find that these rubber dome keyboards feel "mushy" and uncomfortable to use long-term.
The mushy feeling comes from the multiple plastic membrane layers these keyboards possess. Instead of mechanical key switches, these keyboards contain rubber switches that push through a hole in the membrane layer to create a circuit and register a keypress.
There is less accuracy with a dome switch keyboard and there is no physical feedback that denotes a successful keypress.
How Mechanical Keyboard Switches Work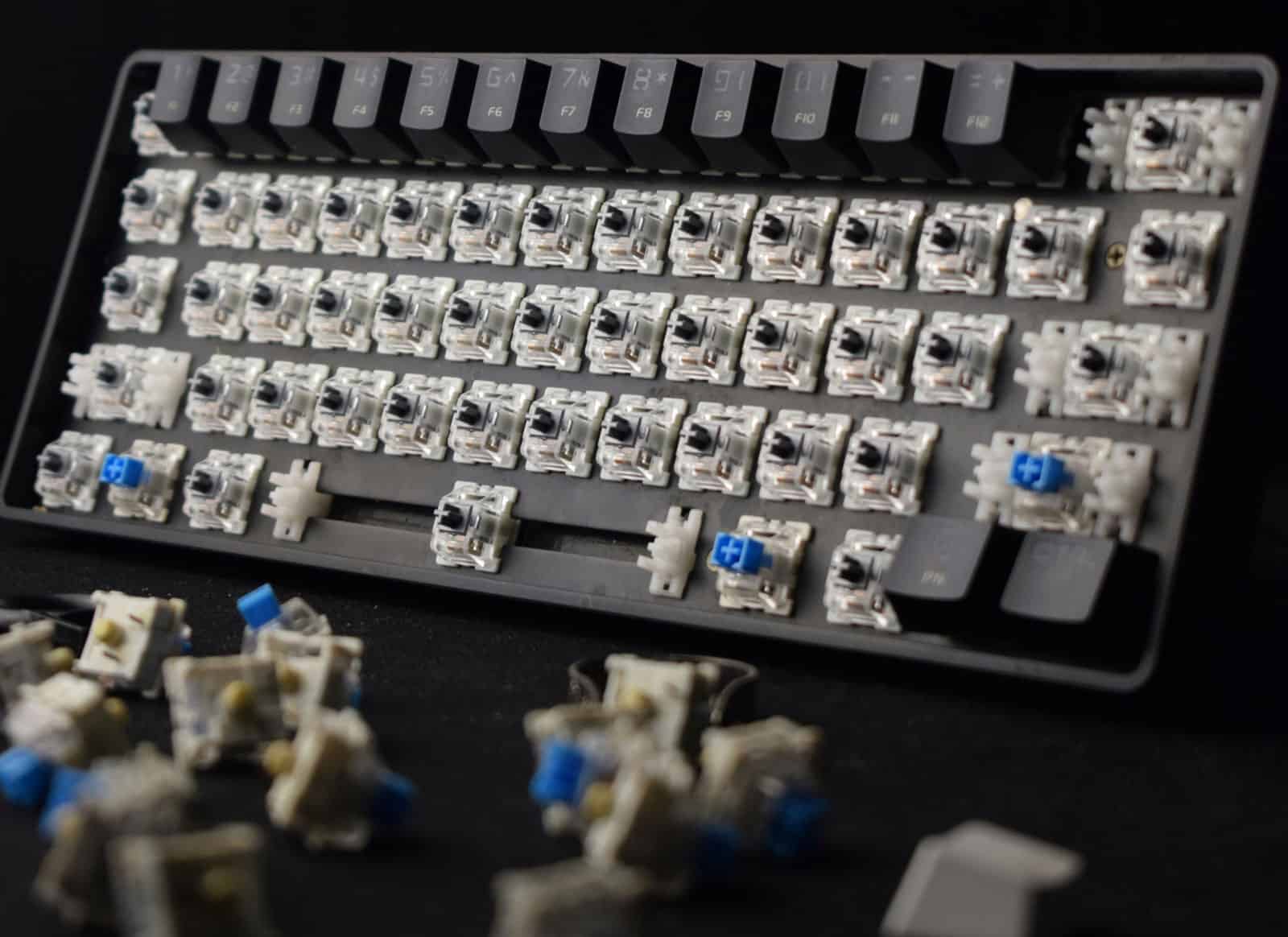 Regardless of what type of switch you use with a mechanical keyboard, it will work the same way:
When you press a key on your keyboard, a slider inside your key moves a metal prong out of the way, allowing the inner-spring to move downward.
The spring inside the mechanical switch then moves downward to connect two metal contact points.
This connection completes a circuit, announcing to your computer that a specific key has been pressed.
Once you release the key, the spring bounces back up and pushes the slider and prong back into their resting positions.
While this may sound like a lot of steps, you're likely familiar with how quickly key presses happen whether you're working in your home office or gaming on your PC. These switches work just as quickly to complete circuits as rubber dome switches do.
Mechanical switches are actually more accurate, however, because the switch and spring mechanisms require intentional action, and keys aren't registered by accident.
Types of Mechanical Keyboard Switches
People who use mechanical keyboards for work or play typically choose these keyboards over conventional membrane keyboards because of the tactile bump or audible click each keypress gives off. Not all switch types are the same, however, and some offer a more physical response than others.
There are three main types of mechanical keyboard switches: linear, tactile, and clicky. Depending on your typing technique, you'll likely prefer one of these switch types over the others.
The most popular mechanical keyboard switches are built by German company Cherry and are known as Cherry switches.
Cherry MX Reds – Linear switch with no audible click and no physical bump when a key is pressed.
Cherry MX Browns – Tactile switch with a physical bump but no audible click when a key is pressed.
Cherry MX Blues – Clicky switch with a physical bump and an audible click sound when a key is pressed.
Each of these popular switch types requires a different amount of force to press. Other companies have come onto the scene to compete with Cherry, however, giving mechanical keyboard users more options to be discerning.
Linear vs. Tactile vs. Clicky Keyboard Switches
The three types of mechanical keyboard switches are aptly named for the feedback they give users.
Linear switches present smooth key presses with no sound or bump. A drawback of linear switches is that they make it easier to make typing mistakes. This is the mechanical switch most like conventional rubber dome switches in feel and operation.
Tactile switches require a stronger operation force than linear switches because there is a physical bump when a key is pressed. Users who want to feel physical feedback but don't want loud, clicky keyboards often choose tactile switches.
Clicky switches offer the most feedback out of all the mechanical keyboard switches. Each keypress requires intentional force and offers a click and bump in return. This type of switch offers the most accuracy since users can hear and feel the specific keystroke.
Clicky switches are considered the gold standard and are by far the most popular with mechanical keyboard users. In most cases, people who switch from membrane keyboards to mechanical are looking for heavy tactile feedback and accuracy.
Keycaps for Mechanical Keyboards
Keycaps are the plastic piece that covers each mechanical switch and visually indicates which key is which. When designing your own mechanical keyboard, you'll find a wide variety of keycaps to choose from.
If you prefer the look and style of conventional rubber membrane keyboards, you can choose that same key design for your mechanical keycaps.
However, many people get creative with their keycaps to suit their personal preferences.
COLORFUL – The translucent dual layer design lets more light shine through to highlight the RGB effects of your gaming keyboard. Perfectly readable legends and a milky base make this the perfect gaming accessory for playing with a backlit keyboard.
DURABLE QUALITY – The keycaps are made from doubleshot PBT material that is very durable and pleasant to touch. Resistant to wear
This custom keycap set Consists of 71 keycaps, Compatible with 60% MX mechanical keyboard, Perfect for keyboard models: RK61 series, GANSS ALT61 series, IKBC poker series, Anne PRO, GH60, iqunix f60, GK64 GK61 etc , ideal for custom mechanical keyboards select.
The keycap is Made of PBT material, excellent to touch. The thickness is about 1.5mm. Good gift to the Mechanical Keyboard lover.
This keycap set contains 139 keys.it can fit most 60%/65%/75%/80%/96%/100% (61/64/68/84/75/87/96/104) keyboards like anne pro 2, tkl rk68, rk84, etc.
This keycap set has a large number of personalized Complement keys, You can use them to assemble different styles of keyboards according to your ideas. When you are tired of a color style, you can change several of the keycaps to change your keyboard to a new style.
It's important to choose high-quality keycaps that can stand frequent use. Additionally, ensure your keycaps fit your choice of switches.
Is a Mechanical Keyboard Right for You?
If you're a frequent keyboard user, such as someone who works from home daily or uses a keyboard for gaming, a mechanical keyboard could be the right fit for you.
Things to keep in mind about mechanical keyboards are they are heavier, louder, and more expensive than other kinds of keyboards. However, they are more ergonomic, accurate, and responsive as well.
If you're looking for a more tactile, physical feel when you type, consider making the move to mechanical keyboards. Try out different switch types to see which one suits you best. Once you have your choice picked out, you can have some fun choosing your ideal layout and purchasing custom keycaps.
Next Steps
Want to join others who are creating the most amazing home offices and get more tips, tricks and hacks on how to make your home office the best it can be?
Join my brand new free private Facebook group, Home Office Hacks to connect with other home office hackers to make your space the best!