Work from home has become the new normal.
According to Forbes, 97% of employees don't want to return to the office full-time. Meaning, even if COVID goes away, a hybrid work model is here to stay and will be a major deal-breaker in hiring and retaining talent.
When the pandemic began, most of us relied on our bed or kitchen table for remote work. But now, you need a dedicated home office to continue working in a fully remote environment.
Why? Because a proper workstation ensures maximum productivity while keeping you far away from distractions and lousiness.
But how much space do you need for a home office?
Home office space is subjective. You can go from a tiny 20 sq. ft. spot under the stairs to a 200+ sq. ft separate room/basement. The ideal size depends on what you will be using it for. A 50 sq. ft. corner in a bedroom would do just fine if you are a software engineer. But if you are a mechanical engineer with tons of gadgets, a 150+ sq. ft. garage would be the ideal home office.
Also, the type of furniture and its size, gadgets and machinery, storage, etc., determine how much space do you need for a home office.
Is your partner also working from home? He/she will also require extra space.
Some people want multiple workstations in a home office. Each workstation is like a separate cabin with all the necessary amenities to work from home.
More workstations = more space.
What Home Office Size Is Right for You?
A home office can vary greatly in size depending on the usage and functionality.
In simple words, there is no one-size-fits-all approach for home offices.
And there is a misconception that you need tons of free space to build a home office. Well, no! Even a small 50 sq. ft. home office has so much to offer.
Coming back to our question, "What Home Office Size Is Right for You?"
The average home office size is somewhere between 50-150 sq. ft.
Are you a freelancer, part-time remote worker, or hobbyist? If yes, you can even fit into a 15 sq. ft. to 50 sq. ft. corner in your house.
But if you are a full-time remote worker or someone who has lots of work equipment, a 50 sq. ft. to 200 sq. ft. room will be the best option.

As you can see, the home office size entirely depends on what you want to accomplish in your personal den.
These questions will help you decide which size is ideal for you:
What sort of equipment do you intend to use in your home office? Compose music on a Digital Audio Workstation? Code on a laptop? The list goes on.
How much time do you expect to spend in your home office? Is it only for work or other leisure activities too?
Are you going to work alone? Or your business requires meetings?
Do you need storage space?
Will you be manufacturing or assembling products at home?
To help you design the perfect home office, here are a few key measurements to keep in mind:
Desk size
Chair size
Storage required
Shelving requirement
Space for work-equipment
Meeting space
What space ideas do you have?
Let's start with the possible areas in your home that can accommodate your home office setup:
Closet
A corner in your bedroom/living room
A separate room
Under the stairs
Garage
Basement
Attic
Alcove
Kitchen
Backyard office (tool sheds, enclosed cabanas, home office sheds)
Dining room
Entire floor
What Are the Best Office Space Options?
Home office under the stairs
Remember that cupboard under the stairs from Harry Potter?
You can use that space as your home office. Depending on the layout of your stairs, you can accommodate a lot of stuff, like a desk, chair, computer, printer, and maybe some floating shelves too.
A small home office under a stair can have a 5 x 2½ft desk with a small office chair. But remember, this is not a good option for people who do practical work like sew clothe, assemble products, or compose music.
Home office in a closet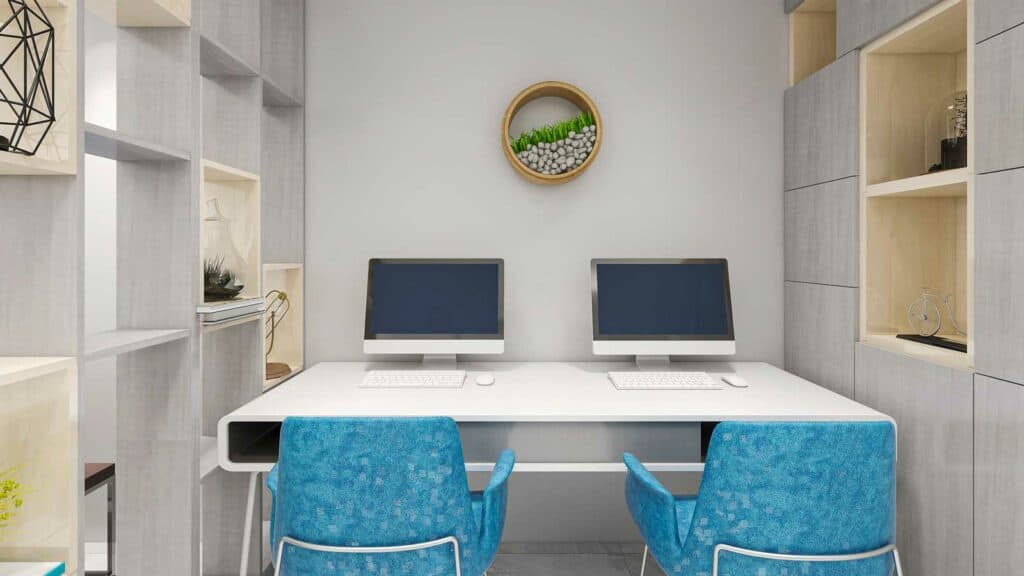 A separate home office space where nobody can intrude is the ideal option if you are someone like me.
Suppose you go with a small closet in your bedroom.
You need enough space for your desk and chair, considering that the desk can accommodate all your accessories like laptop, printer, and files.
A 2ft. x 4ft. desk would be a perfect fit for your closet. You can push the chair/stool under the desk and easily close the door too.
It goes without saying that a closet is an extremely tight space — no exaggeration. It is only feasible if you're someone who works on a laptop only.
Home office in a bedroom or dining room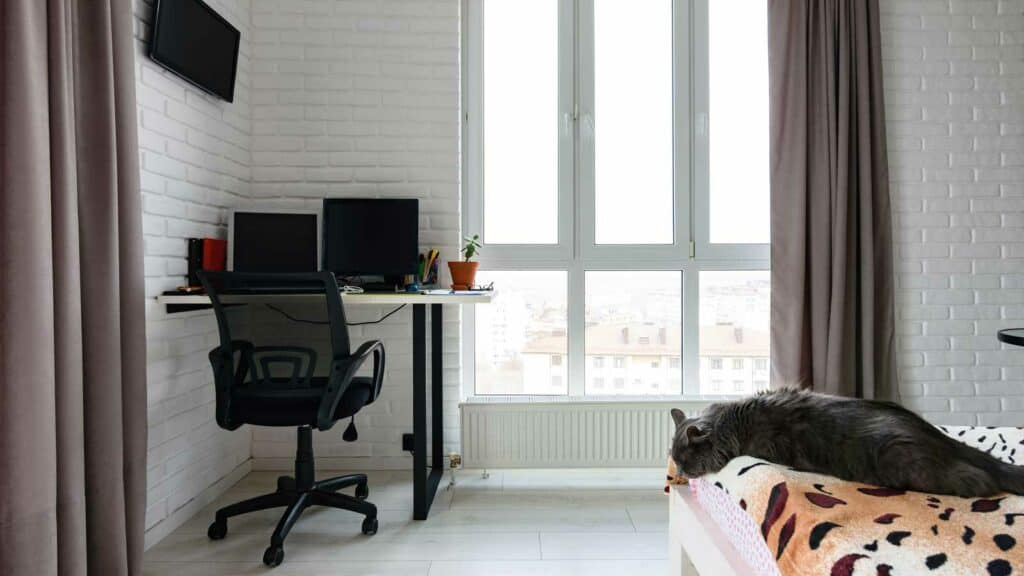 If you are looking for something spacious, setting up an open home office in your bedroom is a good idea. But there's a downside, too; if you are not alone, you will have to deal with a lack of visual privacy and distractions.
But out of all the options here, this one is the cheapest. You don't need to renovate or construct new structures, just set up your equipment and start working.
A 48-72" wide and 24-36" deep freestanding desk would be a perfect option for a home office in a bedroom.
If your bedroom is choked with furniture, a dining room might be the next best option. It is cheap and quick to set up your workstation. But being the centerpiece of your home, you'll be bothered multiple times throughout the day.
You might also have an empty wall around somewhere or an unused corner. Why not use it as a home office? Get an L-shaped desk or a corner desk and make use of that spare space.
Home office in a separate room
https://as2.ftcdn.net/v2/jpg/03/27/61/63/1000_F_327616328_7G14rAICS4kBcAfmCgi4Wzo3bt5ovhct.jpg
Imagine having a separate room for work? Free from all the distractions, your own personalized space for business…and money.
Full-sized desks, filing cabinets, storage boxes, drafting boards, additional seating —you can practically shift each work-related accessory and furniture in your room home office.
You can go for the following dimensions if you have 13'5" x 11'8" (or comparable) room dimensions:
The most attractive thing about having a fully functioning home workspace in a separate room is that you can decorate it as you want. Moreover, your family members won't disturb you here so you can use this room as an escape too.
Home office in the attic
And you thought the attic is only good for old furniture, antiques, and dusty oil paintings? You can set up a peaceful home office in your attic — free from all sorts of distractions and interruptions.
Working under a pitched roof is in itself a pleasant feeling. You will also have tons of natural light coming into the attic.
Attic typically has enough space for you to use full-size furniture with lots of storage. You can even put a single bed or a loft bed with a built-in desk in your attic.
But the bigger the attic, the more you'll have to spend to renovate it. The average cost to convert an attic into an office is $40,000-50,000.
You have enough space, but are you willing to walk up and down multiple times daily? Also, the attic does not have a separate outside entrance for client visits.
Home office in garage/basement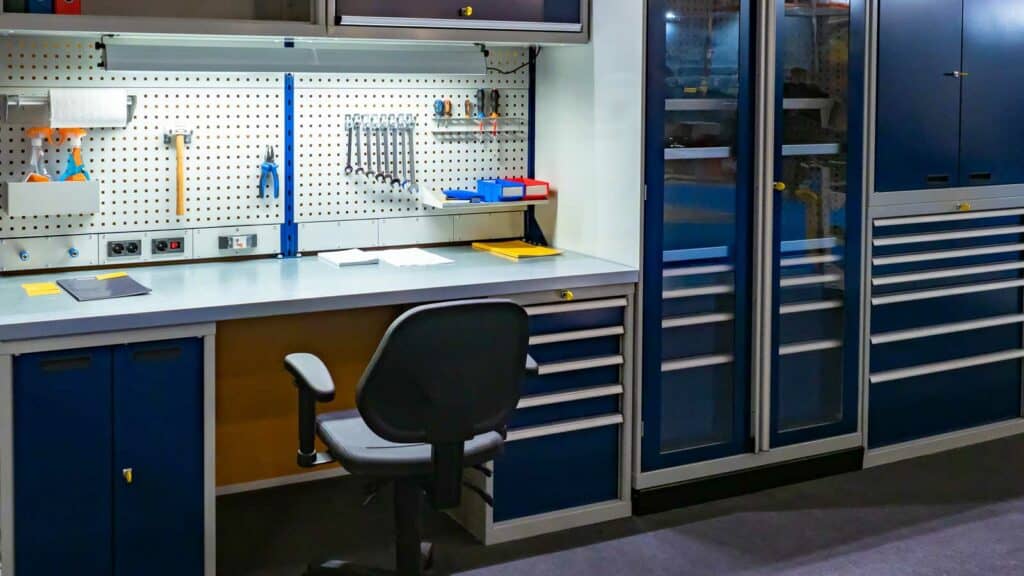 If you do practical work like manufacturing or assembling products, you need lots of space. The work equipment, desk space, chair, storage, shelves, meeting space, etc., all will require a 150-200+ sq. ft. of space.
The average one-car garage size is 12 feet wide and 22 feet deep. Some houses also have 14 x 22, 16 x 24, and 14 x 24 garages, giving you more than enough space to set up your things.
Moreover, garages have a separate entrance and are not usually visited by family members that often.
But there are two caveats, though:
Where will you park your car? The minimum size of compact parking space should be 8 feet wide and 16 feet long. You can park it outside but what if it snows a lot in your city?
The money! You have to spend $5,000+ on average to convert your garage into a home office.
The next best option is to set up your office in the basement. Not that old grody basement straight out of a horror movie but an altered one with good access and improved lighting.
Basements are huge, about 1000 sq. ft. on average. Even if it's smaller than 1000 sq. ft., you'll have more than enough space to set up your workstation(s) while leaving space for storage and family use.
Multiple small office cubbies (7ft. x 5ft. or 8 x 8ft) with L-shaped desks or corner desks (Main: 5ft x 2½ft Return: 5ft x 2ft) can be installed in the basement.
Downside? The moisture. Heat, cold, and dampness can prove to be fatal for electrical equipment and paper/documents. Make sure you think about these carefully before taking a step.
What is the Best Home Office Space?
The best home office space is that which stimulates the three Cs of business — creativity, collaboration, and communication. It should also allow you to focus and concentrate by eliminating all the unnecessary distractions.
While a closet or the space under the stairs might be an option, they are generally dark and uninviting. Would you be able to sit and be productive at such a place for 6-8 hours a day? Probably not.
The best home office space is not just about the measurements. You have to consider lots of other things too while maintaining a business-family balance. Here's what you need to consider before moving your office furniture to a new space:
Location Is Key: If possible, choose a separate room as a dedicated workspace. Because working in a shared space might be a good idea at the start, but as you move forward, the distractions and interruptions will overwhelm you, drastically affecting your productivity and the will to do more. 
Choose a location that best suits your working style. Some people spend thousands on renovating the garage or basement just to code on their laptops. A garage or basement is only good if you do practical work and need storage space. Otherwise, an office desk with storage shelves in your bedroom would be more than enough.
A typical home office will have your computer, pencil holders, phone, pictures, books, chair, files, desk chair, drawers, a place to meet (if applicable), printer, and yourself. Take measurements of all the must-have tools and supplies and see if they'll fit in your working space.
Storage and Shelving: If your business requires lots of storage, it's best to select a workspace that is large and has enough room for multiple shelves and filing cabinets to accommodate equipment, business records, and client files. If you use another part of the house, and you have to go through the inventory multiple times in a day, it's going to be counterproductive. 
A single shelf will be 12" deep and 14 to 16" high. Built-in shelves can reduce the floor space by 1-2 ft. so keep that in mind. Two pieces of 36" wide and 48" high freestanding bookshelves would also do great.
File cabinets are compact and can even fit in tight spaces.
2-drawer file cabinet (14.3" x 18" x 24") will be more than enough to organize your files and paperwork. 
You can use vertical shelving if you are short on space. 
Natural Light and View: This is often overlooked when setting up a home office. According to a study by Harvard Business Review, natural light and views of the outdoors are the number one attribute of a workplace environment. 
A closet or the space under the stairs might work for some people, but for the majority, it will negatively impact productivity in the long run. 47% of the employees in the study mentioned above admit they feel tired or very tired from the absence of natural light or a window at their office.
So, if you have an empty attic or a deserted window with a beautiful view, take no time to set up your things there.
Who is using the office and what are they using it for?
As we have discussed in detail, there is no ideal home office size.
It's all about who is using the office and what are they using it for. The furniture, equipment, technology, communications, and supplies all depend on these two factors.
If you are an independent contractor who just needs a laptop to make money, a
40" computer desk with a small stool will be enough. But if you are a software engineer who needs multiple monitors for coding and app development, a
67" L-shaped desk would be a better option.
What if you are a real estate agent who meets people on a regular basis? Or an accountant who has to meet clients? You need a proper meeting space. If you intend to have everything from storage to your desk and meeting sofas, a room for 13'5" x 11'8" (or comparable) would be required.
If you intend to create a shared working space in your home, you need space for multiple workstations. Moreover, your occupation might be different from your partner's, and hence more space might be required. Someone living alone has entirely different options than someone living with a family.
And finally, if your business requires tangible machinery like a 3D printer, microcontrollers, or some other valuable business equipment, you need easily accessible storage. If you do extreme stuff like forging or woodwork, you need extra space and proper ventilation.
What size desk do you need?
| | | | |
| --- | --- | --- | --- |
| Occupation | Type | Width | Height* |
| Freelancer/part-time remote worker/Hobbyist | Folding desk, study, small computer desk | 32"-40" | 28"-35" |
| Full-time remote worker | Standing desk, L-shaped desk, computer desk with storage shelves, classic computer desk with drawers | 40"-55" | 28"-35" |
| Remote worker with lots of equipment/business owner | Large L-shaped with small table for laptop, study computer desk, large corner desk with storage space, large executive desk | 55"-67"+ | 28"-35" |
*Height can vary depending on your height and posture. Standing desks are often height-adjustable.
Chair Clearance: You must have at least 23" (59cm) to fit a modest sized chair and 30" for a bigger chair.
What is the best part about having a home office?
The first and foremost advantage of having a dedicated home office is increased productivity. You can work on your bed with a
laptop bed tray desk but let's be honest; you'll be drowsing off after an hour or so.
A home office draws a line between work and entertainment. The door keeps the business in and the family out. Without a home office, it is really difficult to maintain a healthy business-family balance.
Moreover, if you just want to escape the family drama, watch a movie or meditate, a home office is a must-have.
Home office furniture for freelancers/part-time remote workers/hobbyists:
Home office furniture for full-time remote workers:
Home office furniture for remote workers with lots of equipment:
Next Steps
Want to join others who are creating the most amazing home offices and get more tips, tricks and hacks on how to make your home office the best it can be?
Join my brand new free private Facebook group, Home Office Hacks to connect with other home office hackers to make your space the best!