Who isn't guilty of eating at the desk while working on your Macbook?
Oils from your hands get on your keys and it's inevitable that crumbs and other debris make their way onto your keyboard.
Your Macbook or Macbook Pro gets dirty just in the process of using it.
Here are the steps to get your Macbook keyboard clean.
First, get the right tools for the job
Step 1: unplug your power adapter and completely power down your Macbook
Step 2: remove dust & debris
Open your laptop and shake it gently over a trash
Spray a can of compressed air into the keyboard
Rotate your Macbook and spray the keyboard again
Step 3: clean & disinfect your keyboard surface
Dust the keyboard surface with a lint-free cloth
Use a damp microfiber cloth to wipe down your Macbook keyboard
Use disinfectant wipes to clean the keyboard surface
Use a clean, dry, lint-free microfiber cloth to dry everything off
Step 4: what to do when compressed air doesn't work
Step 5: protect your Macbook keyboard going forward
Shopping list for tools you need to maintain a clean Macbook keyboard
Just the process of regular use can cause the keyboard on your Macbook Pro to get dirty. That should come as no surprise.
But what's worse is that sometimes the dirt, grime and debris can make your keyboard unresponsive.
If that's happened, don't panic and start frantically trying to schedule an appointment at the Apple Store yet, let's get it cleaned up first.
Here is a step by step guide on how to clean a MacBook Pro keyboard.
Real quick: before we get too far along here, if you want to get more great ideas for your gaming room or home office and connect with other home office hackers to make your space the best join my free private Facebook group, Home Office Hacks here.
Get The Right Tools For The Job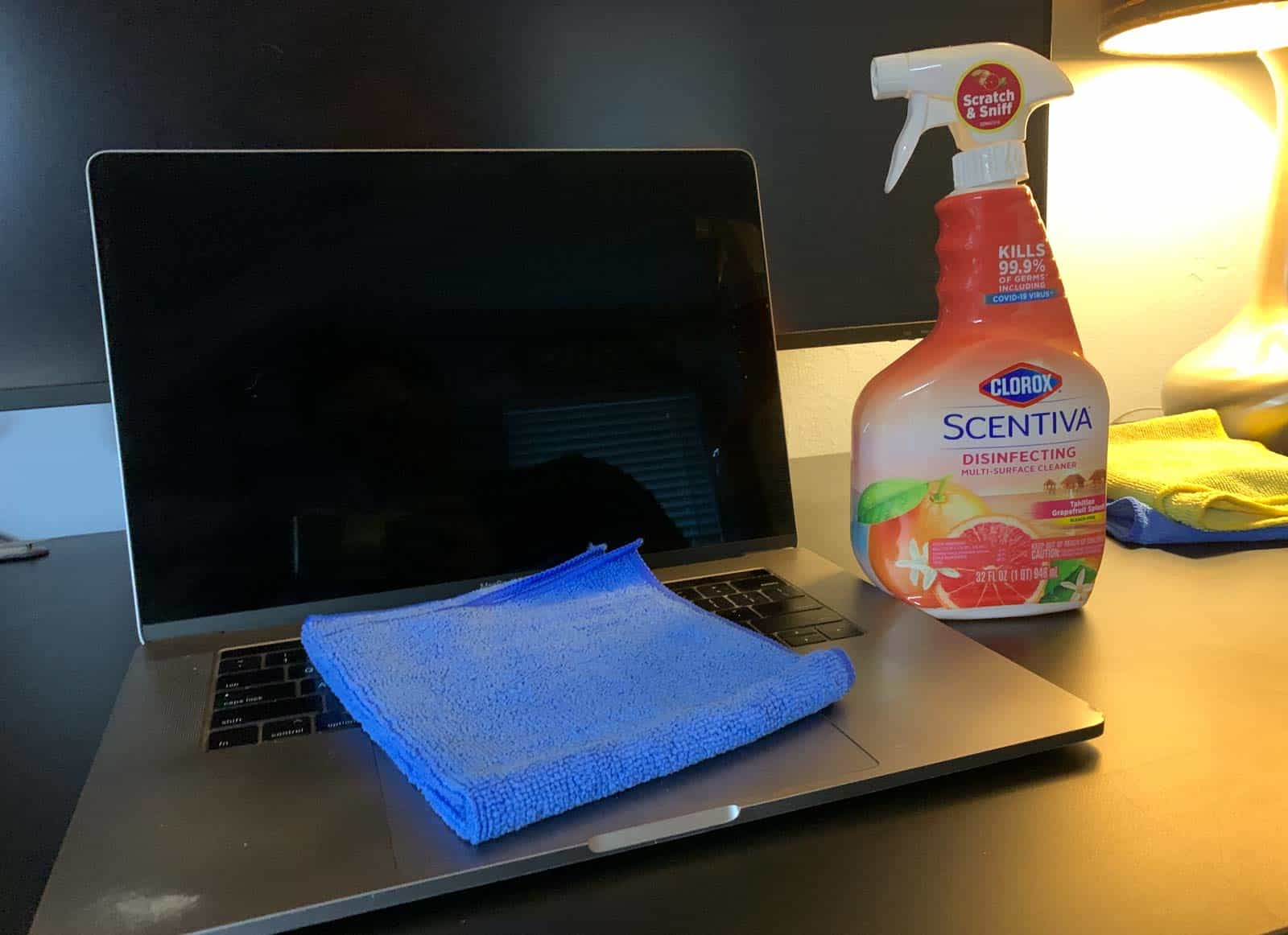 To get your Macbook Pro keyboard cleaned up and if you want to avoid repairs and keep your MacBook, MacBook Air, or MacBook Pro running in top shape these are the essential tools for cleaning your MacBook.
A canister of compressed air – You'll need this to blow out all the gunk and dust from your keyboard as well as getting rid of any dried food particles.
Disinfectant wipes – Use these to clean the keyboard surface and the device itself.
A couple large microfiber cloths – to wipe down your keyboard after cleaning, clean exterior surfaces and to wipe down your device when you're done.
The secret ingredient?
Cleaning slime – Use this to get dirt, dust, and grime from in and around your keys.
Avoid harsh chemicals which can damage your keyboard. They can damage the surface of your keyboard and cause other problems you want to avoid.
Step 1: Shut Your Macbook Down
To get your keyboard on your Macbook clean first, it's important to power it down all the way.
At the top left of your screen, click the Apple icon, and select "Shut down" to completely power off your Macbook.
If for whatever reason your Macbook is unresponsive, you can turn your Macbook off by holding down the power button until it completely powers down.
The cleaning process is going to result in you pressing virtually all the keys on your keyboard and you don't want to inadvertently change any settings or any execute any other undesirable operation.
Remove your charging cable too to make sure that you don't have any obstacles in your way while you're cleaning.
You also need to make sure you disconnect your power adapter and remove any peripherals connected to your Macbook.
If you don't completely power it off there is still power running through your machine. When your computer is in sleep mode, it's "asleep", meaning it's not all the way powered down.
That means that the steps you need to take to clean your keyboard on your Macbook could potentially damage your computer if it's in sleep mode.
Step 2: Remove Dust & Debris From Your Keyboard
Now that we've got it turned off, let's get started!
Open your laptop and shake it gently over a trash
Shaking it gently helps to remove and dislodge any dirt or dust from underneath the keyboard.
While you're holding the computer securely over the trash can, start tapping the keys on your keyboard then shake it out again.
Pressing down on the keys helps to dislodge debris that's been collecting underneath your keys since you first started using your Macbook.
Spray down your Macbook keyboard with compressed air
Compressed air should be used to clean keyboards. Don't forget to use the straw to direct the airflow, and make sure the end of the straw isn't too close to the keyboard.
Apple recommends holding your Macbook Pro at a 75 degree angle as you spray everything down because, according to Apple, this is the best angle to get the most dust and debris removed, and so you don't force the dirt deeper into your machine where it can cause even more problems.
Use a pattern as you go down and across your keyboard, kind of like you're mowing your lawn or vacuuming your floor.