If you work from home and often take video calls, you need to ensure you have the best home office lighting for video conferencing.
To achieve great home office lighting for video conferencing, you should use multiple sources of light and set them up in different areas. Choose light sources that are convenient to set up, provide the right type of light, and create soft, pleasant effects for video conference calls. 
There's been a major boost in the number of video call users over the last year, so more and more people are restructuring their home office spaces to promote better on-camera lighting.
Professional lighting is no longer just for photographers and television sets. When you speak with coworkers and clients via webcam, you want to put your best face forward.
Setting up the perfect lighting in your home office is easy when you have the right tools and that's what we're covering today.
By the way – before we get started here, if you want to get more great ideas for your home office and connect with other home office hackers to make your space the best join my free private Facebook group, Home Office Hacks here.
Use Multiple Light Sources
When you're setting up your home office lighting for video conferencing, keep in mind that you need light coming from different sources and directions.
You don't want to rely on one single light source.
Multiple light sources create a more balanced overall lighting appearance.
Experts recommend using a three-point lighting setup. This lighting includes:
A main light or key light, which produces the most light.
A sidelight or fill light, which eliminates harsh shadows.
A backlight, which creates a soft halo-style glow.
You can even use accent lighting if you want to really elevate your video conference quality. However, this is not at all necessary. Your main lighting goal should be to make yourself visible on screen without intense brightness or dark shadows.
Put Your Light in the Right Place
Along with having multiple points of light, you want to be sure you set each light source up in the correct spot.
The brightest lights should be coming from behind the camera. In the case of a video call setup, your main light and side light should be in front of you.
Whether you are using natural light coming in through a window or multiple desk lights, be sure you consider how light positioning will affect your video image.
Experts agree that you shouldn't mix lighting, either.
If you're using natural light for your video call, you don't need to add lamps. If you are using lamps and other artificial light, close the curtains or the blinds on your window.
Avoid Positioning Light in the Wrong Place
You don't want to put your brightest source of light behind you. Otherwise, you will appear as a silhouette on screen. Make sure your main, brightest light is behind your camera and in front of your face.
You also don't want a light directly above your head. This will create dark, harsh shadows on your face that will be distracting and unflattering during your video calls.
While you do want your main light to be in front of you, you don't want it directly in your face. Harsh white light in your face will wash you out and make you look like a ghost on camera.
Lighting is important, but that means more than having enough lights. It means not over-lighting yourself, too!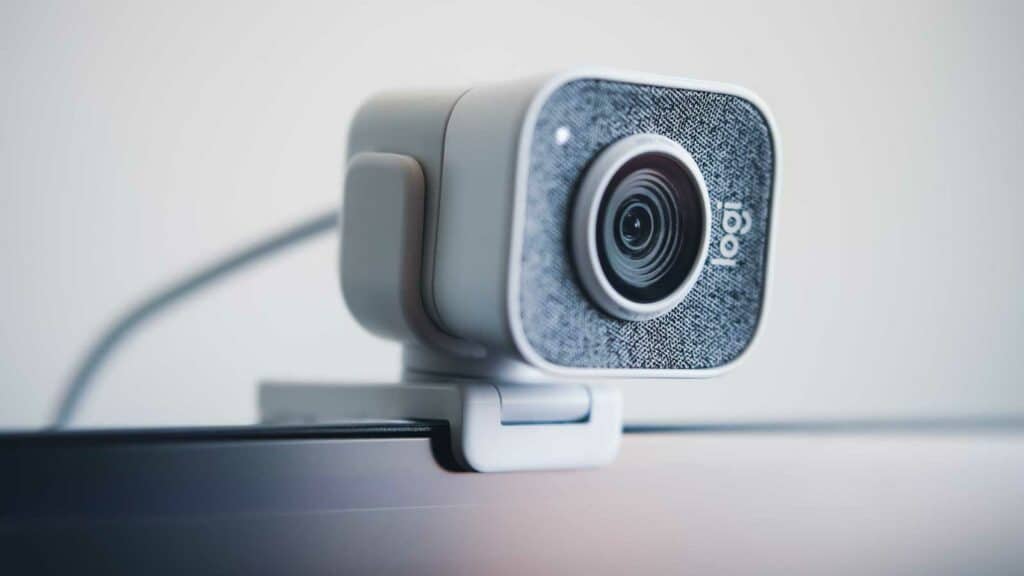 Use an External Webcam When Possible
Your computer probably has a built-in webcam, but if you really want to look great on camera you should invest in an external webcam that attaches to your computer monitor.
You'll have more megapixels to work with and your external camera will create sharper video quality overall. Dedicated webcams also do much better in difficult lighting situations.
Make sure your webcam is at or just above eye level. You never want to set your webcam too low or you will get very unflattering angles.

Types of Video Conferencing Lighting
Setting up your office conferencing lighting is, unfortunately, not as simple as buying a great lamp and calling it a day. There are multiple types of video conferencing lights you will want to buy to get a really great lighting setup going. Different types of lighting include:
Natural lighting
Desk lamp lighting
Overhead lighting
Task lighting
Adjustable lighting
You won't necessarily need five different lights in your home office. But, once you decide where your ideal video call positioning is, you can decide which lights you'll use to achieve the best look.
Natural Lighting
It's no secret that natural lighting is usually the ideal lighting in all photography and videography scenarios.
Natural light is warm, bright, and soft. It's easily the most flattering light you can use.
When using natural light coming in through the window, be sure you are facing the window and not away from it. Also, have curtains on hand so you can alter how the light shines through.
True blackout curtains will keep any light from coming in. These are great for when the light outside is less than ideal. Sheer curtains let some light in without it too much light and becoming overwhelming.
You can't control the weather outside so it's best to have a contingency when using natural lighting as your main source of light. That's where daylight LED bulbs come in. You can mimic the soft, ambient, bright lighting of the sun outside with your desk lamp.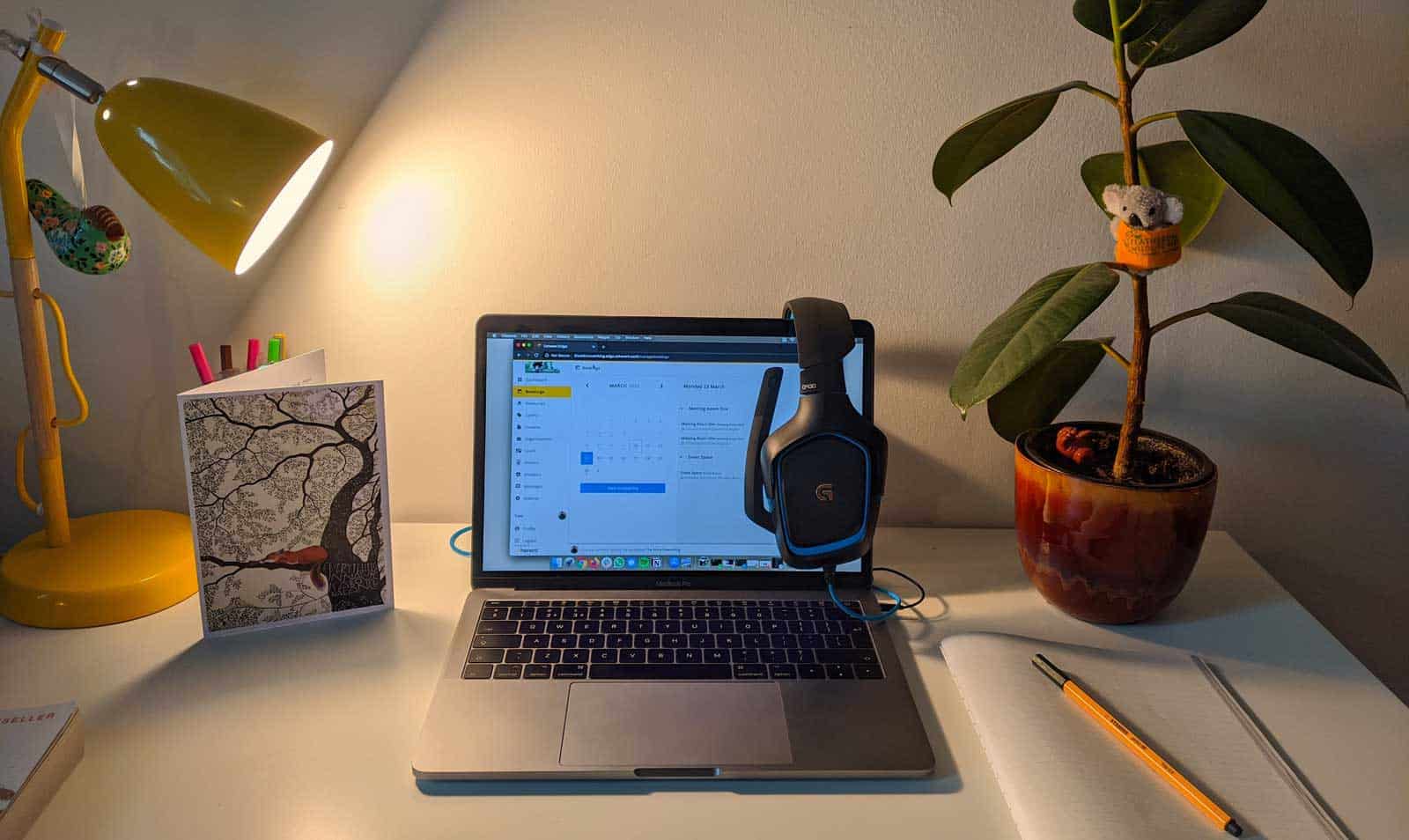 Desk Lamp
While you video chat, you're more than likely going to be sitting at your desk. This is where you'll be most comfortable and it's where your desktop computer or laptop is going to be sitting. So, desk lamps are a common means of video conference lighting.
You can use conventional desk lamps, desk lamps with specialty LED bulbs, or desk-sized panel LED lights, depending on how thorough you want your setup to be.
Overhead Lighting
Your overhead lighting is crucial for video conferencing today, too. Overhead lighting creates consistent light quality throughout an entire room. If you use fluorescent lighting, consider swapping it out with something else. Fluorescent lights are unflattering on literally everyone.
If you want to soften your overhead lighting, you can cover bulbs with paper lanterns to create softer, ambient light in the room. If you really hate your overhead lighting, you can just turn it off! Utilize your window or other types of lighting to make up for the loss of your overhead light.
Task Lighting
If you don't know what task lighting is, the concept is simple.
Task lighting is a specific form of lighting that illuminates an area so you can complete a specific task. A lamp light or a ring light can offer plenty of light in the way of task lighting.
Ring lights are popular for video calls. They're simple circular lights that you can attach to your phone or your computer that act as a main light source. If you find yourself away from your computer when a virtual meeting starts, you can use a ring light with your cellphone to create a well-lit look on the go.
Ring lights with a high CRI (color rendering index) will have the best image and video quality because colors will show up more clearly. The higher the CRI, the closest it is to the quality of natural sunlight.
Adjustable Lighting
Adjustable light sources are super helpful for video calling. When purchasing lighting for your virtual meeting setup, consider lights that come with remote controls for temperature and lighting changes. Many desktop lights come on an adjustable tripod-style stand that you can lift and lower as you wish.
Dimmable LED lights make it a lot easier for you to create mood and ambiance for your virtual conferences depending on how you want to appear on camera at any given time.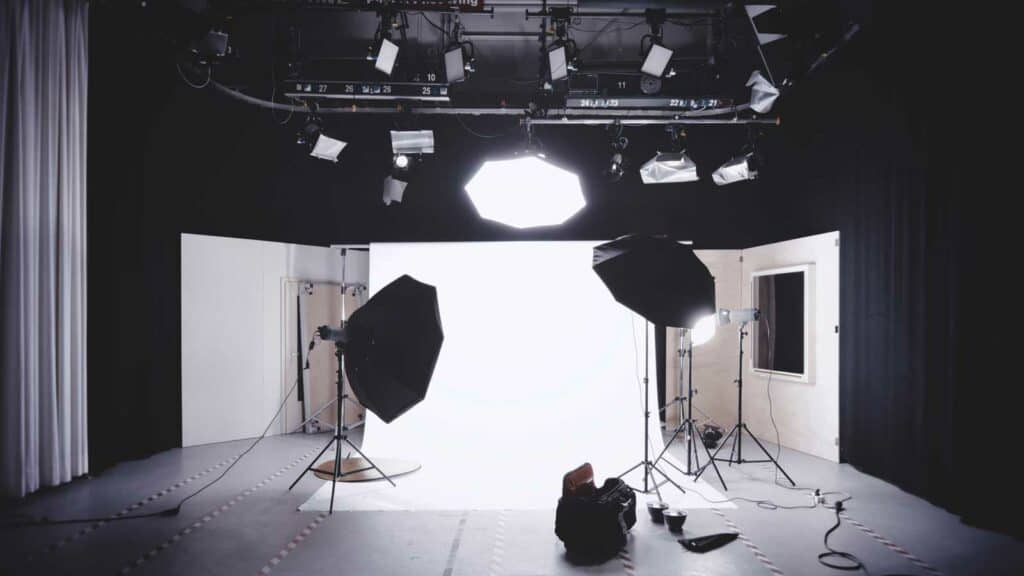 Test Your Setup
Before your first virtual meeting, you're going to want to test your lighting setup. There's no way to know how your lighting looks onscreen without testing it out beforehand. You don't want to be adjusting settings while you're on an important call because you will look distracted and you'll probably miss important meeting information.
Some video conferencing software has the option to do a test call so you can see what you look like on camera without actually talking to someone onscreen. Otherwise, you can have a friend volunteer to video chat with you while you get your lighting set up properly.
Additionally, you should test your lighting setup in different weather conditions and times of day, particularly if you are using natural ambient lighting in your home office. The same lighting setup can look totally different in multiple lighting situations.
Get Your Lighting Set Up Before Your Video Call
As mentioned above, you don't want to be adjusting your lighting or your webcam settings while on a call. So, when you know you have a video call coming up, set your lights up beforehand. This shouldn't be a problem since most webcam meetings are scheduled well ahead of time.
Additionally, once you have your lighting set up the way you like it, try to keep all the settings saved. If you have to move lamps and task lights off your desk to save space, you, of course, can't keep them in the exact same spot. However, putting down tape is a simple way to remind yourself where your lights should go.
The Best Home Office Lighting for Video Calls and Conferences
Now that you know more about the principles of home office video call lighting, it's time to look at which lights will help you get the job done. With so many people working at home now, home lighting setups have exploded with popularity.
Below are some of the highest-rated lights you can buy for your home office setup.
Best Desktop Lights
Photo: LUME CUBE Broadcast Lighting Kit
Best Panel LED Light
Photo: EMART
Best Ring Lights
Photo: UBeesize
Best Overhead Lighting
When it comes to overhead lighting, you should always opt for daylight mimicking LED bulbs when you can. A great choice for these is the LE Daylight bulbs.
Video Conferencing Backdrops
Another important facet of video conferencing is your backdrop. Your backdrop will not only affect your lighting situation, but it will be visible to the people with whom you video conference. The items you have displayed behind you can say a lot about you and you might not even realize it.
Consider setting your video conference station up with a pleasant or blank simple background so that the people in your conference won't be distracted by a busy, cluttered, or questionable backdrop.
Green Screen
Modern video conferencing software like Zoom and Skype can automatically create a green screen effect based on images you choose. However, you can set up your own green screen quickly and easily behind you for video calls.
You can use a portable green screen fabric backdrop that collapses for quick storage, or you can use a chair-mounted green screen that slips over the back of your chair. When you use an actual green screen your conferencing software will have an easier time inserting whatever image you choose on top of it.
When it comes to green screens, fabric is better than paper every time. That's because shiny, glossy paper can reflect light coming from your many light sources. You can even tack a green screen sheet that you tack to a nearby wall.
Wall Paint Colors
If you're setting up a new home office or if you're revamping your current home office to become a more video conference-friendly space, consider the paint colors of your home office walls.
You don't want too many bright colors because your webcam might have a hard time with the conflicting color temperatures.
Great background colors are neutrals and rich colors that will show up crisp on camera without washing out the video image.
Deep dark navy blues and forest greens

PAINT + PRIMER: KILZ TRIBUTE is a low VOC, 100% acrylic advanced technology paint and primer in one formulated for superior hide and coverage with exceptional durability. Paint and primer covers light-medium stains and light-dark color changes.
ADVANCED FORMULA: This is our most technologically-advanced acrylic product which combines paint and primer properties with exceptional stainblocking performances. Ideal for high traffic areas, our matte sheen offers a subtle, flat finish and resists dirt with a scrubbable film for easy cleaning. GREENGUARD Certified: low emissions of VOCs

One Coat Coverage – Glidden One Coat Interior Paint & Primer has exceptional hide and stain block which means you need fewer coats to hide your common stains and make your walls beautiful.
Makes Walls Washable – Exceptional scrubbability and washability make sure that if anything does get on your finish, it can handle the scrubs to get it off.

Warm grays or cool dark grays
Off-white (not stark white)

Beyond Paint furniture, cabinets and more all-in-one refinishing paint -gallon and color: Off white
No stripping, no sanding and no priming needed

Light tones to brighten the space
If you have blank walls behind you, these colors will work well on camera. They will provide a consistent color temperature, preventing your webcam from having to continuously adjust.
What to Include in the Background
Most of us don't have a totally blank wall in our home office. That's precious real estate, after all.
If you find that you need to include items behind you on your video calls, consider decorating with items that will look pleasant and sleek. Well-organized bookshelves and luscious houseplants are great options.
If you include posters and pictures, consider how they will appear on camera.
Additionally, don't put anything in the view of the camera that might send the wrong message. This seems like an obvious tip, but it's easy to get so used to items in your office that you forget to remove them for video calls.
Dress the Part
Think about what you wear before you go on camera.
There are all kinds of reasons for this, the most obvious being that you should present yourself well for virtual meetings and conference calls.
If you get dressed and made up for your video calls, you'll feel more like you're working and less like you're chatting with a friend. Depending on the point of your meeting, this is probably a good thing.
Secondly, if you use green screens in your home office for video calls, pay attention to the shirt you're wearing.
If you wear a solid green shirt, the image displayed on your green screen is going to project onto your shirt as well. While this can be hilarious, it can also be distracting.
Next Steps
Want to join others who are creating the most amazing home offices and get more tips, tricks and hacks on how to make your home office the best it can be?
Join my brand new free private Facebook group, Home Office Hacks to connect with other home office hackers to make your space the best!