In any office space, storage is important. Whether you're using bookshelves for book collection, filing, or knick-knacks, you need to know the right bookshelf width to fit into your home office.
Standard bookshelf width is 31 inches and roughly 12 inches deep. However, it's not uncommon for bookshelves to be built 36 inches wide. Keep in mind bookshelves come in many different shapes and sizes. Bookshelves can be tall and narrow or short and wide. Your spatial and storage needs will determine your ideal bookshelf width. 
Many bookshelves today have adjustable shelves that give users the freedom to add or remove shelving to suit their design preferences. Read on to learn about different bookshelf options and their dimensions.
Real quick: before we get too far along here, if you want to get more great ideas for your gaming room or home office and connect with other home office hackers to make your space the best join my free private Facebook group, Home Office Hacks here.
How Wide Should Bookshelves Be?
There are all kinds of bookshelves on the market. However, most people purchase bookshelves that are relatively the same size and shape, no matter where they come from.
| | | | |
| --- | --- | --- | --- |
| Bookshelf Style | Standard Width | Standard Height | Standard Depth |
| Two-Shelf Bookcase | 31 inches | 32 inches | 12-13 inches |
| Three-Shelf Bookcase | 30-36 inches | 41-48 inches | 12-13 inches |
| Four-Shelf Bookcase | 24-45 inches | 54 inches | 12-15 inches |
| Five-Shelf Bookcase | 31-37 inches | 72-77 inches | 12-13 inches |
The truth is, though, that there are all kinds of bookshelves that don't fit into one of the five aforementioned bookshelf dimensions.
For example, if you work in a cramped space and don't have an entire wall to dedicate to a tall bookcase, you can stack multiple small bookcases on top of one another.
Additionally, you might have large binders or filing boxes that don't fit between the shelves of a typical bookshelf. In this case, you'll need to find bookcases with deeper shelves or more distance between shelves.
Fortunately, there is a wide range of bookshelves to choose from.
LEYAOYAO 3-Tier Bookshelf Mid-Century Modern Cube Bookcase with Legs: 7 shelves, 31.5″ W x 9.45″ D x 43.31″ H
OneSpace Essentials 5-Tier Bookshelf: 5 shelves, 27.5″ W x 11.4″ D x 68.9″ H
VASAGLE Zigzag Open-Closed Bookshelf: 4 compartments, 23.6″ W x 9.4″ D x 50″ H
Ashley Trinell Signature Design Entertainment Center Pier Bookcase: 3 adjustable shelves, 17.75″ W x 12″ D x 72″ H
Sauder Barrister Lane Bookcase: 10 compartments, 53.18″ W x 12.13″ D x 47.5″ H
Standard Dimensions for Built-In Home Office Bookshelf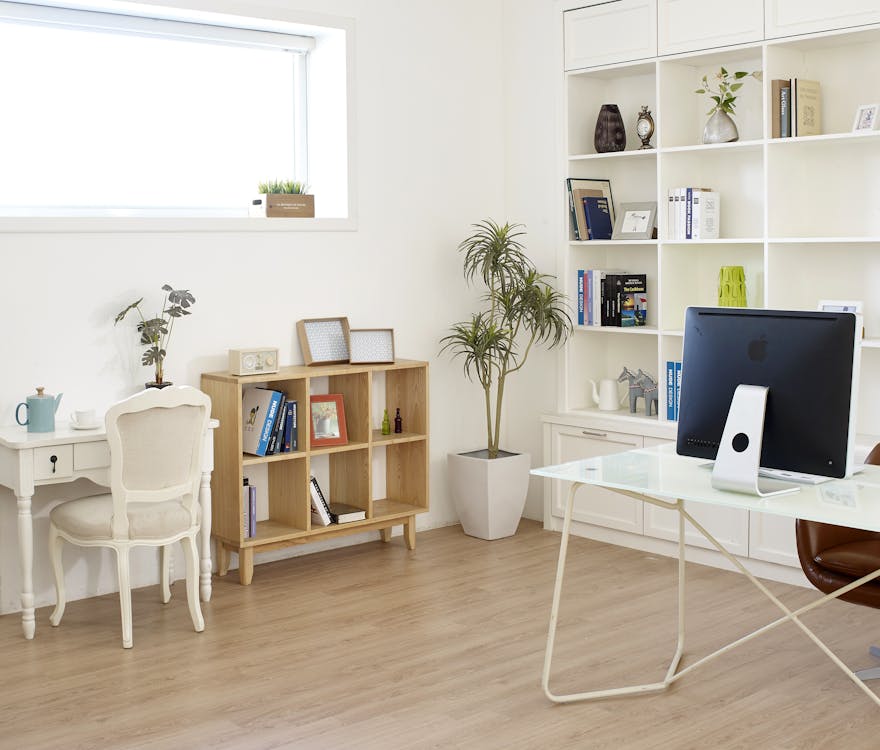 Those who work out of a dedicated home office usually can take advantage of a built-in bookcase or two for their storage needs. The standard dimensions for an ever-useful built-in bookcase are as follows:
Width: Depends on available wall space
Height: 84 inches or lower for ease of access
Depth: 10 to 12 inches deep
Shelf-Spacing: 8 to 12 inches between shelves
When designing built-in home office bookcases and shelving, you should keep in mind your specific storage needs. For example, if you have several large binders that you know you will store, ensure you leave enough space between each shelf to accommodate the height of the binders.
Different Uses for Bookshelves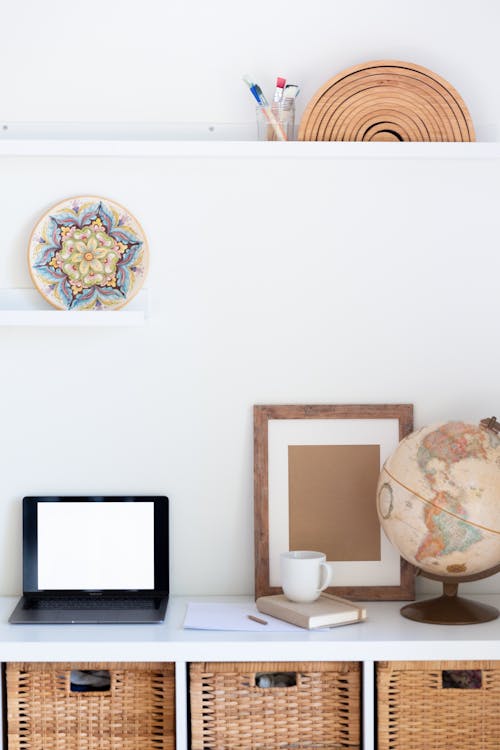 Bookshelves have many different uses. The name "bookshelf" indicates their main purpose: holding books. However, any bibliophile knows that books can come in all shapes and sizes.
For a bookshelf to act as a proper display space for books, it needs to be able to bear the heavy load of heavy books, larger books, and all the small books in between.
However, a bookshelf isn't just about books. As a piece of furniture, a bookshelf is very useful for storing and displaying all kinds of things from decorative objects to bulky board games.
A bookshelf with the right dimensions can solve all kinds of organizational needs, especially those of the home office variety.
How to Strengthen a Bookshelf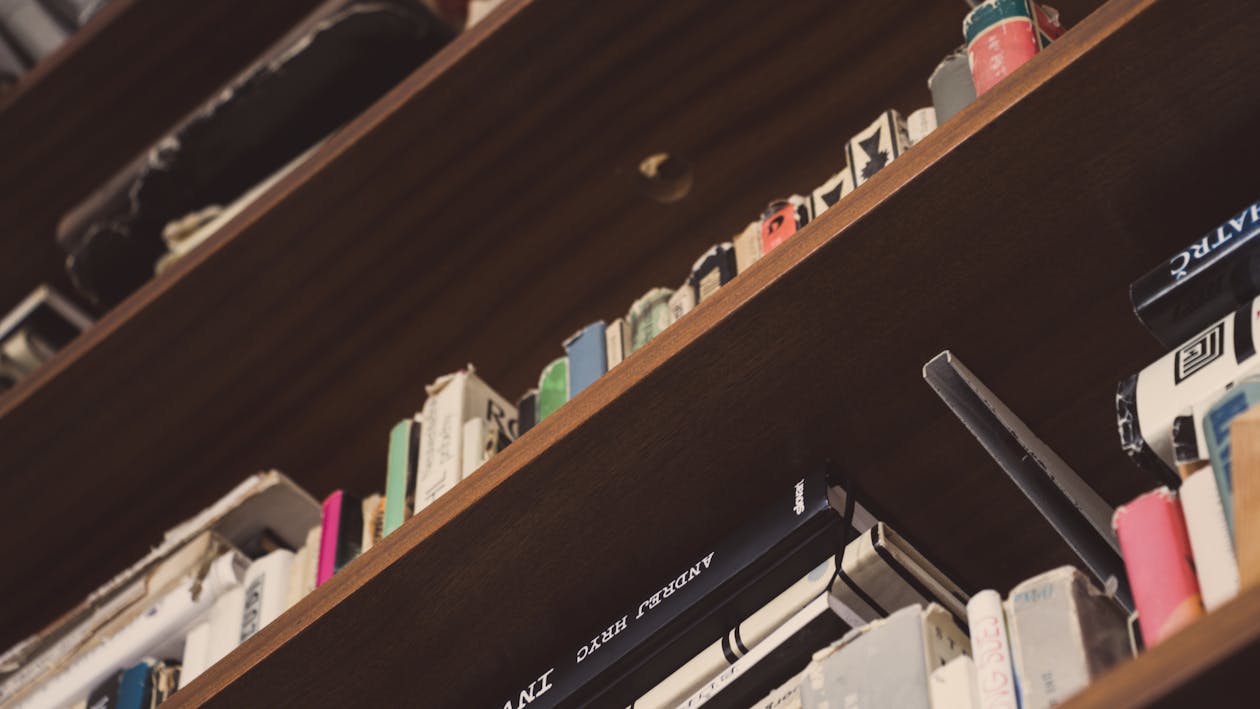 If you keep filling your bookcase with books and files, eventually it can weigh hundreds or even thousands of pounds. If your bookshelf is solid wood, it's going to be even heavier. If you have tall items in your home or office (or home office!) that weigh this much, you need to reinforce their strength to ensure you avoid hazardous situations.
The dimensions of a bookshelf have a great deal to do with how strong it is. Additionally, you can take steps to strengthen your bookshelf to take on extra storage and bear heavier loads.
How to Avoid Bookshelf Sagging
Sagging bookshelves are a common issue. Once you pack too many items onto a shelf, eventually the shelf will begin to dip in the middle due to the weight.
You have a few options for reinforcing sagging shelves. First, remove everything from the shelves so they are empty.
You can insert vertical supports underneath the center of each shelf.
You can screw an additional strip of solid wood underneath each shelf.
Remove the insides of unwanted books and insert wood panels into them vertically that will support the shelf above like Family Handyman does here.
Anchoring a Bookshelf to a Wall
When using a tall bookshelf, you should always anchor it to the wall. Do this whether your bookshelf is solid wood or cheap plastic.
A falling bookshelf can be extremely dangerous, especially if it is full of heavy books and materials. An earthquake or any number of random incidents can send a tall bookcase toppling over.
Climb on a ladder to draw a pencil line where the bookshelf meets the wall.
Pull the empty bookshelf away from the wall.

【ADVANCED SENSOR & ACCURATE STUD FINDER SCANNER】:OXV stud finder wall scanner uses advanced sensor technology for accurately and quickly locating studs wood metal AC wires! No matter professionals, homeowner and DIY enthusiasts, it would be a great stud finder.
【IMPROVED 5 in 1 MULTI-FUNCTION DEEP DETECTION】:The stud finder wall scanner has 5 scanning modes for woods, metals, AC wires and other objects in walls, ceilings etc. Stud modes with 3 depth types that give a better experience for your different demands, with a detecting range from 0.5 inch、1 inch to 1.5 inch in drywall. Metal mode detects steel pipes, rebar or copper bits deep up to 2.36 inches, while AC mode for live electrical lines up to 2 inches.

Locate the wall studs on the wall behind your bookcase and mark the locations with a pencil.

Vertically align velcro anchor straps and drill each end into the stud.

Flexible nylon straps are safer than ridge L brackets
These furniture straps are the strongest most versatile straps available today

Place the adhesive side of the velcro strap onto the top of the bookcase.

You can also use metal brackets for a stronger hold. When using brackets, use the same area where your wall stud is.

Heavy Duty design, maxium support weight of 70lb for a pair of this L bracket. thickness:5mm,Maximize space: These floating metal wall shelf brackets will help you make the most of your space
Size:L 6″ x H 6″ x W 1.5″, 5mm Thick. Package included: 4 x Brackets , 8 x long Screws, 8 x short Screws(Wood plank is Not included) Matte black powder coat finish. Creating a rustic, reclaimed, salvaged look,perfect for your home, office, garage, work space or anywhere else.

Use Different Materials to Build a Bookshelf

Bookshelves come in all different materials. However, the classic bookshelf you will find in a library will almost always be made from solid wood.

Solid wood bookshelves are heavy and built to last. They also provide the beautiful hardwood designs many homeowners prefer for their home office aesthetic.

However, there are other bookcase options you can easily find on the market, such as particleboard, plywood, metal, and ABS plastic.

Three adjustable shelves for flexible storage options
Quick and easy assembly with patented slide-on moldings to save you time

Industrial Bookshelf: MDF board and metal frame offers stability and is durable, which is scratch resistant and easy to clean.
Rustic Bookcase: 4-tier open shelf gives you ample area for storage, lightweight and easy to move around. Support legs protective caps prevent floor from any scratches.

Related Question: Is there a difference between a bookshelf and a bookcase?

Technically, a bookshelf and a bookcase are not the same things. However, most people use these terms interchangeably.

The actual difference between a bookshelf and a bookcase is:

A bookshelf does not have outside edges. Bookshelves are designed to hang on walls, but modern bookshelves also sit on floors as bookcases do. See an example of a bookshelf:

A bookcase is completely enclosed on the back, top, bottom, and sides. A bookcase sits on the floor. See an example of a bookcase:

Next Steps

Want to join others who are creating the most amazing home offices and get more tips, tricks and hacks on how to make your home office the best it can be?

Join my brand new free private Facebook group, Home Office Hacks to connect with other home office hackers to make your space the best!