Is a home office shed right for you?
If you have enough outdoor space in your backyard, a home office shed can be your perfect office escape from the in-house distractions. It is more affordable and more practical than taking on a full-scale construction project, renovation, (or addition). A home office shed gives you the flexibility to customize your working space while maintaining functionality. You can buy a customized prefabricated home office shed or convert the existing storage shed into your business corner. All in all, it is the most convenient and affordable way to add some extra square footage to your home for office use.
This new era of remote work for millions of people worldwide has pushed everyone to re-evaluate their work-from-home strategies.
People now understand the importance of having a dedicated office space within their existing real estate.
The Pew Research Center found that 71% of Americans work from home and 54% want to continue working from home even after the coronavirus outbreak ends.
Multitudes of us settled for space on the dining room table, or kitchen table, or into a nook in spare bedroom at first, but now, that's getting old.
The space we initially grabbed hold of is no longer comfortable, it's not equipped, and it's not a long term solution to our working-from-home new life.
Maybe your little ones are running around all day long, or perhaps your partner has an entirely different sort of work.
Finding enough space and quiet to concentrate and get your work done has become more important than ever.
Especially if you have been bottled up in a dark corner of your dining for the past few months!
So what do you do?!?
Have you ever thought of having your office setup at a 10 step walk from the house? Right in the backyard garden, showered with tons of natural light?
Almost 1 million homeworkers have opted for a backyard office shed or a similar outbuilding since the dawn of lockdowns.
Companies specializing in shed offices have seen a huge surge in inquiries and orders.
Tim Vack, general manager at Modern-Shed, stated that there had been a 400% increase in interest in backyard home office sheds.
But are they a realistic option?
All this sounds great, but how much does a home office shed cost? Are they really cheaper than building an addition?
Is building a shed time-consuming?
How much space do you need to build a prefab office shed?
Can you DIY your home office shed?
Can you customize your shed?
In this post, I'm sharing all the ins and outs of having a backyard home office. I'll talk about how much it costs and how you can customize it to boost productivity, be comfortable, and stay happy working from home.
By the way – before we get too far along here, if you want to get more great ideas for your home office and connect with other home office hackers to make your space the best join my free private Facebook group, Home Office Hacks here.
What Are the Advantages Of A Garden Home Office Shed?
Home office sheds allow you to be productive in the comfort of your home. They provide privacy, security, and peace of mind.
Imagine your home office in your own backyard, with French doors opening up onto your green space.
How cool would that be?!?
You don't have to worry about being interrupted by kids playing outside, neighbors knocking on doors, or dogs barking.
They also give you plenty of options when it comes to modern design.
There are many ways to create a functional yet beautiful workspace.
Whether you're looking for something simple like a small desk area or a large open plan office, you'll find everything you need right inside your own back yard.
No long commutes, no traffic jams, or whatsoever.
To crown it all, a home office shed helps you draw a fine line between work and entertainment.
When you are in your backyard office shed, it's all about business and money — you are all in to reach new milestones.
Here are some of the best highlights of having a home office shed.
Your Own Personal Backyard Retreat & Kingdom
It's more than just a shed.
It's your personal studio, your hideout, and your business hub.
You can design it however you want.
It's all you!
You have the required real state to customize it to your liking.
It can accommodate all your favorite home office furniture while leaving enough space to personalize the shed to depict all your tastes and preferences.
Globes, maps, trophies, bold rugs, posters, artwork, antiques, statement walls, chalkboards, luxe fabrics, vintage bottles — you can literally include anything that energizes you and get's your productivity engine running.
You have more flexibility, better views and natural light, and the chance to enhance your work-life balance — what's not to love?
Backyard studios are perfect for people who enjoy their hobbies as well as their jobs.
If you have a hobby like photography, painting, writing, crafting, woodworking, gardening, cooking, sewing, baking, knitting, reading, drawing, sketching, designing, decorating, landscaping, etc., then you already know the importance of having some dedicated space.
When it comes to doing your everyday job, having your own backyard home office, you will definitely appreciate the benefits of having your own backyard retreat.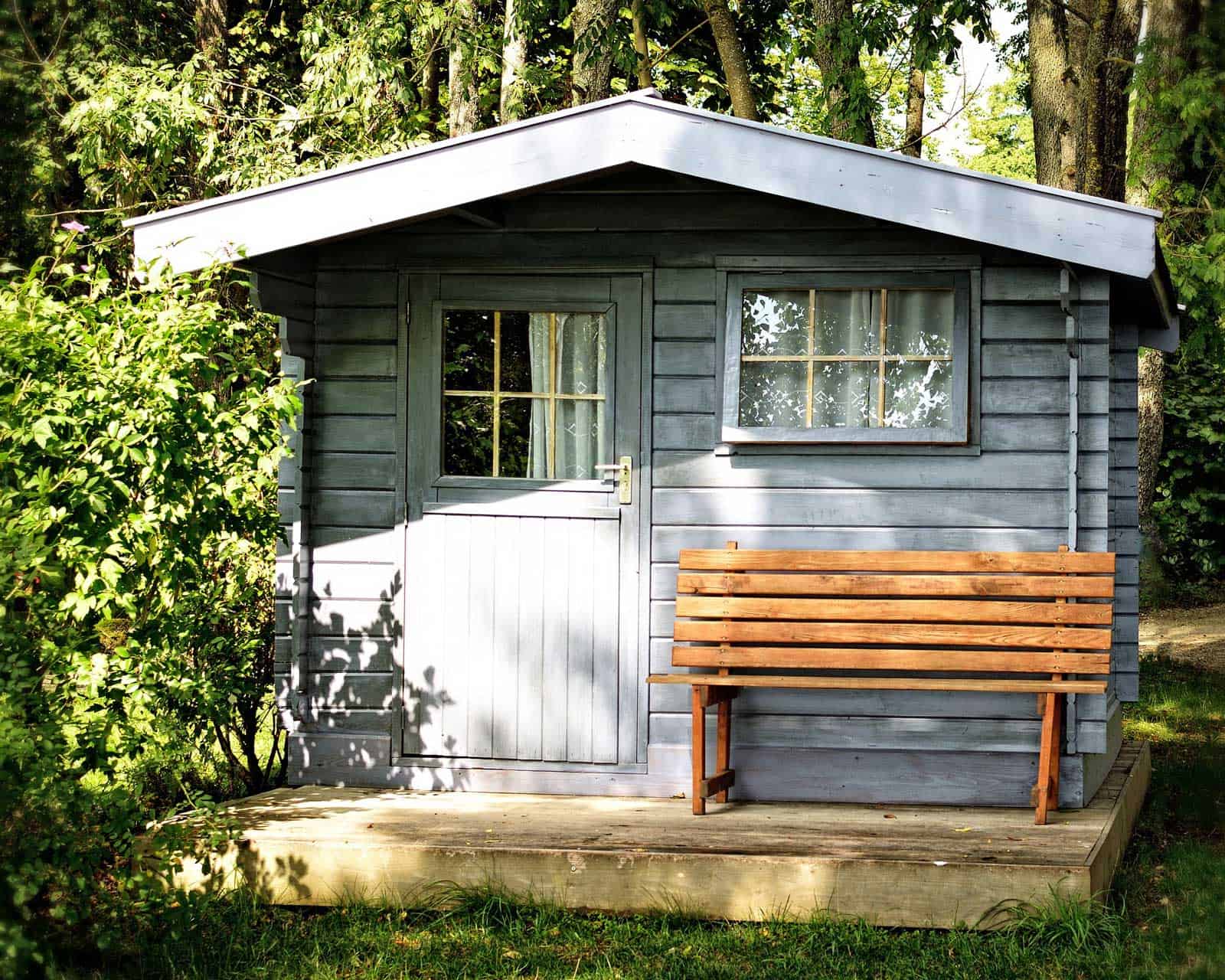 Add More Space For Less
Hiring a contractor and buying materials to build onto your existing home can be disruptive, expensive, and time-consuming.
In many cases, the contractor proposes to tear down the existing structure to build an addition.
According to HomeAdvisor, most additions cost $80 to $200 per square foot, depending on the type of addition, materials used, amount of labor needed, and the location of the job.
The typical range is $20,814 – $72,510.
It's can be quite cost prohibitive.
Meanwhile, a backyard costs $120 to $180 a square foot, depending on size and other options.
Suppose you build a 100 square feet backyard shed at the cost of $150 a square foot. That's $15,000.
If we compare it to the national average of $46,412 for an addition, you are saving almost $31,000!
There's more.
According to Mike Lombardo, a top-selling agent in Cape Coral, Florida, a personalized shed can add up to $15,000 value to a home.
What's better than having a home office shed, right?
What Are the Challenges Of A Home Office Shed?
Things are not always what they seem.
There's no doubt that home office sheds provide the perfect working from home solution, giving you a separate interruption-free space to focus and work.
But actually getting set up with your garden home office shed can be a challenge and it can be a big challenge for those who are anxious for immediate solutions.
You also get more space to safely store your work equipment or anything else that's cluttering your house.
But there are some challenges as well.
You're All Alone
Not everyone likes solo-working — especially the extroverts.
Some like to have their cup of coffee in the morning then go get focused and isolate themselves in a quiet space to work.
Others need the interaction with other people.
There's nothing wrong with either type – you just have to evaluate how you do your own best work.
Some people just can't get their heads out of the hustle and bustle of a commercial work environment. They want like-minded people for inspiration, and working alone with their computers is not just their cup of tea.
Moreover, it's sometimes difficult to maintain the workflow in your home office shed.
On the flip side, it is harder for our brains to switch off from work when the office is just a few steps from the house.
Local Building Permits
If you plan on using your shed as a home office, you may need to get in touch with your local zoning authorities to know what's required of such a structure so that it can be properly permitted and inspected.
You may also need to get a permit for electricity because safe electrical connections are an absolute requirement, especially if you're converting an existing shed. Some local codes mandate how big the shed can be and how close it can be to fences, trees, and property lines and whether it needs operable windows, smoke alarms, etc.
It's a bit of a hassle, but it'll ensure nobody from the government comes knocking on your door in the future.
Pay Your Own Bills
In a commercial office building, the employer is responsible for paying all the bills and maintenance costs. Here, you'll have to deal with it all yourself, as you would with any home office setup.
How Much Does A Home Office Shed Cost?
It depends on what style and material (vinyl, wood, or metal) you go for.
"Square feet" or how big your shed is going to be also plays a major role in the overall cost.
Furthermore, if you go for a special floor, insulation, interior walls & ceiling finish, real wood siding, custom windows & doors, toilet, or any other add-on, the price will go up.
According to Thumbtack, constructing a new shed (without any add-on) will cost you between "$17–$24 per square foot."
HomeAdvisor says that a modern style shed averages about $9,500 before shipping and installation fees. The prices can go from $5,000 to $16,000 , depending on size and add-ons.
Metal and plastic sheds are relatively cheaper compared to wooden ones.
If you go for a custom shed, the price ranges from $800 to $5,000 or more, depending on the materials you choose and the size of the project.
Material cost for custom sheds: $300 and $5,000
Labor fee for custom shed: $50 to $100 per hour
A custom shed will cost more as it is exactly made according to your instructions. The prefabricated ones are relatively cheaper, but you'll have to compromise on some stuff.
The shed itself, without any add-on, can cost $1,600 for a basic 8×10-foot wooden shed to $9,000 for a high-quality 10×14 shed.
Here are some other costs related to home office sheds:
Electricity: $100 to $600 ($40-$100 per hour for labor)
Plumbing: $1,000 to $1,500 ($45-$150 per hour for labor)
Insulation: $200 ($0.35-$3 per square foot, depending on the type)
Shed Installation: $50 and $100 per hour
Source: HomeAdvisor, Dwellito, Fixr
Total project cost (150 square feet): $30,000
Per square foot cost: $200
*Can vary depending on the size, material, and add-on.
*These prices are for a full-fledged office sheds not storage or tool shed.
How much does it cost to turn a shed into an office?
You might have a good old rustic storage shed in your backyard garden.
And yes, you can turn it into a full-fledged office shed.
But it'll need several modifications.
Like adding insulation, electricity floor, ceiling, custom operable windows, and doors.
In short, it can cost anywhere from $1,000 to more than $25,000 to convert shed into an office, depending on materials, features, and customized requests.
Here's is a rough breakdown of the prices:
Remodeling the Interior: $200 per square foot
Adding Electricity: $100-$600 dollars
You have to take into consideration the things that you want to have like door & window configurations, and whether or not you want to have a modern design aesthetic.
Think through all the customization options you'd like to have too. Things that make sure you have plenty of light, whether or not you want to use green materials, etc.
DIY Home Office Shed
If you like to get your hands dirty, the DIY route to building an office shed is the perfect fit for you.
The whole journey from mapping the blueprints and building the shed with your own hands is just so interesting and rewarding.
It is way more practical and affordable compared to a custom-made prefab shed.
You save tons from not hiring a contractor.
Moreover, you'll always have that personal attachment to your office shed.
The one challenge for going the do-it-yourself route is that you need to be handy with some tools.
You will have to assemble the shell yourself, install the insulation, and get your electrical connections installed by yourself (or with your friends). It's not necessary to do all this yourself but hiring a contractor will add to the overall cost.
Is It Cheaper To Buy Or Build Your Own Shed?
It's definitely cheaper to build your own shed in most cases.
It costs $40-$100 per hour for labor to add electricity to your shed and an additional $45-$150 per hour for plumbing.
Let alone the shed installation and delivery charges.
All these costs make DIY a better option.
Julie Masson's DIY shed was featured on USA Today.
Her husband and neighbor teamed up to complete her DIY "She shed."
The entire project cost $5,000 – including office furniture from IKEA.
But it is not always cheaper compared to buying a prefab shed.
Why?
The price of materials for your backyard shed's structure will vary greatly depending on which you want.
The number of customizations and add-on will increase the price even in a DIY approach.
Buying the prefab shell, door, siding, frame, floor, roof, and windows yourself will cost you less upfront.
You can buy prefab sheds that are already set up with everything you need, then finish the interior home office setup work yourself.
The real saving is in not hiring a contractor to build or install the shed.
Home Office Shed Ideas
Now that we've got all that covered, you want to figure out what your home office shed in your backyard can look like, so here is some inspiration for you.
Build Your Own Backyard Office Shed
Next Steps
Want to join others who are creating the most amazing home offices and get more tips, tricks and hacks on how to make your home office the best it can be?
Join my brand new free private Facebook group, Home Office Hacks to connect with other home office hackers to make your space the best!