If you work from home on multiple connected computers, a KVM switch might make your work more convenient. KVM stands for keyboard, video monitor, and mouse, and it acts to tie computers together from one control station.
A KVM switch connects two or more computers through peripheral sharing. So, a user has complete control over each computer without the need to switch between several different keyboards and mice.
KVM switches boost productivity and prevent the time wasted moving keyboards and mice around a desk or workstation. A DisplayPort KVM switch connects DisplayPort computers through their USB port hookups. This type of KVM switch is not the only kind on the market, though.
By the way – before we get too far into it here, if you want to get more great ideas for your gaming room or home office and want to connect with other home office hackers to make your space the best join my free private Facebook group, Battle Station Setup here.
What Is a KVM Switch?
You can connect several computers to one KVM sharing switch, which will then give you access to all of them through a single keyboard console.
KVM switches can connect two computers or more, depending on the type of KVM switch you use. Additionally, KVM switches can work from a single display or a group of screen display monitors.
KVM switch hubs have several benefits for anyone operating a busy workspace:
Increased productivity
Space-saving abilities
Money-saving advantages
Productivity is crucial to any working person. And, with so many potential accessories required for any given job, there's no need to spend extra money on multiple mice or keyboards.
Does a KVM Switch Work with DisplayPort?
Yes, the DisplayPort is a popular way for users to connect two DisplayPort computers and share them across one USB keyboard and USB mouse.
What Are the Advantages of a DisplayPort KVM Switch?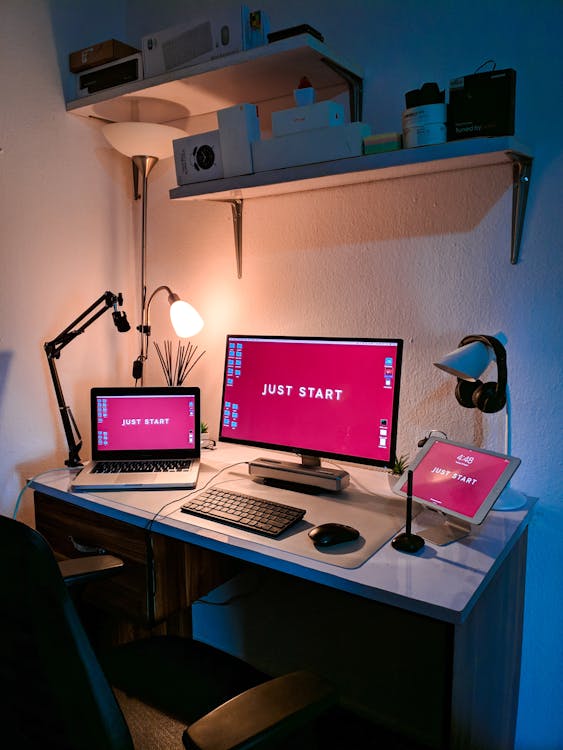 Because there are so many different types of KVM switches, it's easy to wonder which one is the most advantageous.
A DisplayPort KVM switch is a more modern version of a KVM switch that uses a computer's DisplayPort. The DisplayPort is often more convenient and better looking.
Higher Definition Video Display
The different DisplayPort versions support different resolutions.
Depending on the monitor and PC connections you have, a DisplayPort connection could potentially support video resolution up to a whopping 16K.
In most cases, though, your DisplayPort will provide ultra-high-definition 4K resolution, which is excellent quality for any display.
More Flexible Control
With a desktop KVM switch connecting multiple computers via their DisplayPorts, you have complete control over your workstation and system from one central hub.
Whether you work at home and need a smaller KVM switch, or you work in a sprawling office that requires larger KVM switches, you can rest assured that flexible control is within your reach.
Boost to Productivity
DisplayPort KVM switches boost productivity. You'll often see those who work with CAD and video post-production software using this KVM switch video source.
These computer programs are large and require a lot of back-and-forth. With a great KVM switch, you can focus more on the complex work at hand with dual system control and less on the logistics of working between multiple computers.
Why Should I Invest in a DisplayPort KVM Switch?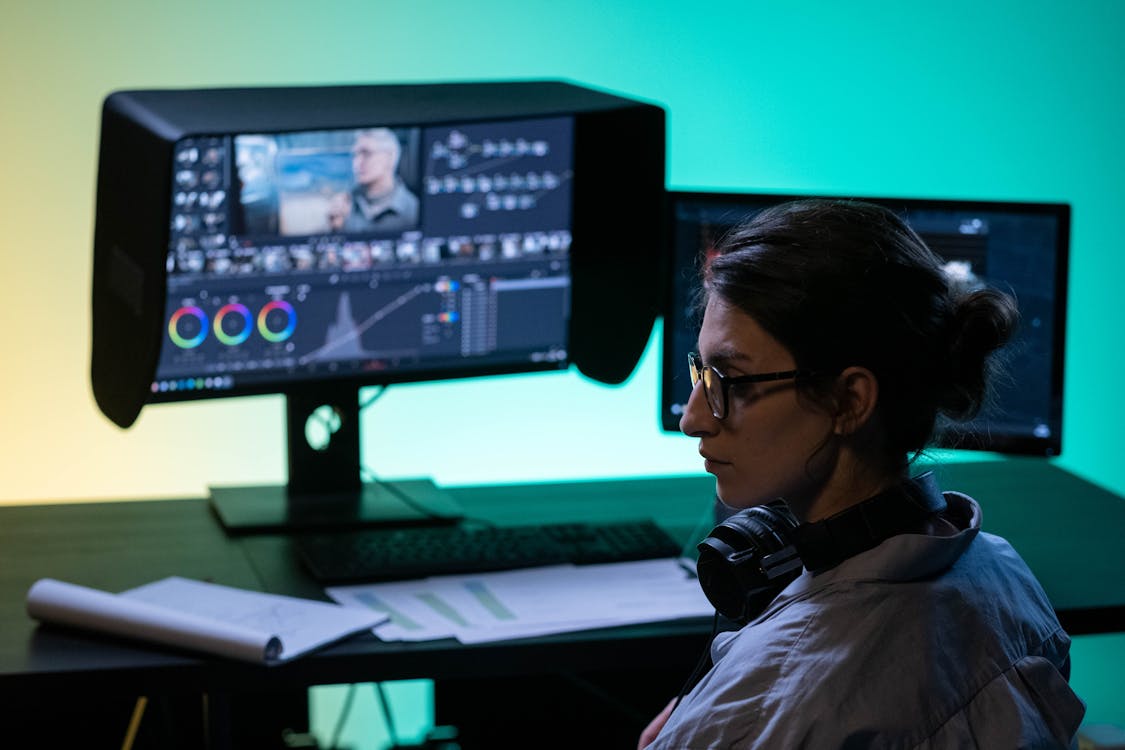 If you're in the market for a workstation that can do it all, you needn't look further than a good DisplayPort KVM switch. Provided that your PC and your monitor both feature the DisplayPort connections, you're likely to get everything you need and more.
Fast Data Transfer
A DisplayPort KVM switch allows individual computers to share and transfer data at lightning speeds. DisplayPort is faster than other connections, including USB, so you won't be tied down waiting on long USB peripheral transfers.
Multi-Tasking
Not everyone uses multiple computers at once. Multiple monitor setups are far more common than multiple computer setups.
However, multiple computers come with the territory in video and audio production, architecture and design, and other highly complex jobs.
Multiple computers serving different jobs all operate at once to complete necessary functions. DisplayPort KVM switches give their users seamless KVM control while multitasking on large projects.
Gaming
DisplayPort connection provides the ideal visual display for gaming. Gamers want incredible high-definition resolutions that complement the impressive graphics game developers release each year.
With a DisplayPort KVM switch, you can ensure the maximum resolution for the newest generation display standards.
Best DisplayPort KVM Switches
The most popular and highly rated DisplayPort KVM switches available today is the IOGEAR 2-Port USB DisplayPort Cable KVM Switch. This switch also comes in a 4-port version.
Features of the IOGEAR include:
Two or four ports
Cinema 4K ultra-high-definition resolution at 30hz
Remote switch button for computer switching
2.1 HD audio support
Ability to expand with USB hub port
Bus-powered in many cases
Required built-in cables
Simple and fast setup
This KVM switch is small and lightweight and doesn't take up much space on a desktop. Its uncomplicated design means that setup is easy and quick. It requires no driver installation or added software.
Users can use an attached push-button remote to switch between computer peripherals while the KVM switch hides away out of sight. This switch is bus-powered, meaning it can gain power from being plugged into a USB. However, it may require an external power supply in some cases.
The 2.1 audio support means that users can connect headphones to the switch itself or connect a headset with mic for online meetings and conference calls.
How to Use a KVM Switch
To use a KVM switch, all you have to do is connect your devices (display, keyboard, and mouse) into the console ports. Then, attach the cables to each computer that you want to be connected to the KVM switch.
If you're using a DisplayPort KVM switch, you'll need to connect the switch to a DisplayPorts on each computer.
Switching Between Two Computers
Switching between computers is the main utility for KVM switches. The most convenient and easy-to-use KVM switches include a push-button switch on the hardware itself or on an attached remote control.
Multiple Computers and Multiple Monitors
Multi-monitor KVM switches, particularly DisplayPort KVM switches, make working on multiple DisplayPort monitors simple and convenient.
If you work in an office, whether at home or elsewhere, you know that a multiple monitor setup lends itself to greater productivity than a single monitor setup. A KVM switch allows you to switch between computers even when you're using a dual-monitor workstation.
Whether you are taking stock of your current KVM switch or looking to set up a new dual-monitor workstation but don't have a lot of room to spare, consider mounting your monitors to save space.
DisplayPort vs. HDMI
Most modern desktop computers will include both DisplayPort and HDMI ports. Older models might only have HDMI ports, so you'd need an adapter to transmit between HDMI and DisplayPort.
But, what exactly is the difference between the two ports? It comes down to what resolution, refresh rate, and features you need in your USB type display.
If you have the option to choose between a DisplayPort or an HDMI connection for your monitor, decide what kind of connection will work best for you.
Common HDMI versions include HDMI 1.4, HDMI 2.0, and HDMI 2.1. Each of these versions supports different resolutions and features.
DisplayPort versions include DisplayPort 1.2, DisplayPort 1.3, DisplayPort 1.4, and DisplayPort 2.0. As with HDMI, each of these can support different resolutions.
Benefits of using DisplayPort connections over HDMI include:
DisplayPort visuals are better for gaming, regardless of what graphics or video card you have.
One DisplayPort connection can power multiple monitors without clogging up multiple ports.
DisplayPort cables often come with convenient features like clips that keep them hooked into your monitor.
Because there are so many different versions of both HDMI and DisplayPort, it's important to choose your resolution. A low-end DisplayPort won't look as good as a high-end HDMI, for example.
Are There Any Disadvantages of a DisplayPort KVM Switch?
Unfortunately, there is no perfect holy grail that will fit each and every person's standard perfectly. That's because different people prioritize different special features and functionality.
While there aren't necessarily downsides to using a DisplayPort KVM switch when your equipment calls for it, be aware of known issues when setting out to build your workstation.
Is There Any KVM Switch Input Lag?
You aren't likely to notice lag or performance issues when operating a high-quality KVM switch and connection. In the case of KVM switches, you typically get what you pay for.
So, if you spend the extra money on features that you know you can't live without, potential issues like lag are unlikely.
However, if you run a cheap, low-quality KVM switch paired with cables of insufficient quality, you are likely to experience lag and slow transfer rates.
Remember that your KVM switch isn't all that matters; your high-quality video cables matter, too.
Are KVM Switches Obsolete?
KVM switches are most definitely not obsolete! They are still the best tools for operating multiple displays and devices between computers.
There are other options today, though, which include KVM software. If you want to avoid investing in hardware to clutter up a cramped workstation, for instance, a KVM software might be more your speed.
What Are the Alternatives to Using a DisplayPort KVM Switch?
If you don't want to shell out top dollar for a high-end KVM switch or take a chance on a super cheap option, you can check out alternative methods for switching between multiple computers.
Certain software is available that mimics KVM hardware.
| | |
| --- | --- |
| Input Director  | Shares keyboard and mouse. Operates on a server/client system. |
| ShareMouse | Simple to install and operate. Automatically detects multiple computers. Shares keyboard and mouse. |
| LiteManager | Shares keyboard and mouse. Better for multi-system setups across multiple rooms. |
Sometimes you can use other ports in place of a KVM switch. If you need to connect multiple computers to one display, you can use multiple display ports to attach to the different computers.
One downside of this method is that different ports will have different display resolutions.
Next Steps
Join others who are creating the most amazing home offices and get more tips, tricks and hacks on how to make your home office the best it can be!
Join my brand new free private Facebook group,Battle Station Setup to connect with other home office hackers to make your space the best!