How do you decorate a wall behind an office desk?
A while back I started a YouTube channel and immediately noticed how bland my office looked in the background of my videos.
I'd seen some pretty amazing office setups, so I knew I had work to do if I wanted to create something awesome.
So after doing some research for what I wanted to have my wife and I went out and bought a bunch of stuff to make my office look better.
What surprised me the most were all the cool office wall ideas and options people are using and how clever some of the options were (like Noah Kagan's taco neon light).
Let me know if any of these questions sound familiar:
How do you decorate an office wall?
What can I put on office walls?
What can I put above my desk?
What can I do with blank wall in my home office?
If you're looking for some cool office wall ideas for what's possible, I've put together this list of that has some amazing options, plus a couple surprising options that I'm pretty sure that most people have never thought of before.
So let's talk through the different options available and ways to improve your home office walls.
By the way – before we get too far into it here, if you want to get more great ideas for your gaming room or home office and want to connect with other home office hackers to make your space the best join my free private Facebook group, Home Office Hacks here.
Prints
I'm a huge fan of renaissance artist Albrecht Dürer. His work, the "Four Horsemen" is amazing and it would make an amazing wall decoration in any office. But you don't have to just grab prints from medieval artists though – it can be a print from whatever art or artist is your favorite.
Posters
Classic movie & concert posters are another great way to add vibrancy and life to your home office. Think of how cool a poster from your favorite movie like Casablanca or your favorite band like Led Zeppelin would look on your wall in your home office!
Old School Retro Signs
If you're thinking something you'd see on American Pickers, you'd be right. They uncover some amazing gems. But you don't have to break the bank. You can find amazing retro signs on Amazon. These are fun pieces to consider when your'e thinking of ideas for office wall, and add a nice touch to your space.
Sports Memorabilia
I've got a huge framed photograph over my desk that's a picture of Doak Campbell Stadium at capacity for the annual rival game against our neighbors from down south, along with my signed football by legendary head coach Bobby Bowden. Grab some of your favorite merch, get it framed up and put it on the wall!
Bookshelves
Bookshelves provide a fantastic back drop in your home office. One cool trick that you can use is to arrange the books on the shelves according to their color to make a really cool visual feature. In addition, if you want to create a more modern feel for your space, try arranging them by size instead.
Floating Shelves
Decorating the walls in your office with floating shelves serves multiple purposes. It looks really cool and increases your storage space. Plus, they also serve as a nice backdrop for video or other items you like to display.
Chalkboard Wall Paint
Creating a chalkboard wall is an awesome idea for your home office. It's easy to create and can be used to keep track of tasks, write inspirational quotes, create to-lists, and more. You could even use it as a bulletin board or display items you want others to see!
Speaking of inspirational quotes…
Inspirational Quotes
I've seen some amazing art containing inspirational quotes and passages. These are available in all kinds of styles – photography, illustrations, calligraphy and more. The only real limit is your budget and imagination.
Tapestry
Looking for some texture? Tapestries and textiles are a great office wall decor idea. Patterns, images, and special weaves add texture and they're visually stunning too! Using a textile fabric tapestry background will give your home office space some vibrancy and personality.
Wallpaper
You know what else looks good? Wallpapers! There's no reason why wallpaper shouldn't be part of your home office decor. You can find some very cool and unique wallpapers with patterns, or ones that use abstract design concepts, that will serve as an excellent backdrop to your home office.
Colored accent wall
Nothing wrong with doing something simple without a lot of ornate decoration for your office space. Creating a colored accent wall that covers one entire wall in your home office will add a pop of color and add some much needed contrast to plain white walls.
Plants
Nothing like some greenery to spice things up in your home office! Plants also help purify air quality by absorbing toxins that may build up over time. Plus they provide oxygen which helps us stay healthy. Vines or other visually impactful plants make a great look!
Mirrors
You can add lots of light and depth to your home office by adding mirrors. Mirrors reflect natural sunlight into the room, making it feel brighter and more spacious. They also make rooms look larger than they really are. A mirror on each side of your desk will help you see yourself from all angles when working at your computer.
Family Photos
Not the corny hallway collection of images that your grandma had on the wall, but I really cool collection of outstanding shots of the family that convert your office wall to a gallery wall is a great idea. This will help remind you of why you do what you do, and make your office more than just a place where business is taking place.
Pegboard Wall
Pegboard is a very versatile material which can be used in many ways. If you want to decorate your walls then peg board is perfect choice because it comes in various sizes and shapes. Peg boards come in different colors too so you can choose what color suits best with your décor. They also make excellent bulletin boards where you can display pictures, notes and other important information.
Wall Sculpture
Wall sculptures are anything that adds dimension to your wall, so it could be a laser-etched logo, custom 3D printed sign, some kind of metalwork, or any other type of art piece. These decorative pieces would definitely be one way to go about creating a beautiful work environment.
Wall Calendar
You can add a clever and practical reusable perpetual monthly calendar to your office wall to add some visual appeal and organization. It's easy to use and doesn't take much effort to reset it each month, plus if you get a nice one, it can look very cool. It'll also keep track of everything going on throughout the month and allow you to easily plan out upcoming events.
Cork Board Wall
If you're like me you like to get things off your desktop surface and up so you can see them and using a cork board wall is a great way to do it. You can get cork board from Amazon by the square foot so you can create whatever size cork board wall you want.
LED Wall Lights
I love LED lights as they don't give off heat and last forever. There's no need to replace bulbs every few months either. The only downside is that they cost quite a bit more than traditional lighting options. But if you have an extra $100-$200 lying around, these might be worth considering.
Tattoo Flash
Looking for something unique and edgy? What about grabbing a Sailor Jerry poster with some classic tattoo artwork? You can also grab something from Ed Hardy or any other variety of artist out there. Using tattoo flash artwork for some of your office wall art ideas is sure to turn heads!
Calligraphy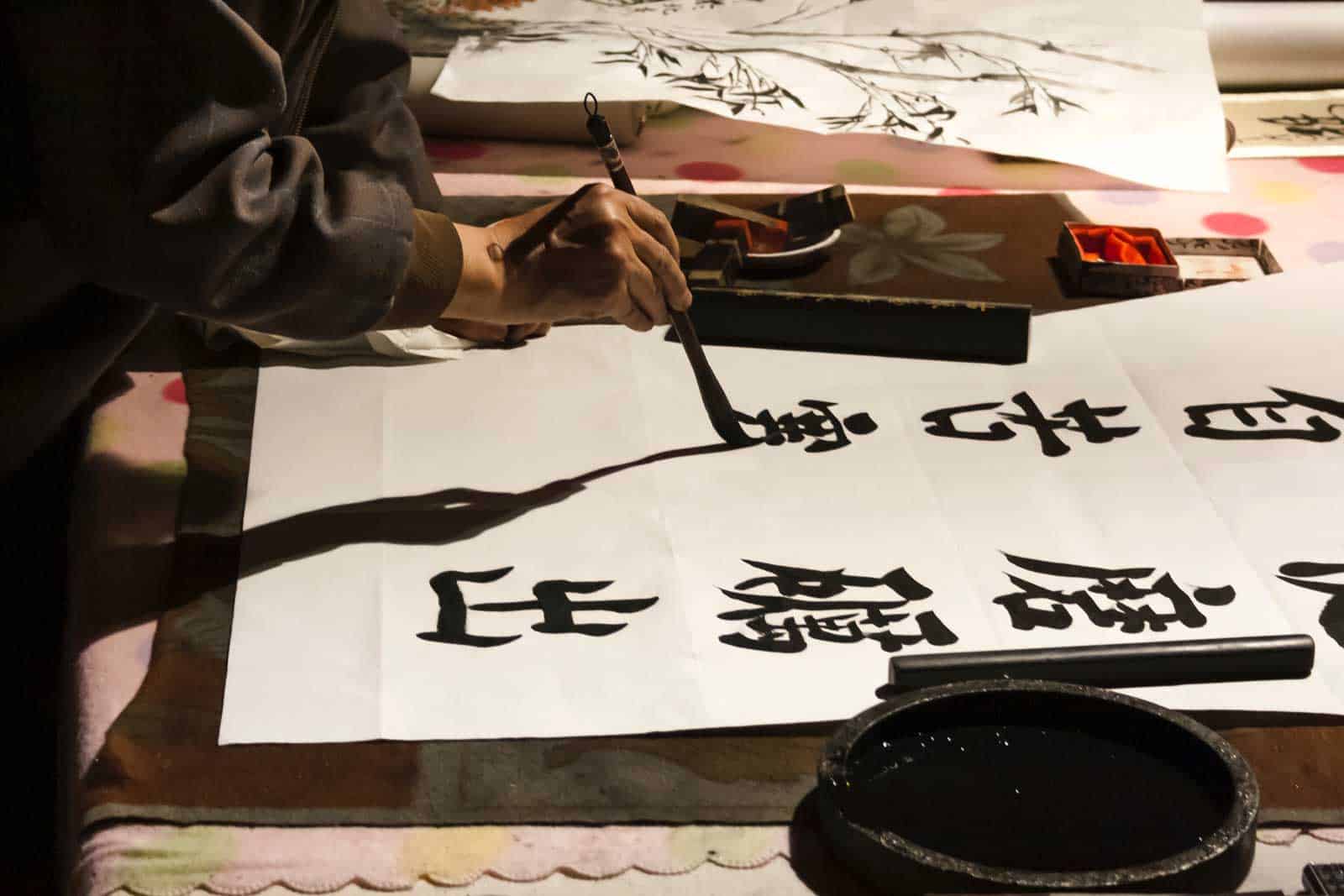 I'm a huge art fan, and one of my absolute favorites is unique, hand-drawn calligraphy. You could grab something unique from a local art show, or you could pick up something like an old school Old English alphabet.
Wall Art
A fun way to decorate your walls is with art. There are so many different types of art out there from canvas prints to framed pictures. If you want to go all out then get yourself a gallery wall where you display multiple pieces of artwork at once.
You could go all out and get one big piece of artwork but I think smaller pieces will do just fine. Wall art adds character and personality to your room without taking up too much space.
Paintings
If you want to make sure your home office looks professional, then get yourself a nice painting. A good quality canvas print would look amazing hanging up on your walls. You can grab a piece of art from a local artist or if you're feeling adventurous, commission your own stunning piece.
Murals
Creating a mural on your wall would be a very cool way to decorate your blank wall in your home office. If you have the budget, you could commission an artist to come in and create something truly unique and remarkable in your home office. Or, if you're an artist yourself, you could do it on your own.
There are plenty of artists who specialize in painting murals. Most even offer free consultations before committing to purchase their services. So if you've got a blank space on your wall, this may be a good option for you.
Wall Decals & Stickers
Companies are now making branded life-size wall decals that can add a very cool effect to any home office. It could be a logo from your favorite sports team, characters from Star Wars, amazing space images, pop culture, or just about anything else you can think of.
Next Steps
There are endless ways to decorate your walls in your home office, whether it's through paintings, murals, or even adding a little sculpture here and there. Just remember to choose items that fit well into your overall design scheme.
Want to join others who are creating the most amazing home offices and get more tips, tricks and hacks on how to make your home office the best it can be?
Join my brand new free private Facebook group,Home Office Hacks to connect with other home office hackers to make your space the best!