What's the first thing that pops up in your mind when you think of a home office setup? The desk, right? We spend most of our time at our desk, whether it's a standing desk or a regular desk, making it the most important part and the ultimate focal point of your home office setup.
By 2025, an estimated 70% of the workforce will be working remotely at least five days a month. Enterprise Technology Research (ETR) states that the productivity metric is proving that remote work is working.
Remote work is here to stay, and if you're lucky, you're in it for the long haul. This makes home office ergonomics more important than ever. Whether you're setting up a new home office or planning to replace your old desk, or even considering the advantages of a standing desk, having the right dimensions for your home office desk cannot be overlooked.
What is a good size for a home office desk?
The best size for a desk is 60×30 in most instances. Most desks are built to be generally this size because this size gives you plenty of desktop space to work where you can reach everything you need to reach. 
It doesn't matter what a standing desk is made from you can find them in just about any kind of configuration and material you want.
There are all kinds of sizes and types of different standing desks to choose from!
Desks come in a variety of sizes, styles, and dimensions. You should look for a desk that is big enough to accommodate your needs. If you are a gamer or programmer who has a multiple monitor setup, a 60" x 30" would be a good call, but if you just want to do your homework or use the laptop, a 30" x 24" will be enough. It all depends on how much room you have available and how much space you need on the desk to accommodate your stuff.
There is no perfect desk size that fits-for-all.
The minimum width for a sitting desk is 24 inches per person, and the minimum depth clearance at knee level is 18 inches. Anything beyond that will work just fine for everybody.
You can't choke up your bedroom by buying an enormous L-shaped desk, right? And similarly, you don't want to buy something so small that even your computer peripherals won't fit in.
Real quick, before we get too far into it here, if you want to get more great ideas for your gaming room or home office and want to connect with other home office hackers to make your space the best join my free private Facebook group, Home Office Hacks here.
Understanding desk measurements
Before we hop onto the ideal dimensions, here are a few terms you should know about:
Height (H): Measurement from the base (floor) to the top of the desk.
Width (W): Measurement from the left to the right of the desk. It is the edge you'll be looking at when using the desk. It is the amount of working space the desk has to offer. Think of it as the horizontal length of the desk.
Depth (D): Measurement from back to front. It determines how far the peripherals will be from you.  It is analogous to the vertical length of the desk.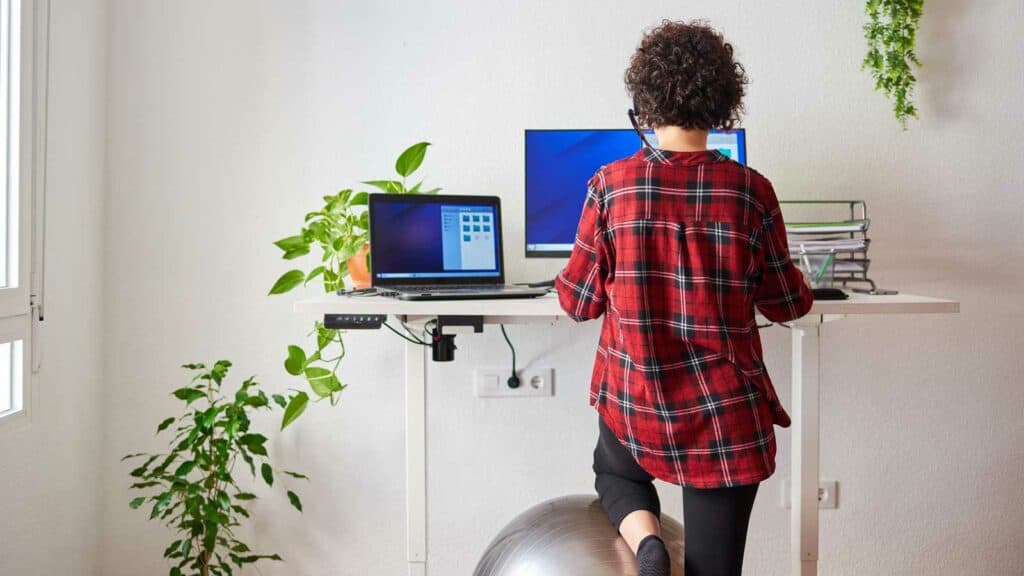 What should the height of my desk be?
When we talk about home office ergonomics, the desk and chair height come at the top of the list.
And there's a reason for it.
If the height is too low, your arms will squeeze against the edge of the desk, and if it's too high, you'll end up bending your wrists and slouching. In summary, an inappropriate desk height can be detrimental to your posture, cause muscle and joint pain, and even lead to severe back problems due to hunching.
You can always adjust the height of your office chair, but the story is different for fixed sitting desks.
So, what should be the height of your desk?
Well, there is no straightforward answer.
Everyone has a different height and body ratio. The length of limbs, neck, torso, posture and physique all determine what's the best desk height for you. And it might surprise you that type of chair also determines what the height of your desk should be.
The standard desk height is 29"-30", which is only suitable for people with heights between 5'8" to 6'. But it's is too high for 95 percent of the people.
Here's how you can determine the right desk height for yourself:
Your elbows and underarms should form a 90 -100 degree open-angle when using the keyboard or mouse. Wrists should be straight, and your shoulders should be relaxed.
Your upper arms should be in line with your torso so that your hands rest comfortably on the desk.
The top of the screen should be at—or slightly below—eye level. The top line of text should be positioned at or slightly below seated eye height
Your body should not lean forward as it can cause lower back pain. A neutral and relaxed body posture means that you have found your ideal desk height.
For chairs without armrests: Ideal desk height is the distance from the floor to the bottom of your elbow when your arms are at a right angle, parallel to the thighs. Your shoulders should be relaxed.
For chairs without armrests: Measure the distance from the top of the armrest to the floor when the armrests are adjusted such that the arm makes a right angle.
For Standing Desks: Your arms should make a right angle, wrists should be straight, palms supported, and shoulders relaxed.
Still confused? Here's some data to help you find the ideal desk height:
Sitting Adjustable Desk Height
Minimum: 25" – 30"; Range = 5"

Optimal: 22" – 33"; Range = 11"

Standing Adjustable Desk
Minimum: 38" – 42"; Range = 4"

Optimal: 35" – 47"; Range = 12"

Sit-to-stand Adjustable Desk
Minimum: 26" – 40"; Range = 15″

Optimal: 22" – 47"; Range = 25″
Source: Health by Design 
| | | | | |
| --- | --- | --- | --- | --- |
| Your Height (ft/in) | Seated Desk Height (ft/in) | Sitting Eye Height (ft/in) | Standing Desk Height (ft/in) | Standing Eye Height (ft/in)            |
| 5'0″ | 24.2 | 42.0 | 41.6 | 56.3 |
| 5'1″ | 24.6 | 43.3 | 42.0 | 57.5 |
| 5'2″ | 25 | 44.0 | 42.4 | 57.8 |
| 5'3″ | 25.4 | 44.9 | 42.8 | 59.1 |
| 5'4″ | 25.8 | 45.6 | 43.2 | 61.0 |
| 5'5″ | 26.2 | 46.8 | 43.6 | 62.2 |
| 5'6″ | 26.2 | 47.6 | 44.0 | 63.3 |
| 5'7″ | 27 | 48.4 | 44.4 | 64.5 |
| 5'8″ | 27.4 | 49.2 | 44.8 | 65.7 |
| 5'9″ | 27.8 | 50.0 | 45.2 | 66.8 |
| 5'10″ | 28.2 | 50.5 | 45.6 | 67.5 |
| 5'11" | 28.6 | 51.0 | 46.0 | 68.0 |
| 6'0" | 29 | 51.5 | 46.4 | 68.5 |
| 6'1" | 29.4 | 52.3 | 46.8 | 68.8 |
| 6'2" | 29.8 | 53.5 | 47.2 | 70.0 |
| 6'3" | 30.2 | 54.3 | 47.6 | 71.6 |
| 6'4" | 30.6 | 55.5 | 48.0 | 72.8 |
Source: PainlessMovement, WorkAround
According to the University of Brunswick, add one inch of desk with every three additions to the height.
Or, for every 1-inch difference of height from the standard height for 5'10"-6", you can add or subtract 0.4 inches from the average desk height.
These charts are only for reference. The desk height suggestions will vary from website to website. A general rule of thumb is to stick within a 1" to 2" range of your actual height.
The bottom line is that you should always consider your body dimensions and comfort level to find the right desk height.
An adjustable sit-stand desk is the best way to go. The flexibility really helps with getting the ergonomics straight.
Best Desk for Short and Tall People – The FAMISKY Dual Motor Adjustable Height Electric Standing Desk can go as low as 28.6″ and as high as 48.2″, adequate for people 5'0″ – 6'10" tall.
What should the depth of my desk be?
People often overlook the importance of the depth of a desk.
Suppose you are a streamer. You have a monitor with a large base, your cherry MX keyboard, a full-sized mousepad, and probably a microphone and a camera too. And these things often go back to back. To accommodate all these, you need lots of depth space.
Too deep, and you would be leaning your head forward, too shallow, and it will shorten the distance between the eyes and the screen. You need to find the sweet spot.
Here are a few tips to see how much depth space you need:
Measure the base of your monitor, the depth of your keyboard, and anything else you want to place on your desk back to back. Sum these numbers and add a few inches to make up for the space between the peripherals.
Don't just choke the whole table with the gadgets. Make sure you leave enough space to correctly position your keyboard and mouse to reduce strain on wrists and elbows.
No matter how small the width of the table is, it should always offer good depth to provide adequate room for your equipment.
Minimum depth clearance at knee level is 18" and 24" at foot level. Keep these figures in mind when hunting for a desk.
Typically, the depth ranges between 24 to 36 inches, which is more than enough to accommodate all your stuff.
Here's a chart to help you with finding the ideal desk depth:
| | | | |
| --- | --- | --- | --- |
| Occupation | Depth | What Can You Fit In | Location |
| Freelancer/part-time remote worker/Hobbyist | 18"- 28" | Laptop, journal, mouse, mouse pad | Closet or alcove, corner of a bedroom, under the stairs |
| Full-time remote worker | 28" – 30" | Small-medium sized monitor & keyboard, mousepad, file cabinets | Large closet, small room, home office cubbies, attic |
| Remote worker with lots of equipment/business owner | 30" – 36" | Full-sized multiple monitors, keyboard, extended mousepad, wrist rests, keyboard tray, microphone | Garage, large den, basement, backyard office (outside structure) |
The depth requirement can vary depending on your profession too. If you use your desk purely for typing, 16"-24" would be a good option, while for an artist, 18"-24" desk depth is the minimum requirement.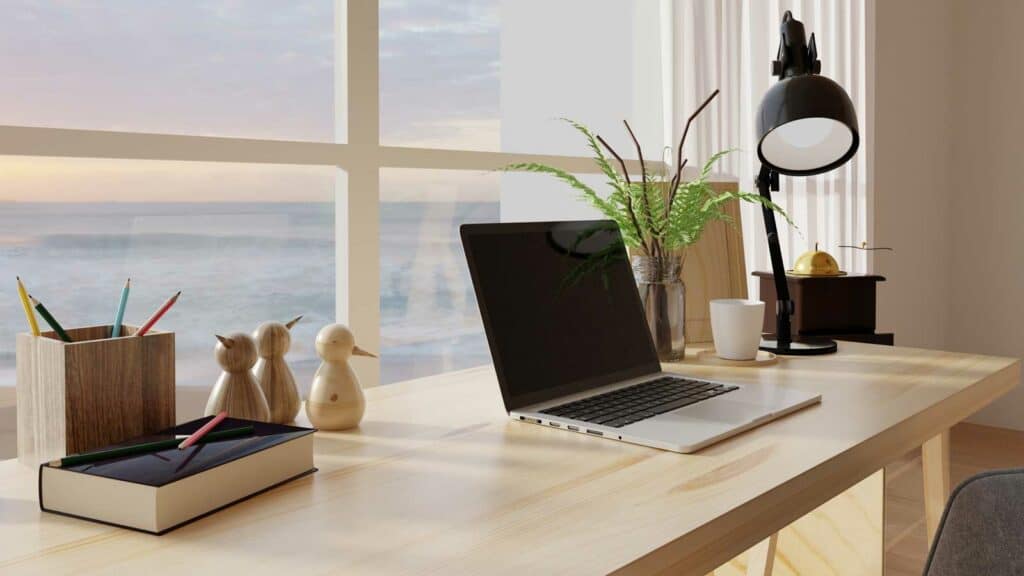 How wide should my office desk be?
The most obvious question before hunting a new desk is how wide it should be. You'll see a lot of options between 24, 48, 60, and 72 inches. Can you just marry the first option you come across? Probably not.
Desk width decides how much horizontal space you're going to have on your desk. Like everything else, there is no ideal office desk width that works for all.
However, here are a few tips to narrow down your options:
List down all your gadgets and equipment you'll be using on your desk. It can be your PC, monitor (or multiple monitors), table lamps, keyboard, mouse, laptop, file trays, etc.
Having lots of stuff on the desk is all good until it starts looking like a garbage truck. Make sure you have enough space between the equipment to ensure maximum functionality and comfortability.
Here's a chart to help you with finding the ideal desk width:
| | | |
| --- | --- | --- |
| Occupation | Width | What Can You Fit In |
| Freelancer/part-time remote worker/Hobbyist | 24"- 32" | Laptop, mouse, small keyboard |
| Full-time remote worker | 32" – 47" | Medium-sized single monitor & keyboard, mousepad |
| Remote worker with lots of equipment/business owner | 47" – 72" | Full-sized multiple monitors, keyboard, extended mousepad, wrist rests, keyboard tray, microphone, other equipment |
If you are short on space, a small desk with storage shelves and filing cabinets can also help. Just make sure you have considered your needs before adding a desk to the cart.
Pro Tip: If you spend most of your time behind a desk, consider buying a slightly wider desk than the recommended width.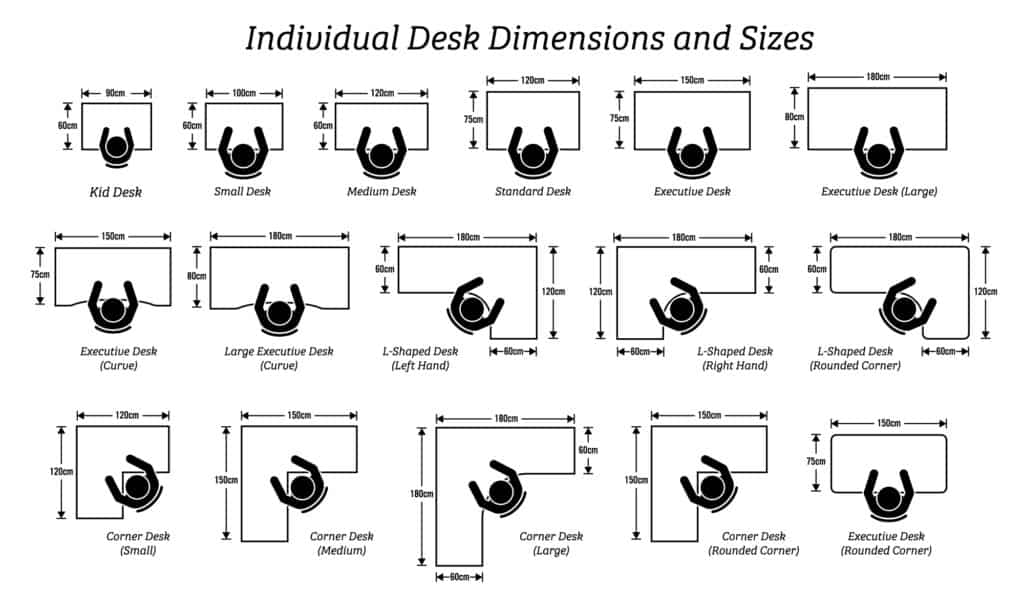 How do I decide how big my desk should be?
Deciding how big your desk is really not that difficult. Here are a few factors that determine what size of the desk is suitable for you:
Are you a freelance writer who just works on his laptop? Or a stock market expert who needs multiple screens to monitor the market prices? Or perhaps an artist who works with a drawing tablet? What you do and the equipment required to do it determines how big your desk should be.
How much space is available?
Closet or alcove, corner of a bedroom, separate room, attic, and a garage—all have entirely different dimensions. You can't fit a 72" wide desk under your stairs, right? So, always consider the space available in your home office setup.
What type of desk do you prefer?
Floating desks, built-in desks, corner desks (L-shaped), U-shaped desks, standing desks—each one of them has different functionality. It comes down to what you prefer.
There are crazy expensive desks out there like the QERNTPEY-Computer Desk. You might be tempted to buy one, but if it isn't in your budget, it's not worth it.
What Size Desk Should I Get? [Typical Sizes Discussed]
How to Decide What Kind of Desk to Get?
Let's see what options you have:
Students Desks
Executive Desks
Computer Desks
L-Shaped Desks
U-Shaped Desks
Standing Desks
The only thing different about these desks is the dimensions. L-shaped or U-shaped desks take up the most space but offer plenty of room to store your equipment. Standard rectangular-shaped desks are often compact and perfect for small home office setups, but they don't always provide enough desk space to lay out your gadgets. Standing desks give you the flexibility to switch between sit and stand anytime while providing enough space for a standard workstation.
What's the best option for you? It's for you to decide.
What Are Typical Student Desk Dimensions?
Student desks are compact and often smaller than average. A typical student desk is 24-30 inches wide and 18 inches long. These desks are specifically designed for students who are short on space but need a surface to work on. If you just want to solve a couple of math questions, a student desk might work. Otherwise, you need a bigger desk.
What Are Typical Executive Desk Dimensions?
Office or executive desks offer the largest surface area with the most storage options. You have enough room to lay out all your equipment. These are typically designed for professionals who work with lots of equipment. A tech-geek or an artist will find this a perfect option for all their gadgets.
A typical executive desk is 60" wide and 30" deep. Some manufacturers even go for widths up to 73". Another great thing about executive desks is that they look great too. If you regularly meet clients in your home office setup, an executive desk will definitely make an impression.

What Are Typical Computer Desk Dimensions?
A computer typical computer desk is designed to accommodate the following:
Monitor (s)
Keyboard
Mouse
PC
Storage space
Printer
Headphone stand
These desks are often smaller than an executive desk but big enough to accommodate your computer workstation. Some of these also have a pull-out tray under the tabletop to accommodate the keyboard and mouse, but it's become old-school now.
The depth of a typical computer desk is around 24" – 30" and is enough to accommodate a large monitor base and keyboard. You'll find most of the computer desks around the 48" x 24"-55" × 25" range.

What Are Typical 2-Person Desk Dimensions?
You have two options for a shared home office setup:
Sit side by side (requires more width)
Sit in front of each other (requires more depth)
The first one is more common as it provides enough horizontal space for each person to lay out their equipment. The depth is almost similar to all the other types of desks, but the surface is significantly wider— over 78". Most of the 2-person desks consist of storage shelves in the middle.
What Size Desk Do I Need For Multiple Monitors?
Multiple monitors, depending on the size of the displays, require more desk width. The base is not relevant as it only takes up depth space. The screens' actual size determines how many extra inches you need on the desk.
Suppose you have two 24" monitors. The width of one display should be around 22.5". You need 45" just for the screens and almost 6" on both sides. The resulting figure will be 57". You need at least a 60" executive desk to accommodate them.
Note: The desk dimensions for a multiple monitor setup entirely depend on how big your screens are and how many you will include in your setup.
How Much Space Do You Need Behind A Desk?
You don't really need any extra space behind the desk as most of them have grommet cut for the wires to pass through. The more important figure is the space behind the desk in the direction of the chair. A standard desk chair usually requires an area footprint of about 42" square. Reserving 23"-30" behind the chair will allow you to easily back up or swivel.
Next Steps
Want to join others who are creating the most amazing home offices and get more tips, tricks and hacks on how to make your home office the best it can be?
Join my brand new free private Facebook group, Home Office Hacks to connect with other home office hackers to make your space the best!