Do you work from home? Or are you getting ready to start working from home and need ideas about how much of a footprint of space you will need for your home office?
Or are you looking to create a dedicated office space for your hobby?
The problem with most homes is that they're not set up for working from home, lack privacy, quiet, and natural light.
And this can make it difficult to get any work done when your home office is less than optimal.
So how much space do you need for a good home office?
A good size for a home office is 10 feet by 12 feet which is 120 square feet. This is a standard size for a spare bedroom in many homes in the U.S. A home office of this size will fit your desk, your computer workstation and printer, with plenty of room to arrange your furniture in most optimal way and allow you to close the door for privacy while you work if you have others in your home during the workday.
But what if you don't have a spare bedroom to use as a home office?
What if all you have is an oddly shaped space for your home office?
And what are the costs of setting up a home office?
I'm going to share with you exactly how much space you need for your home office depending on your situation. Then we'll talk about how much it costs to set that home office up. And finally, I'll reveal the secret to creating the perfect home office space that will make you love working from home!
Real quick, before we get too far into it here, if you want to get more great ideas for your gaming room or home office and want to connect with other home office hackers to make your space the best join my free private Facebook group, Home Office Hacks here.
What Home Office Size Is Right For You?
The first thing to consider is what size office you need for the work you need to do at home.
Some people can get away with using relatively little space, while others like. programmers with multiple monitor setups, music producers and videographers will need more space to accommodate the extra equipment they need.
So the first step is to plan what you need to have in your office in order for you to do the work you need to do in a comfortable manner with access to everything you need.
What Items Affect How Big A Home Office Should Be?
The two biggest things that affect how big a home office should be are your desk and the storage you need.
Your desk – whether it's a standing desk or a standard desk – is going to be the one item that takes up the most room.
Your space may allow for an l-shaped desk which is a great option if you want to maximize the amount of usable space in your home office.
The other big thing that will affect how much space you need in your home office is the required storage.
This means things like file cabinets and bookshelves.
These things quickly take up room in a home office.
But with a little creativity and ingenuity you can maximize the amount of available storage space and minimize the amount of space it takes up.
Click here to learn more about the best storage ideas for your home office.
What If I Don't Have Enough Space?
When you look at your available space it's easy to get discouraged if the perfect home office space doesn't jump right out at you.
Sometimes you don't have that empty spare bedroom that you can use, and setting up on the dining room table is not a good solution for the long term.
Or maybe it's just that your apartment or home is just too small to do what you want to do with your home office setup.
Here's the deal:
When you work from home, but feel like your space isn't enough to create the home office you want you have to get creative or you have to move.
A graphic designer I work with started working from home – as we all did – at the beginning of the pandemic and he was relegated to his kitchen table to do graphic design work on a laptop.
Working on a regular sized laptop screen is hard enough, but to have to do it at a kitchen table is massively more challenging just from a physical health perspective.
Instead of getting discouraged, he got creative – as graphic designers tend to do – and was able to carve out a very cool workspace in his existing apartment that was perfectly suited for a big screen monitor on a good desk with his laptop so he could work.
He's still happily using that configuration today.
If you don't have enough space for a home office, get creative. Look at options for where you can re-imagine a space in your home. You might want to consider using a corner of another room like your living room.
This will allow you to keep your home office private and still provide you with ample space for working.
Adapting A Home Office To An Unusually Shaped Room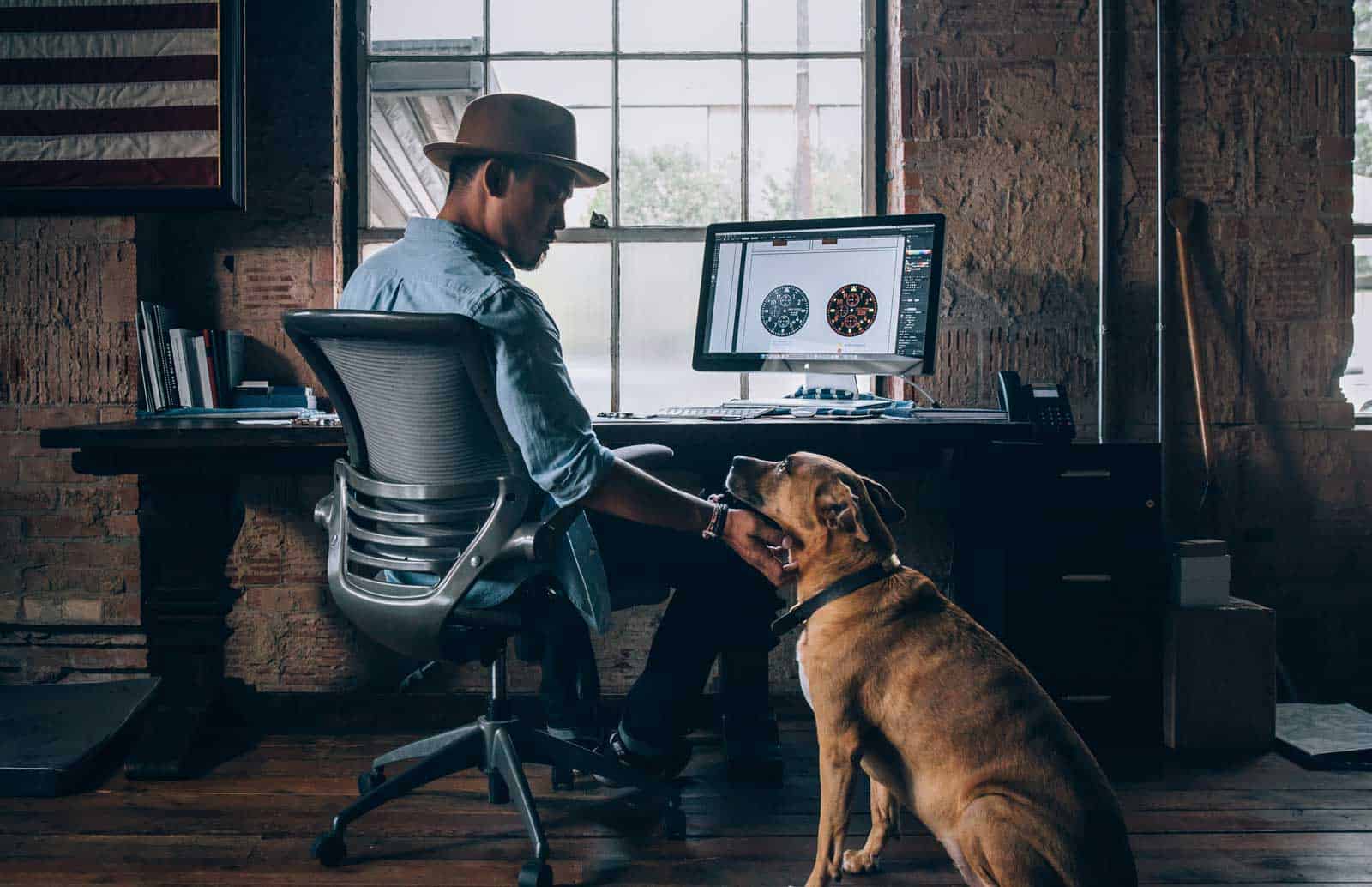 In many homes there are rooms called "bonus" rooms which are usually placed above a garage. Sometimes these rooms are shaped normally and can be quite spacious – especially if they're positioned over a regular sized 20×20 standard sized two car garage!
But that's not always the case.
Sometimes those bonus rooms are long and narrow and have low ceilings.
Sometimes there are 45 degree corners, or oddly shaped wall configurations.
Before you buy the first thing for your home office you need to know how you're going to use this oddly shaped room and what will – and will not – fit in the space.
This is where you need to look at unique desk configurations like a corner desk, an l-shaped desk, or even a u-shaped desk.
When you're adapting a home office to an unusually shaped room, this reveals a hidden opportunity to create something really cool by adding a built-in desk.
A built-in desk will be mostly a customized type of desk, so you should be able to create it to accommodate even the weirdest architectural shapes.
You can build the desk to a standard desk height, or to whatever height you'd like – since it's custom it's entirely up to you.
Creatively adding shelving for storage above and around your desk or on one of those 45 degree walls is a great way to make the most of what you have.
How Much Does It Cost To Set Up A Home Office?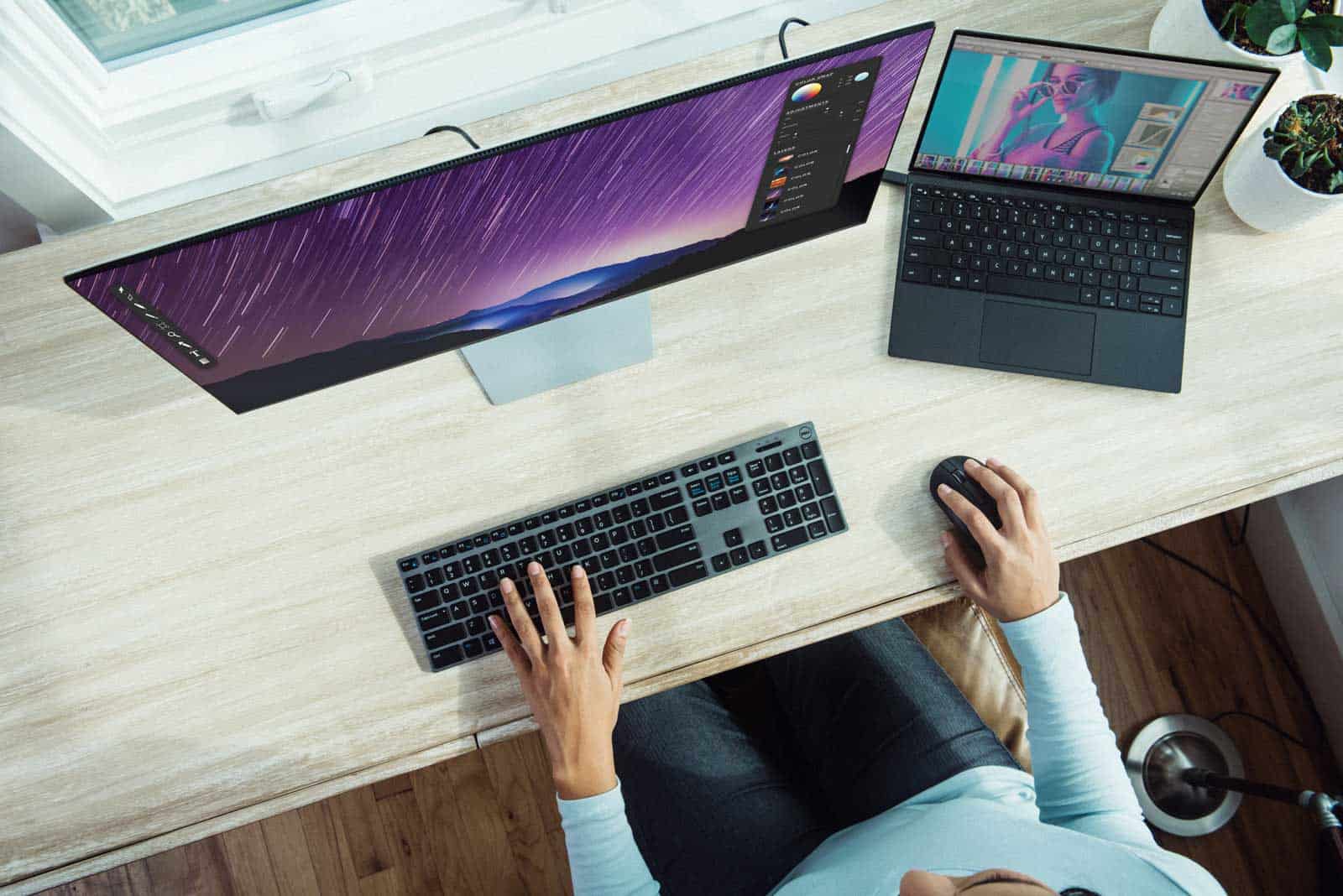 On average setting up a home office costs roughly between $100 and $500. But depending on what furniture and tools you have a more realistic cost for setting up your home office can run from $1000 and several thousand dollars. There are a variety of factors that come into play when it comes to setting up your home office so let's take a look at them below.
The cost of materials and furniture varies depending on whether you're buying new or used items.
You'll also need to factor in any additional costs associated with building your own custom desk or purchasing a pre-built desk.
You may also need to pay for professional help to install your desk or build it yourself.
Some companies offer free consultations and estimates before starting construction on your project.
Also check to see if your local government offers tax incentives for businesses that choose to create their own work from home offices instead of renting commercial space.
Small Budget Home Office Setup Costs
Sometimes you just need to get the basics in place.
If you're on a tight budget for the gear you need for your home office and want to get started right away, this I've created this breakdown of the things you'll need and their approximate price.
Budget Range: $100-$500
Item
Cost
Description
Desk
$100
A basic office-quality desk
Office Chair
$100
A basic ergonomic office chair
Printer
$100
A general use home office printer
Cables & Power Strips
$50
To power all your home office equipment
Desk Lamp
$50
To illuminate your workspace
Basic internet service
$50
Basic consumer internet service
Total: $450
It's expected that some basics like your computer or laptop, your mobile phone and office supplies will be provided by your employer.
If you're a freelancer or independent contractor then these expenses will need to be added to your totals for an estimate of your home office costs.
Medium Budget Home Office Setup Costs
If you have a little more flexibility with your budget, or perhaps your employer has given you an allowance for equipping your home office (which is very common in this new work from home age) then there are some additional tools & resources you're going to want to get for your home office.
Budget Range: $500-$1500
Item
Cost
Description
Standing Desk
$200
Adjustable height standing desk
Ergonomic Desk Chair
$100
Office quality ergonomic desk chair
Printer Scanner
$150
Multi-purpose printer & scanner
File Cabinets & Storage
$100
Storage solutions for your home office
External mouse & keyboard
$50
So you don't always have to use your laptop keyboard & mouse
Paper Shredder
$50
For those who need to shred sensitive outdated documents
Cables & Power Strips
$50
For power and protection against electrical surges
Desk lighting
$50
For more creative work like illustration, drafting & engineering work
Business class internet service
$50
High-speed business class internet service
Additional computer monitor
$250
To expand your available workspace
Total: $1050
Once again, it's assumed that the basics like your laptop and other associated office supplies are being provided by your employer.
"The Works" Home Office Setup Costs
When you've got a bigger budget to work with you can really set yourself up for success in your home office by getting all the tools and resources you need to cover all possibilities.
That doesn't mean that you're buying a gold-plated desk, or a designer office chair.
It means that you're outfitting yourself with all the tools and resources you need to really thrive and want for nothing in your home office space.
Here's an example list of what you'd need for your home office if you were to pull out all the stops and get everything you need.
Budget Range: $1500+
Item
Cost
Description
Adjustable height standing desk
$500
Electric-powered standing desk
Ergonomic office chair
$250
Industrial quality ergonomic office chair
Printer scanner
$350
Industrial quality printer scanner
File cabinets & storage
$250
High-quality storage solutions for your home office
External mouse & keyboard
$100
Additional computer monitor
$250
To expand your available workspace
Paper shredder
$50
For destroying sensitive documents
Cables & power strips
$100
To power all your electronics and protect from electrical surges
Desk lighting
$50
To illuminate your workspace
Business class internet service
$100
High-speed business class internet service
External video camera
$100
For video conferencing and video creation
External microphone & stand
$150
For high quality audio production
Audio mixer
$250
For high quality audio production
Backup battery/uninterruptible power supply (UPS)
$200
For maintaining power during outages
Ergonomic mousepad, wrist rests, etc.
$50
For your health & wellbeing
Total: $2750
There are other things that you could add to this list like noise-cancelling headphones, an office safe, desktop speakers, etc. However, those things, in most instances aren't essential for you actually doing your work, so for the sake of this list, I'm considering the "nice to have" extras.
How To Save Money For Your Home Office Setup
One of the biggest expenses in your home office setup is the furniture you're installing in your office.
New furniture, like an adjustable height standing desk, can be really expensive.
A great way to save money for your home office set up is to buy gently used office furniture.
In most places there are outlets for used furniture that's been recovered from office spaces that are no longer in use.
Looking up local resources like this can save you hundreds of dollars on your home office setup because used office furniture is usually priced very cheap to attempt to recoup some of the initial costs paid by the original buyer.
Sample Home Office Layouts & Configurations For Inspiration
The layout of a home office will depend on the type of furniture available and personal preference. Some people like to keep their home office neat and organized, while others prefer a less structured environment.
Let's take a look at a few examples of different home office layouts.
Sharing a home office space with a bedroom
If your home office is going to share space with a bedroom, it's important to consider how you configure your space and how you end your workday in a common space.
If your home office is in your bedroom in may be difficult to "clock out" at the end of your work day.
Be that as it may, sometimes we have to make do with what we have so here's an example of what a bedroom sharing space with a home office could look like.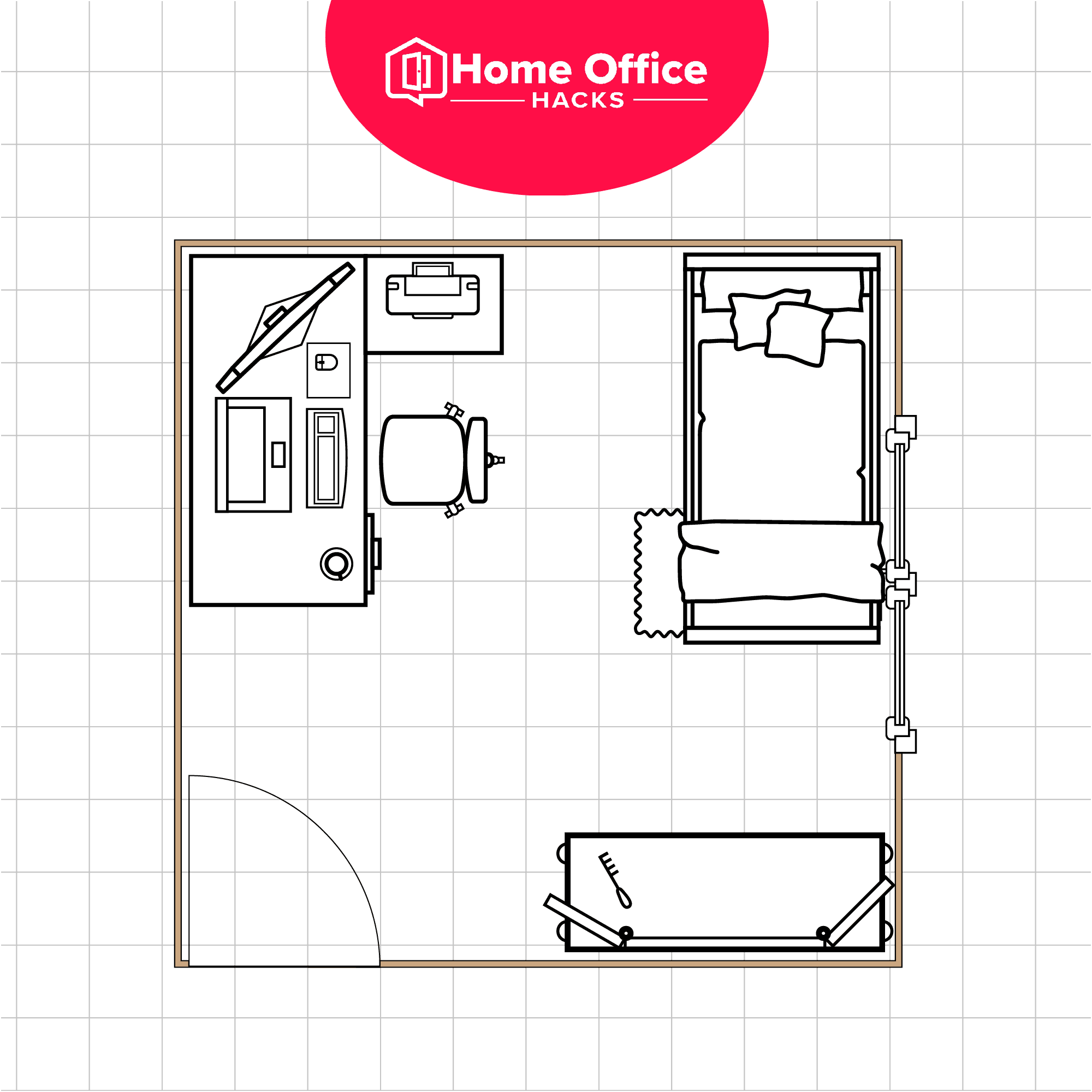 Home office in the dining room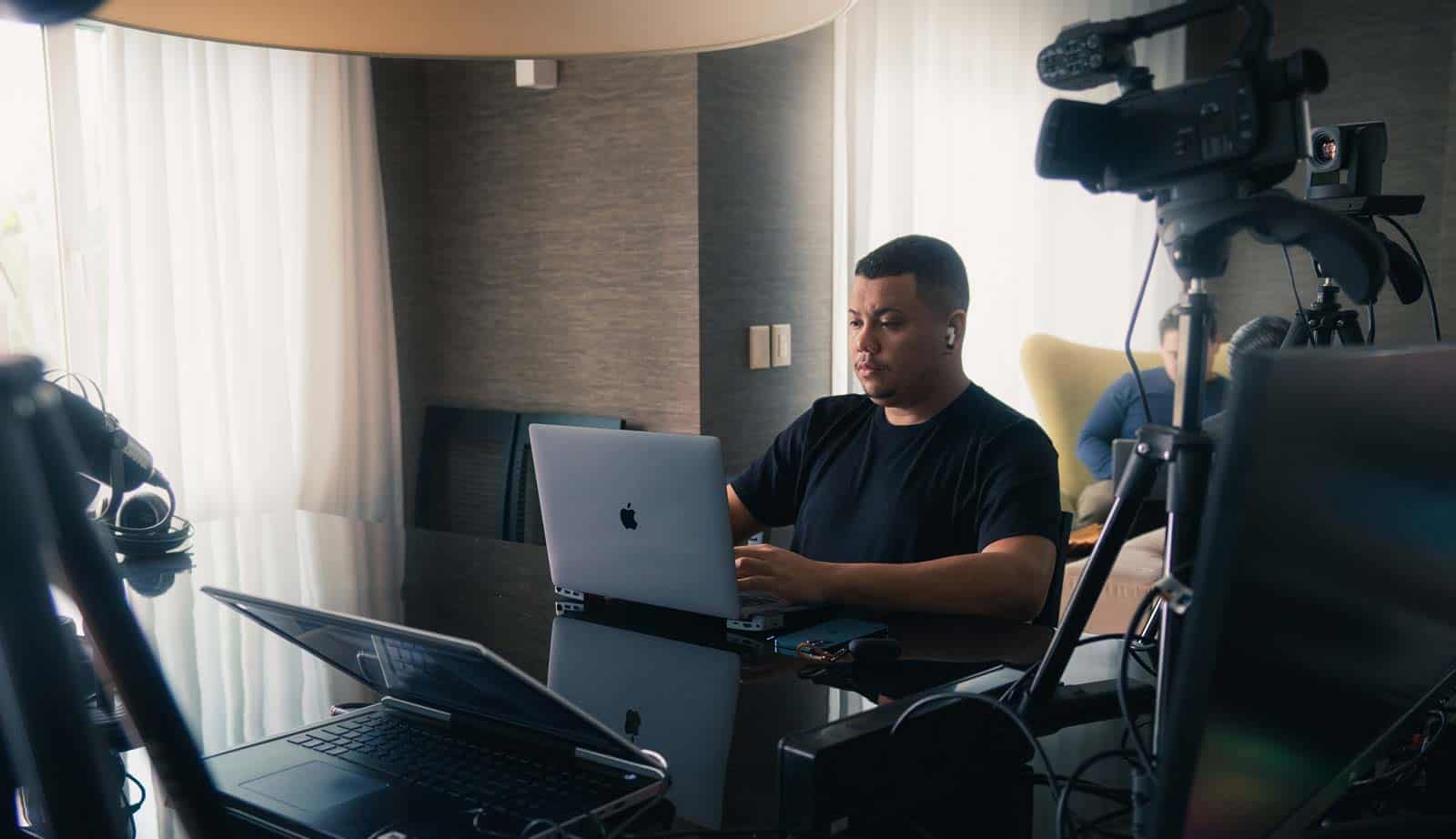 In many homes and apartments there are dining rooms that go entirely unused.
I know that when I was in college living in an apartment I had a dining room that was set up as my office because it was not otherwise used at all.
But even if you do plan to share a space with your home office you can configure it so that it works well to serve both functions.
Here is an example of what a potential home office located in a dining room could look like:
Spare bedroom home office
If you're like me you set your home office up in an empty spare bedroom and they are absolutely fantastic solutions when it comes to setting up your home office.
The home office in the spare bedroom is a perfect solution for someone who doesn't have extra spare space in other parts of the house for their home office.
They also provide a lot of privacy which is something that you don't always find in a shared home office space like those mentioned previously.
Here is a layout example of what a spare bedroom home office could look like.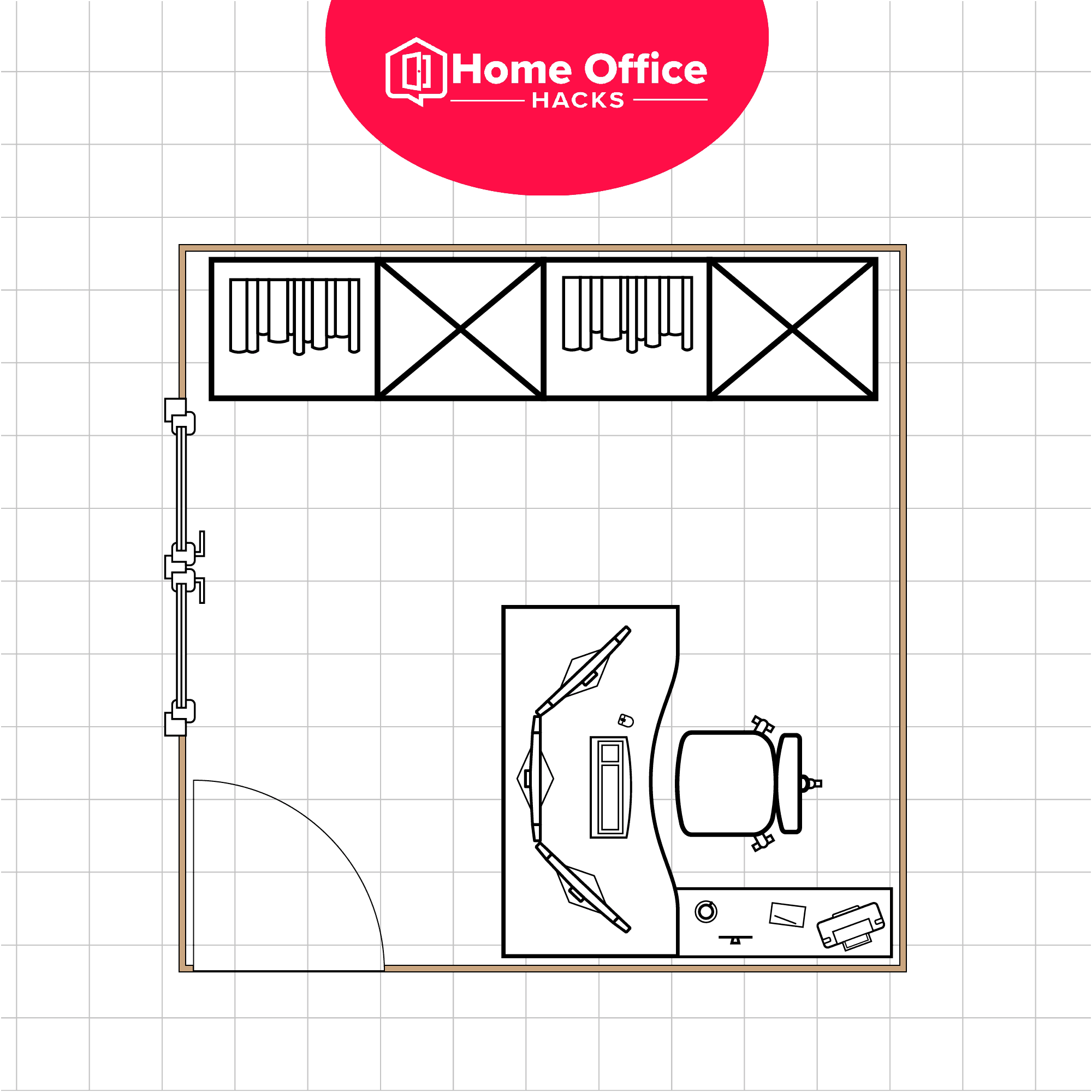 Dedicated home office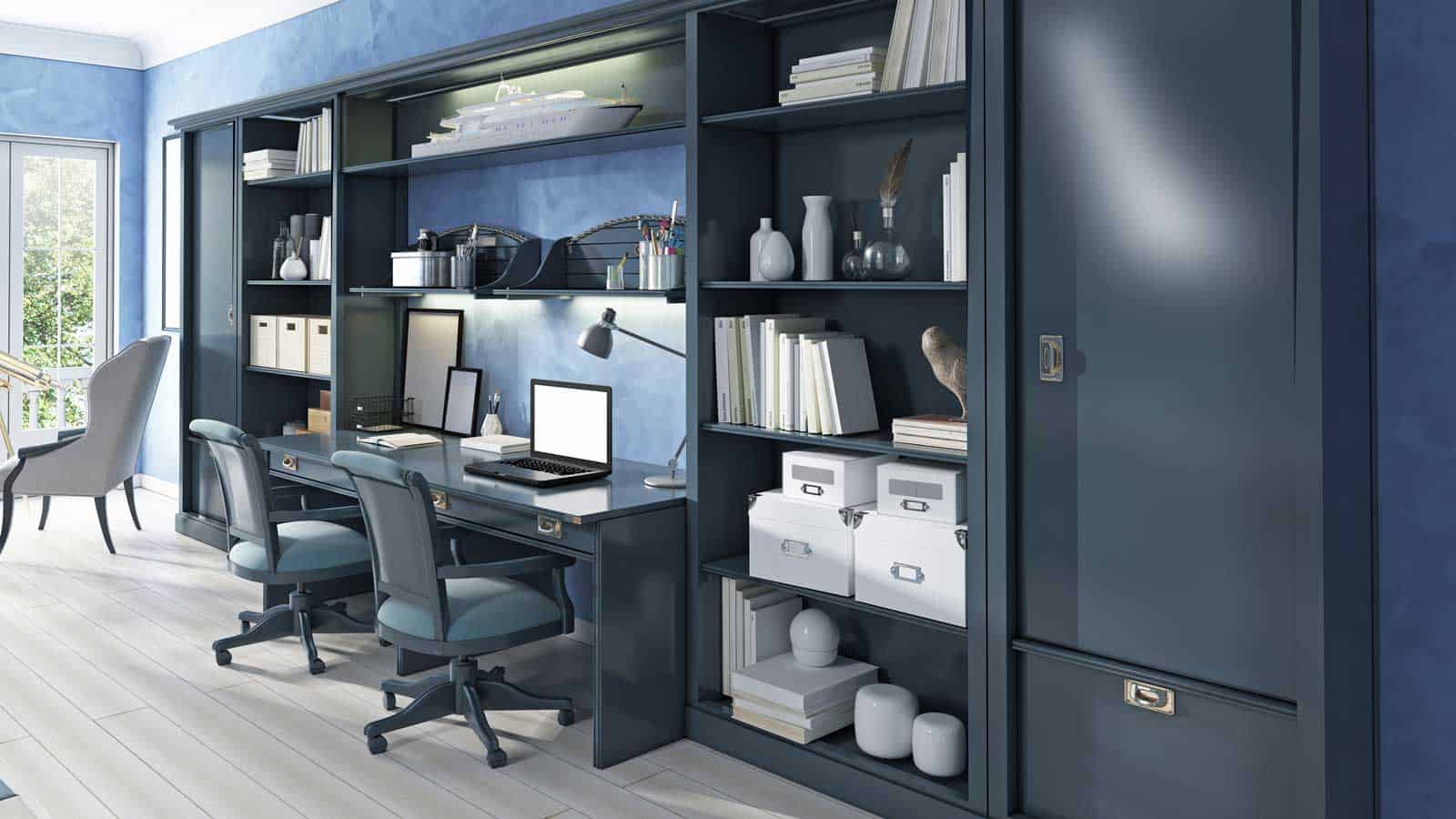 When it comes to new higher end construction you will often see a home office built right into the floor plan.
These dedicated home offices are usually not appropriate for a bedroom space and will have built-in bookshelves, built-in desks, and built-in storage along with all the electrical connections you could need.
There is plenty of space for external monitors, books, your printer, scanner and more.
Take a look at this example of what a dedicated home office space configuration could look like in your space.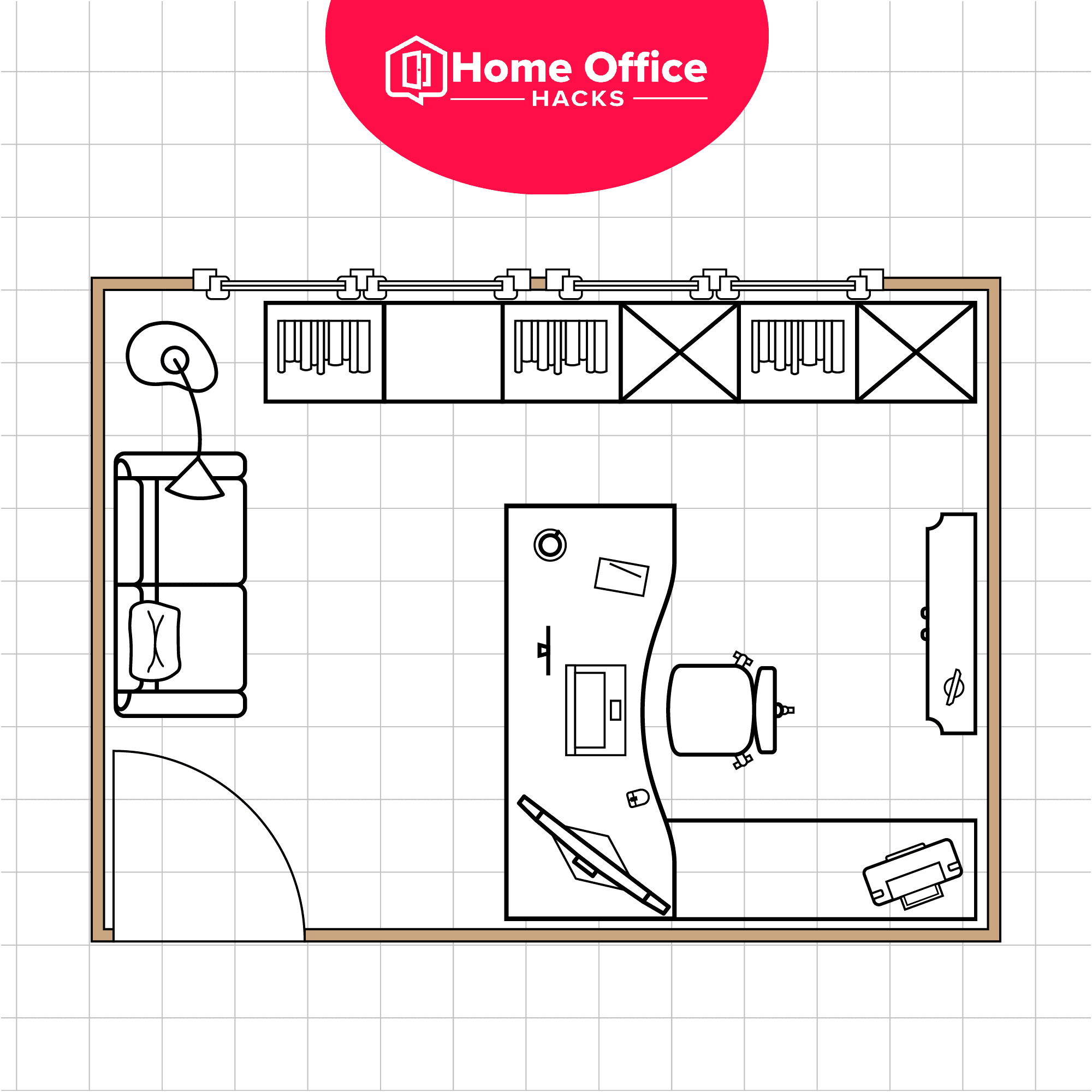 Hobbyist home office
A casual, multi-purpose home office for hobbyists should be at least 10×10 or 100 square feet, but could go up to 400 or more square feet depending on the need.
This is the type of home office that's going to be used by multiple members of a family and doesn't necessarily have a dedicated purpose outside of a basic place to retreat to read or study.
It can also be a place for the hobbyist in your home who needs a dedicated space.
A hobbyist is someone who dedicates a lot of time and effort into their passion – whether it's building models, building massive LEGO projects, knitting, painting, collecting comics or baseball cards, or anything else like that.
And often, when you're very serious about your hobby, you like to have a dedicated space where you can keep all the gear associated with your hobby.
A hobbyist home office can fit in a standard sized home office like a spare bedroom easily, depending on the hobby of course.
If you build remote control airplanes then you're going to need a bigger space. Those are instances where your garage could easily be repurposed from the place where you park your car to the place where you store your F-16 replica RC plane.
Here is an example of what a hobbyist home office could look like:
Remote Work Home Office
At the very least the size office that someone who works from home full time should be at least 10×12 feet for 120 square feet if not a little larger, depending on the office equipment you need.
In most of the higher end new construction these days, there is a dedicated home office that's built right into the floor plan, so that makes this part much easier as it's already done for you.
If you don't have this luxury of a home office built right into your floor plan, fear not.
You can repurpose a spare bedroom. as previously mentioned (which is what I've done) or another space like an unused family room, dining room or den.
It just depends on what you want your home life to be like with this new office space, and how your significant other (if you have one) will feel about you taking over that space.
If you are planning to build your own home or you're going through a big remodeling process, then you should make sure that you plan for plenty of space.
If it were me and I was making plans to build my own home, I'd shoot for a home office space with at least 12×12 or 144 square feet at the very minimum.
Here is an example of what a remote worker's home office could look like: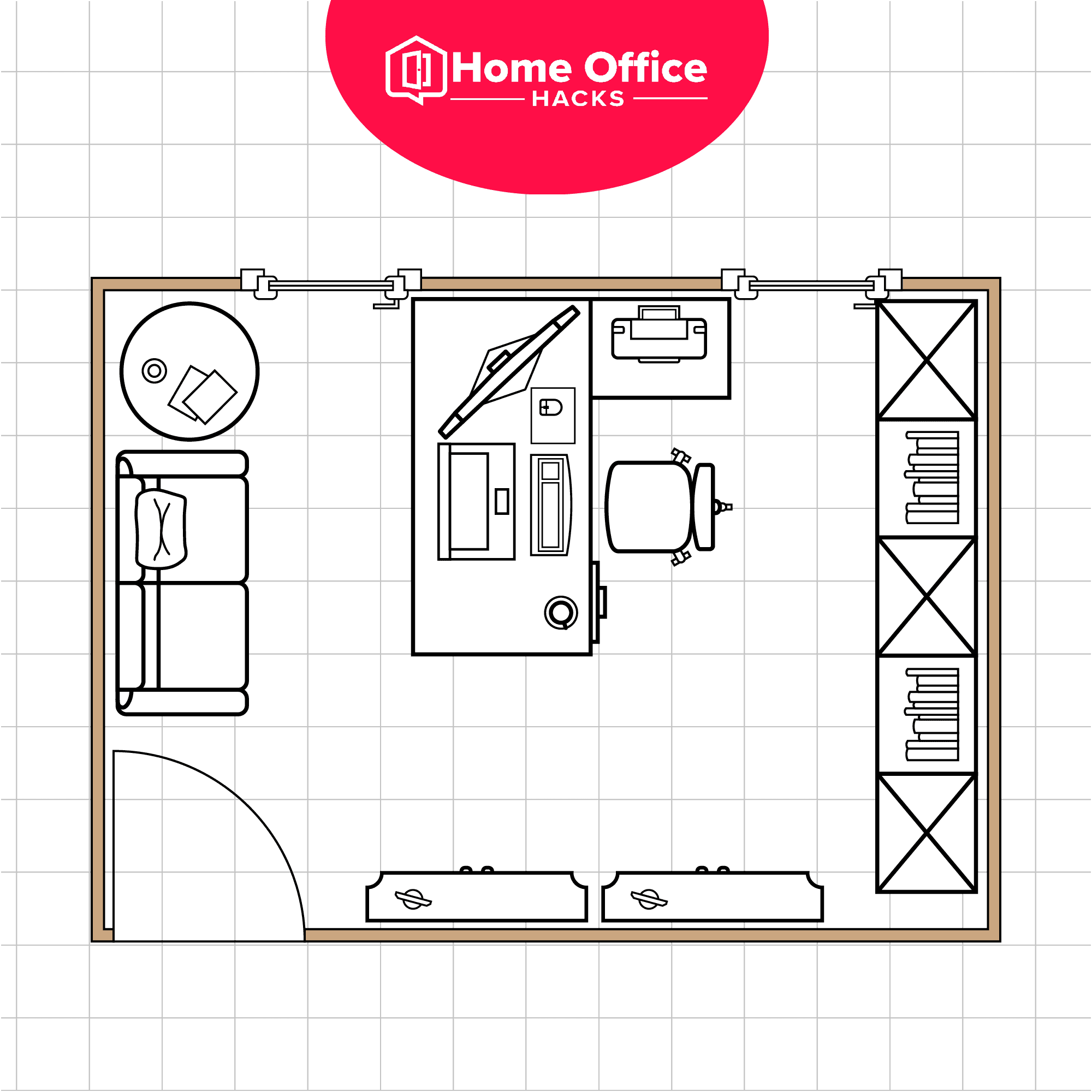 Student Home Office
A student home office doesn't need to be big. 10×10 is a good size and that can be distributed in any variety of shapes depending on where you put it.
The great thing about setting a student up for success with a home office is you can be really creative with how you place it and set it up.
If you have a two-story home, in many cases there is extra space at the top of the landing of the stair case where you can set up a small home office where you can place a desk, a computer, and even a high-definition TV to go with a gaming station for those times when they're not studying.
The big factors to consider here are the type of desk you want to have in the space, if you need any additional, storage (which is a lot less necessary for a student), shelving, or a place for a gaming setup.
Here is an example of what a student's home office  setup could look like:
Next Steps
Want to connect with other remote workers, contractors, freelancers, gamers and people who work from home who are creating the most amazing home offices and get more tips, tricks and hacks on how to make your home office or gaming room setup the best it can be?
Join my brand new free private Facebook group, Home Office Hacks to connect with other home office hackers to make your space the best!