When it comes to working from home it's essential that you have the right digital tools in your toolbox.
If you're going to do your best work you have to be set up for success, and when you're on your own working from the home office it means that you'll be working without the benefits of a traditional office environment.
The software you need to work from home includes:
Whether you're working from your home office, a co-working space like WeWork, or you're setting up in Starbucks to crank out some stuff you need the right tools for the job.
That's why I've put together this list of essential software programs that will help you succeed as a remote worker. This is a concise list of best software you need to be the best, most productive, efficient, and happy when you're working from home.
Real quick, before we get too far into it here, if you want to get more great ideas for your gaming room or home office and want to connect with other home office hackers to make your space the best join my free private Facebook group, Home Office Hacks here.
Top Software Tools for Remote Working from Home
While working from home is a great thing, it's important to make sure you're still hitting your goals. You need the right software tools in order to be successful.
Maybe your company has gone back to the office, or perhaps you company changed forever the way they do things, like mine has, where remote work from your own home office is now the way things are done.
Either way, regardless of whether you're an entrepreneur who's worked at home for years, or someone who was working remotely before the pandemic affected us all, when you're woking from home you need to figure out how to get things done without being in a physical office.
Software tools are even more important than normal when working from home. You need project management, real time communication, collaboration, team monitoring and more.
There are numerous options in each of these categories and I'm not trying to cover every possible option.
That wouldn't be helpful anyway.
I'm covering the top software tools for working from home, whether you're a remote employee, or independent freelancer, or anyone else working from their home office.
Let's talk about the top software tools for remote workers.
Realtime Communication Tools For Working From Home
One of the pillars of working from home in the 21st century is having a realtime communications tool.
Email just doesn't get the job done when it comes to realtime communications. Sure, it's great when things aren't urgent.
But it's not an instantaneous solution, so you have to wait for messages to go back and forth, and it will overwhelm your inbox when that's your sole means of electronic communication.
That's where realtime communications tools come in to save the day.
Not only will your email box be much cleaner, but an instant messaging platform can save you from those annoying internal phone calls, or even someone just stopping by your desk (in the "old" office days), and will help you be a lot more productive and focused.
Here are the best realtime communications tools for working from home.
Slack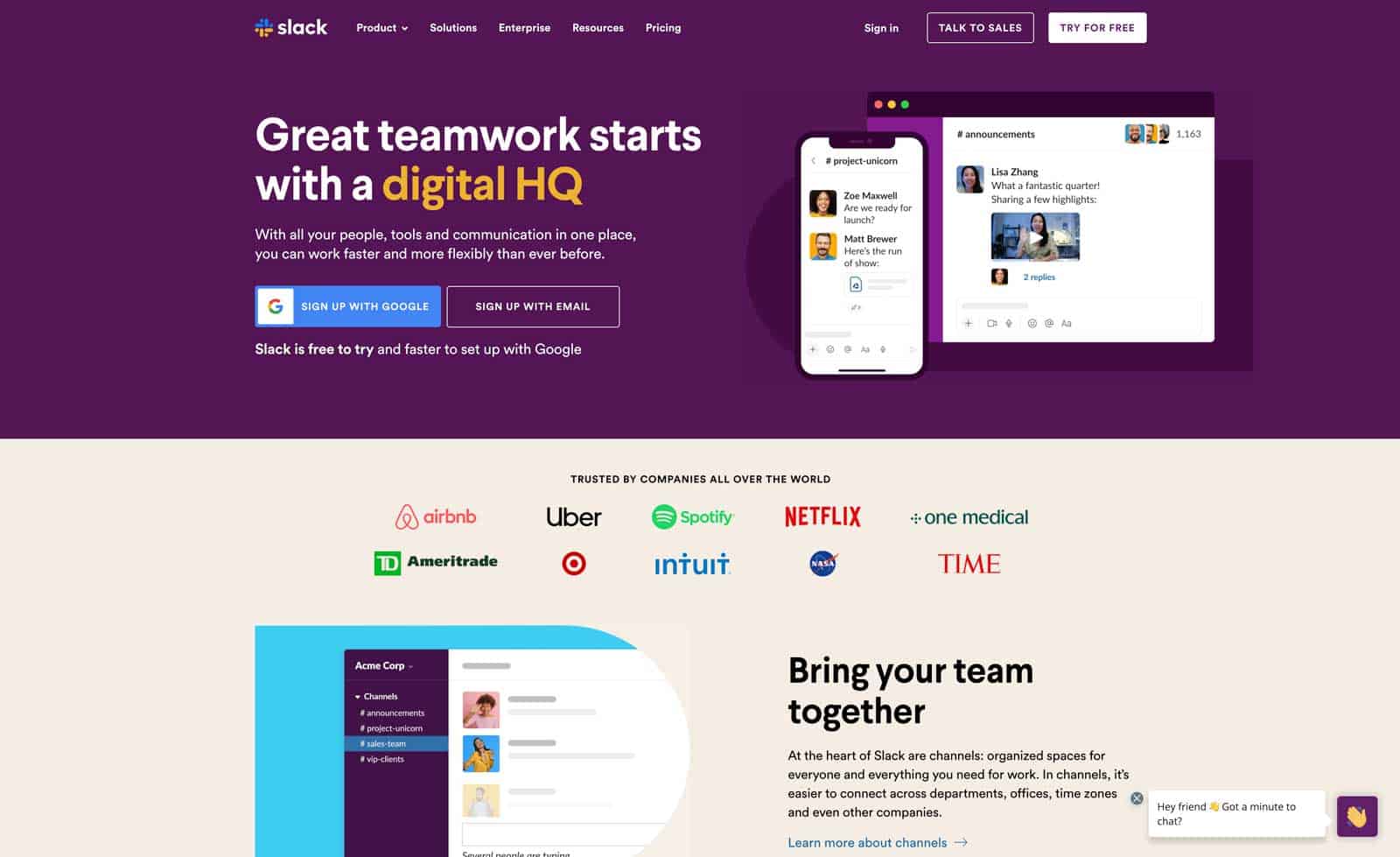 Slack has quickly become the industry standard for realtime communications not only for people working from home, but also for intra-office communications too.
It's a massively better tool for quick, one-off discussions and will not clutter up your email inbox with thousands of emails.
Not only does it have amazing instant messaging tools you can also use Slack to hold virtual meetings, do video calls, and share files with your distributed or remote team.
In all honesty, I don't know how I ever lived without Slack.
Microsoft Teams
Microsoft Teams is Microsoft's answer to Slack. Like Slack, it offers realtime messaging, file sharing, video calls, screen sharing, task management, chatbots and much more.
Google Chat
Google Chat is another alternative to Slack that provides similar functionality. Google Chat is available as a standalone app or through the Chrome browser.
Top Tools For Sharing Documents & Files Of All Sizes
When it comes to working from home you are going to be sharing LOTS of documents back and forth.
Having a quality, reliable file sharing system is a crucial part of your digital infrastructure you need to set up in your home office.
Regardless of the situation regarding your work from home setup, having the right file sharing tools is something that should have tons of available storage, be available both online and offline and be rock-solid reliable.
Here are my recommendations for sharing documents and files.
Google Drive
Google Drive is one of the most widely used platforms when it comes to document sharing. And one of the main reasons it's so widely used is because anyone with a Gmail account gets 15gb of free storage automatically included.
Everything in Google Drive is a link, so you can share your documents stored in your Google Drive with anyone and adjust the permissions to read-only so that the document cannot be edited.
It allows users to not only create and share documents, but it also utilizes free Google apps like Google Docs, and Google Sheets so that you can create just about anything you'd like and save it in your Google Drive.
What makes it better is that those files are stored in the cloud meaning that they're accessible anywhere you can get an internet connection.
Files created or edited within Google Drive are automatically synchronized across all devices signed into the same account. Users can also collaborate on documents using Google Docs, Sheets, Slides and Forms.
Microsoft OneDrive
Microsoft's answer to Google Drive is called OneDrive and provides the same kinds of features and sharing capabilities that Google Drive does, using the Microsoft Office ecosystem.
If you're a Windows user and/or a Microsoft Office user then it's only natural that you'd use OneDrive.
In addition, OneDrive has some unique features such as being able to sync files between multiple computers and mobile devices. Just like Google Drive you're also able to access your files offline.
But unlike Google Drive, there is no free version as of this writing of Microsoft OneDrive – it's only included as a subscription service.
Visit Microsoft OneDrive's Site
Dropbox
If you're looking strictly for sharing documents, then Dropbox is a fantastic solution.
Like the other tools mentioned here, it's web-based it works seamlessly with any device whether it's a PC, Mac, tablet, smartphone, etc. You don't have to worry about syncing files manually.
With Dropbox you can simply upload a file and make it shareable, and you're done.
Dropbox has a great free plan that many find that is sufficient for their use. But by inviting new users who sign up through your link you can get up to 200gb of free storage, which is pretty substantial.
iCloud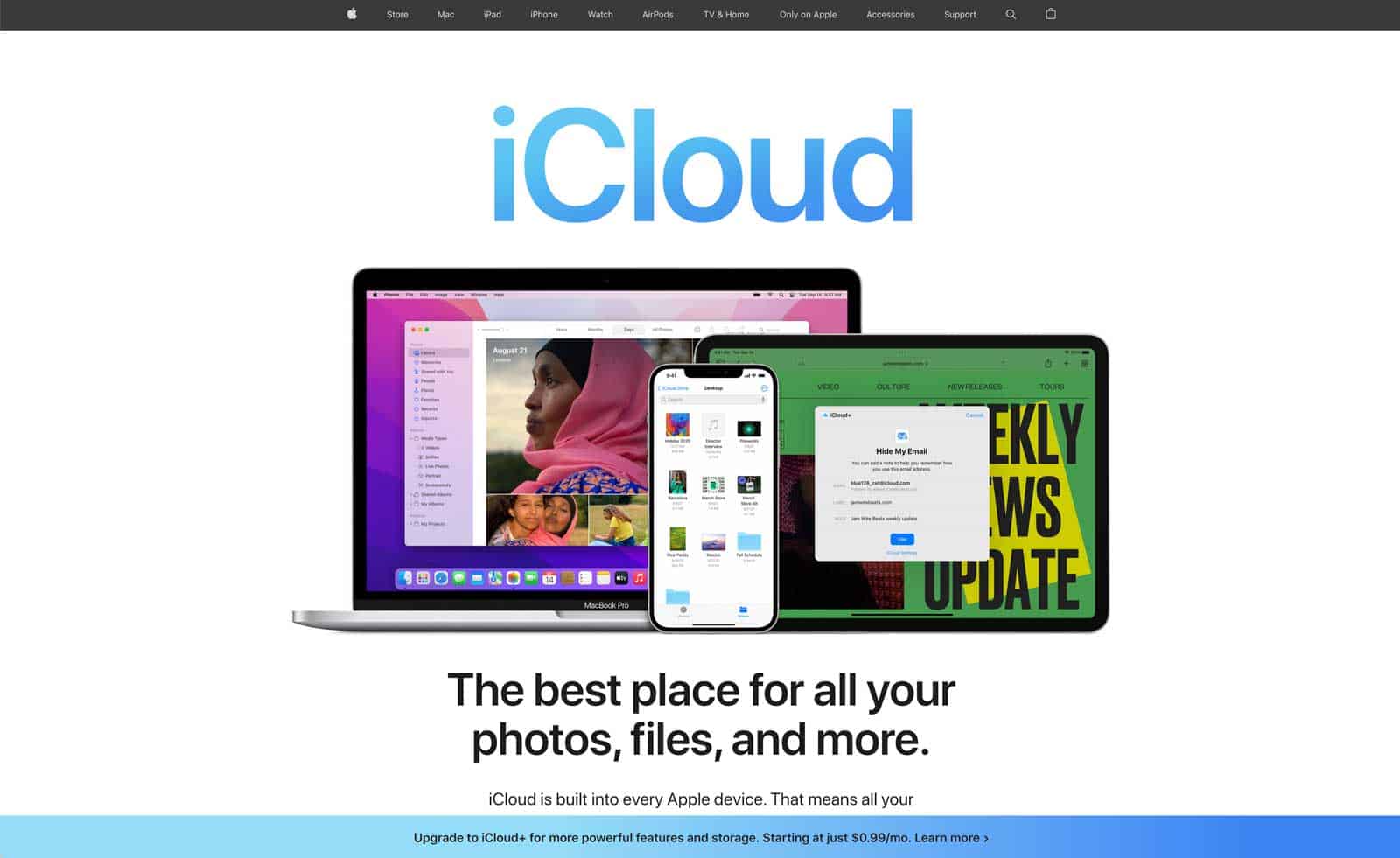 If you're on a Mac you can use Apple's iCloud Drive provides this same kind of cloud-based doc storage and sharing which syncs across easily across all your Apple devices.
Essential Password Sharing Tools For Remote Teams
One thing that's become more and more evident over the last couple years is the need for keeping passwords safe & secure.
With so many more people working remotely and from home these days, unfortunately, it's not uncommon to have Google Docs, or notes, or even worse,  post-it notes, containing passwords floating around.
That gives people like me, who are responsible for IT security serious heartburn!
That's the bad news.
The good news is that there are apps that are available where you can quickly, easily and securely share password with your entire team.
LastPass
I've personally been using LastPass for years and in my opinion it's the best available. LastPass makes managing access to passwords to your remote colleagues super easy. All you need to remember is your one primary password to access your LastPass vault and you can receive shared passwords from others on your team, share passwords you've generated, and remove access to passwords for colleagues, clients and anyone else who no longer need access to them.
1Password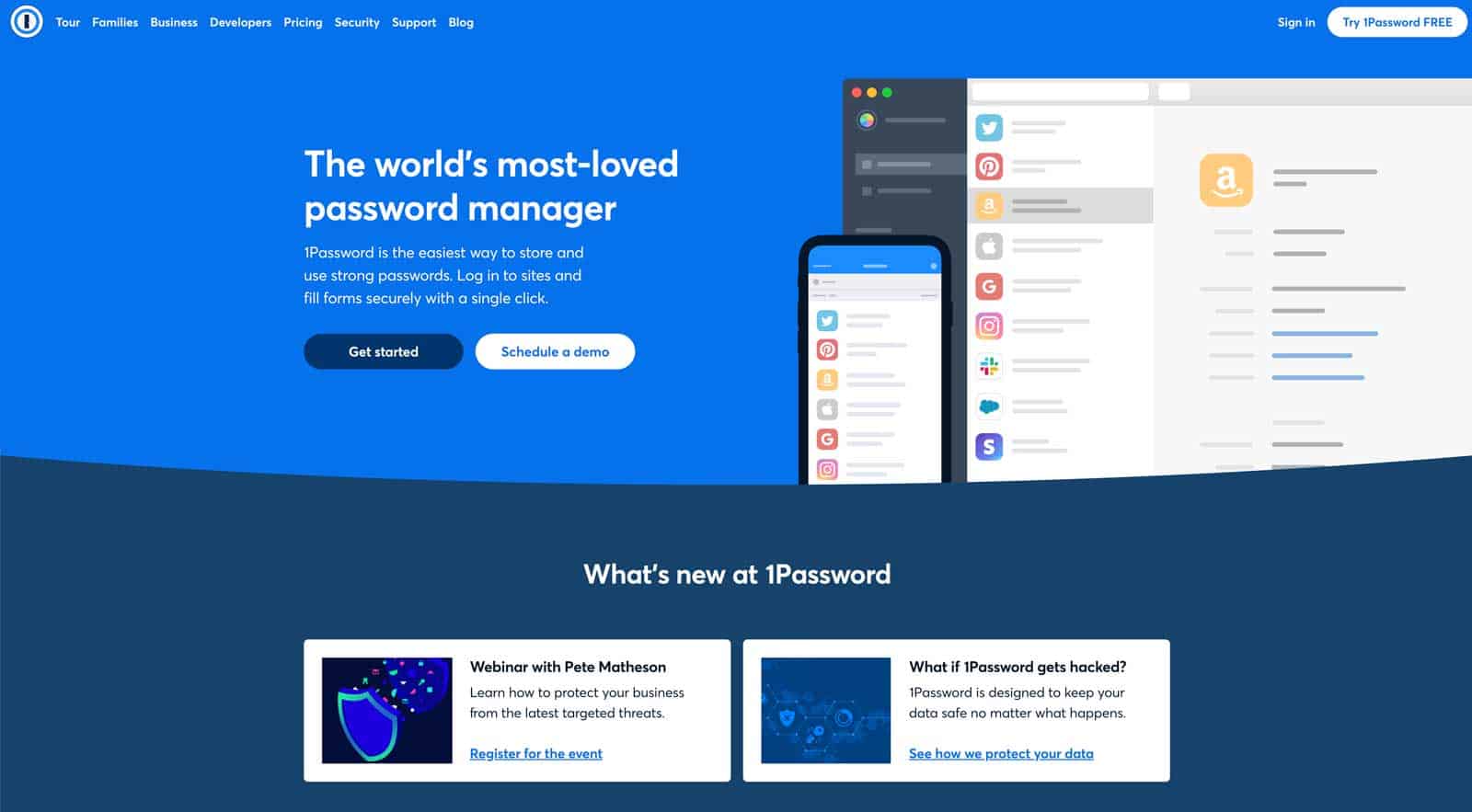 Another really popular and widely adopted – and secure – password sharing application is 1Password. They share very similar features to LastPass in the ability to have fine-grained control over how passwords are managed and shared.
Best VPN Software For Working Remotely Safely
VPN stands for Virtual Private Network. It allows you to connect to a private network (like at home) over a regular internet connection. This means you can be connected to the internet but appear to be connected to another location entirely.
Sometimes you will have to use a VPN to connect to your company's intranet.
Sometimes you just need that extra layer of added security to make sure your work is private.
There are some excellent VPN services out there, but two of the most well known and trusted are:
Private Internet Access
Private Internet Access (PIA) is an app that you load into your browser that will keep your personal information safe, away from prying eyes.
This is especially important if you're working remotely at Starbucks or some other place where you're using shared public wifi access.
PIA protects your privacy and secures your data while you surf the web anywhere in the world. You can also choose between three different plans based on your needs.
I've been using PIA for years now, and it's done a fantastic job of keeping my work safe and secure.
Visit the Private Internet Access site
NordVPN
Another of the leading names in VPN services is NordVPN.  Like PIA, they offer different levels of subscription options based on your requirements.
They also provide additional benefits like a malware blocker, tracking blocker, and ad blocker.
They also have features like a kill switch which stops all traffic when the VPN connection drops, and an option for a dedicated IP address which helps keep private matters private and out of sight of big tech.
Top Software Tools for For Meetings & Scheduling
When you're working remotely staying on top of your schedule is more important that ever.
It doesn't matter whether your meeting is in person at an office – something most all of us still have to do even though we're working remotely – or it's a video conference call, having a scheduling system that works for you is essential.
Find something that's simple and easy to use. Sure, sometimes all the bells and whistles make for great features but if the features get in the way of actually using the tool, then they're defeating the purpose.
Here are my recommended tools for calendars and scheduling.
Fantastical
I found Fantastical a couple years back when I was trying to round up several different calendars which had become problematic.
Fantastical not only will corral your various different calendars – personal and business – in one place, but it's super easy to create new events and apply them quickly and easily to the right place.
Google Calendar
Your schedule when you're working from home is crucial. It's vital that you not only keep a calendar, but that you can update it and easily manage it. Google Calendar is super easy to use and integrates into everything Google.
BTW – several of those calendars I was trying to manage were Google Calendars that were owned by different people, but I was still a part of. Each was awesome on its own, but Fantastical made it easy to gather them all in one place.
Calendly
All the back and forth of trying to coordinate schedules for a meeting is tedious. Calendly makes scheduling those meetings a snap by giving users the ability to create a calendar with open times that then can be used by others to book a meeting.
Simply create slots for when you're open for having a meeting or call, and your colleagues and clients can simply choose the time that works best for them and it's added right into your calendar.
Microsoft Outlook
For meetings and scheduling for a virtual team, Microsoft Outlook has long been a standard for Windows users. Outlook serves as an all-in-one personal productivity platform that will get the job done and help you efficiently coordinate with your customers and clients as well as your internal team members.
Visit Microsoft Outlook's site
Essential Video Conferencing Tools For Remote Workers
Video conferencing is here to stay.
It's become as much a part of normal everyday work life as a laptop and email.
And because you're working remotely it's especially important that you're able to communicate effectively with colleagues and clients.
Whether you're doing a one-on-one video chat or a group video call, having the right tools is key.
I've listed below the best video calling apps available today.
Zoom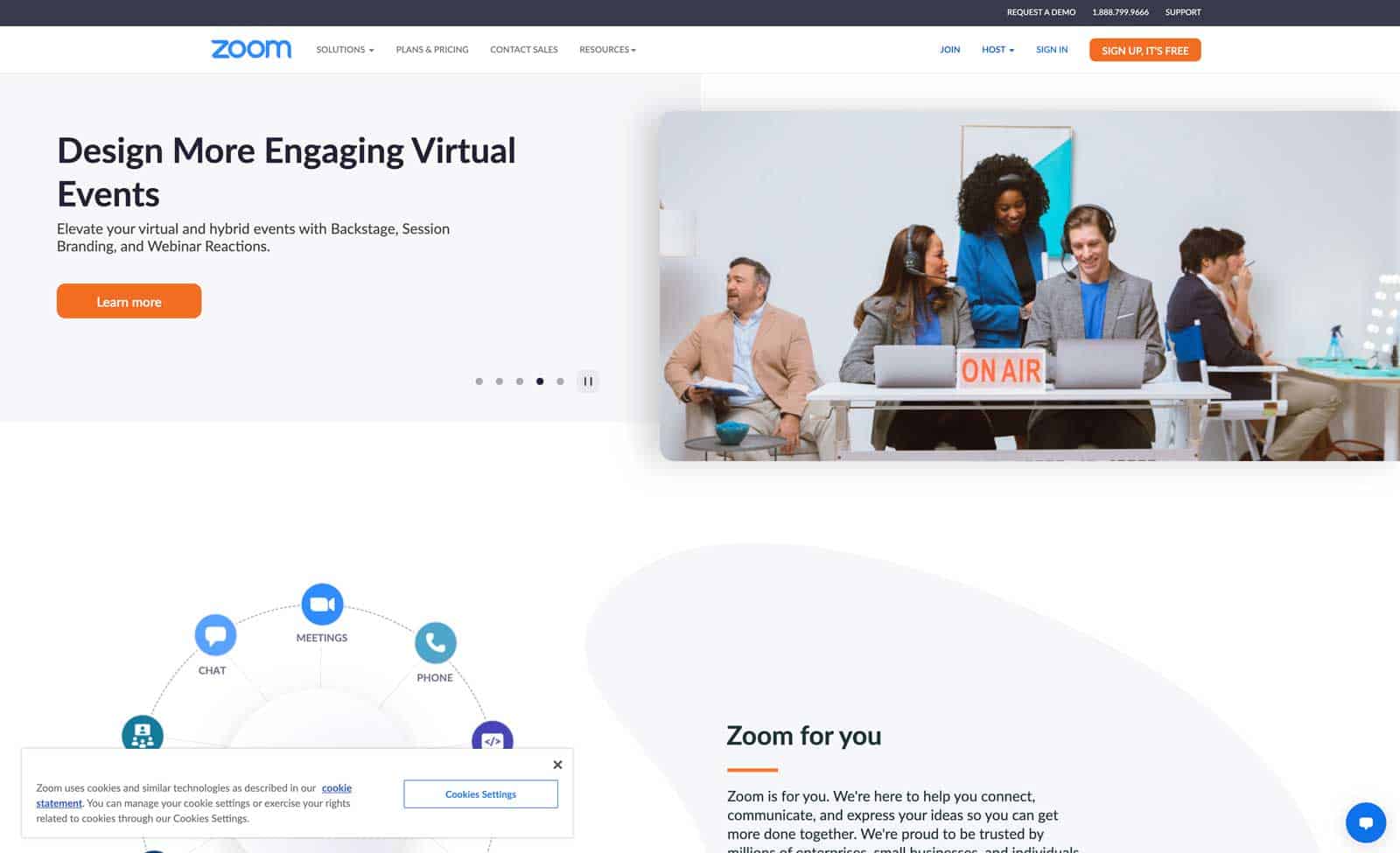 At this point, in this world where the coronavirus has forever changed the way. we do business, who hasn't heard of Zoom?
Zoom is a web conferencing platform that makes it easy for teams to collaborate online by providing free, high quality audio and video calling features.
You can host a meeting, join a meeting, create a private room, schedule a meeting, and manage attendees.
Google Meet
Google Meet is a cloud based web conference solution that's built right into Google Workspace, Google's premium office management system, and is designed to help businesses and organizations conduct online meetings, presentations, training sessions, and webinars both internally within your organization and externally with your clients and vendors.
Team Collaboration Tools For Working From Home
One of the things that you may have learned over the last couple years is that Slack is a great communications tool, but it's not great at project management.
At least that was the case for our team.
Way too many requests were coming via discussions in Slack and sometimes they'd get overlooked or lost.
So we implemented our own workflow that included project management software and made sure everything was getting captured and everything got better for our clients and for our workload.
Having the right team collaboration tool is critical when working remotely.
The ability to assign tasks, track progress, and monitor deliverables is crucial.
Here are the top team collaboration tools to help your remote team stay on track.
Trello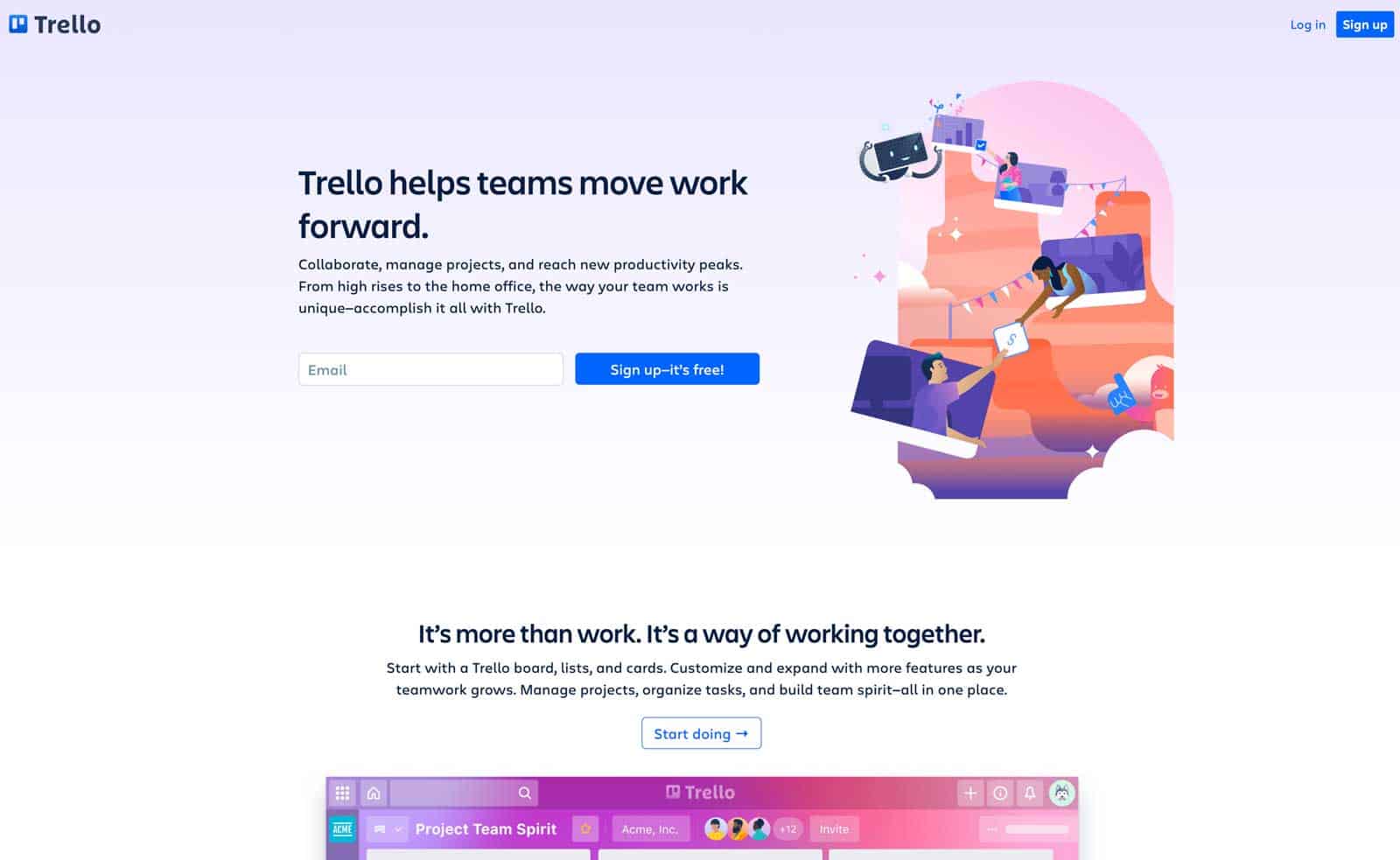 Trello is a task management app that helps you organize projects, set up boards, add lists, and attach files.
It utilizes a Kanban approach by using "cards" as individual list items that you can then move around the board.
This allows you to see what needs to be done next, what's been completed, and what's left to do.
You can also assign due dates and deadlines to each card.
As long as you're organized, Trello is a fantastic tool for managing your remote team.
Asana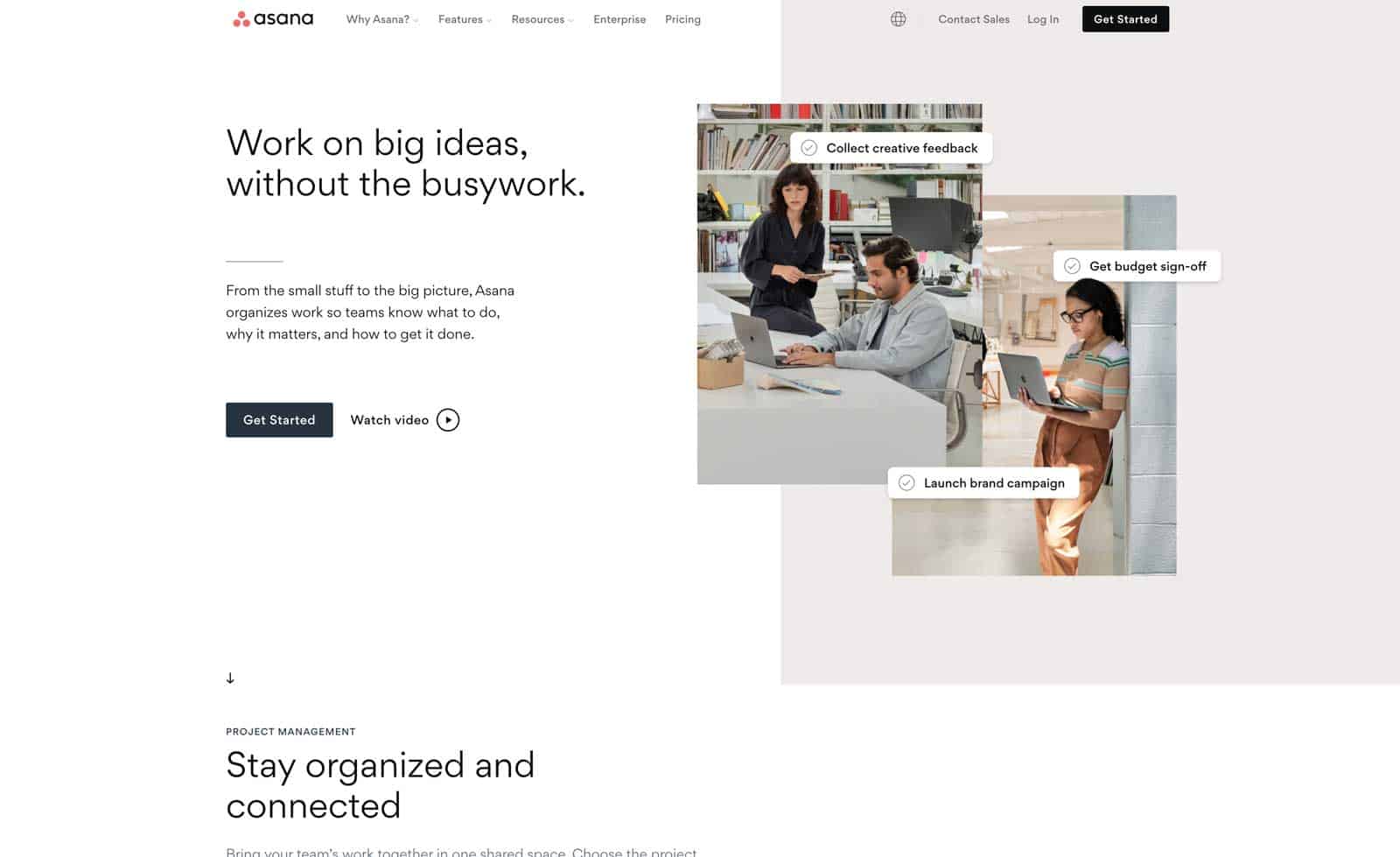 Asana is a wildly popular free project management tool that's used by businesses small and large.
It's something that you can invite your whole team to and easily create manage all kinds of projects and configure them exactly the way you want: as a traditional list, as a kanban board, as a Gantt chart and more.
Its free plan has robust features that will allow you to manage any kind of project you can think of and it's super easy to use.
Basecamp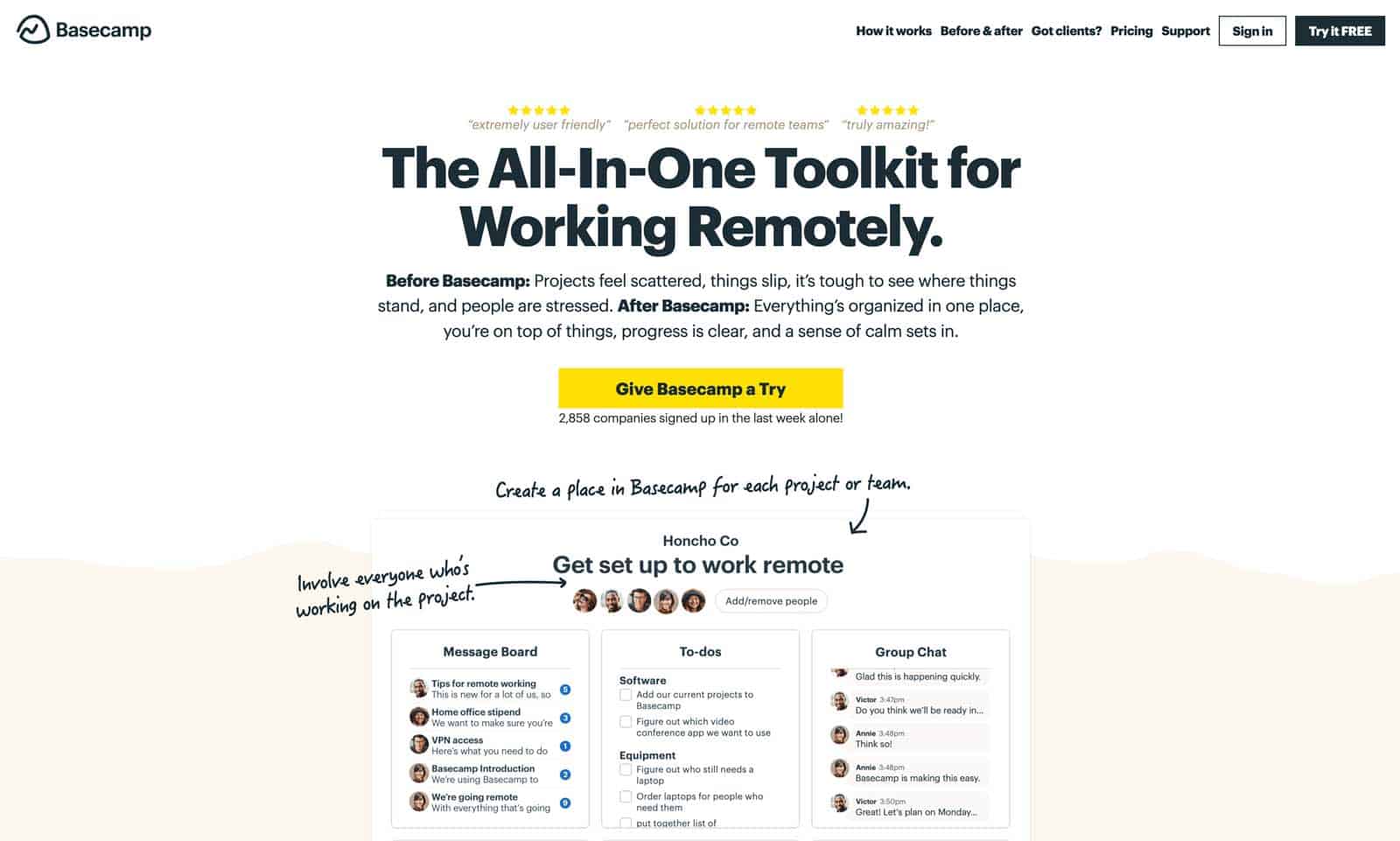 Basecamp is one of the biggest names in project management software and has been for a very long time for good reason.
Basecamp empowers you and your distributed virtual team to coordinate on projects to make sure things are getting done with features like to-do lists, group chats, doc & file attachment capabilities and a lot more.
FreshWorks
Technically, I'm talking about FreshDesk, which is their ticketing system and helpdesk tool, but they've expanded to be able to do much more than just help desk tickets.
Remember how I mentioned above that we found ourselves with loads of work appearing in Slack?
The solution I developed employed FreshDesk to keep track of all those requests.
We could see what projects were open, what had been completed, and what needed to be done next.
We use FreshDesk with both our internal team and our external clients to be able to manage all requests that contain some kind of deliverable.
Essential Automation Tools For Being Productive
Efficiency is the name of the game when you're a remote employee.
And being a highly effective and productive remote team member means knowing how and where you eliminate unnecessary steps from your daily work flow.
That's where automation tools come in.
You can use automation tools to automatically do work that's tedious and time-consuming for humans to do as well as reduce repetitive tasks that slow you down unnecessarily.
the goal is to eliminate or delegate small tasks to others so you can conserve your energy for the bigger things you can do better than anyone else.
Here are the essential automation tools that will free you up to do deep work while working from home.
Zapier
Zapier is a tool that has the ability to connect various different apps together so that they work together as one, which will help you be more efficient when working from home as a remote employee or contractor. With more than 4000 different apps that can be connected, you can create some amazing, time-saving integrations that will really help boost your efficiency and productivity while working at home.
IFTTT
IFTTT, or "If This Then That" takes the most basic input/output paradigm and helps you to create powerful automated workflows that will help you be more productive, organized and efficient.
IFTTT lets you connect different web services together through a web interface. You can set up rules for your life using these connected services.
TextExpander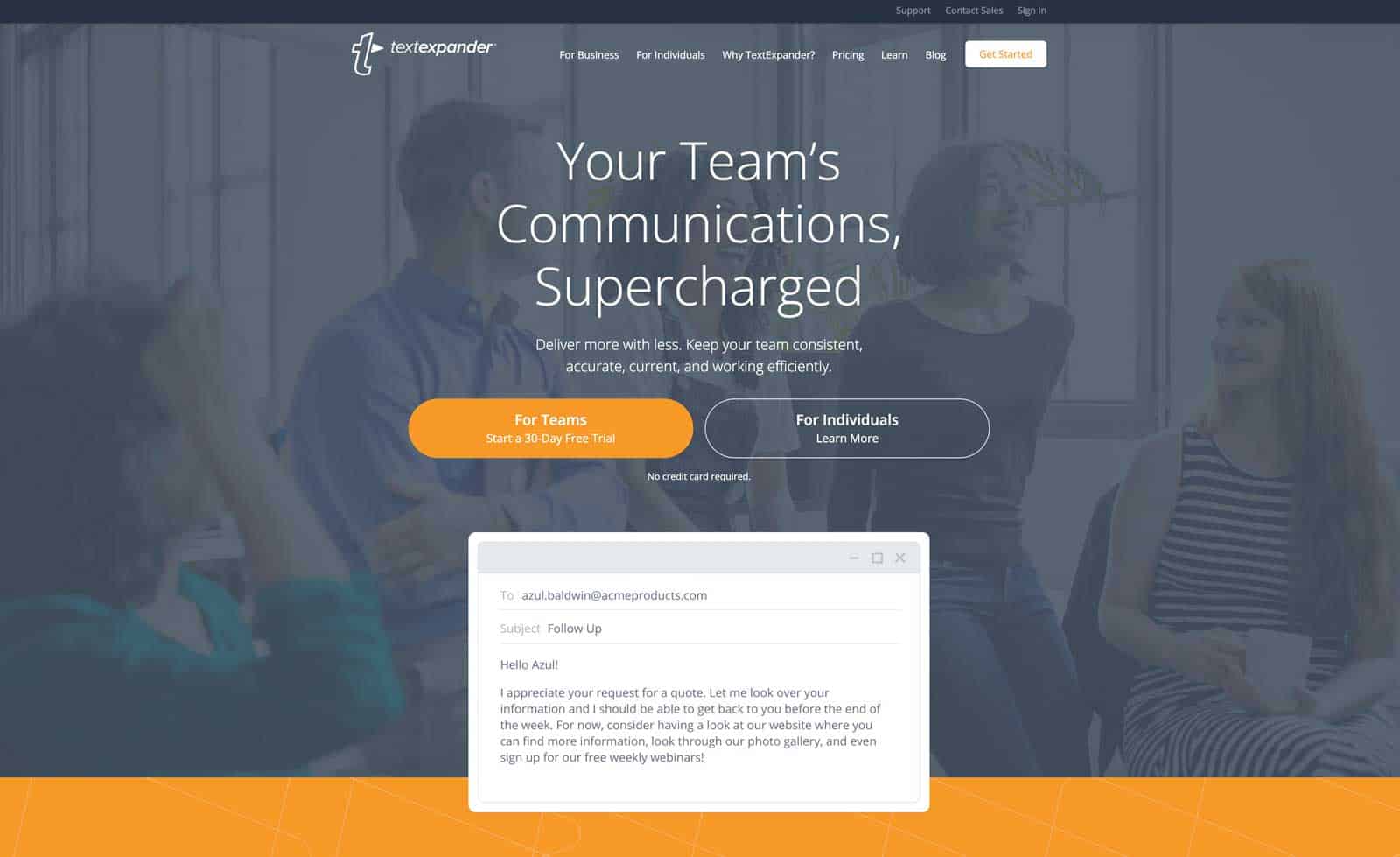 Get tired of repetitively typing out similar things over and over again? TextExpander will help you with that.
Think of it as canned responses on steroids.
TextExpander is a tool that utilizes shortcuts and abbreviations as triggers to "expand" text that will do the rest of the typing for you which cuts down time you need to spend typing longer bodies of text that you repeat often.
For Notes & Lists
For some people all they need is a whiteboard and some sticky notes to keep track of what needs to be done.
For the rest of us though, we need a little bit more.
And there are some fantastic apps that will help you keep your remote work life organized and help you coordinate with your virtual team.
Evernote
Evernote is my digital filing cabinet and journal. I use it to store and share notes and some documents I've got stored there in a journal-type of format. I can easily share notes from client calls with colleagues, meeting notes, track all kinds of personal stuff like gift ideas and book notes.
You can share individual notes or create shared folders where you put all your shareable stuff.
Without Evernote, I'd be a huge disorganized mess.
Notion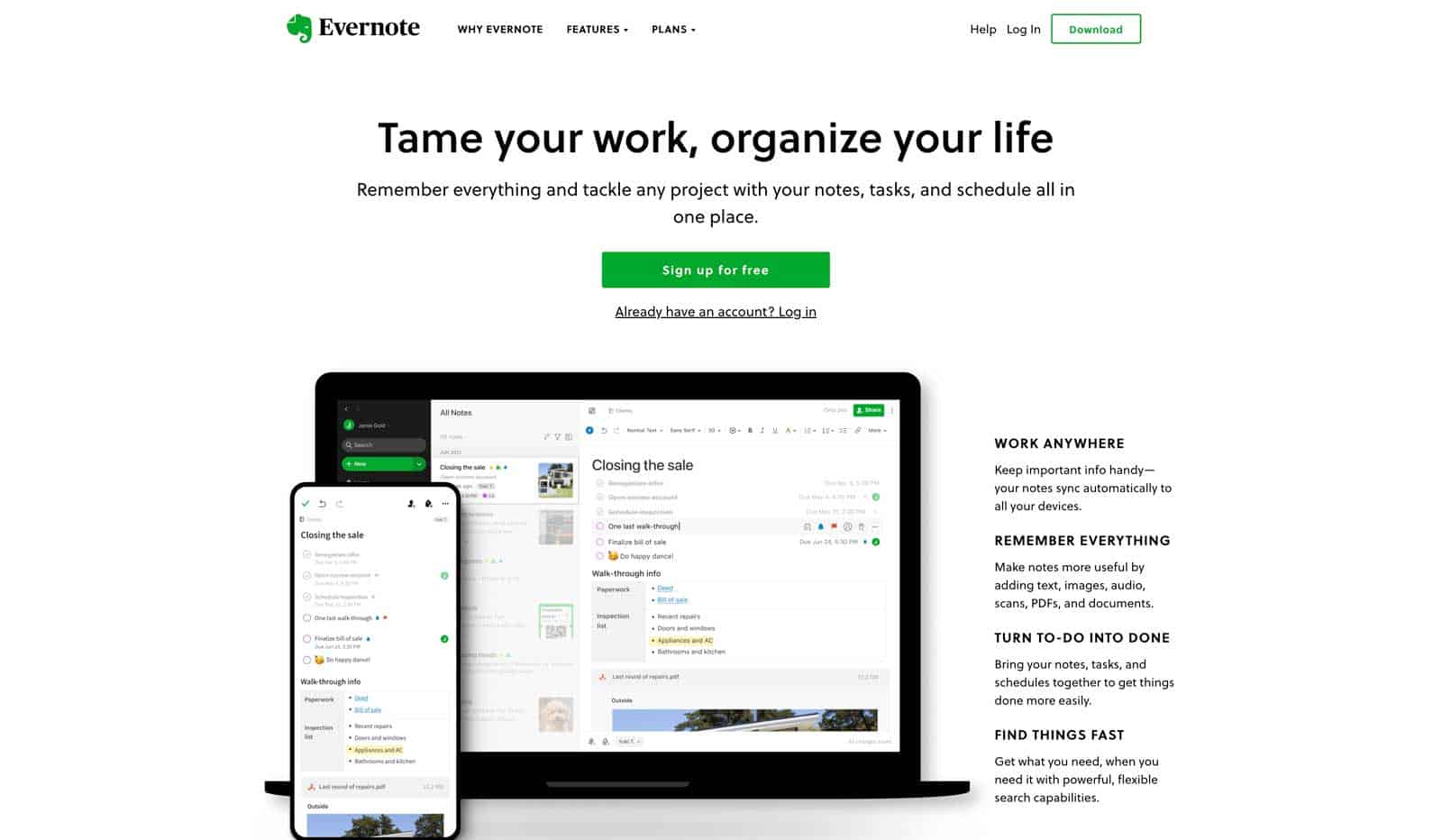 Similar in some ways to Evernote, Notion is also an incredibly robust note taking and virtual collaboration app. You can use it as a project management tool, a note-taking tool, a knowledge base for customer service, an intranet for your business, and just about anything else you can think of.
Todoist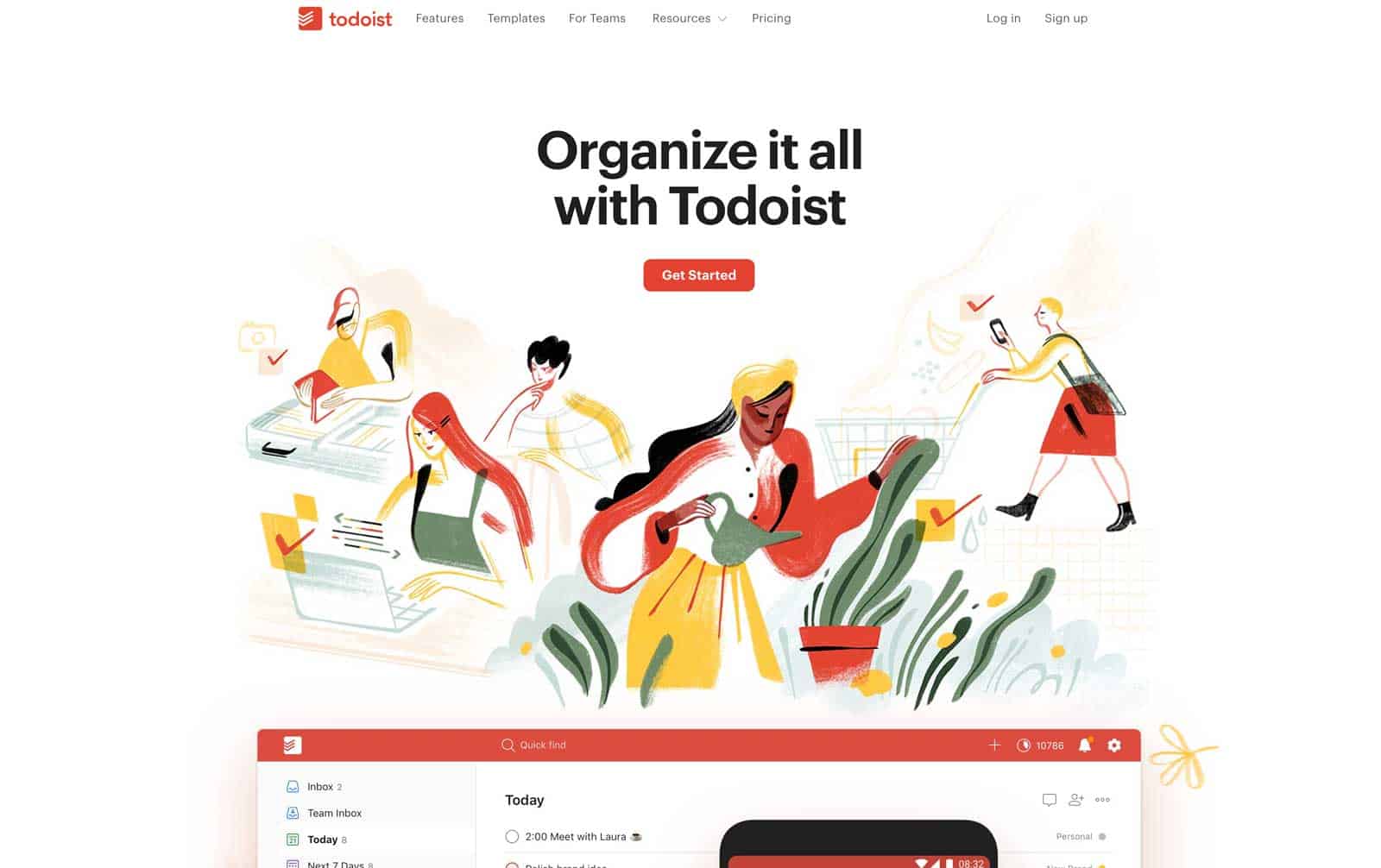 This one is probably my personal favorite out of all the remote working software packages we're talking about here.
Todoist is the single best to-do list management tool I've come across. In a very similar way to Fantastical (with which you can easily integrate btw) it's incredibly easy to use.
It's a fantastic and inexpensive way to build your own project management tool and assign tasks, attach documents so much more.
It's got apps for use right within Gmail where you can quickly and easily create todo items from emails you receive, it's got browser integration so you can create new tasks on the fly as inspiration hits, and the desktop app is simple, yet elegant. It's all the things I wanted Wunderlist (a now defunct app) to become.
Workflowy
This is one of those apps that works the way your brain works which makes it an essential tool. At its most basic form, it's an outlining tool, but it's a great, intuitive simple way to stay organized and create lists and notes.
I use it all the time for brainstorming and creating outlines of things I'm working on.
You can share your list items with your team too, so it's great for capturing ideas from those virtual brainstorming meetings we all have.
Microsoft To Do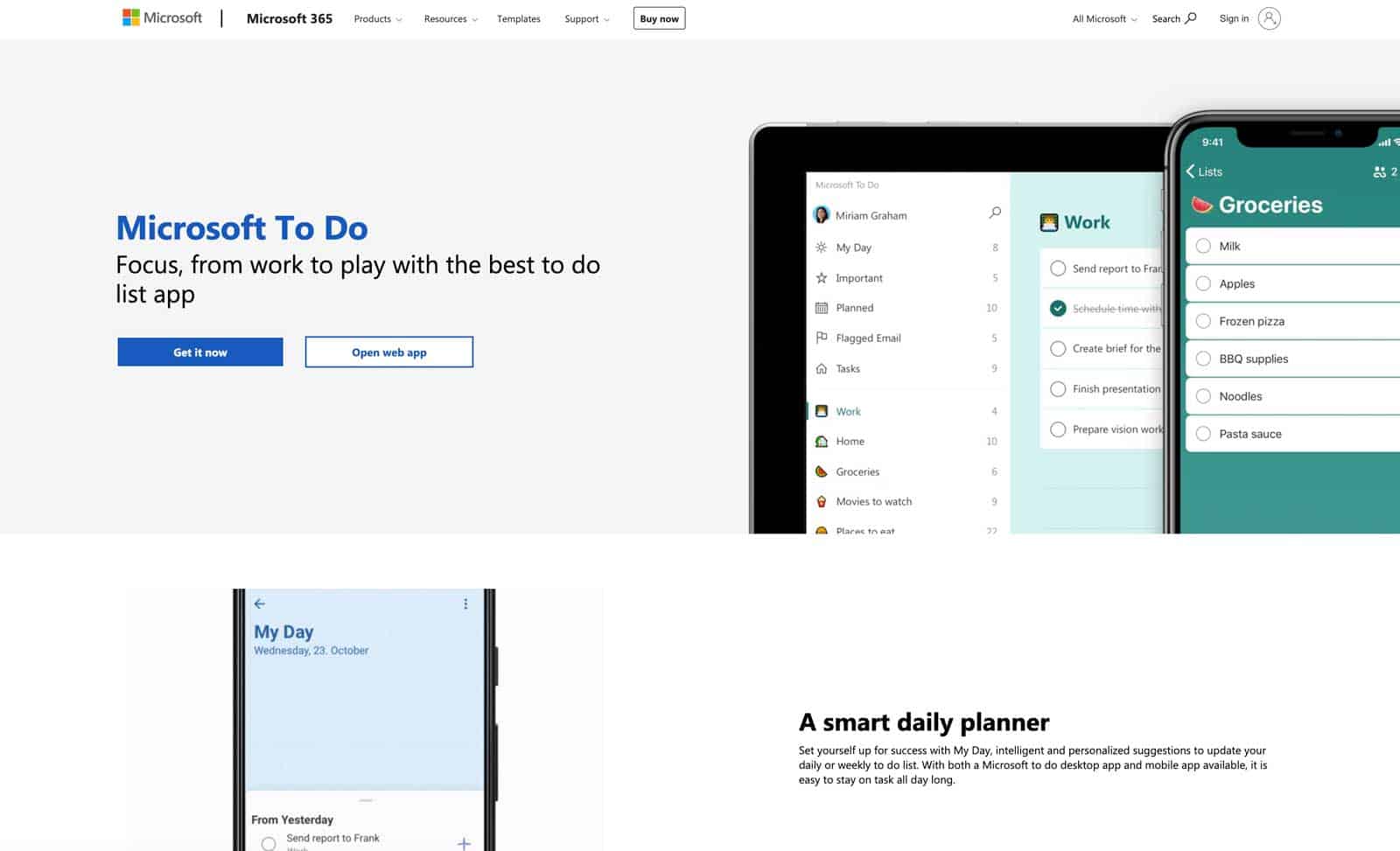 For those who love Microsoft tools you'll love To Do. To Do actually got its start as another app called Wunderlist, which I mentioned above, which was an app that was absolutely amazing. Elegantly designed and easy to use, it was something I used daily – until I ran into some small limitations and I found Todoist which fit my workflow better.
Still, now that Wunderlist has been acquired by Microsoft, they've put a lot of time and effort into making this an integral part of their Office 365 ecosystem and it still retains all the great things about Wunderlist that I loved so much and is a fantastic option for your todo lists.
For Remote Access and Support
When you're part of a remote team sometimes it's easier just to be able to take over the discussion and be the "driver" on the computer to help explain complex concepts in meetings.
Other times, it could be that your company-issued computer is having problems and you need tech support.
But when you're working from home, you don't have the luxury of picking up your computer and taking it to IT support.
That's where remote access tools come in handy.
TeamViewer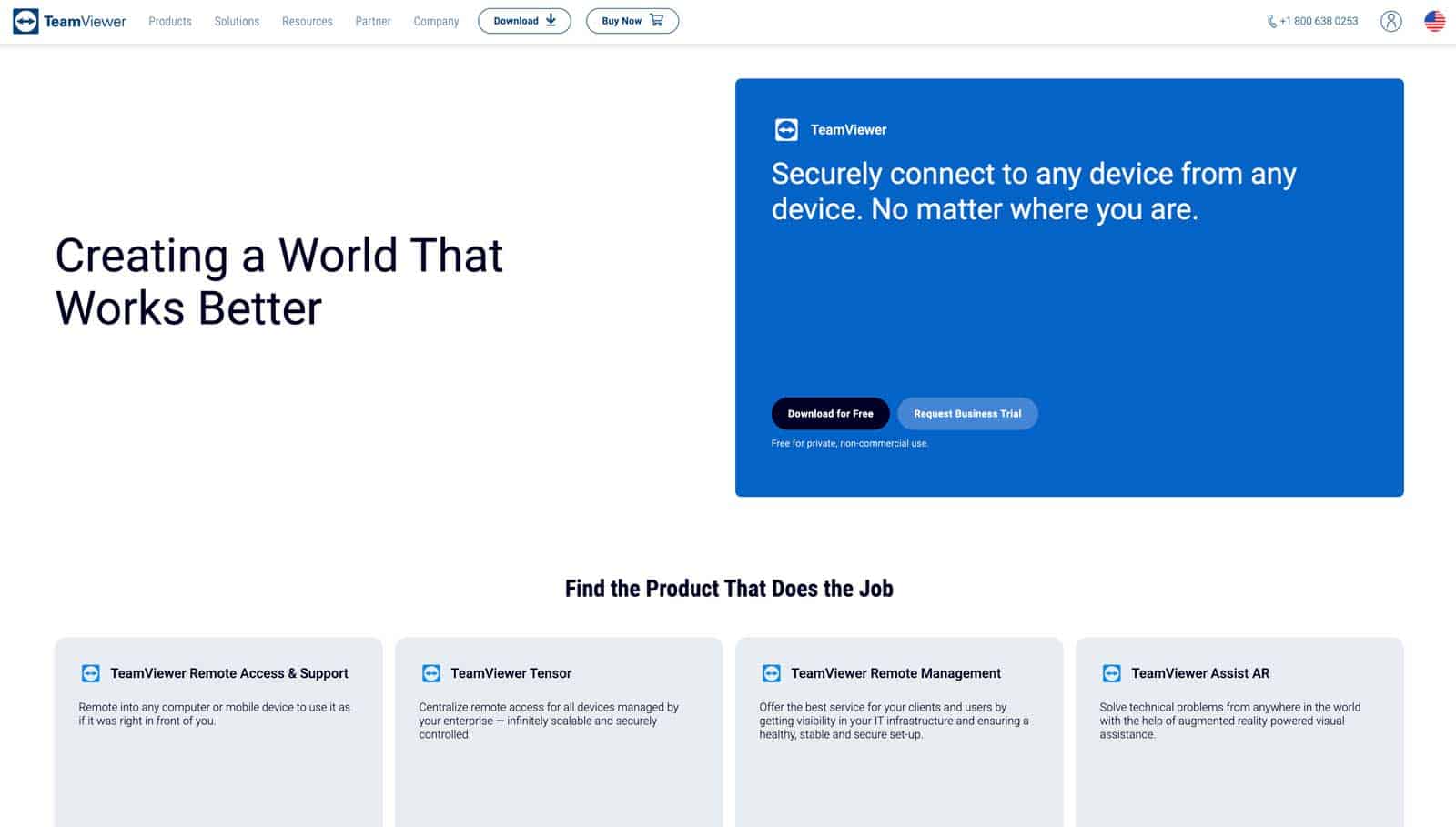 Allowing remote access to your computer, or remotely accessing someone else's computer can immediately set off a host security concerns and alarms.
TeamViewer handles all of those kinds of scenarios with speed and security. With TeamViewer you can access any of your connected devices from anywhere, securely and that will make your security team very happy.
You can work on customer's computers remotely, you can be the one driving the presentation from another computer, or even make that support call and have your IT support team remotely access your computer to address the issue you're having.
Time Tracking & Team Management
Time tracking tools show your team and your bosses what you're working on and how much time you're spending working for different clients on different projects.
And this can be a crucial part of keeping track of hours worked and billable hours which is especially important when your entire team is distributed and working remotely.
Harvest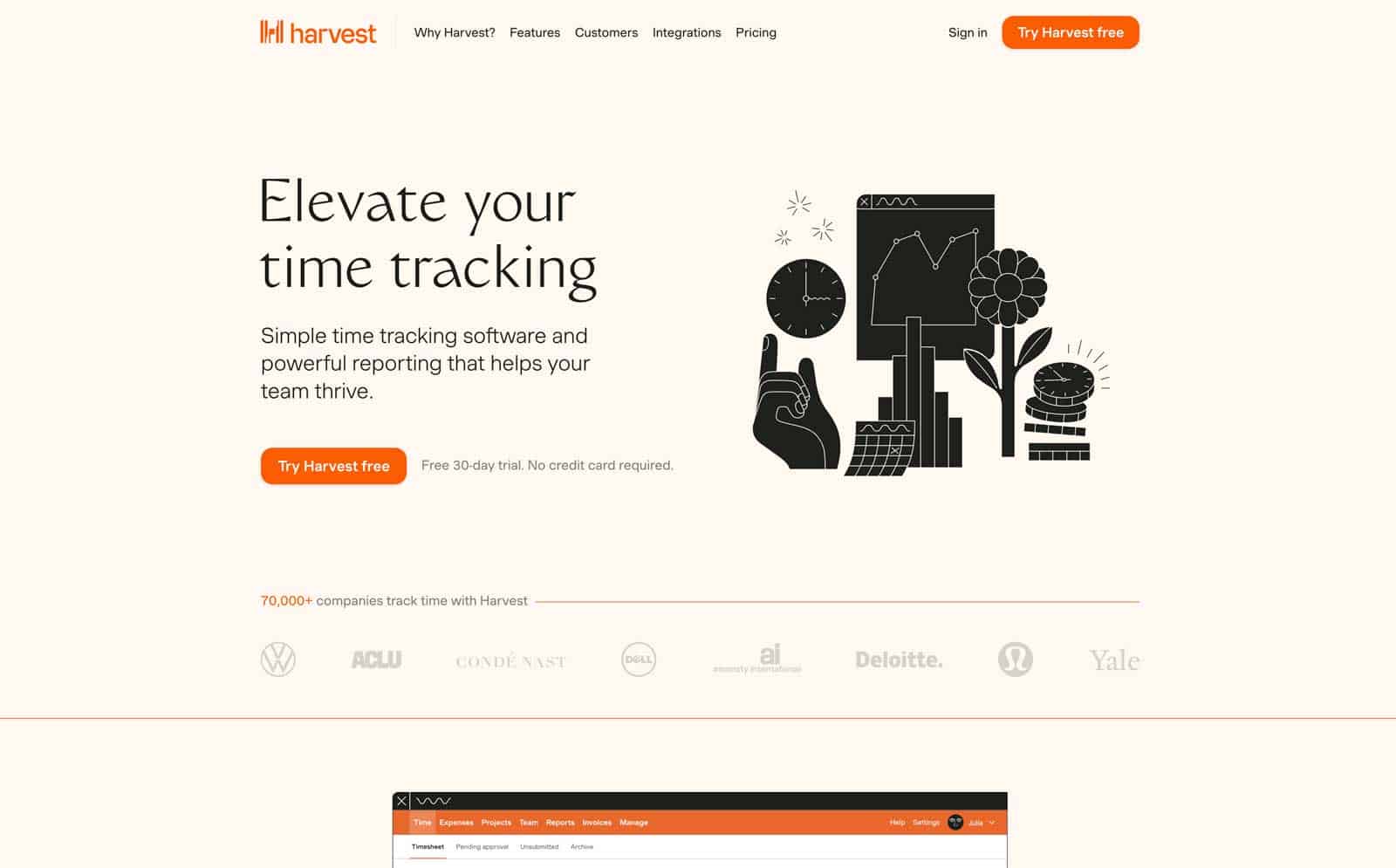 Let's face it – tracking your time isn't fun. It can be distracting having to stop what you're doing and shift your focus, even for a moment, so you can start and/or stop a timer.
But Harvest makes this as easy as it can be. Harvest makes it easy to track your time and your billable projects and expenses, which makes your life – and the life of your bookkeeper – much easier.
Clockify
This is an app we just recently started using and I see why we made the switch from Harvest (not to mention it's much cheaper than Harvest!).
Clockify is a robust time management app with numerous features that will rival any of the more expensive options that are available.
Top E-Signature Software For Working From Home
Getting binding, electronic signatures on critically important agreements is a must in the 21st century.
The amount of money spent on sending a single overnight contract can go a long way when it comes to paying for an e-signing system.
E-signatures are digital signatures used to sign documents electronically.
And when you're working remotely this tool can be a life-saver because you can create legally binding documents with ease.
When you send someone an electronic document, you. have the ability to verify the recipient's identity using a password to insure you've got the right person signing off on the document.
You don't even have to print anything; it can all be done electronically with e-signature software.
DocuSign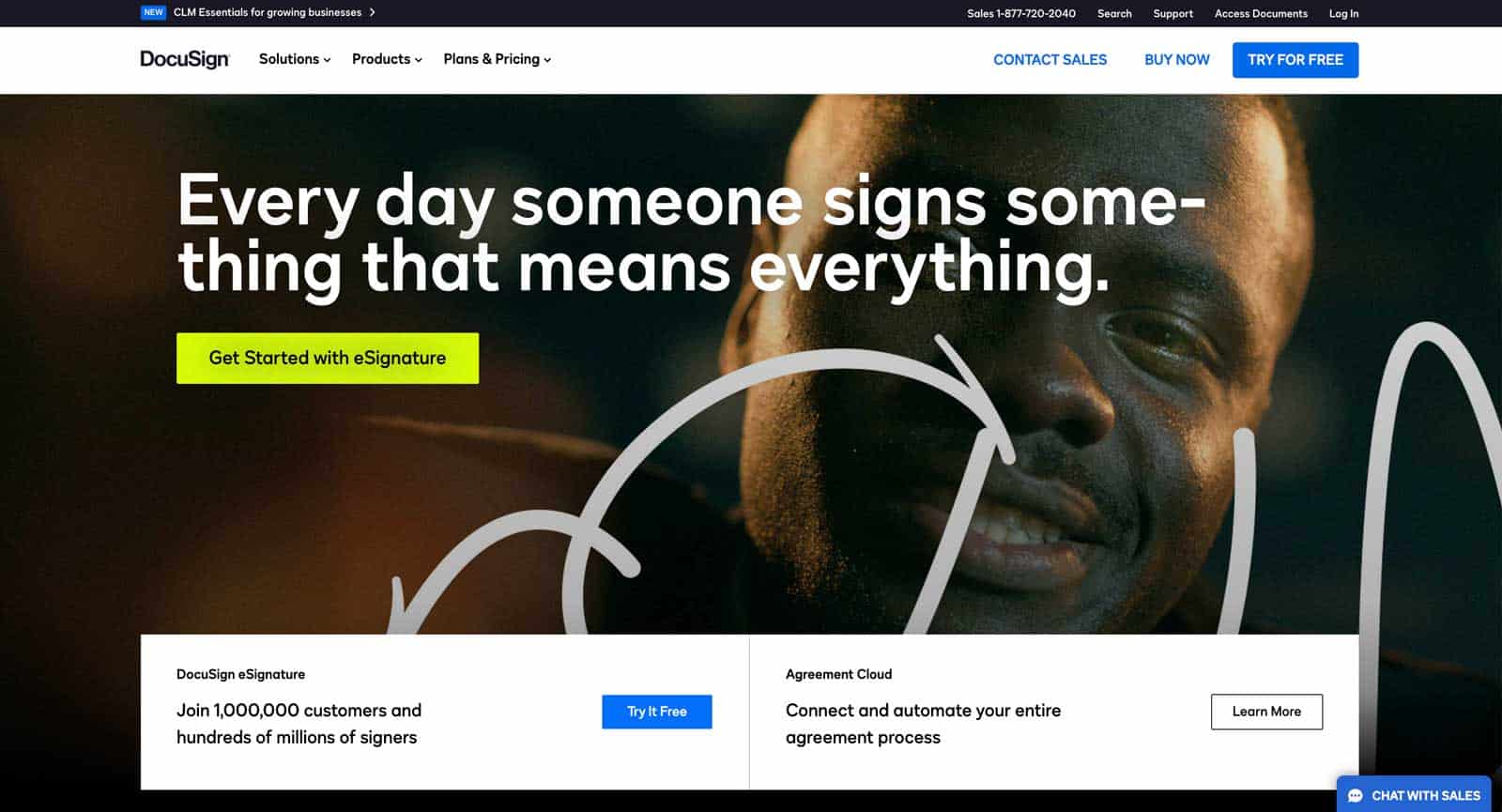 One of the industry leaders for e-signature software is DocuSign.
Docusign has a wealth of features that allow you to easily create, manage, track, and sign legal documents online.
It's easy to set up and use, and it comes with a free trial so you can see what it can do before you buy.
DocuSign offers a variety of features like online storage, contract management and a wealth of. ready-to-use templates for you to choose from.
AdobeSign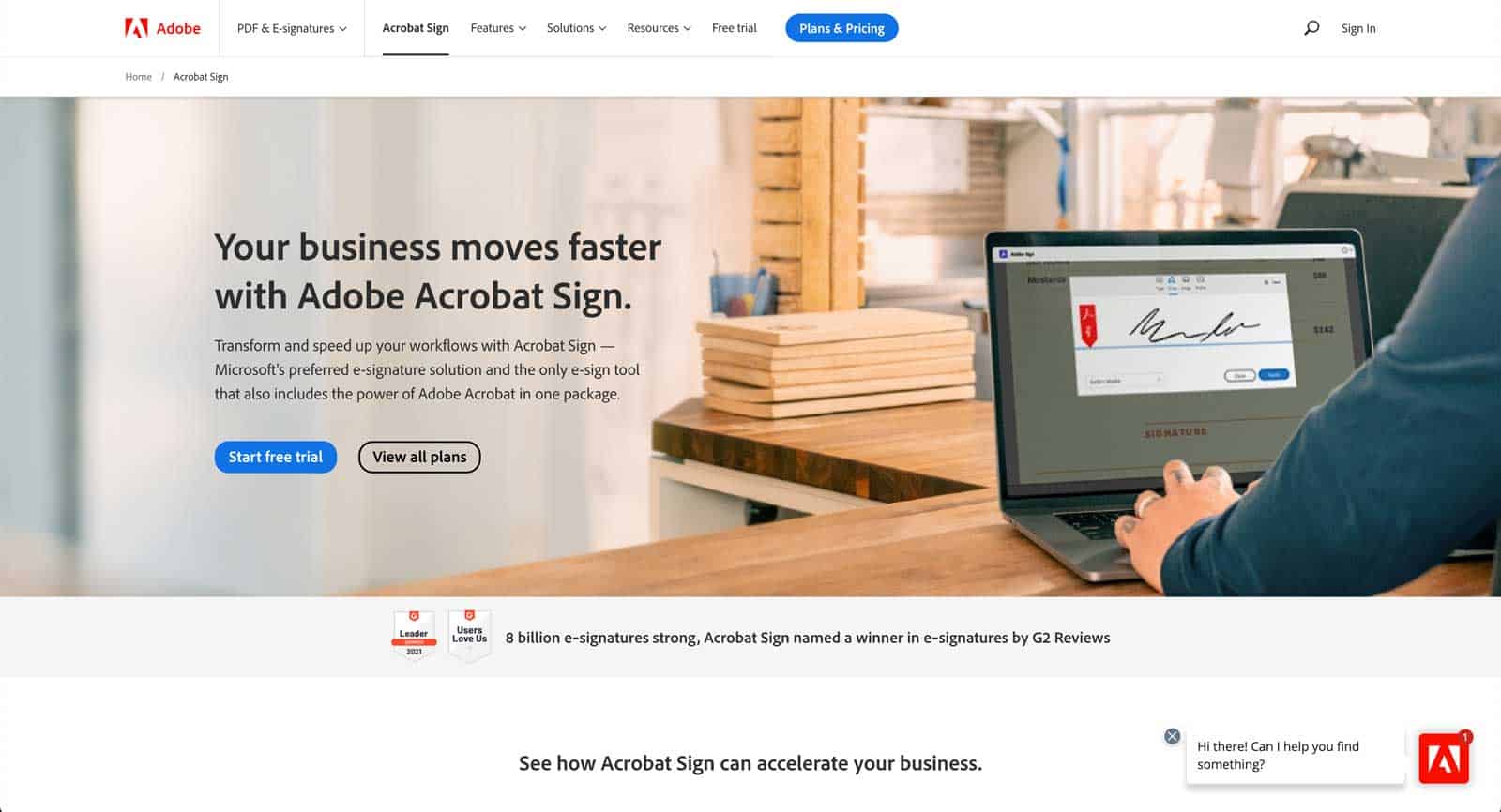 Adobe is well known for the design software, and they've also got a fantastic e-sign platform too.
Like a PDF document on steroids, AdobeSign is a powerful and robust tool that allows you to create, edit, review, approve and sign contracts, agreements, letters, invoices, and more.
AdobeSign provides a wide range of tools including a signature pad, customizable forms, and advanced editing capabilities.
HelloSign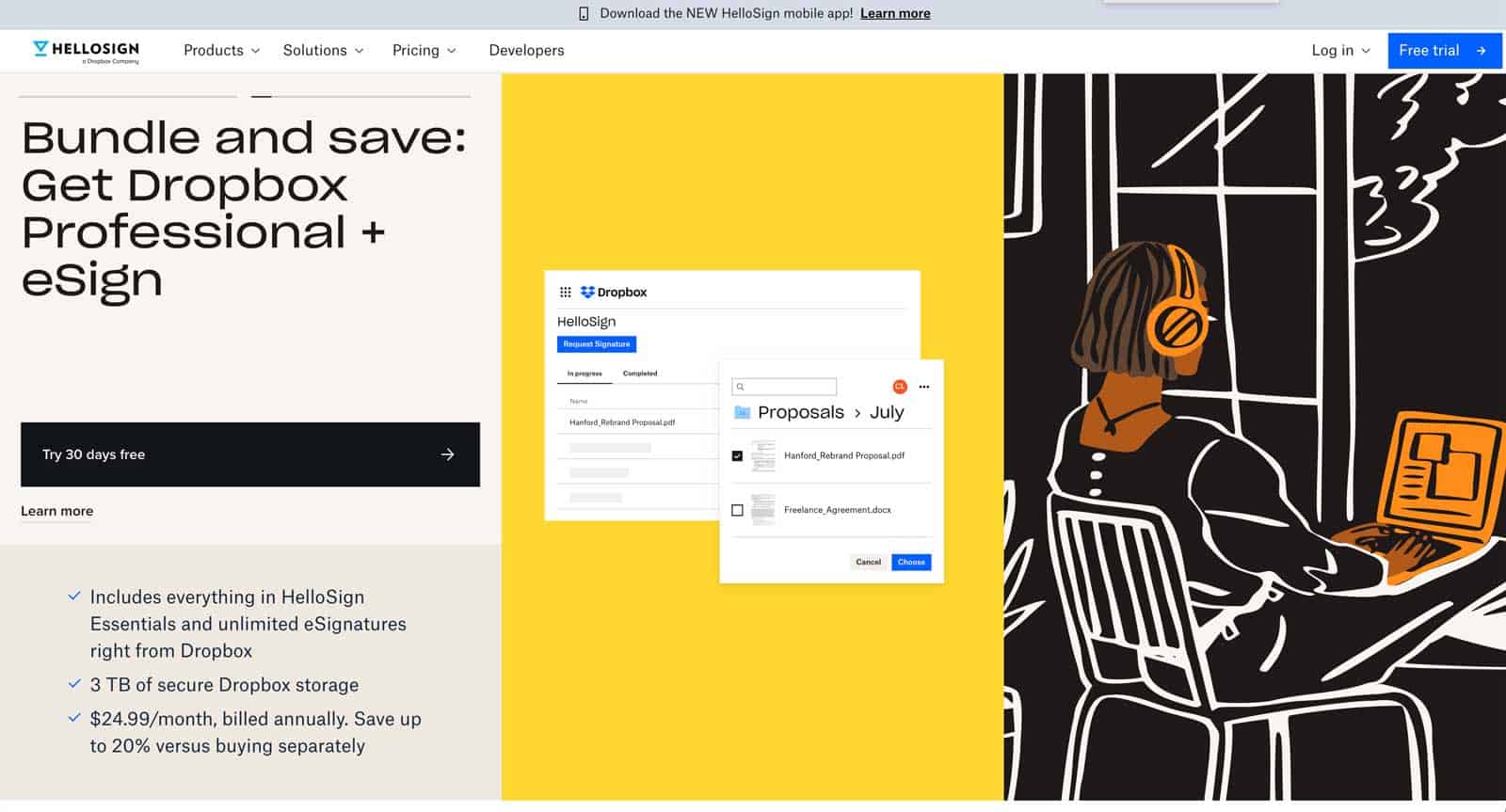 If you're looking for something simple but effective, HelloSign might be just what you want.
HelloSign is one of the top ranked e-sign platforms for easy of use and affordability.
This is a great option if you're new to e-signatures and don't want to get involved with a big complicated system.
Powerful Work From Home Tools Will Make Your Remote Work Life Easy
These tools will allow you to work from anywhere, anytime, and still and still be at least as productive (if not moreso!) and professional as you ever were at the office.
They also provide you with the flexibility to choose when and where you work, which means you have more control over where you're getting things done. And since most of these tools are free, there's nothing stopping you from trying them out right now!
Next Steps
Want to connect with other remote workers, contractors, freelancers, gamers and people who work from home who are creating the most amazing home offices and get more tips, tricks and hacks on how to make your home office or gaming room setup the best it can be?
Join my brand new free private Facebook group, Home Office Hacks to connect with other home office hackers to make your space the best!