Adjusting to a new life working from home might take you by surprise.
Whether you're working from home now due to the coronavirus pandemic, you're an entrepreneur or freelancer, or just someone who has set up shop to work from home, working from home presents some unique challenges.
There are numerous reasons why working from home is great. It gives you flexibility, can save you money, and provides perks that aren't available in a traditional office setting, like spending your whole day with your pets by your side.
However, there are also several challenges associated with being a remote worker.
I've worked from home years now, and I've learned a lot along the way. I hope these tips will help you become a successful remote worker.
In this article I will walk you through my top tips tricks and tools to achieve the highest performance, produce the best results, all while maintaining your sanity and personal life the whole time while working from home – whether you're brand new to the concept or a seasoned veteran.
Real quick, before we get too far into it here, if you want to get more great ideas for your gaming room or home office and want to connect with other home office hackers to make your space the best join my free private Facebook group, Home Office Hacks here.
Software & Apps – Which Ones Do You Need?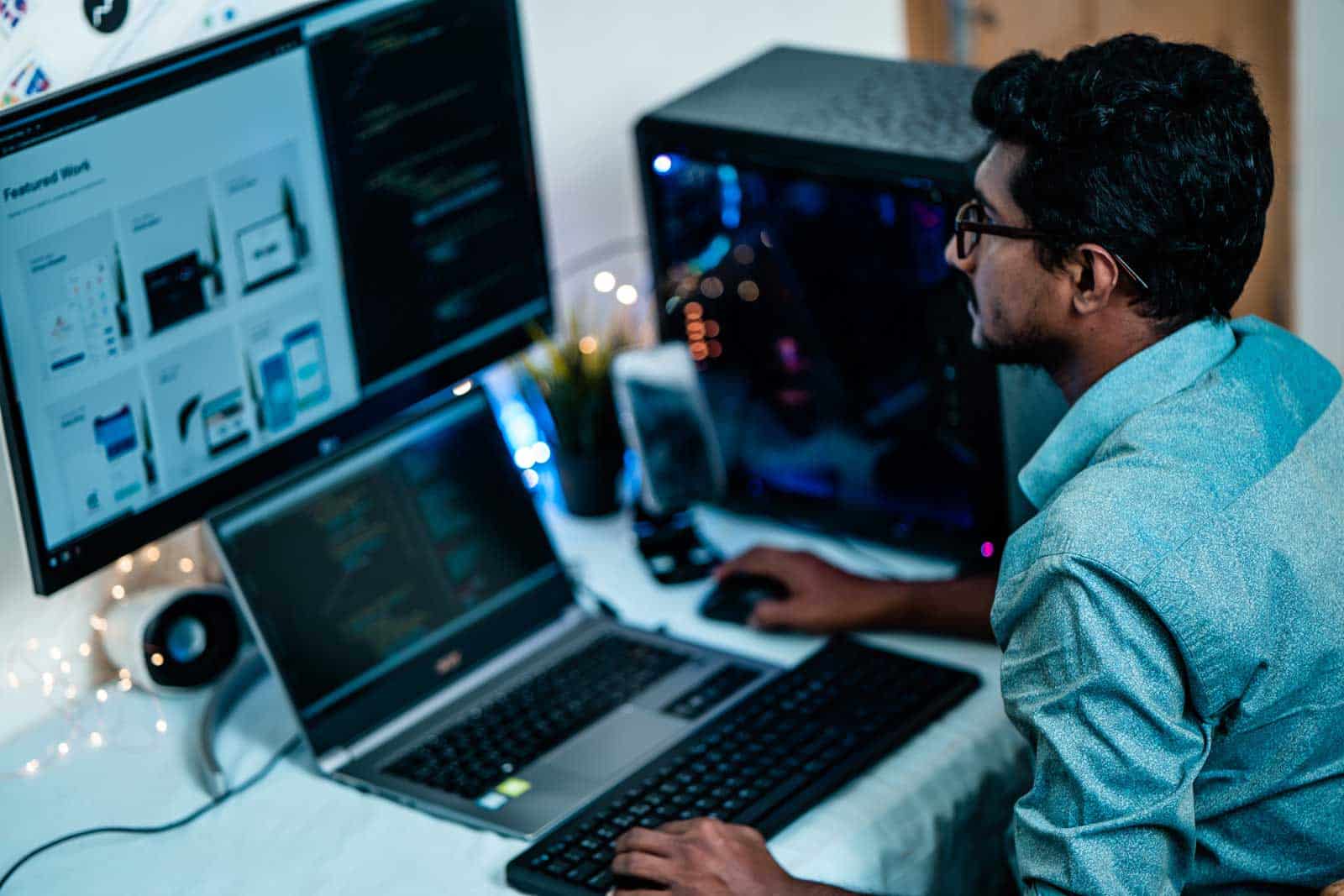 Getting the right software and apps on your laptop computer is essential to being successful in your remote work.
Today, there are more choices than ever and getting the right stuff can end up being a huge time suck where you get bogged down testing one app or another to see which ones you like best.
Here are 4 things you need to look for in software and apps to make working from home a success.
Easy to use
There are a lot of great software tools out there, but they take a ton of work to figure out how to use them. Ever heard of "ConfusionSoft"? That's a not-so-affectionate knickname given to an email marketing platform that's got a reputation for being very difficult to learn how to use effectively. And even the ones have an onboarding training session can still be difficult to get the hang of.
So whatever it is that you choose, make sure that it's easy to use in your situation.
Speeds things up
Nothing is worse than using an app or a software package that takes even more time that it's supposed to save, just to use it.
The apps that you choose should help you move faster, not slower.
One thing that really helps me is having a good task management system. Things like Trello, Asana, Basecamp, etc., allow me to keep track of tasks, projects, and deadlines.
They give me a place to store everything so I don't lose anything important.
They also let me assign different people to each project, making it easier to delegate responsibilities and keeping everyone accountable.
Adapts to your workflow
You'll want something that works well with your workflow, too. If you're used to doing things a certain way then you'll want to find a solution that makes sense for you.
If you're an email junkie, maybe you'd prefer to use Slack instead of Gmail. Or maybe you're used to using Microsoft Office but would love to switch over to Google Docs.
Whatever it is, make sure that it fits into your workflow and doesn't force you to change your habits.
Reduces your workload – doesn't increase it
When you're working remotely, you'll often have to deal with multiple projects at once. This means you'll probably have a bunch of files open at any given moment.
It's very easy to lose track of what you were working on last week, what you had planned to do next month, who you sent those emails to — you name it.
It's very hard to stay organized when you're constantly switching between projects and trying to juggle multiple tasks at once.
Still curious? I've got you covered. Click here to learn more about what software you need to work from home.
Tools & Equipment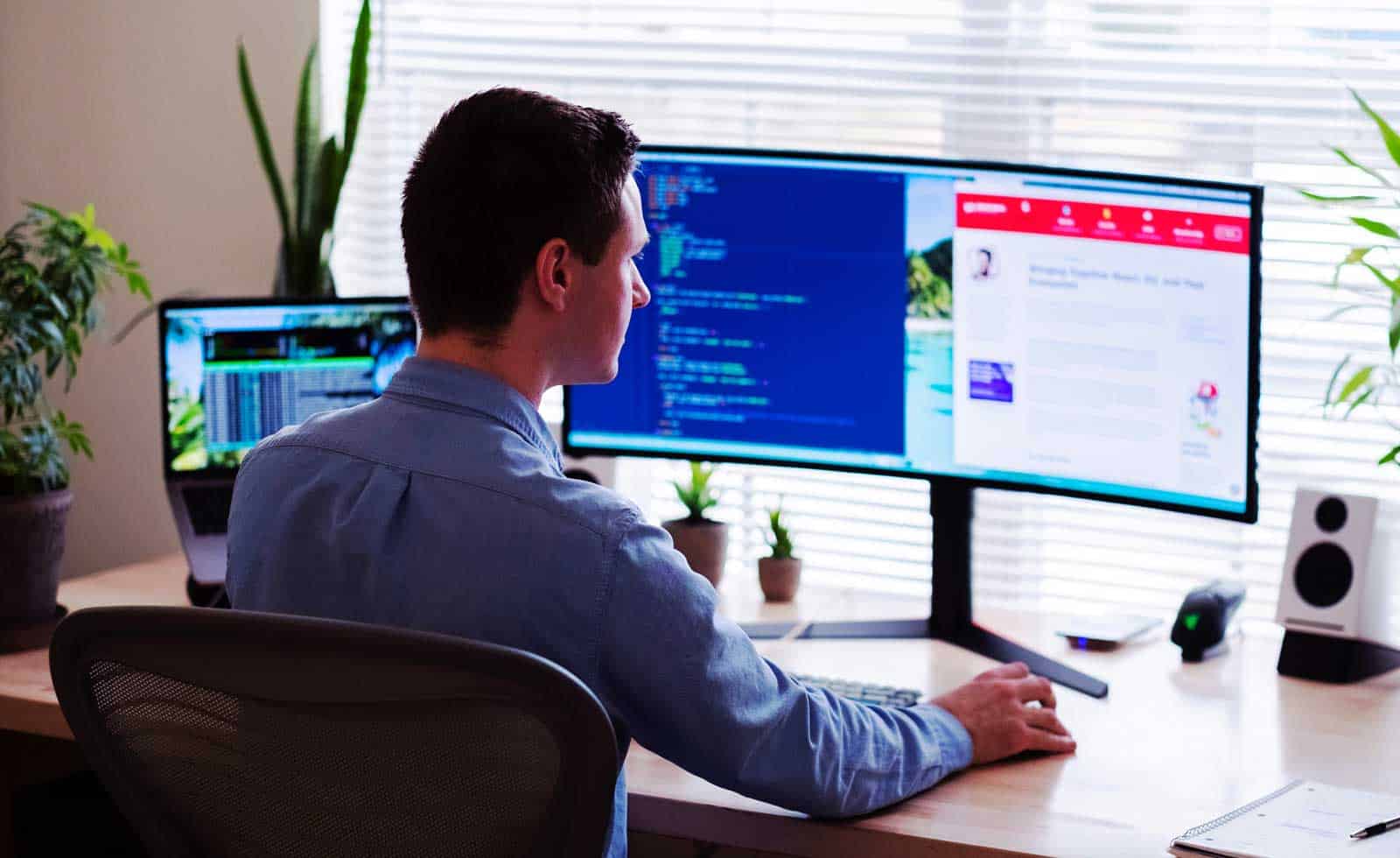 There's no denying that working from is great. But when you work from home you don't get all the great stuff you get at a traditional office.
When you're at the office you have all the stuff you need to do your job provided for you – your desk, your chair, your internet service — all of it.
When you're working from home though, although many employers will give you an allowance to get your work from home office set up, there are likely some things you're still going to need to get.
Here are 3 essentials tools & resources you need to work from home.
Quality high-speed internet service
First and foremost, you need a fast, high-quality internet service that is stable and reliable.
In some situations, this can actually be challenging because, depending on where you live, this isn't always possible at home, especially if you live in an apartment complex or condo where you share a common network connection with other tenants.
But if it's an option you should definitely consider getting a dedicated internet service for your work.
The best laptop you can afford
Your laptop will be the foundational cornerstone around which your entire work from home life is built.
Whether you're working alone or collaborating with others, your laptop will serve as your primary work tool (aside from your phone) and it will be the device that gets you through every aspect of your daily routine.
This usually means choosing a laptop with a minimum of 8GB RAM and a quad core processor. The ones I get for our team have a minimum of 16GB of RAM.
You also want to look for one that has plenty of storage space so you won't run out of storage space locally as you try to keep all your documents, photos and videos backed up.
Good headphones or earbuds
When you're working from home instead of heading to the conference room for a meeting, most (if not virtually all) of your communication is going to be done on a video call or an audio conference call.
You're also going to spend a lot of time listening to music, podcasts, audiobooks and more during those times when you're not on a call. Speakers can be disruptive if others, like roommates, or kids are in your home, so you need to choose good quality headphones or earbuds.
There are 3 different levels – the basics, the essentials and the hese 3 things are just the  pro level stuff. These 3 things cover the bare minimum you'll need to be able to work.
You can get the full report on the tools & equipment you need to work from home here.
What To Do When You're Working From Home
There are so many perks when it comes to working from home.
If you've ever worked remotely before, then you know how much easier it can be to focus when you're working from home without all the distractions that come from being in a traditional office environment.
But working from home is not without its own unique set of challenges too.
However, even if you're a seasoned remote working vet, there are still certain things you can do to make sure you stay productive and focused when you're working from your home office.
Here are g tips to help you work better from home.
Create a killer home office work space
A lot of people find one of the most interesting things about working from home is setting up their work from home office and designing out what kinds of furniture and gear they'll need.
Set some ground rules for others in your home
I'm not a fan of the word "rules," but I am a fan of setting boundaries and guidelines for how people should behave within my space.
If you have roommates, other family or kids in your home where you're working it's important to help them understand that the work you're doing while you're working at home is no different than the work that you would be doing at the office so it should be accorded the same respect.
Build in healthy habits and routines
This means that you need to make sure that you're getting up and moving around.
The last thing you want to do is create a situation where you feel like you're constantly fighting against yourself to stay productive because you're aching.
If you have trouble getting started in the morning, look at your sleep habits (which is just as vital to taking care of yourself as eating healthy and exercising) and see if adjustments need to be made.
Dress however you want
This is one of my favorites – being able to dress up or dress down. It doesn't matter if you're wearing jeans and a t-shirt or a suit and tie.
It's really your choice.
Make sure you're comfortable with whatever you wear.
Socialize
I can't tell you how vital it is to stay connected. We are relational beings and while working from home is great in so many ways, it can also tend to make us feel isolated and alone, and that's never good.
Instead, try to connect with friends and family via phone, video chat, text message, email or social media.
Get out of the house
The best part about remote work is that  — it's remote. Which means that you can do it just about anywhere.
That means you can work from Starbucks or you can work from a coworking space.
You can work from your living room or you can work from a picnic table in a park.
Wherever you decide to go, make sure you have access to power outlets and Wi-Fi.
Ready to learn more? Check out this article on how to be productive, effective and happy when you're working from home.
Next Steps
Want to connect with other remote workers, contractors, freelancers, gamers and people who work from home who are creating the most amazing home offices and get more tips, tricks and hacks on how to make your home office or gaming room setup the best it can be?
Join my brand new free private Facebook group, Home Office Hacks to connect with other home office hackers to make your space the best!