Have you ever thought about whether working from home as a teenager is possible? The truth is, working from home as a teenager can help you achieve independence and become more motivated to pursue your dreams.
However, working from home as a teenager is not easy. That's how many parents think of it. It can also be a headache for some young entrepreneurs. But hard work pays off, and here you'll find some valuable tips and tricks to get you started on this voyage towards financial freedom and success.
Everything we're talking about here comes with a couple caveats:
Parental consent: Whatever the work is, it should be done with the full knowledge of parents or legal guardians to help guide them in handling their responsibilities.
Real money: These are real jobs where you're making real money. No weird spammy stuff. 
Done during free time: Teens have responsibilities and your academics cannot suffer. You have to have enough time available to do this kind of work.
These are good jobs and opportunities for young people that will not only earn money, but give you great real world, real life experience.
Real quick: before we get too far along here, if you want to get some great ideas for your home office and connect with other home office hackers to make your space the best join my free private Facebook group, Home Office Hacks here.
Why Should A Teen Work From Home?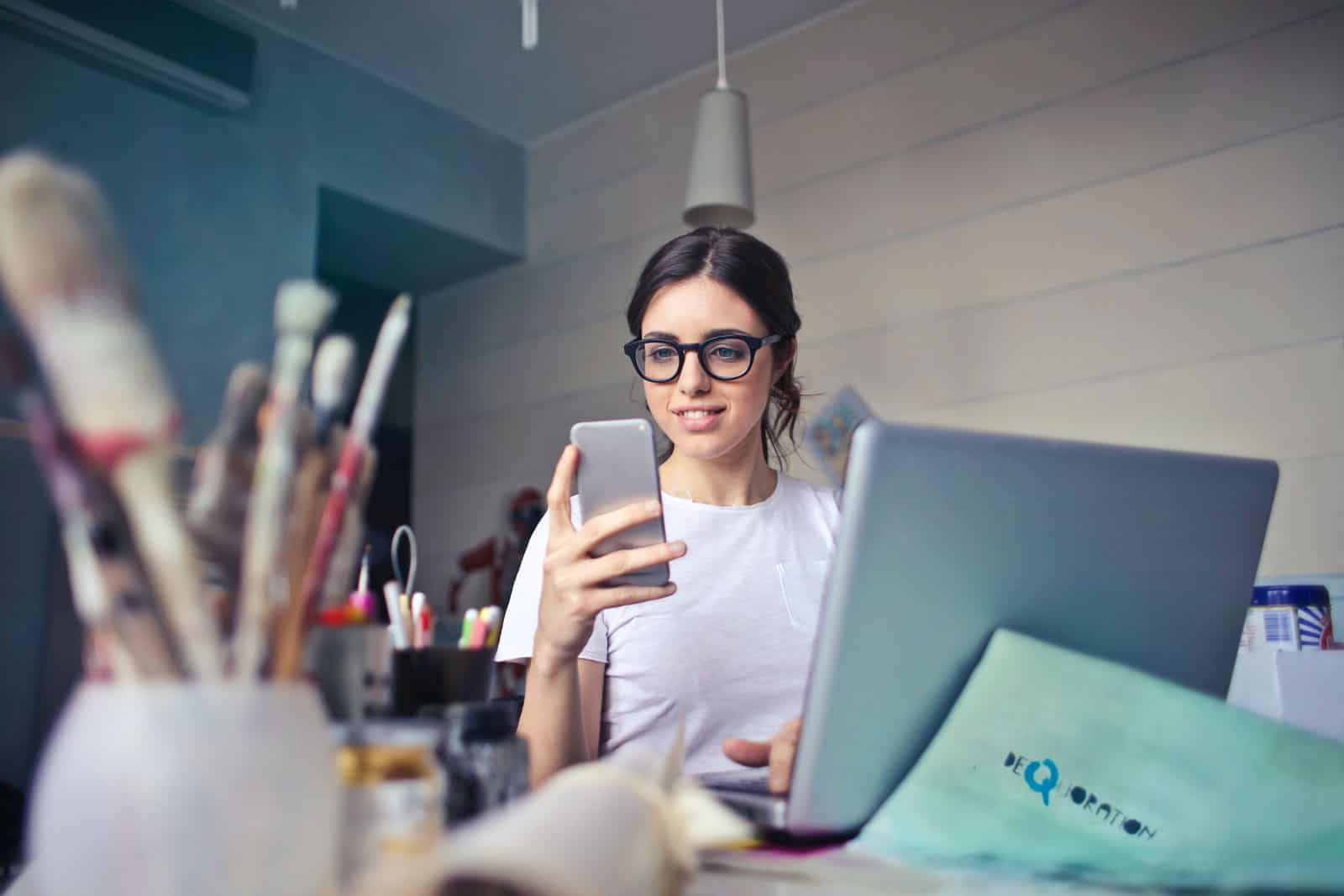 Unless parents are wanting to entirely fund their teenager's bank account, teens need to find the best ways to generate income for themselves.
And since working from home is such a staple of everyday life now, it's only natural that teens would prefer to work from home instead of working at a fast food joint.
Working at home is becoming a preferred choice for many people because of its freedom and flexibility. And as a teenager, working from home has its benefits too. There are a few reasons why a teenager should work at home.
Finding the best online jobs can be challenging for teenagers but it's worth the time and effort when you find the right fit.  
1. It's Convenient
Remote jobs are a great option for teens who want to earn money while still in school. You can work from anywhere with a computer and an Internet connection. It's convenient and flexible, so it's perfect for students who want to make some extra cash but can't commit to working a set schedule.
Working from home is convenient because it allows you to work at your own pace with flexible hours. You can set your flexible work schedule and decide when you want to start and stop working. This benefit is a big perk for many people, especially those who don't like getting up early or staying late.
The liberty of remote jobs allows you to work in your pajamas. Some people love to work in their pajamas, even if they don't have a good reason for doing so. Working from home might be a great option if you're one of these people.
You can also take breaks without worrying about anyone else's schedule (or expectations).
2. It's Safe
You wouldn't have to worry about your teenager getting into an accident, being harassed by bullies, or facing other dangers that may be present at their school.
Working from home for your teen means that they can avoid dangerous situations like getting into a car accident or getting robbed while walking to school or work. They will also have more time to spend with family and friends.
Also, they may get sick less often. Since they are not exposed to all the germs found in public places, they will likely get sick less often than those who go to work every day. In addition, they don't have to miss class or work because they're ill, which can suit everyone involved.
You also won't have to bother about transportation issues. You won't need to drive them around each morning and afternoon anymore because they can work from home and then use public transportation when necessary.
3. Keeps Them Busy
A teenager's life can be a busy one. Between school and after-school activities, they are always on the go.
For teens working from home, the option to work while at home can be a great way to keep them busy. For example, an older teenager who has been out of school for a few years may not have many responsibilities outside their job. However, it can lead to boredom and a lack of motivation.
When a teenager has something to do, they're less likely to get into trouble. If they have no plans and are bored, they might hang out with friends or watch TV all day. If they have work to do, they will be focused on completing their tasks while making extra money.
If you have a teen who is not working from home but would like to try it out before committing, consider offering them a part-time job with flexible hours to get a taste of what it's like.
4. Builds Experience
Working from home can help teens build their skills and confidence as adults. It also gives them the freedom to work on projects that interest them without having to ask for permission or explain why they need time off.
5. Builds Time and Money Management Skills
The best way for teens to learn about money management is by having a source of income. By working from home, they'll have the opportunity to manage their schedules and set goals and priorities for themselves to reach them. They'll also have more control over what they spend their money on and how they save or invest it (if they choose).
6. Teens Need Money Too
Home jobs can be an excellent way for teenagers to make some extra money. Many teens are looking for ways to make extra cash, especially during the summer months when school is out, and it's easy to get bored. Teens need money, too, even if they don't have a job or any other source of income.
Remote jobs can be an ideal way for teens to earn extra money. Teens need to learn how to manage their own money because these skills will help them throughout their lives.
21+ Work From Home Jobs For Teens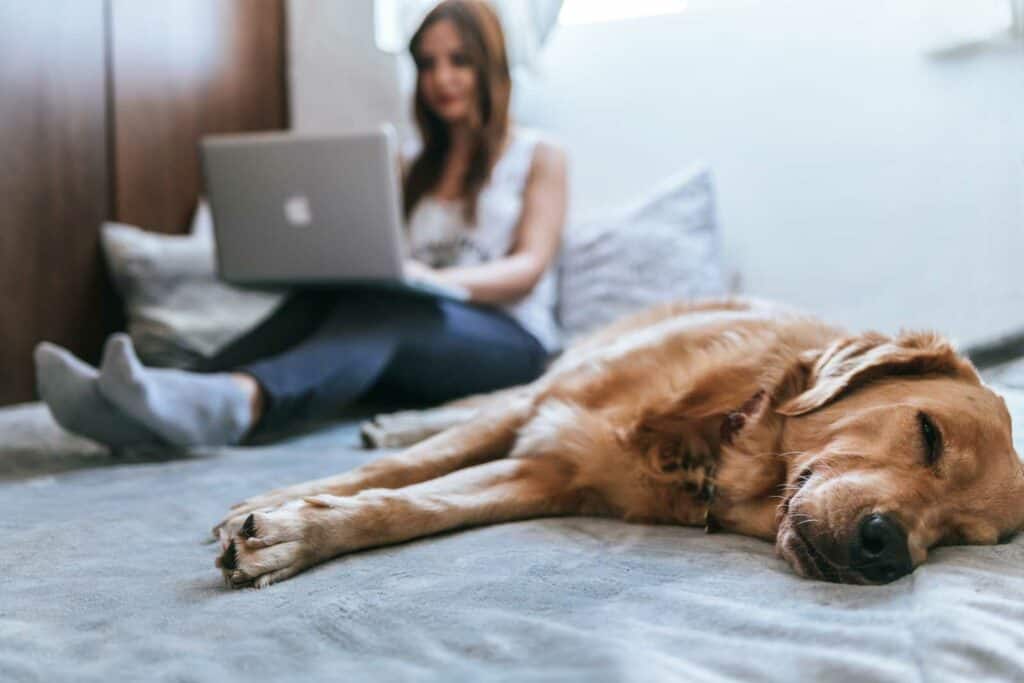 There are plenty of work-from-home jobs for teens, but you must choose the right one. The great thing about working from home is that it can be fun and flexible, and sometimes even rewarding.
Here are ten work-from-home jobs for teens that can help them make money while still in high school:
1. Freelance Writer
The freelance writing job is perfect for teens looking to make a little extra cash but don't want to spend their time working as babysitters or dog walkers.
Freelance writer job requirements include a good grasp of the English language, elite grammar skills, and being able to write in an engaging, entertaining way. Think of it like being a journalist without having to get up at 4:30 am every day.
Freelance writing is perfect for teenagers who love writing and want the freedom to work whenever they want.
Jobs as a freelance content writer can be found on websites like Freelancer and Upwork. These jobs are usually based on how much experience you have and how well you write.
Many companies hire freelance content writers and a team of writers to create content for their websites, blogs, and newsletters. The average salary for freelance writers ranges from $5 per article to $150 per article, depending on how much time it takes you to write and how many articles they need.
There is no strict minimum age requirement for freelance writers. But you should be at least 16 years old to deliver on the job perfectly.
2. Blogging/Vlogging
Blogging or Vlogging is naturally one of the most accessible jobs for teens. The beauty of blogging is that you can blog about anything. If you like to write, this is an excellent way to earn money online. You can make money by blogging about your interests, hobbies, or other topics that interest you.
You don't need to be savvy to start a blog. All it takes is a passion for writing, some time, and a few tools like a domain name, hosting service, and website builder.
If you're interested in blogging, start by creating an account on WordPress or Blogger. For vloggers, you'll start by creating a YouTube channel. To get started, pick a topic you love and write about it. You will make money by advertising other companies' products on your blog or vlog.
Blogging, writing, and vlogging are the primary duties of a blogger. However, you can also create videos on YouTube or other video online platforms like Twitch and Dailymotion. They will help you earn money online by promoting products and services.
Since bloggers and vloggers are self-employed, there are no minimum age requirements, and the job requirements depend on your interests.
The average salary for a blogger depends on the income type the blogger chooses. For example, you can choose to earn through Google AdSense or seek out ads by yourself. It's all down to your discretion.
3. Amazon affiliate marketing
Amazon is arguably the most popular eCommerce company in the world. They have millions of products and a vast customer base. As a result, there are innumerable opportunities for teens to get involved with Amazon affiliate marketing.
Amazon Affiliate Marketing is an excellent way for teens to make decent money from home. To become an Amazon affiliate, you need to sign up for an account and create a unique link that will direct people to their products.
Once someone clicks on your link, it will direct them to Amazon's website, and if they purchase something within 24 hours of clicking on it, you will get a commission on the sale.
The best part about amazon affiliate marketing is that the job requirements are simple. You don't need special skills or know-how and can start almost immediately. All you need is a working PC and high-speed Internet connection.
The primary duties of an Amazon Affiliate Marketer are creating links for products sold through Amazon's online marketplace and then promoting those links through social media platforms such as Facebook and Twitter. Or even email them out to friends and family members who may also be interested in purchasing these products online.
The only downside to amazon affiliate marketing is that it has a minimum age requirement of 18 years. Although, teenagers less than 18 years can still sign up and get an overview of what the job feels like.
The average salary for this job ranges between $16,000 to $100,000 per year.
4. Online surveys
Surveys are an excellent way for teens to make money because they're easy to do. They don't require you to have any special skills or training; they can be done from the convenience of your room or anywhere else you have an internet connection.
But to make money with surveys, you need to know what you're doing. So if you like to voice your opinion, this is your job. You will be paid to answer questions about your opinions on different products and services.
There's no minimum age requirement to work online survey jobs. You can sign up with multiple survey sites, such as Survey Junkie or Swagbucks, which will pay remunerations in cash or gift cards to answer survey questions while shopping or watching videos online.
The way to increase chances when working online survey jobs is to take branded surveys. Branded surveys allow you to answer questions on more familiar topics.
The average salary for online survey jobs ranges from $11/ hour, which is $25,000 a year, to around $43/hour, which gives around $93,000 a year.
5. Social media influencer
You've probably seen social media stars who get paid big bucks to post about products on their Instagrams, Instagram, TikTok, or YouTube channels. These influencers often have millions of followers and get paid thousands of dollars per post.
If you have some experience with social media marketing and love working with new products, this might be the perfect job for you.
The requirements for influencing are not serious. All you need is to be a teen who is good at making videos and can attract an audience, which will help you get sponsored by brands.
The average minimum age requirement for influencers is 14 years, but we have seen situations where the influencer is younger than that.
Your primary duties as an influencer will include:
Creating and maintaining an Instagram account with at least a significant number of followers and huge organic engagement.
Post content relevant to your target audience's interests, such as fashion, beauty, lifestyle, and entertainment news.
Writing engaging captions for your posts that inspire followers to leave comments and engage with your content.
The average salary for influencers varies across social media platforms. However, social media influencers average, take home around $38,000 annually.
6. Podcasting
Podcasting is an incredible way to turn your passion into a career. Not only do you get to do what you love, but you get to share it with the world.
Podcasting is another way for teens to earn money while doing something they're passionate about. You can make money through ads, sponsorships, and selling your products and services.
It's easy to get started with Podcasting: all you need is a microphone and some editing software. Online platforms like Anchor make Podcasting easy.
There are many different kinds of podcasts—from interviews with celebrities and experts in your field of interest to educational programming for kids—, and there's no limit on how much time or effort you want to put into them.
Your duties will be enormous for a teenager getting into Podcasting, but as soon as you catch on to it, you'll find it easy.
Although, if you are working with a podcasting company, then you must be able to do the following things:
Listen to podcasts and summarize them for the audience.
Create new podcasts of your own, using the information you've learned from listening to others' podcasts
Write scripts
Make sure everything is on schedule—from recording the podcast to editing and posting it online.
Make sure that all audio files are saved securely in case they are needed later on in case there's an issue with the website or something else goes wrong with uploading them.
The minimum age requirement for podcasting jobs is 14 years. And the average salary is $72,000 per year.
7. Gaming
Teenagers that have ever played a video game know that gaming can be a lot of fun. But it can also be a way to make some extra cash on the side.
There are plenty of opportunities for teens to work from home in the gaming industry—from designing games and playing games for others to moderating online communities and helping with customer service.
If your teen is passionate about gaming and wants to make some money while doing something they love, this could be an ideal opportunity.
Gaming can be either a full-time or part-time job for teens.
Gaming companies are always in the market for new talent to join their teams. Most gaming companies are located in big cities like New York City, Los Angeles, and San Francisco. If you're lucky enough to get hooked by one of these companies, you'll be paid to play their games.
The startup process is simple. Just set up a Twitch account and start to stream.
The minimum age requirement for gaming (usually mandated by the stream companies) is 13 years. Although, teenagers younger than that can stream with parental supervision, of course.
The average salary for gamers is on the rise. Gamers usually go home with around $44,680 per year.
8. Freelance Graphic Designer
Graphics design is an excellent option for teens looking to work from home. This job requires you to create layouts and illustrations for websites, brochures, magazines, and advertisements.
You'll need to have an excellent understanding of color schemes and typography and how to use Photoshop or other graphics software.
It's important to note that this job is not for everyone. It probably won't be the right fit for you if you're not interested in design or artistry. But this could be an excellent opportunity if you love creating things with your hands or have a good eye for color.
The requirements for this job include:
A Laptop or Computer
The ability to use Photoshop or other graphic design software
A high school diploma (or equivalent)
A portfolio of previous work, if possible.
If you get hired to work along with a team or as a sole graphics designer, your primary duties will include:
Creating logos and designing flyers, brochures, and other marketing materials.
Creating website graphics and animation
The graphic designing world may be saturated, but the pay is quite attractive. The average salary of a graphics designer is about $53,800 per year.
9. Transcription (Audio/Video)
Transcription is a great job for teens because it's easy to learn and doesn't require formal education or experience. All you are required to have is good typing speed and accuracy, which most teenagers have.
You can work from home remotely, transcribing audio files like podcasts, interviews, customer service calls, customer complaints, or voicemails.
For transcribing with sites like q-a world, you will need a good ear, a laptop computer, and a working internet connection.
Your primary duties will include:
Listening to audio recordings.
Typing out the words you hear.
Ensuring punctuation and correct spelling.
The minimum age requirement for Transcribing Jobs is 17 years.
The average salary transcribers earn around $19 per hour and around $43,000 per year.
10. Voiceover Artist
Voiceover artist is an excellent job for teens who love to talk and like to be creative.
A voiceover artist is someone who provides the voice for a character in a movie, TV show, or video game. You can have your own business doing this and make money from it.
You will need to have some experience with acting, but if you don't have any experience, some courses will help you learn how to do this.
If you love acting and would like to pursue a career in Hollywood, then this may be something that could interest you as a teenager.
As a voiceover artist, you may be required to have some experience with public speaking, but if you have strong reading skills along with an enthusiastic attitude, then you'll do just fine.
The primary duties of a voiceover artist are to read from scripts, record audio, and video, and provide animation services. Most voiceover artists work remotely and set their hours.
This job is great for teens because it requires little previous experience and pays well—the average salary for a voiceover artist is $30.59 per hour.
11. Tutoring
Tutoring is a great way to earn extra income while helping others learn. There are plenty of tutors who offer lessons via Skype, FaceTime, or other platforms, but you can also tutor local kids in person.
It's easy to set up a tutoring business. All you need is a computer, webcam, microphone, and headphones. Then, you just need to decide what you're going to teach: English, Spanish, math, history, science, or another subject.
There are several sites that connect tutors with students, including Tutor.com and Wyzant. These sites allow you to create profiles, upload videos, and set rates. Once you sign up, you can begin teaching immediately.
12. Video editor
A freelance video editor takes raw footage and cuts it down into a shorter version. This includes cutting out unwanted parts such as unnecessary dialogue or music.
They may also be employed by film companies and post their services for them. Some freelancers work closely with directors to produce films.
You'll also need to demonstrate that you're capable of managing your time effectively.
For teens who are creative this is a great gig.
13. Flip products online
You can get started easily by cleaning out your closet and selling stuff you no longer need that that you already own. If it's something you're looking to sell, chances are someone else wants it too.
Flip products are items that can easily be flipped. They're things like old clothes, books, furniture, etc. You can even do what some have done and pick up old furniture that people are tossing out and rehab and sell it for a healthy profit.
It could also be stuff you pick up from a garage sale. The key here is to find items that you know people want and to be able to negotiate a good price for the items you're looking at.
You'll probably spend a lot of time looking for great deals, so make sure you do your homework on what it is you're looking to flip and train yourself to have a good eye for value. It's not uncommon for people to lose money on these types of ventures.
14. Create your own product and sell it online
For the creative person, creating your own product and selling it online is not only a way you can work from home as a teenager, but when you get it right, you could build it into a million dollar business.
As an example, sisters Isabel and Caroline Bercaw started a bath bomb business that has exploded into a million dollar business.
Another teen started Simple Sugars, a skin care products business, while she was in high school. She got on Shark Tank, and had explosive growth ever since.
A little hustle, a little creativity, and a lot of hard work could be a great way to work from home and generate income and could possibly be the beginning of a new career path for you.
15. Create an online course
With all the tools available today, there's no excuse not to start one.
Chances are, you're an expert at something – even as a teenager. And what do experts do? They teach other people about their area of expertise!
It's a great way to share your knowledge with the world, and you can do it in your spare time. it doesn't matter whether it's something about video games, outdoor activities, sports, or something else.
In fact, it could even be something like how you can increase your vertical jump like Jacob Hiller did with his Jump Manual product. 
So why not put your knowledge to good use and create an online course? Not only will you be able to teach others about your favorite topics, but you'll also get to flex your creative muscles and learn new technology skills.
And who knows – with a little luck, you might even be able to turn your online course into a full-time business. 
16. Customer service representative
If you're looking for something a little more traditional, then working as a customer service representative might be a good option.
In order to this you need to have the tech – a laptop, good internet connection, and other tools like a headset – to do this job. 
Learning how to deliver good customer service is not only a skill that will get you paid, but will pay off by teaching you a huge variety of valuable life skills.
17. Music production
The music business is more wide open than it's ever been and if you have the skills, you can can really make a lot of money doing it. 
So many people are making new opportunities for themselves by showing off their skills on TikTok and one of my favorites is Misstiq. 
She does an amazing job of adding whole new layers of texture and complexity to tracks that accentuates the original tune, but creates an entire new song out of it too without destroying the original.
She works with all kinds of artists and if you have the skills to do this kind of work, it would make a great way to create a job for yourself that can easily be done at home.
18. Social media manager
What could be a better online job for a teen than one that gets them paid for being on social media? 
Being a social media manager is a fantastic job for teen. 
Social media managers are paid employees who help businesses use social media platforms to grow their brands. They create content, post updates, interact with followers, and monitor comments.
As a social media manager you'll be planning and scheduling content on the social media accounts of your clients, and it's a great place to start if you are interested in a career in digital marketing. 
In most instances you can create your own schedule.
If you're interested in becoming a social media manager, there are many ways to go about it. One option is to become a freelancer. Freelancers typically work independently, creating content and posting updates on behalf of clients.
Another option is to join a company that hires freelance workers to handle social media management tasks. Some companies offer this type of opportunity through online job boards, while others hire freelancers directly.
Other jobs teenagers can do from home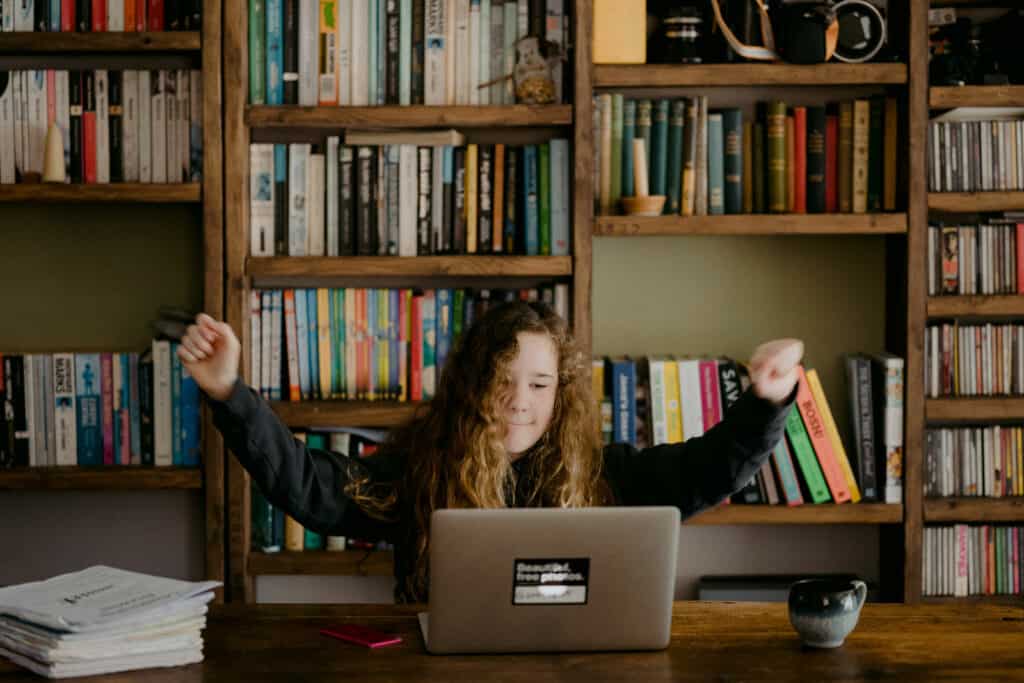 What we've talked about so far is a sample of opportunities that are possible.
Other ways teens can do from home are:
Becoming a virtual assistant
Starting a lawn care business
Building websites
App development
Freelancing on Fiverr
Freelancing on Upwork
Tips For Working From Home as a Teenager
Working from home as a teenager is a dream job for many young adults. But it's not always easy to balance schoolwork, homework, friends, family, and other responsibilities while still earning extra cash. Here are some tips for teens who want to work from home.
1. Get The Right Tools
The first step to working from home is ensuring you have all the proper tools. If you are a teenager, that might mean borrowing or renting a desk and chair from a friend or family member. You may also need an internet connection, printer, scanner, and computer.
2. Work Out a Payment Method
How will you get paid? Will the payment be by check or direct deposit? These are essential things to decide before you start working as a teenager because they will affect how much money you have each month and how much time you spend on banking tasks.
3. Notify Parents (For Help If needed)
If your parents don't know about your new job, now is the time to tell them. First, both parties must agree on what hours work best for everyone involved. If your parents are not comfortable with your working from home, try finding other part-time jobs at local businesses instead.
4. Create a Resume or Portfolio
Creating a resume is especially important if you're applying for full-time jobs that require resumes — any potential employer will want to see samples of your work before they hire you. If you don't know how to write a resume, you can go online and browse resume samples or hire a resume builder.
Next Steps
Want to join others who are creating the most amazing home offices and get more tips, tricks and hacks on how to make your home office the best it can be?
Join my brand new free private Facebook group, Home Office Hacks to connect with other home office hackers to make your space the best!