Wireless mice are great because they allow you to move around freely without worrying about tripping over cables. But is a wireless mouse right for you?
Wireless mice are great because they save desk space and eliminate clutter.
If you're looking for a new computer mouse, then read on. I'll cover the pros and cons of the wireless computer mouse, and the factors you need to consider when choosing which one to use for your home office setup.
Real quick, before we get too far into it here, if you want to get more great ideas for your gaming room or home office and want to connect with other home office hackers to make your space the best join my free private Facebook group, Home Office Hacks here.
Which is better: a wireless mouse or a wired mouse?
There are primarily two types of computer mouse available today: wireless and wired. Each has its own advantages and disadvantages, so it's important to understand the differences between them.
Wireless mice are convenient because they allow you to move freely without having to worry about tangling cords. However, they may not be the best fit for your WFH setup because they either require batteries or require time to charge. In some instances, with some computer mice, you could potentially experience lag which can cause on screen issues.
Wired mice are much easier to set up, and it's always good to have a wired mouse around in the event of an emergency and you simply have to be able to use a mouse. The downside to wired mice is that they require a USB cord, which can sometimes be inconvenient.
To decide which type of mouse is best for you, consider the following factors:
How big is your desk? This makes a difference because of the amount of clutter that is on your desk may make a difference between choosing a wired mouse vs. a wireless mouse.
How many devices do you connect to your computer? Will you be connecting multiple devices at once? Do you have enough USB ports for all the connections? Do you need a KVM switch?
How comfortable are you with technology? In almost all instances setting up a computer mouse is a very simple process, but if you're not familiar with technology, connecting a Bluetooth computer mouse, or an RF wireless computer mouse, might be a little challenging.
How do you plan on using the mouse? If you're a gamer, then you will have very different needs in a computer mouse than a graphic designer, or just a general purpose user.
How much do you value portability? There are specific types of computer mice that are specifically designed to be small and easily fit into a backpack or briefcase to minimize the amount of space they take up.
How much do they cost? There is a big difference in costs between the various wireless mouse models. Some computer mice are designed for gamers, some will have special buttons to which you can map various functions, while others are meant for general use and the price can be anywhere from $10 to a couple hundred dollars for a high-performance gaming mouse.
Which features do you need most? Some mice have extra buttons, some use a track ball for scrolling and movement, while others have programmable keys.
How durable are they? Generally speaking, the higher the price of the computer mouse, the better the quality of materials used in the construction of the mouse.
How sensitive are they? Some wireless mice have adjustable sensitivity settings, while others have no adjustment whatsoever. The polling rate for a gaming mouse is incredibly important because it determines how often the mouse sends out information to the receiver. A lower polling rate means less data being sent back and forth, resulting in a slower response time when moving the cursor across the screen.
What kind of battery life do you get? Most wireless mice come with rechargeable batteries, however, there are also some mice that have replaceable batteries that are either AA or AAA in size. Replacing batteries can be burdensome, so a rechargeable wireless mouse is always a good choice.
How easy is it to set up? In most instances, most aftermarket wireless computer mice usually require a driver download and installation before they work properly. It's always a good idea to check with your manufacturer to see what drivers are required.
What software does it need? In some cases there are wireless computer mice that will have an additional software application that you need to use to be able to map out functions and features.
How ergonomic are they? Ergonomics refers to the design of a piece of equipment in order to maximize comfort and efficiency. For example, some mice have a curved shape that allows you to rest your hand comfortably. For people that struggle with repetitive use injuries like Carpal Tunnel Syndrome, the ergonomic design of the computer mouse means the difference between being able to work regularly and dealing with consistent pain and discomfort.
How customizable are they? Some mice offer a wide variety of customization options, while others only provide basic adjustments.
How light are they? Depending on how you plan on using it, the weight of your computer mouse can make a big difference and it really all depends on user preference. Some swear by using a heavy mouse, others prefer to have the lightest possible mouse.
How many hours of battery life do they have? Battery life is an important factor when choosing a mouse. Of course your mileage is always going to vary, but the charge or battery life on a good wireless mouse should last at the very least one month, if not several.
How many buttons do they have? More buttons are great if you frequently use programs that require several different functions.
What are the advantages of a wireless mouse?
Wireless mice are convenient, but they aren't always the best choice for everyone. There are several reasons why you might want to consider switching from a wired mouse to a wireless one. Here are just a few of the benefits of going wireless:
No wires to clutter your desk
No tangling problems while using one
Greater portability – easy to throw into a backpack or briefcase
Less desktop clutter
More mobility
Fewer user-related headaches
Convenience
Comfort
What are the disadvantages of a wireless mouse?
However, there are still drawbacks to choosing a wireless mouse over a traditional wired model.
They require batteries. Spending money on batteries adds up over time.
They tend to lose connection over longer distances.
They can be challenging for some people to set up.
They can interfere with other devices.
They can be less accurate.
They can be slower than wired mice.
Overall, though, the benefits of a wireless mouse outweigh the drawbacks. There are plenty of options available, so you shouldn't have trouble finding one that suits your needs.
Can you use a wireless computer mouse with a wired keyboard?
Yes, you can use a wireless mouse with a wired keyboard. In fact, that's the exact setup that I'm currently using myself.
I use a Keychron K10 full-size mechanical keyboard and I use the wired connection on my Mac. In combination with that I use the Apple Magic Mouse 2.
But you don't have to use these specific devices to use a wired keyboard with a wireless mouse and wired keyboard.
If you're not sure or you've got concerns about whether or not your particular combination of wired keyboard and wireless mouse will work, make sure to double-check with the vendor's website to see if there are any limitations in respect to the computer that you use, the operating system, and the device itself.
Are wireless computer mice bad?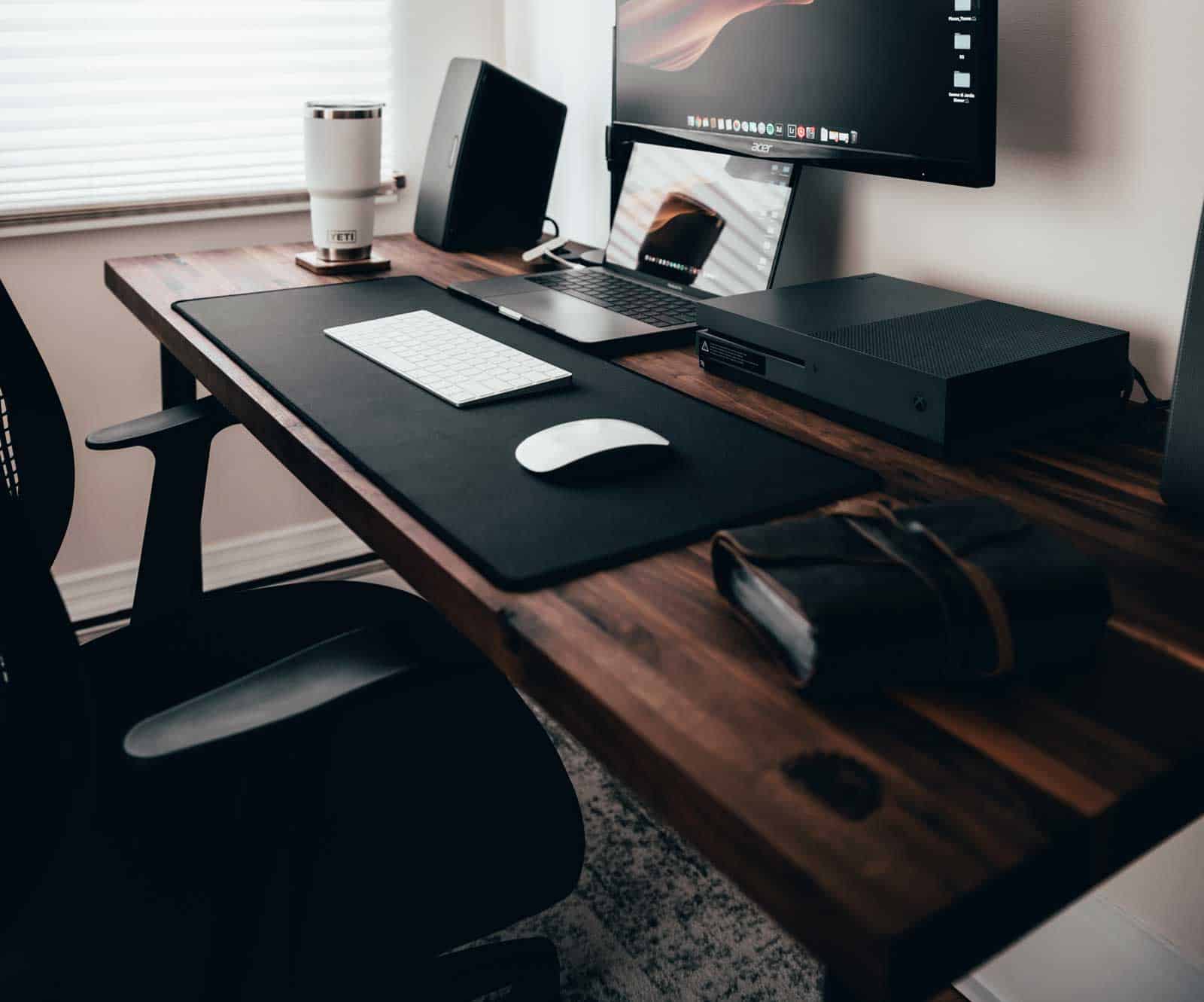 No, wireless computer mice aren't bad. They're just as good as a wired mouse, and in a lot of ways, they can be a lot better.
What can be bad about a wireless mouse is that a cheap wireless mouse can affect your performance in several different ways.
For instance, input lag can be a challenge with any wireless device, and a wireless computer mouse is no exception.
If you have RF interference your wireless mouse may experience problems connecting to your computer. This could mean that you have other devices that are causing signal problems, or that you're too far away from your connection and the signal strength is not strong enough for the mouse to connect.
Can a wireless mouse carry a virus?
Technically speaking, believe it or not, it is actually possible for a wireless mouse to carry a computer virus.
At first glance, it might seem like there's no way this could happen, but leave it to those ever-crafty hackers to come up with new ways to try to make your life more difficult.
If your wireless mouse has enough memory on board, it can carry a virus that can then be spread to your computer and other devices.
Many wireless computer mice utilize a USB dongle to establish the connection with your computer and allow it to control your OS.
This is because a wireless mouse has what's called a micro-controller and that micro-controller has a small amount of memory associated with it. And it's that memory that's targeted by hackers so they can load their virus and spread it from there.
In the 21st century nothing is 100% guaranteed secure, but for most people, it's not something that crosses their mind too often.
To make sure that your computer is as safe and secure as it can be make sure that you're using make sure your computer stays up to date by installing all those updates for your operating system and for your applications that come your way, and make sure you're using good security software.
Next Steps
Want to connect with other remote workers, contractors, freelancers, gamers and people who work from home who are creating the most amazing home offices and get more tips, tricks and hacks on how to make your home office or gaming room setup the best it can be?
Join my brand new free private Facebook group, Home Office Hacks to connect with other home office hackers to make your space the best!