Everyone works from home these days.
So since you're spending so much time in your home office, you want to make your home office space the best it can be.
Decide what kind of style you want your home office to feature and design your home office around that theme. From contemporary designs to industrial-style home office spaces, you can style a home office to your preferred specifications by choosing appropriate colors, furniture, and decor.
Your home office space where you work is important to your mood and productivity. How do you style a home office in such a way that you actually enjoy all the time you spend working in it? Fortunately, there are all kinds of ways to style a home office on any budget.
You know better than anyone what style you like the most. A well-styled home office space can transform your daily workload from perilous and stressful to calming and pleasant. Regardless of your budget or the size of your home office, knowing how to properly style your home office can alter your work experience into something inspiring.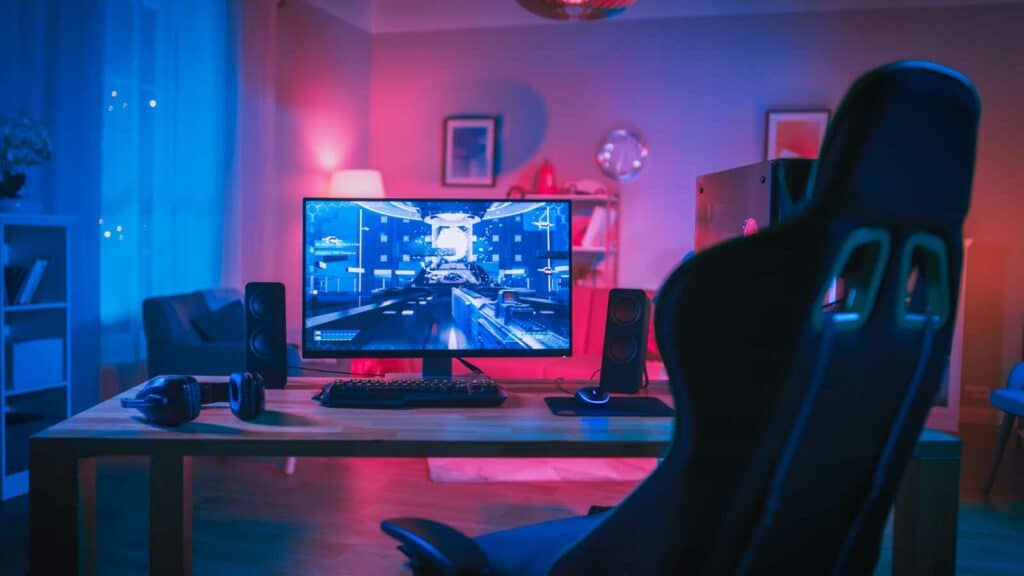 How Do You Style a Home Office?
Your home office style should flow in a cohesive way. However, there is more to styling your home office than simply choosing items you like and throwing them together. Though, in a pinch, there's nothing so terrible about that method, either.
An important concept to keep in mind when styling your home office is that every object should have a place. Staying organized is essential. Your home office is the place where you conduct your work, after all. You should eliminate as much stress as you can by creating an organized, streamlined office that you can keep clean and tidy without too much effort.
Additionally, consider marrying the coziness of your home into the practicality of your home office. While your office should be its own dedicated space where you can be productive, there is no reason you should not also be comfortable. Incorporate soft textures, warm accents, and even aromatherapy so you can feel homey at work.
How to Make Your Home Office Look Good
Now that you have the basics of styling a home office in mind (organization, comfort, and cleanliness), you can get to work on how you want your home office to look. Beauty is in the eye of the beholder, so you have total control when it comes to styling your own home office. To make your home office look good, choose pieces you like and don't cram too much in one small space.
When you share a commercial office building with other workers, you typically run into the same sterile elements over and over again. You see gray filing cabinets, plain cubicle walls, and exposed cords. Commercial office buildings are not built with style in mind.
Luckily, making your home office look good is quite easy, and pesky things like neutral building specifications and bulk office supplies no longer apply.
Different Home Office Styles
When styling your home office, there are many styles to choose from. Your personal choice might not be any of the following, or it might be an eclectic blend of multiple styles. Read on to learn more about common home office styles and how to create them.
| | | |
| --- | --- | --- |
| Home Office Style | Common Colors | Stylistic Features |
| Contemporary | White, gray, black, tan, accent colors | Strong lines, bare spaces, minimal embellishments |
| Traditional | Gray, beige, yellow | Soft lines, thick cushions, wood furnishings, patterns |
| Mid-Century Modern | Orange, mustard yellow, brown, tan, teal | Wooden desk, Eames chair, leather, abstract art, storage |
| Industrial | Neutrals, metallic colors like silver, copper, brass, gold | Exposed beams, pipes, bricks, etc., unfinished wood |
| Scandinavian | White, black, tan, blue, gray | Light wood, cozy fabric, clean lines, glass, open space |
The number of named home office designs is endless, but the above are a few of the most popular styles that are easily achievable with a creative eye.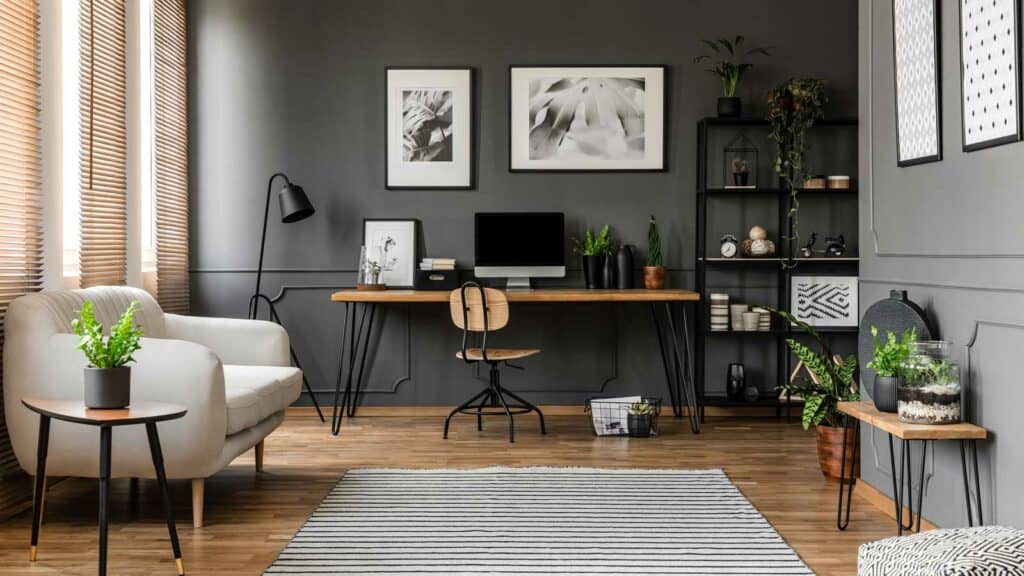 Style Your Home Office Walls
One of the easiest ways to create a cohesive style in your home office is to start with the walls. Your home office's walls are the most crucial feature in the entire room. The walls not only offer the most space for decorating and for paint colors, but they can also hold storage and even a mounted desk if your home office lacks square footage.
Use Specific Paint Colors on the Walls
When styling your home office, the paint color is critical. You can get creative with paint. Whether you choose to paint your entire wall the same bright color or use multiple colors to create an accent wall, paint color will have a drastic impact on how you feel while you spend time in your home office.
Blues create a relaxing environment. Blue walls can boost your productivity levels and reduce your stress levels.
Yellows feed the imagination. Yellow walls can inspire your creative side if you work in a field like writing or illustration.
Greens increase feelings of balance and reduce distraction. Green walls can help you work on precise jobs that require intense focus.
If you want to style your home office space using a style that calls for clean, white, minimal walls, consider giving yourself an accent wall as a pop of color. You do not want your home office to be strictly barren, no matter how great it might look in a magazine. Stark white and gray walls actually reduce productivity levels.
Hang Stylish Pictures and Posters on the Walls
Beyond just paint, add photos and art to your office walls. Create a gallery wall by turning a blank wall into an artistic space. You can insert your personal touch to your office through motivational signage and quirky imagery.
How to Style Your Office Furniture
A stylish office goes beyond just decor and wall art. The office furniture you choose for your home office contributes to the room's overall style, as well. Consider making your furniture do double duty by acting as functional pieces that also look nice.
Stylish Lighting
While natural light is always the ideal lighting for any room, you can boost the amount of light in your office by investing in afloor lampanddesk lamp that suit your overall stylistic preferences. If you do have a window in your home office, let that be the primary light source when possible.
Flooring
Your home office flooring probably matches the rest of your house, and that's okay. No one is going to think less of you if you don't want to rip up your home office's flooring for the sake of stylistic choice. However, there are ways to change up the look of your home office flooring without doing a full home office renovation.
You always have the option of completely removing your home office flooring and replacing it with something new and exciting. However, the goal is to make the room more comfortable and welcoming, not to extend the project even longer.
Storage and Organization
With any home office job, your storage is crucial. You need plenty of storage whether you own your own business or work as an independent contractor. Well-kept storage can make or break your home office experience. Instead of tripping over mismatched filing boxes, invest in a storage system that is going to work for you, not against you.
If you have limited space, you can use a storage system on wheels that gives you more options than a standalone filing cabinet. Additionally, you can use wall-mounted storage rather than relying on your limited square footage.
Style Your Home Office Desk Space
You likely spend more time at your desk than anywhere else in your office. So, be sure to style your desk up to spec as well. Don't overthink this part because it's easy to organize your desk into oblivion. Focus on setting up your desk in a way that makes your work easier for you.
That means:
Installing proper cord management
Using a beautiful and comfortable office chair
There is no need to set up seven matching pencil holders in ascending height for use on certain days on certain days of the week. While your orange highlighter will look great next to your orange sticky notes, you are more likely to knock the whole system over before you have a chance to make use of it.
Match your keyboard, mouse, and mousepad if it pleases you, and maybe get a plant.
Store Items to Reduce Clutter
If your desk has a drawer, you can use that to store items you don't use every day. These might include scissors, paper clips, binder clips, and highlighters. You certainly have multiple sets of your favorite pen, so keep those safely tucked away.
When you only set out what you need, your desk area will look uncluttered and will be far easier to tidy up each day. Your cat is also less likely to knock things into the void behind the desktop computer.
Additionally, place your monitor on a riser for added height and space. Many monitor risers come equipped with small drawers that you can use for extra storage.
Practice Cord Management
Nothing at all spells clutter like untethered office cords. The most beautifully styled home office is nothing if its cords are not properly managed. Consider using any of the following cord management methods to keep the cords on your desk controlled and out of sight.
Beautiful and Comfortable Office Chair
Don't, whatever you do, sacrifice a supportive office chair for the sake of aesthetics. You can have it both ways!
You spend a great number of hours each day in your office chair. It should have proper lumbar support for your lower back. You should be able to adjust it to suit your needs throughout the day. Your office chair should suit your height and weight. If you feel sore after sitting in your chair, it is not the right chair for you.
Balance Style and Functionality
Style your home office with your work in mind. You can make your home office a beautiful space where you love spending time. There should not be a single room in your home that makes you miserable.
Don't get so wrapped up in stylistic choices, though, that you forget your home office's main purpose: work. The beautiful home offices in the magazines with crisp white walls and sleep metal chairs look great, but that doesn't mean they boost productivity.
If you find yourself weighing form versus function, prioritize your own comfort and your ability to get things done. The chances of HGTV visiting unannounced are very slim.
Next Steps
Want to join others who are creating the most amazing home offices and get more tips, tricks and hacks on how to make your home office the best it can be?
Join my brand new free private Facebook group, Home Office Hacks to connect with other home office hackers to make your space the best!