Floating, wall mounted desks are getting more and more popular because they are less expensive and cumbersome than classic heavy office desks. They also take up far less space.
Mounting your desk to the wall is a simple way to save space and streamline your home office. Wall-mounted desks don't waste floor footage and come in many different designs to suit your specific desk needs. 
Whether you need a small desktop that's big enough for just your laptop or a full-size workstation attached to the wall, a wall-mounted desk is a great solution.
If you need a workspace but don't have a whole lot of precious real estate to give up to the cause, mounting your desk to the wall can be an awesome solution.
A desk that is mounted to the wall can give you the functional space you need to work without taking up a ton of as the average office desk does.
A practical desk mounted to the wall can have the same functionality as a classic desk, a chunky desk or heavy desk, a console table, a kitchen table or dining room table, or any other heavy desk surface you might use.
By the way – before we get into it, if you want to get more great ideas for your home office and connect with other home office hackers to make your space the best join my free private Facebook group, Home Office Hacks here.
A Mounted Desk Saves Floor Space
Choosing a compact and stylish wall-mounted desk as your practical desk space is a great idea if you live in a small apartment, like a studio, or if you need to conserve square footage on the floor for any reason.
DIY Huntress's DIY floating laptop desk includes hidden storage cubbies, which increase the mounted desk functionality further.
The amount of floor space that your mounted desk will save depends entirely on the type of design you go with. Different wall-mounted desks and floating desks have different designs. There are fold-down designs and convertible designs.
The chair you use also plays a role in how much area your workstation takes up.
If you have limited floor space, you will likely want to choose a chair or stool you can roll out of the way. However, it's important that you always keep comfort in mind for any workspace.
Another floating desk by DIY Huntress features a fold-down design and built-in storage. When the desk is not in use, you can fold it up and out of sight.
Highly Organized and Streamlined
Having a cool fold-out desk or a desk that is mounted to the wall creates a compact and lightweight desk space.
Therefore, you have less of a space to let things pile up. You're kind of forced to keep things neat, and organized.
The straight lines, angular design, and sleek durable surface also provide an aesthetic solution for your desk needs.
Additionally, floating desks are very cost-effective. You can find all kinds of mounted desks at low costs because their construction requires far less material overall.
These desks are typically quite easy to install, as well.
If you want to DIY a floating desk with your own lovely design, installation can get a bit more in-depth. However, wall-mounting a desk is actually quite easy once you know what you're doing.
I'll go over DIYing a desk in a minute.
What Is a Murphy Desk?
A Murphy desk is a fold-down desk. I've mentioned it above without actually calling it a Murphy desk.
Any floating, fold-down or convertible low-profile desk that folds out of the way is considered a Murphy desk.
If you know what a Murphy bed is, just imagine that, instead of a fold-out bed, you have a convenient fold-out desk.
Fold-Out Convertible Desk
Fold-out convertible desks are popular because they offer multiple types of functionality. They offer ample surface space when necessary.
Convertible desks attach to the wall when not in use, but when they are needed, you can just pull it down and have your own desk ready to go.
https://www.pinterest.com/pin/571605377713129971/
Drop Leaf Table
A drop-leaf table is like a convertible desk in a different desk form. A drop-leaf floating desk has no desk legs and instead relies on brackets that keep the desktop surface perpendicular to the wall when in use.
Think of a leaf dining table. The extra leaves fold down when not in use. With a drop leaf table, the whole table folds up or down when not in use. This kind of desk is perfect as a folding laptop desk.
Ladder Shelf Desk
A ladder shelf desk is very stylish and chic. Even though it technically touches the floor, it only does so as a ladder would, and takes up very little actual space.
You can pull your chair right up to the wall to use your ladder shelf desk. Plus, you get a desk with plenty of extra storage shelves.
Drop Down Secretary Desk
A drop-down secretary desk is similar to a classic secretary desk except it is attached to the wall and doesn't take up much space.
A secretary desk is a desk with lots of drawers, one of which pulls out into a writing space. Basically, the entire desk is inside a drawer.
https://www.pinterest.com/pin/328340629094308227/
Can You Use a Wall Shelf as a Desk?
Shelf desks are ideal wall desks as long as they are high enough on the wall for you to comfortably use. They should also be the correct depth.
Additionally, the wall shelf should be able to bear the weight of whatever computer and office equipment you are placing on top of it. Make sure any wall shelf you use as a desk holds up to your needs.
Ladder shelf desks are the perfect blend of shelf and desk:
How to Wall-Mount a Desk (DIY)
When it comes time to mount your desk to the wall, there are two main ways to do this. The first method involves drilling pilot holes into the studs behind the walls where you plan to place your desk.
It's super important that when you're mounting your desk that you find the studs and place several anchor screws into them for stability and long-term durability.
You should be able to easily identify these studs using a stud finder tool. If you don't already have one, I recommend getting one – it's going to make your life so much easier when it's time to drill.
You could use heavy-duty drywall anchors if you can't tap into your studs, just remember and think about how you use a desk: people lean on them, push down on them, and put a lot of weight on them.
So whatever you use to get the desk mounted make sure they can stand up to the load they're going to be carrying.
Once you've found the studs, mark the location of each hole so you can make sure they line up perfectly and everything is level.
Drill your pilot holes before screwing anything into the wall. The pilot holes help you to put your screws into the wall without damaging the surrounding wood and making sure you've got a good strong fit.
It's much easier than trying to force screws into solid pieces of wood.
If you'd like to add some extra support to your desk, which is never a bad idea, you may consider adding additional supports between the wall and the desk itself. This would help prevent any wobble from occurring while still stabilizing your desk.
As far as what brackets to use, there are numerous different types of brackets available online or even in hardware stores.
Since you're mounting a desktop surface, the brackets you choose, just like the screws you use as discussed previously, need to be able to handle the load of your desk.
Regardless of which type you choose, you need to ensure that you measure correctly.
The distance between the top of the bracket and the bottom of the desk needs to match the height of the desktop you're shooting for. Otherwise, things won't work out right. To get the sizes right for you and your desk, check out this article.
Now that we've covered all the basics, let's talk about installing your new desk!
Get the Correct Materials
Select Your Desktop Surface
When selecting your desktop surface, keep the following three factors in mind:
Desktop surface material
Desktop surface thickness
Desktop surface dimensions
You can use whatever type of surface material you want, but the  most common desktop material is wood, or some derivative.
As I've mentioned in other places, I love the idea of butcher block wood as a desktop surface.
Check out how cool this floating desk looks with a butcher block top!
When you purchase pre-made floating desks, you'll find that most are MDF or engineered wood. However, you can easily make a much sturdier and more beautiful solid wood surface yourself. You just have to find the right supplies.
You should also get a surface that is thick and durable enough to hold your equipment. Take into account the area where you will be installing your desk and choose a surface that will fit, or cut it down to size.
Measure and Install Brackets
Decide how high your desk will be on the wall. Choose a height at which you will remain comfortable while sitting and working for hours. Keep in mind that the thickness of your desktop surface will affect the space your legs have.
Use your stud finder to find your wall's stud and install your shelf brackets in the middle of the stud using wood screws. Remember to measure, measure, and measure before you start drilling.
Attach Your Desk to the Wall
Voila! Attach your desktop surface to the brackets and the wall and you are done. Take a moment to admire your work; you've earned it.
The Right Mounted Desk Dimensions
A good depth for your office desk depends on your personal preferences and the amount of equipment and supplies your desk needs to hold. However, there are some standards you can use to get a general idea.
Standard office desks are 30 inches tall. Standard office desks are a bit bigger between 48 and 72 inches wide and 24 to 36 inches deep.
However, you can make your desk to your own custom specifications if the standard sizes don't suit you. Additionally, a floating desk meant to save space will certainly be smaller than the standard size.
Floating Desk Solutions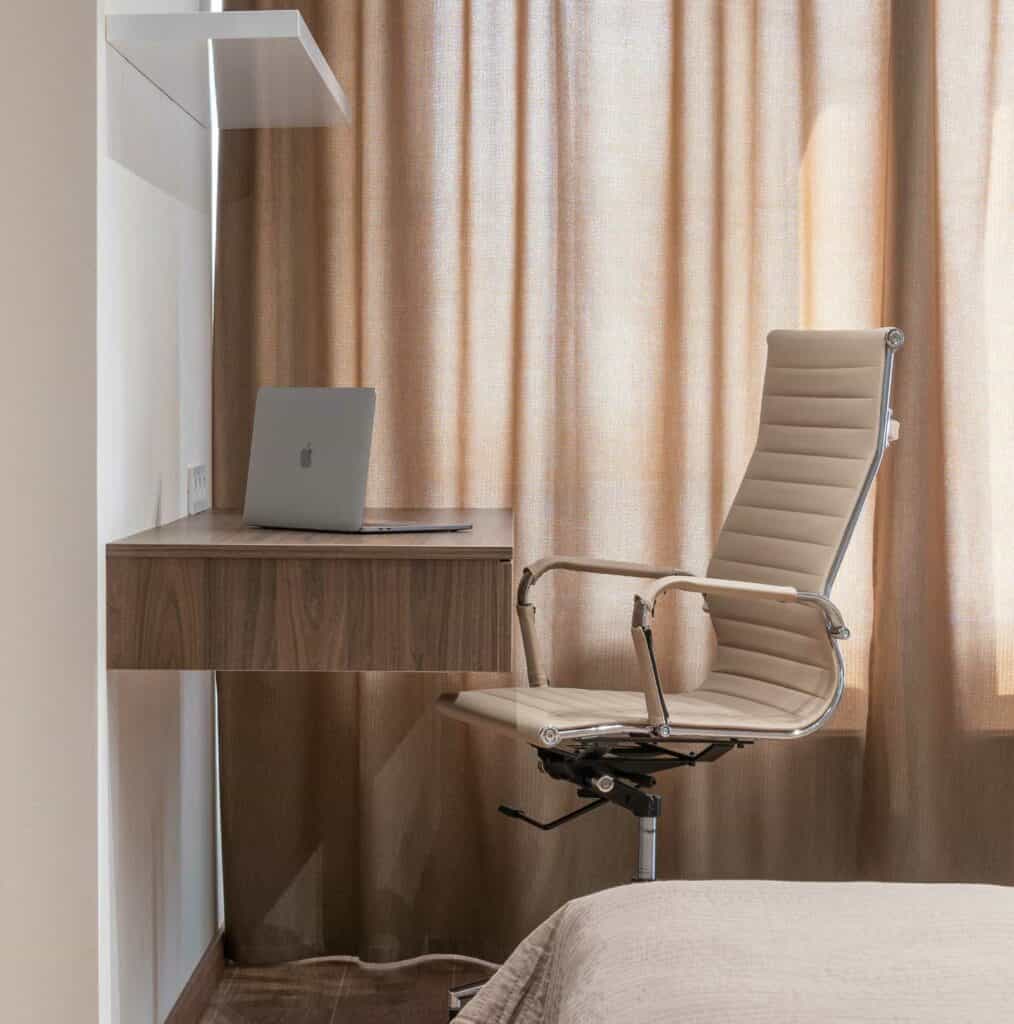 Floating desks can come in handy for all sorts of situations. Whether you only have a tiny amount of room to spare, or you have a whole wall to build a desk on but you want to be as far against the edge of the room as you can, a floating desk can suit your needs.
Awkward, Unused Corner Spaces
Install floating desks in untapped spaces.
The above desk is in an awkward space that might otherwise never get used due to its strange shape.
Built-In Desk Storage
Some desks have built-in storage features. Murphy desks and floating desks sometimes feature drawers and cabinets. However, when you get really compact, you have to get creative with your office storage.
Add extra storage space if your floating desk is just a basic flip-down table. A home office can get cluttered quickly if you don't have the proper storage solutions.
Next Steps
Want to join others who are creating the most amazing home offices and get more tips, tricks and hacks on how to make your home office the best it can be?
Join my brand new free private Facebook group, Home Office Hacks to connect with other home office hackers to make your space the best!