The desk you select for your home office, whether it's a standing desk, or a regular desk, is going to be one of the very first things you think about.
Let's talk about how to choose the right desk for your home office space.
Real quick: before we get too far along here, if you want to get more great ideas for your gaming room or home office and connect with other home office hackers to make your space the best join my free private Facebook group, Home Office Hacks here.
What Desk Should You Buy For Your Home Office?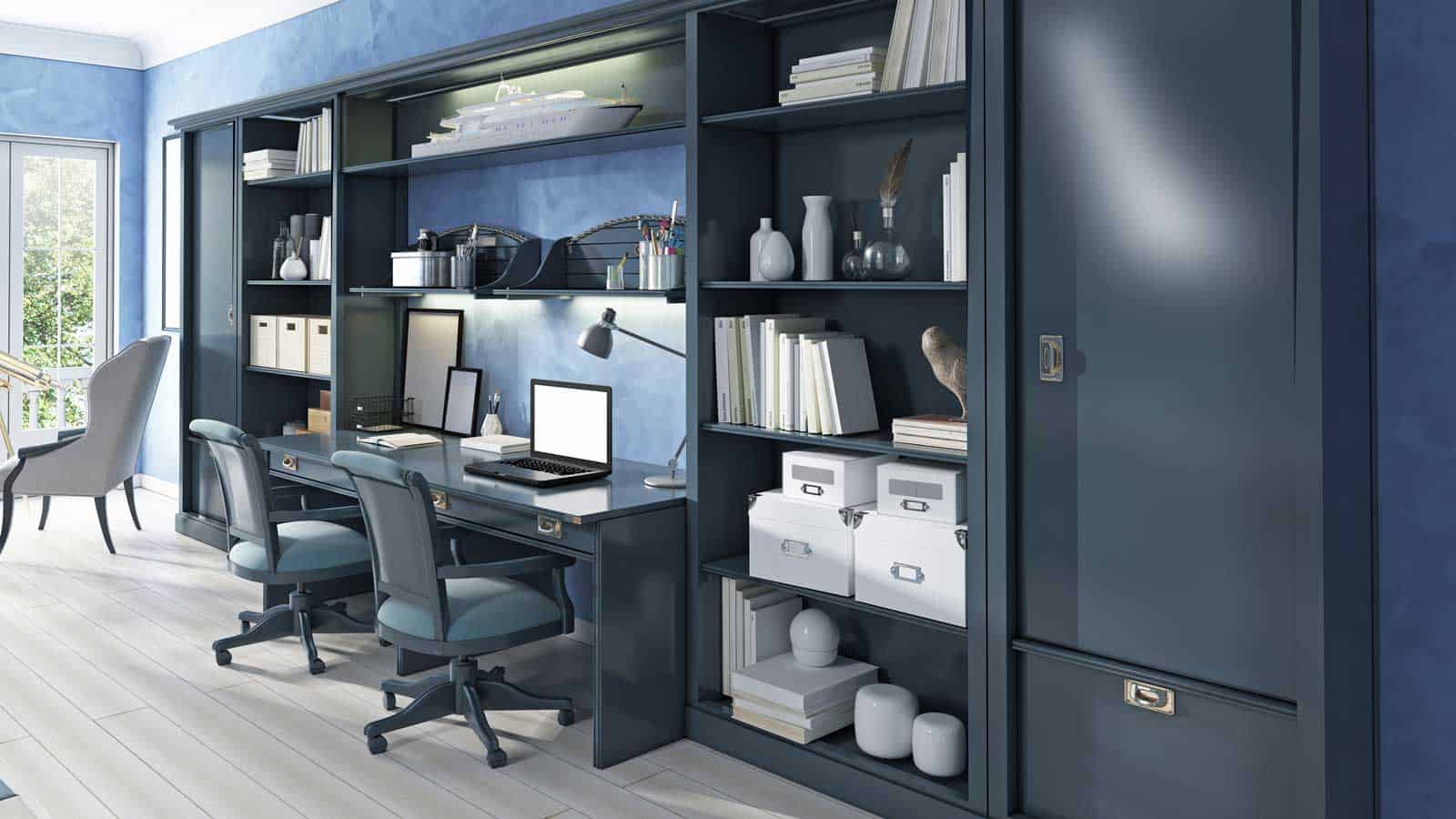 Before you buy your next desk, there are a number of factors you need to take into consideration.
Let's not worry about whether you want a standard desk, or a standing desk made with a fancy real-wood top.
We're not quite ready to talk about what type of standing desk, or regular desk you want.
First, you need to take into consideration the space available in your home and how much work you will be doing at your home office.
You also need to think about what kind of storage space you're going to need.
Depending on what your floor plan looks like for your home office, you may want to choose a standing desk or a sit/stand desk. If you are going to use your desk as a computer station, then you might want to go with a traditional desktop.
If you do not have enough room for a big desktop surface, you can always use additional shelves.
Let's talk about each one of these issues.
Consider Your Available Space
You should also think about the size of your workspace.
The room you put your home office in has to be big enough to accommodate all the things you want to do in there.
As an example, I got a huge bookshelf one time that I was super excited about having in my office.
It had lots of shelves and was going to look great in my office.
The problem was, I couldn't fit it through the door to my office without destroying it.
Talk about a disappointment!
The same thing goes for the desk you choose. You want to get one that's going to fit your space appropriately and complement the other things you have in your home office like book cases, file drawers and more.
Consider Your Available Storage Space
Another thing to think about is what you're going to do about storage space and whether or not you have enough.
Storage space in your home office is important because it allows you to helps you organize everything, keep your workspace neat and clean and keeps stuff of sight so it's distracting.
When thinking about what desk you should buy for your home office, you need to figure out if you're going to need storage with your desk, like a file cabinet, drawers, or any additional shelving to cover everything.
Think About How Much Work You Will Be Doing At Your Home Office
This is another factor you need to think about before buying your new desk.
How much work are you going to be doing at your home?
If you're like most of us, you've transitioned to doing a substantial amount of work from home.
Some of us have transitioned to working from our home office permanently!
In my instance, the desk I had in my home office space was sufficient for an hour or two in the evenings and a couple hours over the weekend.
But it was not suitable at all for full-time work.
So I had to get something different and now use an adjustable standing desk I got from Ikea.
So think about it: Is it just going to be a place where you answer emails occasionally or is it going to be a place you spend most of your day working from?
This can make a big difference in the type of desk you choose for your home office.
Consider What Features You Need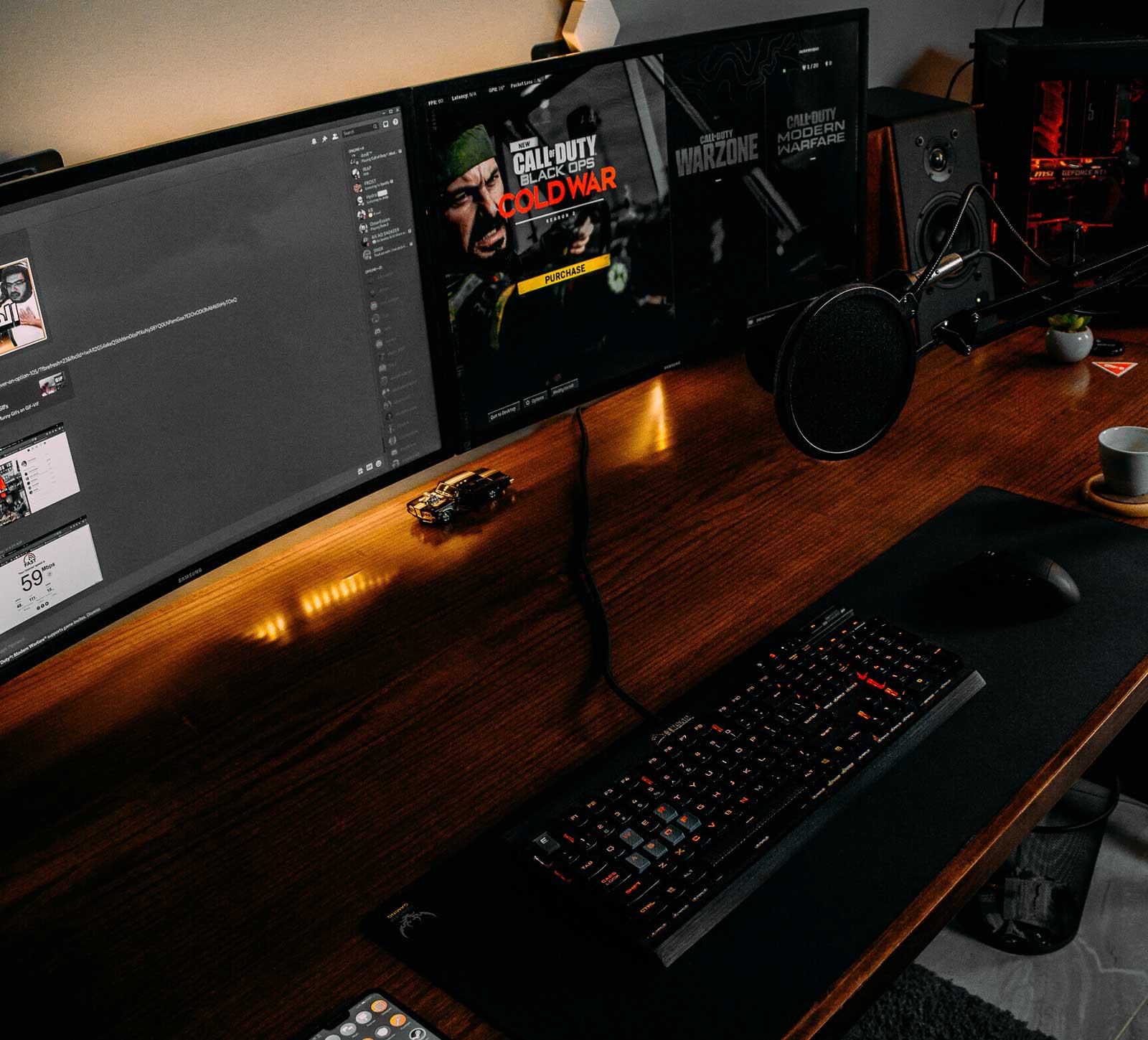 Next, you should ask yourself if you need certain features.
Will you be using your desk for multiple purposes?
Are you going to be using your desk for both personal and business activities?
How many people will be using your desk?
Will you need a keyboard tray?
Do you need a monitor riser, or monitor arm?
Do you want a desk that has wheels so that you can move it around?
These questions will clarify what you need and to help you see if you can find those features in your budget.
It's best to find a desk that suits your needs and preferences.
The type of desk you purchase will depend on the amount of time you spend sitting at your desk and whether you prefer to stand up or to stay seated while you're working
It is also important to think about what features you will need to go along with your desk to make your home office comfortable. Make sure that you have adequate lighting, a good chair, and a comfortable desk.
Consider What Materials You Want
The last thing you need to consider before purchasing your new desk is what materials you want to use.
There are different types of desks out there – some are made of real wood, some made from particle board and MDF, and still others from different materials.
Some are designed to look nice, while others are more durable.
For instance, a desk that's constructed from engineered wood materials like particle board or MDF can look great, and be topped with a veneer and can be very budget-friendly.
However, these desks aren't always as durable.
On the other hand, a wooden desk can be expensive, but it can last for years.
You may want to consider getting a desk that is made from solid hardwood, such as maple, mahogany, cherry. If you're considering an adjustable standing desk like an Uplift V2 desk, you can get a real wood top made from African mahogany, walnut, oak, bamboo and more.
Are Standing Desks Better? Standing Desks vs Traditional Desks
Another question you should ask yourself is whether you prefer a standing desk or a traditional desk.
Standing desks are becoming increasingly popular because they allow you to work without having to sit down.
They come in various designs and sizes, including height-adjustable models that let you adjust them easily.
A standing desk allows you to keep your back straight and reduce stress on your body.
But not all standing desks are created equal.
Many people who have purchased standing desks report that their legs start hurting after just a few hours of standing.
So, if you're looking for a standing desk, make sure that you buy one that works well for you and that you feel comfortable with.
You might even try out a standing desk first to determine how it feels.
This way, you'll know if it's something that you'd enjoy doing every day.
If you decide to invest in a standing desk, then you might also want to add a footrest to your desk to give your feet support.
Foot rests are available in many styles and shapes.
You can choose between metal, plastic, rubber, and foam foot rests.
In addition, you can choose between a stationary foot rest and a swivel foot rest.
Many people who work from their homes like to stand up because they feel more energized and focused after spending long periods of time sitting down.
This is especially true if you are someone who suffers from back pain.
If you are someone who likes to sit down most of the day, it's a good idea to implement alternating between sitting and standing while you work and an adjustable standing desk could be the perfect solution.
Why A Good Desk Is Important
Before you start shopping for a new desk, you should know why a good desk is so important.
Most people don't give a lot of thought about their work environment in their home office outside of how it looks, and only realize after it's too late, that their office furniture is causing more problems than it's solving.
Finding out you spent a bunch of money on office furniture only to learn that it's not a good fit is a bad feeling to have.
You need to plan out what you want to do, and then test the kinds of furniture you want to use so you can get the most out of your home office space.
You want to be comfortable and productive and this all starts with a good desk.
Without a proper desk, you won't be able to focus on your work.
In order to maintain productivity, you must ensure that your desk has everything you need.
Therefore, it's essential that you invest in a good desk. Here are some reasons about the advantages of a standing desk and why a good desk is important:
To prevent neck pain – If you spend most of your days at your desk, you may experience neck pain. This is due to poor posture. Slouching over your desk can cause headaches as well as shoulder pains. The right desk will help you stay upright and avoid slouching or leaning forward.
To prevent back pain – Sitting for extended periods of time can lead to lower back pain. A good desk will allow you to keep your spine straight which will help reduce the risk of developing back pain.
To keep your body healthy – When you 're working at your desk, your body isn't getting any exercise. This means that your muscles will become weak over time. This is why an adjustable standing desk is a great option
To improve posture – Having a good home office setup with a good desk and a good chair will help you. maintain your posture and comfort level so you can work
To reduce stress –  We don't even realize how much we move and shift around when we're working to alleviate pain an
To make you productive – A good desk allows you to focus and concentrate on your work without having to worry about whether or not you'll fall asleep. It also helps you to organize your thoughts and ideas before writing them down or typing them into documents.
To enhance your creativity – A good desk will help you think creatively and come up with innovative solutions to problems.
Best Standing Desk
Now that we've covered everything you need to think about when it comes to choosing a desk for your home office, let's talk about a couple recommendations to help you start thinking about what kind of desk you need.
The best standing desk is one that offers height adjustment, tilt options, and swivel function.
Best L-Shaped Desk
An L-shaped desk is a perfect desk for someone with multiple monitors and needs lots of desktop space. In some cases, you can fit more than two monitors if you want to. An L-shaped desk design allows for all kinds of items to fit comfortably on top of your desk.
You often see L-shaped desks situated against a corner of a room, but they can really be set up in a range of positions.
Best Gaming Desk
The best gaming desk is one that sets up your battle station so you can do what you came to do with great design features, cable management, is sturdy with enough space to accommodate the most popular video game consoles, and desktop PCs.
Next Steps
Want to join others who are creating the most amazing home offices and get more tips, tricks and hacks on how to make your home office the best it can be?
Join my brand new free private Facebook group, Home Office Hacks to connect with other home office hackers to make your space the best!