Are you still trying to get by working from home at your kitchen table?
How's that working out for you?
Not so good, eh?
Otherwise, you wouldn't be here reading about how to set up a work environment that's going to put you into the best position to be successful at your job.
Don't worry though – I got you covered.
You see, setting up a dedicated home office workstation is the only real solution if you're planning on spending your career working from home.
I've been working from home for years now and have learned what works, what it takes, and how to make it happen.
And today, I'm going to share with you everything I know about setting up a home office so that you can work from home like a pro.
This article covers how to set up your own dedicated work station, why you need it, and how you can get the most out of it.
You ready? Let's jump in!
Real quick, before we get too far into it here, if you want to get more great ideas for your gaming room or home office and want to connect with other home office hackers to make your space the best join my free private Facebook group, Home Office Hacks here.
What is a home office work station?
A home office work station is just another name for a dedicated home office work space where you can set up to do your work.
It's not really that different than having an actual office in your house, but it does have some advantages over traditional offices.
It doesn't matter how great your job is if you're not comfortable doing your work, and you've not set yourself up for success. In fact, many people who love their jobs end up hating working from home because they didn't get their home office work space set up correctly to begin with and it doesn't have to be that way!
How to set up your workstation at home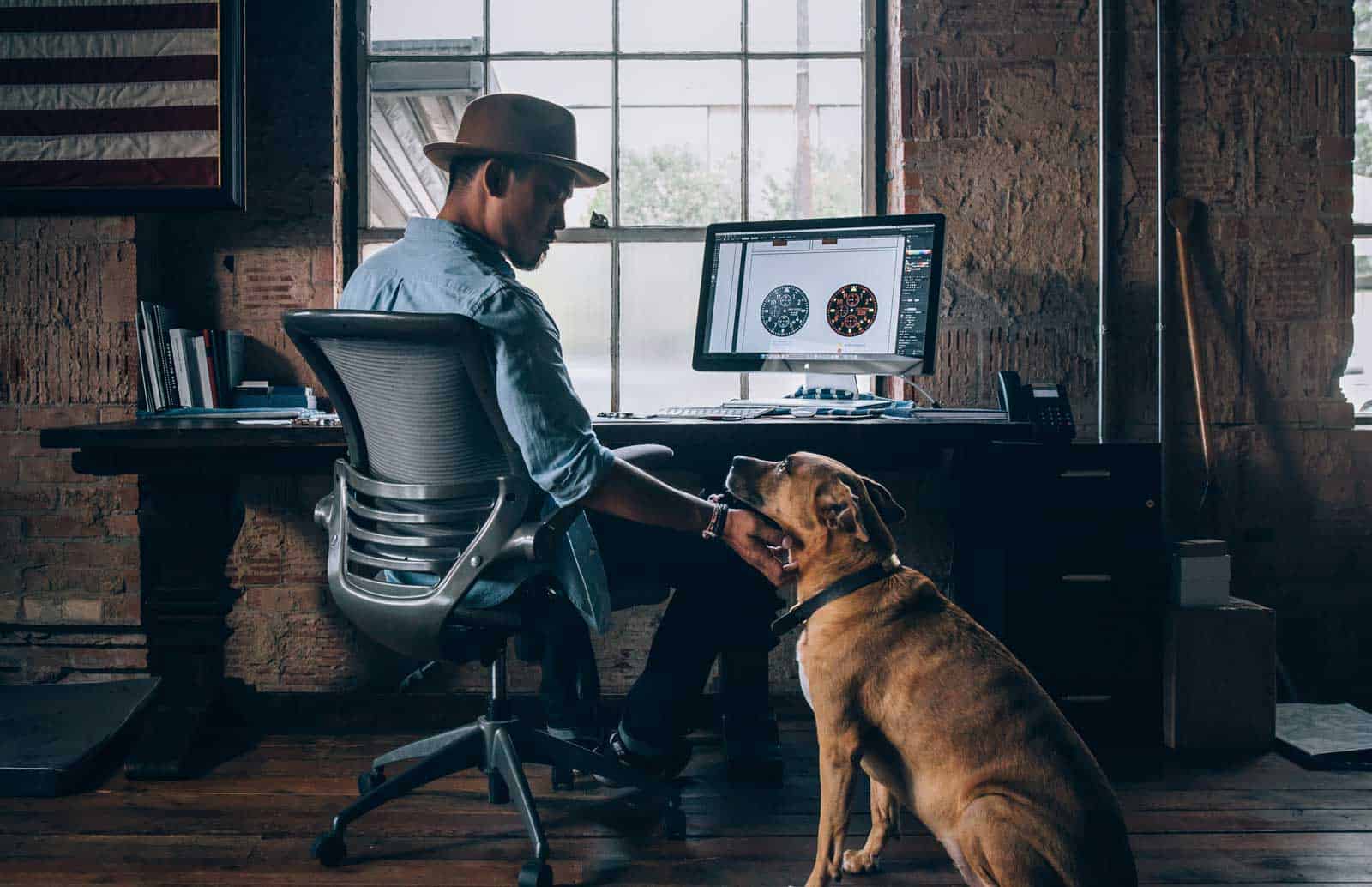 It's no secret that working from home presents its own unique set of challenges.
Setting up your workspace at home can be tricky. There are tons of different options available, and each option has pros and cons. So, how do you decide which one is right for you? Here are some tips to consider.
But if you follow these tips, you can avoid feeling overwhelmed and still enjoy the benefits of working remotely.
Find a comfortable place to work
This is probably the most important step in setting up your home office workstation. You need to find a spot that is comfortable for you to work in. It should be well-lit and free from distractions.
It's vital that you have enough room for your home office workstation so you can comfortably sit down, stand or move around without being cramped. If you don't have enough space, or you feel too cramped, being at your most productive best is going to be challenging.
Make sure your desk has adequate lighting too. Your lighting in your home office can really affect how you feel which affects how productive you are. Natural lighting is always a plus when you can get it.
Find a permanent place to work
While the kitchen table or breakfast bar may have been a reasonable solution during the COVID quarantine, it's no permanent solution by any measure.
A nook, a spare bedroom, or even a closet can serve as a great place for setting up your home office workstation.
While it's not a great idea to put your home office in your bedroom, you could set up there if you don't have a lot of space.
Get business-class internet service
If you're looking to be the most productive you can be and optimize your workflow, you'll want to invest in high-speed internet service. The faster your connection speed, the more time you'll spend on tasks rather than waiting for downloads or uploads to complete.
The fastest speeds are typically offered through cable companies, but they tend to cost quite a bit more. However, many providers offer fiber optic connections that provide much higher download speeds than traditional cable services.
Consider getting a dedicated phone line
Depending on the type of job you're doing when you're working from home, If you're serious about optimizing your productivity, you might consider getting a dedicated phone line.
This could be a work-specific mobile number or it could be a landline, hard-wired phone line like the one you'd have at a traditional office.
Dedicated lines allow you to use your phone number for both personal and professional calls.
Make sure you have the right equipment
In order to be productive, you need to have the right tools. Invest in a good computer, printer, and comfortable office chair.
And when it comes to your office furniture, don't forget about ergonomics. When you sit down at your desk every day, you want to feel comfortable. Choose a chair that fits your body type and height. Also, look for desks that offer adjustable heights and angles.
Having a good desk and a good ergonomic chair is absolutely vital to how well you're able to survive and thrive in your home office.
For a full list of of everything you need to buy, download, and do to be successful working from home, click here.
Get organized
One of the benefits of having a dedicated home office workstation is that it forces you to be more organized. Take the time to set up your office in a way that works for you. This will help you be more productive and efficient.
You'll also want to make sure there's plenty of storage space for all of your resources and equipment. This includes things like paper, files, pens, pencils, books, etc.
Consider investing in a filing cabinet or bookcase to store files and paperwork. You can also create a dedicated spot for storing tech essentials like chargers, headphones, and cables.
In addition, having a wall calendar or something similar is a great option. Keeping track of your tasks and deadlines can be difficult when working remotely. That's why it's important to establish a system for managing your workload.
Why you need a dedicated work station
Why is it important to have a dedicated workstation when you're working from home?
If you're working from home, you need a dedicated work space where you can concentrate and be productive.
Let's talk about a couple reasons why you need a dedicated workstation at home.
It helps you focus
Having a dedicated workstation can help you focus on your business while keeping distractions at bay. When you spend long hours working on your computer, it's easy to become distracted by other tasks or projects.
This is especially true if you spend long hours working on projects that require intense concentration. So, whether you're a freelancer who needs to finish a project in record time or a full-time employee whose job requires you to stay focused, having a dedicated workspace can help you achieve your goals.
It keeps you organized
Having a dedicated workspace can really help you focus and get stuff done. Having a place to store your files, organize your projects, and create a comfortable environment can help you feel productive and motivated.
When you have dedicated places for your files, office supplies and equipment, you'll be much more organized and able to stay on task. This way, you won't waste time searching for them throughout your house.
It makes you more productive
Research has shown that people working from home are happier and more productive.
When you set aside a specific area in your house just for work, it's a lot easier for your brain to shift in to work and productivity mode than if you were set up at the kitchen table or in your bed. Make sure that it's clean, quiet, and distraction-free. Then, set yourself up with a comfortable chair, desk lamp, and other items that will help you stay focused.
Make sure that you designate this area as your "office," and treat it like one. Keep your laptop closed and locked when you're not actively working, and turn off notifications on your phone. Also, don't let visitors interrupt you during your work sessions.
Tips for making your home office workstation more comfortable and efficient
Whether you spend hours every day working on your computer or just a few minutes, having a comfortable and productive environment is key to staying focused and productive. Here are some tips for creating a home office work space that's conducive to productivity.
Create a distraction-free zone. Turn off notifications, mute your music, and turn down the lights. These simple tweaks can help you focus on your work.
Make sure your chair is ergonomic and comfortable. You're going to be spending a lot of time in it, so make sure it's comfortable.
Invest in a good monitor. A good monitor will help you be more productive and reduce eye strain. Set it up at eye level so you're not straining to look at it.
Use a ergonomic keyboard and mouse. These devices are designed to be easy on your hands and wrists.
Take breaks often. Don't forget to take breaks! Get up and walk around every few hours to stay refreshed and focused.
Keep your work area clean and clutter-free. A neat and tidy workstation will help you focus and be more productive.
Adjust your chair and desk to find a comfortable working position. Experiment with different positions until you find the one that's comfortable for you.
Check your posture. Make sure you're sitting up straight and not slouching. This will help you avoid pain and strain.
Stay connected. Connecting with colleagues, friends and family helps relieve stress and keeps you focused on the positive things in life.
Conclusion
It's no secret that working from home can be difficult. There are countless distractions that pull us away from our jobs, including family members, pets, friends, and other responsibilities. But it doesn't have to be this way. With a few tweaks to your workspace, you can create a space that allows you to focus while still keeping your productivity levels high.
Next Steps
Want to connect with other remote workers, contractors, freelancers, gamers and people who work from home who are creating the most amazing home offices? Want to get more tips, tricks and hacks on how to make your home office setup the best it can be?
Join my brand new free private Facebook group, Home Office Hacks to connect with other home office hackers to make your space the best!