A computer desk is an important piece of furniture for a home office.
It serves as both a work surface and storage area for your computer, printer, office supplies, and other materials. There are numerous different types of computer desks available on the market, so it can be difficult to determine which one is right for you.
So how much should you expect to spend on a computer desk?
The average computer desk costs around $250-$350. A computer desk in this price range is made of decent quality materials, is usually around 48 inches wide by 30 inches deep, will look good in your home office, and will last for several years.
But what factors account for the cost of a computer desk?
What do you need to know before you buy one?
What brands should you trust?
In this article I'll explain the various types of computer desks available, and help you determine which type will work best for you.
Real quick, before we get too far into it here, if you want to get more great ideas for your gaming room or home office and want to connect with other home office hackers to make your space the best join my free private Facebook group, Home Office Hacks here.
How Much Does A Computer Desk Cost On Average?
The cost of a computer desk can vary greatly depending on the materials used, the size, and the brand. On average, a computer desk can cost anywhere from $30 to $250.
You can find computer desks that are much cheaper – as low as $30-$40 – but these desks are made of the cheapest possible materials and really aren't designed to last for any real periods of time.
On the other hand, a high-end standing computer desk will cost somewhere between $500-$2000 (or more). Standing desks are adjustable height desks with manual or electric controls that are available with a wide variety of desktop materials and are built with sturdy construction meant to last for 10 years or more.
The most expensive computer desks are usually solid wood desks, while the less expensive options are usually made of particle board or laminate.
The size of the desk also plays a role in the price, with larger desks costing more than smaller ones.
With all of these factors to consider, it's no wonder that the cost of a computer desk can vary so much.
But no matter what your budget is, there's sure to be a computer desk that's perfect for you.
Here's a basic overview of what the pricing is going to look like for the most common computer desks available on the market today.
| | | | |
| --- | --- | --- | --- |
| Type of Computer Desk | Average price | low end | high end |
| Standard home office desk | $300 | $40 | $2,000+ |
| L-Shaped corner desk | $600 | $100 | $2,000+ |
| U-Shaped desk | $800 | $200 | $2,000+ |
| Standard (60×30) standing desk – electric | $600 | $200 | $2,000+ |
| Standard (60×30) standing desk – manual | $200 | $400 | $600+ |
| L-shaped standing desk – electric | $2,400 | $1,400 | $3,000+ |
| Gaming desk | $250 | $100 | $1,000+ |
| Executive desk | $900 | $150 | $10,000+ |
| U-shaped standing desk | $3,000 | $2,000 | $6,000+ |
In addition to the type of desk mentioned above there are other desk accessories that will also add to the cost of your computer desk. Here are several common examples of desk accessories you will either want or think about when you're pricing out your computer desk:
| | |
| --- | --- |
| Computer Desk Accessory | Average price |
| Keyboard tray | $100 |
| Built-in drawers | $200 |
| Desk hutch | $500 |
| Built in surge protector/Power strip | $50 |
| USB charging ports | $50 |
| Computer monitor arm | $100 |
| Desk shelf | $150 |
| Monitor stand | $100 |
| Desk shelving | $300 |
| Desk credenza | $300 |
| XL mouse pad | $20 |
What Factors Affect The Price Of A Computer Desk?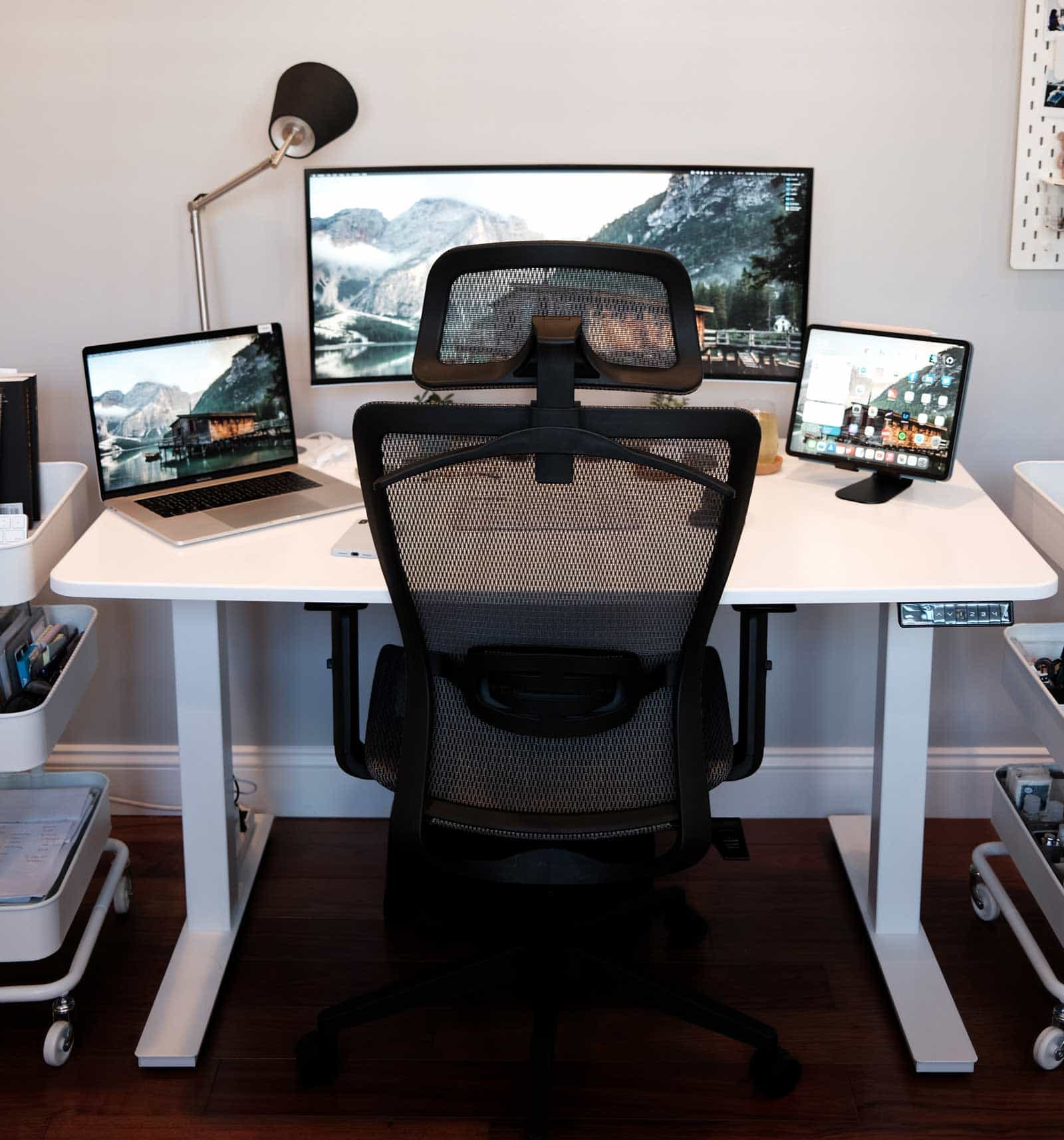 How much should you expect to pay for a computer desk? The answer, like so many things in life, is: it depends.
There are so many types of desks!
The price of a desk can vary depending on a number of factors, from the material it's made from to the size and features. Here's a look at some of the things that can affect the price of a desk.
Desk materials
One of the biggest factors affecting desk price is material.
A desk made from solid wood will cost more than one made from particleboard or laminate. But within each material category, there can be a wide range of prices. For example, you can find an inexpensive desk made from particleboard, or you can spend several thousand dollars on a desk made from exotic hardwoods.
Size of the desk
Size is another important factor affecting desk price.
A larger desk will cost more than a smaller one, but it will also provide more workspace.
A small desk for a laptop might cost around $100, while a large desk with plenty of storage and workspace might cost $1,000 or more. And if you need a custom-sized desk, or a built-in desk to fit into an odd-shaped space, you can expect to pay even more.
Shape of the desk
Anyone who's ever shopped for a computer desk knows that they come in all shapes and sizes. But did you know that the shape of your desk can also have a big impact on the price? The more complex the shape, the more expensive the computer desk.
L-shaped desks, U-shaped desks and curved desks, tend to be more expensive, as they're designed for larger spaces and require more materials. So if you're looking to save some money, see if you can make a standard desk shape work for your home office space. But if you have the budget for it, an l-shaped or curved desk can add a touch of spice to your home office.
Storage capacity
If you need a computer desk with lots of built-in storage, then you can expect to pay more for it. If you have a lot of files and folders that you need to keep close at hand, then you're going to need a desk with plenty of drawer space. On the other hand, if you just need a place to prop up your laptop, then you can get away with something much more simple, without the additional storage options that can also be smaller.
Durability
You want a desk that's going to be able to withstand the wear and tear of constant use, after all. But beyond that, you also want to consider things like style and price.
A cheaply made desk won't stand up to heavy or long-term use, and will likely need to be replaced sooner rather than later. But a higher quality desk, made from solid materials, will last for years.
Adjustability
Another important factor is adjustability. A desk that can be adjusted to different heights is usually more expensive than a fixed-height desk. A standing desk or an electric desk will usually cost more than a traditional sit-down desk.
Adjustable standing desks are all the rage these days. And for good reason – they offer a host of health benefits, including improved posture, reduced back pain, and increased energy levels.
A height adjustable desk is a great way to correct the horrible habit of sitting too much over time. It allows you to choose the perfect position for working, whether you're sitting down or standing up.
But not all height adjustable desks are created equal.
There are two main types to choose from: electric and manual. Electric desks are easier to adjust, but they're also more expensive. Manual desks are more affordable, but they can be a bit more work to adjust.
Craftsmanship
The level of craftsmanship can also affect the price. A well-made desk with intricate details will cost more than a basic model, but it will also be a better investment in the long run.
A hand-carved desk made of solid mahogany will obviously cost more than a mass-produced desk made of particleboard.
If a desk is made by hand over time, with care and attention to detail, it will always be more expensive than one that's mass-produced on an assembly line.
Features
Finally, the features offered by a desk can also affect its price. A basic desk with few extras will obviously cost less than one that comes with lots of bells and whistles.
But even within the category of "basic" desks, there can be a lot of variation in price. For example, a simple desk with a few drawers might cost $50, while a similar desk with built-in shelving or a hutch might cost $200.
As anyone who has ever shopped for a computer desk knows, there are a wide variety of features that can affect the cost of the desk. For example, a desk with a built-in computer drawer will obviously be more expensive than a simple desk with no computer case. Other features that can affect cost include storage options, keyboard trays and  cable management.
When it comes to computer desks, as with most things in life, you usually get what you pay for. A higher-priced desk will usually be sturdier, be constructed of superior materials, and have more features than a lower-priced one.
However, there are also many bargains to be found if you know where to look.
By the way, just for the sake of clarity, we're talking here about standard office desks. If you're interested in gaming desks, you can learn how to choose the best gaming desk for you here.
What Factors Should You Consider When Buying A Computer Desk?
If you're in the market for a new computer desk, there are a few things you'll need to take into consideration before making your purchase.
Your Budget
First and foremost, you'll need to consider your budget. How much are you willing to spend on a new desk?
How much budget you have really affects what kind of computer desk you will be able to buy.
If you have a tight budget, you may have to settle for a cheaper model made with lower quality materials.
However, if you're willing to splurge a little, you can get a higher quality desk that will last longer and look better.
Ultimately, it's up to you to decide what your priorities are and how much you're willing to spend. But remember, a good computer desk is an investment that will pay off in the long run.
Your Available Space
If you're like most people, your computer is one of the most important pieces of equipment in your home. After all, it's where you keep all your important files, photos, and documents.
But when it comes to choosing a computer desk, many people don't give much thought to the available space.
After all, isn't a desk just a desk?
As it turns out, the available space can have a big impact on your computer desk purchasing decision. If you have a small space, you'll need to be careful not to overcrowd your room with furniture.
Conversely, if you have a large space, you'll have more freedom to choose a computer desk that fits your needs. Either way, it's important to keep the available space in mind when shopping for a computer desk.
Your Needs
When it comes to computer desks, one size definitely does not fit all. Depending on your needs, the ideal computer desk could be anything from a small, simple tabletop to a massive L-shaped monster. Here are a few factors to consider when choosing a computer desk:
How much space do you have? If you're tight on space, you'll want to choose a smaller desk or one with a compact design.
How many monitors do you have? If you have multiple monitors, you'll need a desk that can accommodate them. Look for desks with plenty of surface area or ones that come with monitor mounts.
What other equipment do you need to store? If you have a printer, scanner, or other peripherals, you'll want to make sure they fit on or under your desk. Similarly, if you need to store any paperwork or other materials, look for desks with built-in storage or ones that offer ample drawer space.
Ultimately, the best computer desk is the one that meets all of your needs. So take some time to think about what those needs are before making your purchase.
Your Gear
When it comes to computer desks, it should go without saying but your computer equipment will affect the type of desk you need. Big revelation there, am I right?
But think about it this way.
If you have a large computer tower, for example, you'll need a desk with plenty of space to accommodate it.
You'll also need to consider the type of computer monitor – or monitors – you have.
If you have a large ultrawide monitor, you'll need a desk with enough space to hold it securely (or to be able to mount it to the wall.
What Are The Big Brand Names For Computer Desks?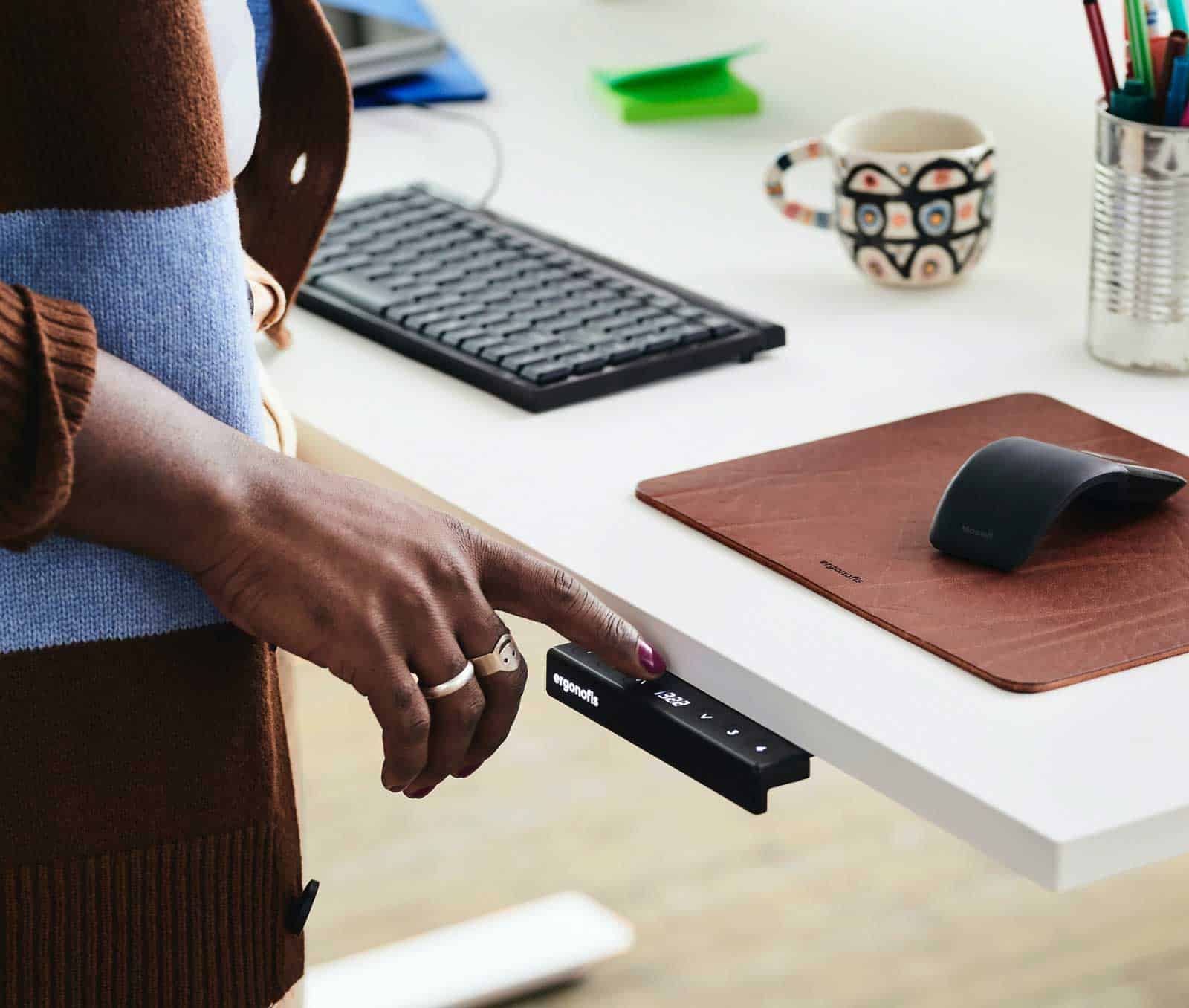 If you've been looking at the different types of desk and you're in the market for a new computer desk, you may be wondering what the big brand names are. Here are a few of the most popular options:
Uplift
Autonomous.ai
HON
XDesk
Flexispot
Fully
VariDesk
Ergonofis
Each of these brands offers a different approach and a different set of features, so it's important to choose one that will meet your needs.
For example, Uplift offers adjustable height desks that allow you to sit or stand, while Flexispot is known for its ergonomic desks, and Fully – makers of the wildly popular Jarvis standing desk -offers a variety of stylish and modern designs.
Related Questions: What Is A Good Amount To Spend On A Desk?
A good amount to spend on a standard desk with regular dimensions is going to be around $350–$500. This ensures quality materials, quality construction, and quality engineering to make sure that your desk will continue to serve for many years into the future.
If you're looking for an adjustable standing desk plan to spend $600-$1000 for a quality standing desk for the same reasons. Desks at this price point are warrantied for 10 or more years, are made of quality materials and are engineered for reliable, consistent performance over time.
Related Questions: Is It Cheaper To Build Your Own Desk?
It's easy to think that building your own desk may be cheaper, but you would probably be wrong. That is unless you're a woodworker and detailed construction using various woods is your passion and you have all the tools to do so.
That said, you can however, create an IKEA hack desk by grabbing a couple of Alex file cabinet units and a slab of Ekbacken countertop to make your own desk. Doing things this way is a really popular option for those who would rather build their own desk.
Next Steps
Want to join others who are creating the most amazing home offices and get more tips, tricks and hacks on how to make your home office the best it can be?
Join my brand new free private Facebook group, Home Office Hacks to connect with other home office hackers to make your space the best!